The hallowed halls that make up the coming-of-age movie genre have received a memorable new enrollee with director James Ponsoldt's The Spectacular Now, a movie based on author Tim Tharp's 2008 National Book Award Finalist of the same name. The best addition to the genre since Stephen Chbosky's The Perks of Being a Wallflower (2012), The Spectacular Now takes a brutally honest look at a teenage boy stuck in neutral as those around him are eagerly shifting into second gear. It's funny, painfully poignant, and absolutely worth your time.
An extroverted high school senior, Sutter (Miles Teller) lives in the now. He always feels great in the now, because he's always sipping from a flask or a spiked soda cup. Yes, Sutter enjoys himself, and he does his damndest to make sure those around him also enjoy themselves. The only way to ensure life's one big party, after all, is to make sure nobody around you is in a bad mood.
One morning, after another night at another party, Sutter wakes up on a fellow classmate's lawn with no idea how he got there. The classmate who wakes up Sutter is Aimee (Shailene Woodley), a shy, smart girl who Sutter's never really noticed before. Well, Sutter likes what he sees that morning, and after helping Aimee cover her mom's paper route (think about that for a moment), he suggests they have lunch together at school sometime. This planning of a future meeting opens a window to new experiences for Sutter and Aimee. For Sutter: the chance to fully realize the powers of unconditional love. For Aimee: the chance to have a first love, and quite possibly, a first ex-boyfriend.
At first glance, Ponsoldt's third feature (his previous two being 2012's Smashed and 2006's Off the Black) looks like a comedy with dramatic elements taking a backseat to Sutter's spirited, good-natured charm. Sure, Sutter's a little rowdy at parties and likes to drink now and then, but so what? He's just letting loose. But as days go by and you settle into Sutter's mundane routine of work, school, party, rinse, repeat, you start to notice that Sutter presses a flask to his lips an awful lot, and not just at social gatherings. Ponsoldt, who used alcoholism as the focal point for Smashed, takes the subject unabashedly head-on again here. Along with screenwriters Scott Neustadter and Michael H. Weber (the guys behind 2009's endearing (500) Days of Summer), Ponsoldt slowly but surely shows reasons why Sutter seeks alcohol-assisted mental escape. His father's leaving the house years ago, tensions with his overworked mom, a stale relationship with his sister, and infrequent pining for an ex-girlfriend press down on Sutter, forcing him to create a buffer zone in order to stay upbeat. Neustadter and Weber wisely don't show all of Sutter's damaged cards right away. The result is a gradual look into a troubled character made all the more interesting by your anticipation of seeing what he'll do next, and how he'll feel about it later.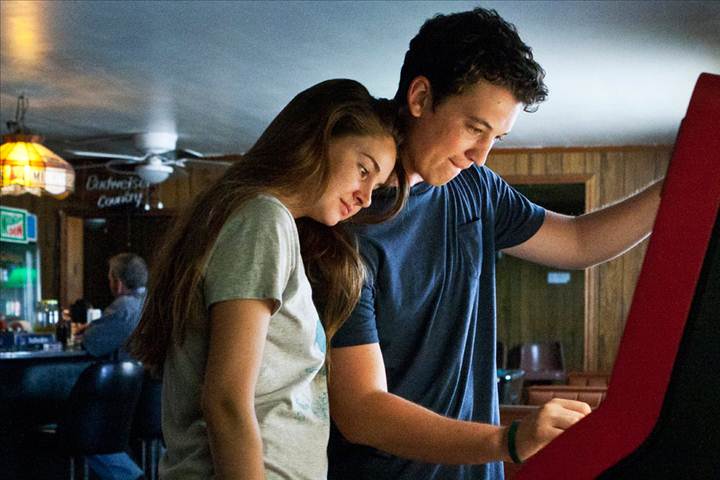 Miles Teller, who can be seen in past raucous young adult movies like Project X (2012) and 21& Over (2013), is perfectly cast as the troubled lead, Sutter. With a sly smile often contrasting his tired, sad eyes, Teller constantly maintains the air of a person having a good time on the outside while simultaneously losing a battle with demons on the inside. Teller delivers paragraphs of dialogue (Neustadter and Weber provide him with truckloads of content to spew out) with a fast, confident delivery reminiscent of a con artist who can put a positive spin on anything. Sutter uses his sly tongue to circumvent questions about his future from people like his geometry teacher, Mr. Aster (Andre Royo), who sees potential in Sutter but can't find a way to activate it.
Playing the girl Sutter can't talk his way around, Shailene Woodley is pitch-perfect in bringing out Aimee's innocence, resilience, and ability to brazenly love another. Woodley, who will star in the upcoming futuristic adventure-romance Divergent (2014), in addition to taking on the lead in Neustadter's and Weber's next project, The Fault in Our Stars (2014), never lets a line of dialogue go flat or lets a facial expression go to waste. Everything she does means something, allowing the romance between her and Sutter to become a real thing that makes The Spectacular Now an honest and engrossing experience.
As Ponsoldt pushes Sutter through an obstacle course of painful experiences—relationships old and new, failing grades, questions about the future—he pulls over and stops at what I think is the most harrowing destination of all: Sutter's reunion with his estranged father, Tommy (Kyle Chandler). Sharing a pitcher of beer with his dad and Aimee at a honkytonk in his dad's new hometown, Sutter comes to the harsh realization that his dad isn't the great, faultless man he'd envisioned him to be for years. Helping this realization come to full, painful light is Chandler. Bags under his eyes, a shaggy mop of hair atop his head, and a cigarette poking out the corner of his mouth, Chandler creates a man who has run from the past so he can only live for himself. Even with his son sitting across from him, Tommy can't keep his eyes from straying to the waitress across the room. He finally gets up to talk with the waitress, leaving his boy once again. Sutter's discovery of his dad's true colors is an emotional gut-punch of a scene that had me leaving the theater on wobbly legs.
Ultimately The Spectacular Now is about a spontaneous romance between two unlikely people. But Sutter and Aimee's relationship is not static; it's a vehicle that allows them both to explore all avenues—both happy and haunted—of their lives. That exploration eventually leads to an ending some may find too abrupt or open-ended. I think the structure of the ending was a conscious choice by Ponsoldt to mirror real life, when events don't always lead to a big-bang climax, and questions aren't always neatly answered. By sticking to their honest guns, all those involved in The Spectacular Now have created a movie that people will one day proudly place next to The Perks of Being a Wallflower on their shelf of unique coming-of-age movies. Like Chbosky's take on teen life, Ponsoldt's entry to the genre deserves to not be forgotten.
5 stars out of 5 (A+)
The Spectacular Now is rated "R" for alcohol use, language and some sexuality—all involving teens. It received a limited United States theatrical release on August 2, 2013.
Please follow the Tuesday Movie Men on Twitter @TuesdayMovieMen and like us on Facebook at https://www.facebook.com/TuesdayMovieMen to join in the magnificent movie conversations!