With The Lords of Salem, writer/director/musician Rob Zombie proves that he can make a respectable film in a genre other than horror. That's not to say that Zombie's latest shouldn't be considered a horror film, because it is. Any film that contains witches dancing in the firelight is a strong contender for being labeled with the big "H." However, The Lords of Salem is also a thriller, a drama, a deep character study, and a film so visually striking that it punches you in the gut and then knees you in the teeth when you're wheezing for air. The aforementioned visuals, combined with realistic acting, spot-on pacing, and capable direction from Zombie's bizarre hand make The Lords of Salem one of the most atmospheric, haunting, and downright good movies I've seen in years.
The film revolves around Heidi Hawthorne (Sheri Moon Zombie), a dreadlock-donning single woman in her thirties who makes up one-third of the "Big H Radio Team" that broadcasts out of Salem, Massachusetts. Delivered to the radio station one night is a vinyl record in a wooden box with satanic symbols scrawled on it. It doesn't exactly scream "Safe to open!", but Heidi is a DJ and listening to music is part of her job, so she does exactly that with the record, she listens to it. First at home, then on the radio show the next night, playing it live for all the Salem citizens to hear. Heidi doesn't know much about where the record came from, only that the people who sent it to her call themselves "The Lords." After listening to the record, Heidi begins to have hellish nightmares that abound with goat horns, blood, witches, and fires. You know, the usual Salem stuff. Only soon Heidi's nightmares seep into reality, spelling doom not only for her, but also for all the female "Salem lifers", those who have called the witch-scarred town home since their day of birth. Links between the mysterious record and the 1696 Salem-based roasting of supposed witch Margaret Morgan (Meg Foster) and her followers become apparent as Heidi spirals into madness. The residents of Salem find its notorious past coming back to haunt them, and that past is intent on doing more to its descendants than just scaring them with a well-placed "boo."
Zombie reaches into a controversial, paranoid time in American history and pulls out a freaky, tentacle-flapping story that's all his own. But Zombie's film isn't merely a Wild Child serving to merely shock. There's a lot of context to be found here. Intertwined in Zombie's solely written script are classic elements of Salem's storied history, along with the timeless religious theme of good versus evil via the Christian bible. This is serious subject matter that's treated with well-deserved respect, as characters discuss the town's haunted past and the goings-on in heaven and hell with urgency in their voices and concern etched on their faces, thanks in large part to the straight approach Zombie took in writing his script.
The other work Zombie did behind the camera, the direction, is nothing short of masterful. Zombie never wastes a shot. Every scene is doused with visual emotion. The gray skies above Salem and pale colored houses that rest on its streets are constantly given a wide presence onscreen, making you feel small and depressed amidst the gloomy visuals. The same can be said about the hallway outside Heidi's apartment. This hallway, with its dark wallpaper and dim lighting making it a cousin of the creepy confines of the Overlook Hotel from Stanley Kubrick's The Shining (1980), is used to full horror effect numerous times as Zombie zooms-in slowly along the glum walls and ancient floorboards to the ominous door of apartment number 5 and the horrors that lie beyond. It's slow burn horror at its finest, thanks to Zombie's expert use of the environments.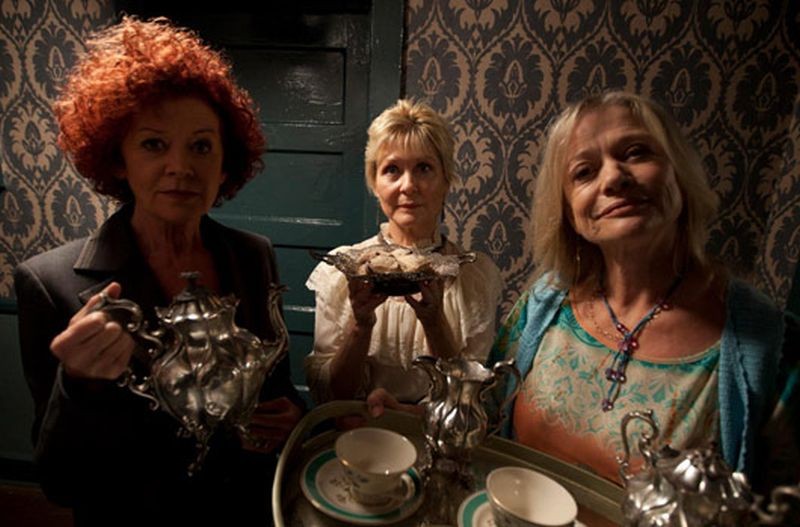 In her first lead role in a film career nearing the decade-long mark, Sheri Moon does everything right. She's likable, vulnerable, and complex. She believably portrays the varied emotions of a woman who goes from being relatively happy to a woman bordering on the edge of hopelessness after dealing with the devil and drug addictions. Sheri Moon is subtle in her actions, grounding the story even at its most fantastic moments, reminding you that as crazy as the scenes get, it's all happening to a character that feels real and is therefore easy to feel for.
While fans of Zombie's grungier works like House of 1000 Corpses may not be used to their beloved filmmaker using atmosphere and suspense over blood and dark humor, they will hopefully still recognize that with The Lords of Salem, Zombie has submitted a masterful entry to the horror and suspense genres, one that will leave many a disturbing image imprinted in your mind and a collection of empathetic characters to ponder over for quite some time.
5 stars out of 5 (A+)
The Lords of Salem is rated R, has a runtime of 1 hour and 40 minutes, and was given a wide United States release on April 19, 2013.
Please feel free to follow the Tuesday Movie Men on Twitter @tuesdaymoviemen, "like" us on Facebook at https://www.facebook.com/TuesdayMovieMen, and visit our site, http://www.tuesdaymoviemen.com. We want to hear from you!