It Happened Here is a montage of photographs with stories that compose a little movie of my experience of the Republican National Convention.
I was lying down watching the early evening news on the fourth day of the convention. Channel Five was live, reporting "all was quiet in St. Paul". The window was open. I could hear the staccato percussion of concussion grenades blowing up the streets of my neighborhood.
It was a perfect disconnect between what was going on and how it was reported in the mass media. Something was happening here.
Cops in black riot regalia and kids in black outfits taunted each other in the streets. Both were channeling forces larger than themselves.
You had to be here.
Otherwise, no way would you believe the crazed and crazy chaos that crashed the convention.
One story: this kid Keith Smith, in his Mom's words:
The ritual warfare between some police and some protestors reminded of the anthropological film, Dead Birds.
Eric Angell paused to pose for a shot of his arm. No longer in service, the number was for a lawyer if he was arrested as he managed indy media coverage. He has continued to film protests of the RNC8 as the legal wrangles continue.
Hunter Kuo likes "to go where the action is," taking pictures as he goes. This brought him from his hometown Berkeley, California to downtown St. Paul during the convention. He was resting at the Black Dog, when he noticed my ancient Nikon F3. We began to talk cameras. He showed me his old Leica. He only shoots slides. "I have thousands of pictures in my head," he said.
Friendship clicked.
There were so many cameras that nothing was not recorded. Everyone strained to see what was happening.
Peace is a family value.
Contrary to the news heard around the world, most who protested made love not war.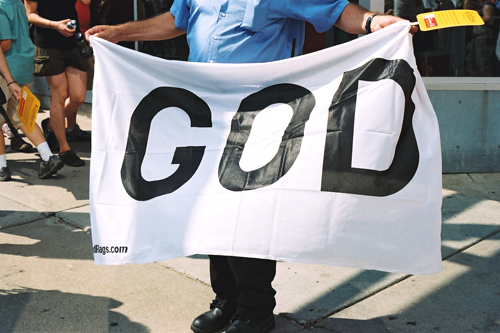 God was on everyone's side.

Sister Jane McDonald was giving out hugs to beat hell as she paraded on Labor Day. It felt good to be hugged. A protest parade is all about solidarity. God knows, it felt really good the morning after that I had dared march.
God is on everyone's side.
WHAT?
A multitude of weird things were happening all the time. I live downtown so I was surrounded.
It is a mystery what this man in a suit was doing down by the Mississippi.
On Friday morning a huge semi marked "Document Shredder" was parked outside the PO, HQ for the Secret Service. A man stood by with a letter in his hand that read "Certificate of Destruction." Mountains of paper were being moved.

What?
The Saturday after the convention, I had an animated dialog with Officer Vang of the St. Paul Police Department in the farmers market. I began by telling him seeing a police officer after all that made me wince. On the frontlines for a week of 18 hour days, he said he got tired and ran out of patience, "The use of force is not pretty to the untrained eye."
Is force pretty to the trained eye?
A few months later, as we have become friendly, "Is it true your nickname is Bang Bang Vang?"
"Yeah, ya gotta keep the locals entertained."
Was justice served? Will justice be served?
The artist Alex Lilly came to protest big time. "I take pictures and make political statements." Like this one, a graffiti poster which stopped me cold: "individual police officers allow police brutality to occur."
The last time I saw him Lilly said, "I have to get out of here. This is a Lutheran police state. It happened here. The McCain atrocities."
If I had not survived the sixties, I might be suffering post traumatic stress disorder. Maybe I am. Maybe we are.
It happened here.
THE END
Mike Hazard, also known as Media Mike, is a 2009 Bush Artist Fellow. Visit his website to learn more.