Tuesday, November 5th is election day in the United States, which seems as good a time to bring up the issue of civics, modernity and democracy. Especially what it means for our Lao community in Minnesota, across the US, and abroad.
To start off, let me say this: The fullest expression of Lao modernity will come when we move beyond efforts to emulate international systems who offer only a veneer of sophistication pasted over an infectious core of disparity and insecurity. In the simplest terms: Don't imitate. Innovate. We should seek a democracy for our people not just because it's what everyone else is doing, but because we see it compatible with the very best of Lao tradition and values. For Lao, we ought to consider: How might we model democracy in a way that even older democracies might find lessons to consider?
For Lao, we had to learn about the power and risks of democracy the hard way. It's not the thrust of this column to go into the full politics of that journey, but suffice it to say, the good majority of us now live in democracies around the world. Some of those nations are reasonably adept at implementing the promise of this system, but an honest assessment would say: No one is particularly perfect in implementing democracy yet. Be that as it may, this does not free us from a responsibility to participate fully within whatever democracies we live in, to the fullest measure possible.
For the last century, Lao have had an unprecedented opportunity to go out into the world. We have lived in large enclaves among French, Canadian, Australian, Japanese, British, German, American, Polish, Russian, Cuban and Swedish societies. We have also continued to reside in large numbers in Laos, Thailand, Vietnam, and Burma. So many different ways of living, and so many possibilities of being! One thing I would hope we understand is that a democracy, even when you're a new voice within it, thrives when you give back into that process.
If you're tagging along only until you get a cut, that will ultimately be a social dead end.
Somerset Maugham once wrote: "If a nation values anything more than freedom, it will lose its freedom; and the irony of it is that if it is comfort or money that it values more, it will lose that too." For Lao, we should understand this with particularly acute clarity. Our responsibility to model good democratic process is doubled both because of the necessity to have a working example for our counterparts abroad, and also: When you're the majority, it's easy easy to participate in a democracy and accept the decisions. It's a stronger test of character to be a minority voice and still committed to making that democracy work.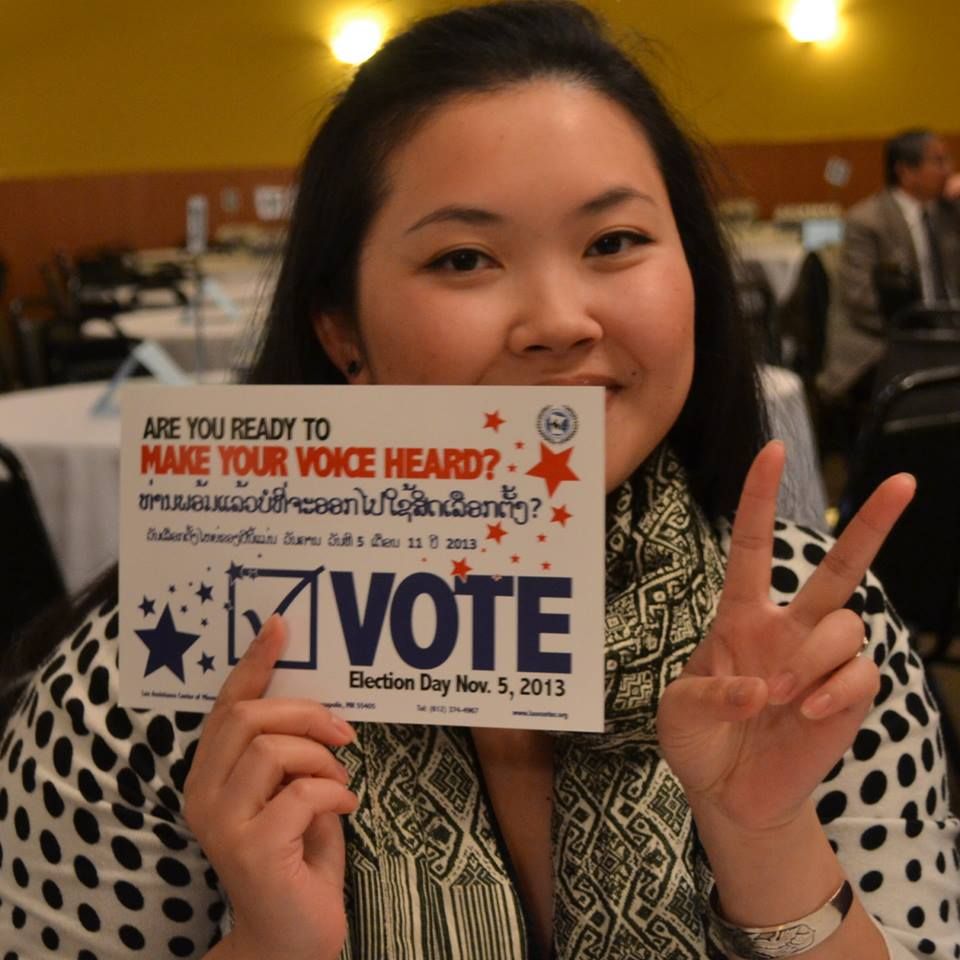 When we go into voting booths, it's not supposed to be a rubber-stamp process where we 'go along to get along.' Democracy is the grand conversation, and the Lao heritage of embracing the moderate, middle path, of avoiding extremes but embracing inclusive diversity, are things many modern democracies could benefit from.
Furthermore, voting is not where your obligation ends. You must do your part to keep your representatives informed of your perspective. While they may not always act as you would hope, they should never be able to treat your silence as blind consent. As we make our transition into new models of social organization, Lao have an opportunity to avoid imitating the worst of democracies. But it requires us to be educated, to be informed, to risk expression.
Democracies aren't about a race to become the prettiest and the wealthiest.
Democracies are about building communities and changing our methods constructively while holding on to the best of our traditions, not merely the easiest of our traditions to maintain. To make a choice is to take part in change. Many people fought and died for that right, and continue to fight for that freedom today. We must honor those sacrifices by doing what we can to move everyone towards a society that embodies the very best of who we can be.
Here's to Election Day, and beyond.