This weekend, we wrap up Lao Minnesotan Artists Heritage Month, and it's been a wonderful month of seeing the artists in our community press forward with their many different projects. Saymoukda Vongsay in particular had a busy month, opening the celebrations with a performance at the Soap Box Factory for Talking Image Connection and preparing for her upcoming post-apocalyptic play, Kung Fu Zombies vs. Cannibals premiering in October. Actors Ova Saopeng and Leilani Chan came back to town and organized workshops with the community at Pangea while preparing for their next big shows here in 2014.
Which brings me to a bigger point I wanted to address about the role of artists, community building and policy. Especially in light of recent discussions over how do we as a state effectively celebrate those arts, and what is the benefit we receive for that investment. To do that, we should go back a few years.
August, 2010 was a particularly pivotal month for the Lao Minnesotan community, as it was the opportunity for many of us to convene the first National Lao American Writers Summit, and then travel down to Elgin, Illinois for the Lao Artists Festival, where many of us were recognized for our contributions nationally. This was a wonderful opportunity for us to connect with our fellow artists and our communities. The National Lao American Writers Summit was made possible in part by funding from the Minnesota Legacy Amendment and many generous private supporters who believed in our work.
August, 2010 was also significantly the first month that the United Nations Convention on Cluster Munitions went into force, although the United States is not a signatory. A few months later in October, we convened the Legacies of War: Refugee Nation Twin Cities interdisciplinary exhibition at Intermedia Arts. There, we addressed the connection of Laos to international issues of unexploded ordnance, Lao refugees, and Minnesota. It asked the question, how do we build a peaceful legacy?
I'm proud to see our artists have continued to ask our community these questions and more since then.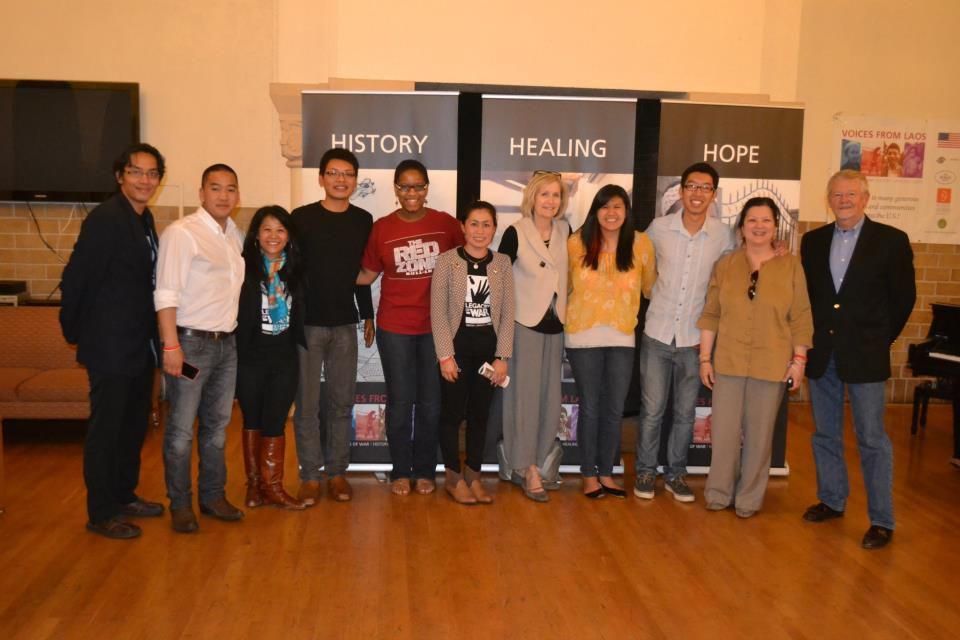 2013 marks the 40th anniversary since the end of the secret bombing of Laos. Many of you participated in the Legacies of War: Voices from Laos speaker's tour that passed through Minnesota in April to remember that journey and speak of our collective future. Over 30% of Laos continues to be contaminated with unexploded cluster bombs. Many of those bombs were manufactured in Minnesota. It's almost half a century since the end of the war. Most of today's victims are under 12, and most of their parents weren't even born during the war. It has been a long recovery.
But one of the things that gives me hope, and teaches me a great deal about the role of artists in policy, is how we brought an end to the secret bombing in the first place.
In September, 1969, a young man named Fred Branfman was an educational advisor for the U.S. government in Laos. He found himself inundated with thousands of refugees fleeing into the Lao capital of Vientiane. He began to interpret the villagers' incredible stories. Planes were dropping bombs and attacking people. Officially, no US military action was legally allowed in Laos under the Geneva Accords. But many of the villagers didn't have the words or the technology to show what was happening to them, so they turned to the only thing they could.
Art.
They began producing sketches upon sketches of what they had experienced. Of the devastation that drove them to seek safety from the war. This lead to Branfman traveling to the famous Plain of Jars in Xieng Khoang province, where he discovered the truth of their claims. Eventually, he made his way back to Washington D.C. where he testified to a special session of the U.S. Senate Committee on Refugees. The bombing was ended in 1973.
We now know that from 1964 to 1973, the U.S. dropped more than two million tons of bombs on Laos. With 580,000 bombing missions this was equal to a planeload of bombs every 8 minutes, 24-hours a day, for 9 years. And it ended because Lao villagers spoke up. And when they didn't have the words, they turned to pictures.
When we exhibited those very pictures at Intermedia Arts in 2010, there were some who didn't appreciate how much difference those simple, almost crude sketches made on international policy. With just a handful of sheets of paper, almost a decade of bombing in Laos and Cambodia was ended.
Of course, ending the bombing was a little more complicated than just drawing a picture. But it was a start.
Those picture were almost thrown out, except chance allowed a young Lao woman named Channapha Khamvongsa to discover them in the fall of 2003. She explains it best:
"I was working at the Ford Foundation in the fall of 2003, when I went to Washington D.C. for a meeting with one of Ford's grantees, the Institute for Policy Studies. In attendance was John Cavanagh, the Executive Director. John asked me what the origin of my name was. When I told him it was Laotian, he immediately exclaimed, "It's really terrible what happened in the Plain of Jars!" Of course, I was shocked. After all, it seemed most Americans didn't even know where Laos was, let alone, the specific region of Xieng Khoang, one of the most heavily bombed provinces. So, I inquired furthered about his familiarity with the secret U.S. bombings in Laos. As it turns out, John had worked alongside Fred Branfman in the 1970s at the Indochina Resource Center, a policy think-tank working to stop the bombings in Southeast Asia. When the office closed down, John was cleaning out the office and came across the illustrations. With a sense that the drawings were important, he decided to hold on to them. As John and I came to this remarkable connection, John told me that he had some illustrations drawn by survivors of the U.S. bombings."
As Channapha Khamvongsa learned more about the history of her parents homeland, and the continued dangers the Lao faced from UXO, she founded Legacies of War. She began speaking nationally to other Lao, other Americans, and people around the world. She asked for their help to bring an end to the use of cluster bombs. and to help the people of Laos, whom history and politics had all but forgotten.
Many of our leading Minnesota artists answered her call, from Malichansouk Kouanchao to the writer Saymoukda Vongsay, and members of the SatJaDham Lao Literary Project. It took amazing work to help the Lao join so many international voices together and build a movement with organizations such as the international award-winning Mines Advisory Group. The voices of these many organizations and individuals together led to the ratification of the UN Convention on Cluster Munitions.
When we brought those villagers images to Minnesota at last in 2010 ,for just a few weeks, it was a homecoming, one that led us to understand the complex interrelationship between Minnesota's history and the world's. Even a seemingly distant nation like Laos.
You can see the illustrations here: http://legaciesofwar.org/programs/national-traveling-exhibition/illustrations-narratives but I think it's even more powerful to see them in person. They're no bigger than a sheet of notebook paper. But what a difference they made.
As Lao artists, it would be presumptuous and grandiose to say those policies arose out of our actions. But our voices were there. We were not silent. And in encouraging our artists each month, I hope we will all always reach for something greater within ourselves, and in every living being. That journey will not always be easy, but there can be no doubt that the arts can change your world. Never let anyone tell you otherwise. And this goes for so many other artists from so many other nations in Minnesota who are on a similar path.