Okay, I got a black eye playing racquetball. In case you are curious, having a black eye makes you seem cool if not a little dangerous. Playing racquetball makes you seem spoiled, if not a little country club. Racquetball culture will forever be associated with Michael Douglas and the stock market culture of the 1980s. I think it's because of the 1997 movie The Game. Racquetball is the kind of game you play with your boss.
in new slang, sean mcpherson shoots the digital breeze about current events, decoding hip-hop songs, chicken wings, contentious trivia questions, and daily life.
Racquetball is the kind of game you play with your girlfriend's dad if he's all classy and he likes to beat you at things. Racquetball is the kind of game that people drink an expensive juice, and then Grey Goose vodka, after playing. Racquetball is the kind of game you grab a clean white towel right after and say, "Are you doing steam? I'm doing steam." Racquetball is the kind of game where people talk about their SAT scores when they are drinking from fancy water bottles between games. Racquetball is one of the most upper-class ways to get a black eye in the world. Usually if someone sees you have a black eye you can have a cool story such as, "I beat somebody's ass when they stepped to me at a bar." Once you say that, dudes respect it and maybe the girls ask you how the other guys look. But I refuse to believe that getting a black eye playing racquetball is the most upper-class way to get a black eye. So, this blog entry will list the top five more embarrassing upper-crust ways of getting a black eye. Feel free to comment if you can think of more.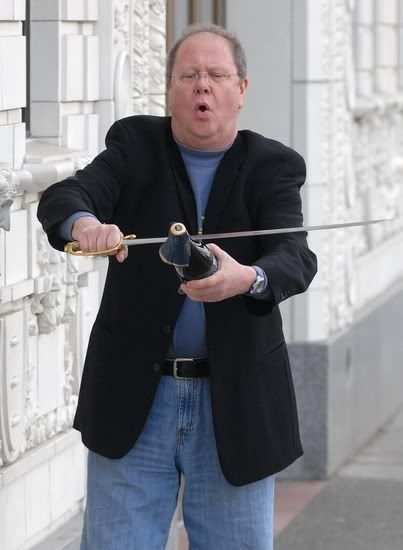 #5: Getting hit in the eye while popping a champagne bottle. I think that getting hit in the eye with a champagne bottle top would more likely kill you or make you feel like you were in a room covered in cork board. But, regardless, you have no street cred. Granted, lots of guys with street cred drink a ton of champagne, but they know how to open it. When you tell me you got a black eye opening a bottle of champagne I imagine you had a very awkward second date with a girl named Sabina that you were trying to impress with champagne and it all backfired. Also, while we're on the topic of champagne let's talk about Jay-Z doing a great job of ruining Cristal's market domination after one of the executives of their parent company commented about their urban clientele negatively in The Economist (major props go to Jay-Z's or his staff for reading this magazine and being hip to it). Here's what the executive, Fredéric Rouzard, said when asked if he could do anything about the undesirable clientele they were attracting: "That's a good question, but what can we do? We can't forbid people from buying it." According to the song "Kingdom Come" from the album of the same name, Jay-Z endorses Dom and Krug Rosé. If I had ever drank Cristal, I'd stop. Lil Wayne has also apparently stopped drinking Cristal and now uses it exclusively to pour it on white women's heads (according to the song "Dipset"). To each his own.
#4: The caddy at your country club beat you up because you didn't tip him. I've never been a member of a country club, but I would like to point out that everyone who goes to the country club always says, "so I ordered a sandwich at the club the other day," or "my wife left her BMW at the club and we just took the Jaguar home." They could leave the country club reference out, but they have to let you know they have a membership. So, I don't care what thuggy, hood-like things you do, if it ends with "at the club" and you aren't talking about the nightclub, you're a brat. Check this sentence out: "I poured Cristal all over this white woman at the club before I played racquetball." I bet it sounds a lot more American Psycho than Carter III. So, if you get in a fight at the country club, that's still classier than getting in a verbal argument in the street. Plus, if your caddy beats you up you probably got beat by a 14-year-old. Weak.
#3: Hit by a drumstick at the Vampire Weekend show in Ibiza, Spain on August 18. Okay, I know Vampire Weekend is good, but they all went to Columbia, they steal from Paul Simon stealing from Ladysmith Black Mambazo, and it frustrates me when the Upper West Side is rocking my world. And so if you see them when they play in Ibiza, well, I hate you. I'm pouring Cristal on you. And if you get a drumstick in the face you better make a story up. The drummer probably lost his grip when he was speeding up on their signature song, "Oxford Comma." If you have 38,000 a year for Columbia, you should spring for a click track. 
#2: Scuba goggles on too tight while looking at sea horses in Ibiza I think you can get black eyes from weird scuba experiences. Maybe I'm wrong, but it's funny no matter what. So deal with it. You might look tough but while you are letting your wet suit dry off and your beautiful boyfriend is rubbing your back and saying he didn't know they were on so tight I might just come by and pour some Cristal on that wet suit.
#1: Getting a black eye while playing squash If you ever meet someone named Spencer, Landon, or Alistair and you tell them you play racquetball they will say, "Have you ever tried squash? I was introduced to it at Exeter and it really is the thinking man's racquetball. There's more strategy, the pace of the game is slower, and the shoes and rackets are more expensive." These people will probably also be wearing loafers because the club won't let them wear sandals and they'll have the Vampire Weekend on vinyl but won't have put it on to their iPod yet. Pass me the Cristal! I'm soaking Landon.
Sean McPherson is the co-founder and bassist of the Twin Cities hip-hop group Heiruspecs. Sean graduated from the University of Minnesota in 2007 with a degree in music, African-American studies, and cultural studies. Sean is also the co-owner of Trivia Mafia, a company that runs trivia nights across the Twin Cities.