The Clean Energy Resources Teams (CERTs) is spearheading a statewide campaign,Light Up Your Station & Save, to help convenience stores reduce energy and maintenance costs and improve their businesses with LED lighting. We spoke with Lonnie McQuirter, owner of the 36 Lyn Refuel Station at 36th Street & Lyndale Avenue in south Minneapolis.
---
Why did you decide to upgrade your canopy lights to LEDs?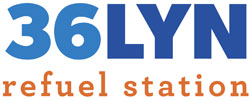 We have been familiar with LED technology for some time. However, price and financial incentives as well as the long-term reliability of LED lights became clear to us a couple years ago (2013). I was tired of pulling out our 24-foot ladder in the brisk winters to change out our old metal halide bulbs. The ballasts, which use even more energy beyond the bulb itself, also were a pain to deal with.
Have you seen a reduction in your energy bills?
We have seen a significant reduction in our energy bills, despite us using our current lights for longer periods than we had with the old metal halide bulbs. By our estimates, we have reduced our energy bill by over $700/month since upgrading to LED lighting alone; this is material for a company in an industry that operates with razor thin profit margins.
Has the new lighting provided other benefits to your business?
Safety and having a well arranged business is of chief concern to our business operations. Followingindustry insights as well as law enforcement recommendations, we strive to maintain a clean and well-lit business. Years ago I was given a pithy quote from an accountant that: "eye appeal is buy appeal." LED lights, when applied properly can display a retail business in ways other lighting systems cannot. Surprisingly, we have had numerous positive comments about the new lights. We initially figured most customers either expected updated lights at some point, or would be completely oblivious to them. Not having to risk a fall off of a ladder or run to Home Depot at 10:00pm to buy new bulbs relieves some stress off of my shoulders and lets me focus on other areas of the business.
What was the process like to upgrade your canopy lighting?
The process took about two months from start to finish. Much of that time was spent waiting on delivery of parts and locating and vetting installers.
What kind of rebates did your electric utility offer?
We had received rebates that covered around 50% of the cost of the fixtures. The program was through Xcel Energy and was a headache-free process.
Have you done anything else to save energy and money in your business?
We put a lock on the thermostat and change it periodically based on current climate trends. This allows us to minimize the swings in temperature from one employee preference to the next, and also prevents food spoilage from fluctuating temperatures. We have also taken advantage of the weather during mild days and propped open our doors to allow the breeze in from the outside rather than turn on our A/C unit.
Anything else you're working on that you'd like to share?
At the 36 Lyn Refuel Station we are the first "gas" station in Minnesota to offer a fast charger for electric vehicles. We're actually hosting the upcoming 24 Hour Electric Vehicle Charging Challenge on April 12-13 to try to fast charge 100 PEVs within 24 hours to set a Guinness Book World record. Anyone with an EV can join us! You can learn more and sign up at http://www.24hrevchallenge.com.