As we delve into November, we bid adieu to any possibilities of running around sans jacket—and we've come to terms with that (the first real snowfall, however, is another matter entirely). And what better to turn our focus to than the holidays? Thanksgiving is right around the corner, followed directly by the gifty season, and the Twin Cities artsy types seem to be easing us slowly but surely into the spirit of, um, buying their cool stuff. This weekend, hit up the Northrup King Building to peruse and purchase local art and related wares during Art Attack; check out The Affair at the Convention Center for festive tastings of chocolate, wine and the like; or stop into local boutiques such as Drama and Cliche to catch deals on fancy frocks for all the swanky parties that approach. And keep your eyes peeled on l'étoile early next week for our complete guide to holiday shopping events in the Twin Cities! xo-l'étoile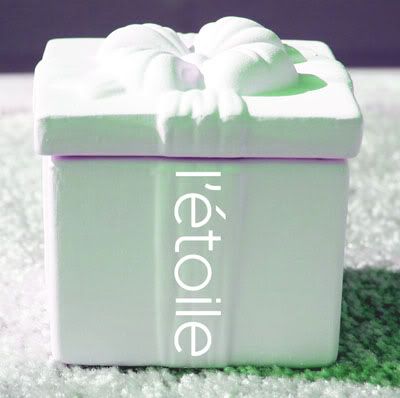 FRIDAY NOVEMBER 6 (THROUGH SUNDAY) Crypticon @ Sheraton Hotel 7800 Normandale Blvd. Bloomington, MN 5 pm-5 pm/ $10-$33, 3-Day VIP tickets $45-$55 Don't put the fake blood, gore makeup and latex away just yet! Savor the Halloween spirit for one more weekend at the 4th annual Crypticon convention. 2009's host, the Bloomington Sheraton (also home to our fave sci-fi convention CONvergence) boasts the biggest Crypticon yet, with more space to terrorize, a larger indoor theater, tons of bands and more of your fave horror celebs. Get blood signed autographs from Bill Moseley (The Devil's Rejects and Night of the Living Dead); Amityville Horror hottie and Superman's pensive babe, Margot Kidder; The Creature from the Black Lagoon's, Ricou Browning; scream queens Scarlet Salem (Strip Club Slasher) and Linnea Quigley (Return of the Living Dead); Puppet Master writer, Charles Band; A-Teamer and Ghostbusters star, Ernie Hudson; and many more — including a couple of the actors who played "Jason" in Friday the 13th! Plus, visit Crypticon's crazy event rooms featuring indie filmfests, rock 'n' shock concerts, a corpse head workshop, celebrity Q & A panels and dinners, sideshow vaudeville burlesque shows, a creepy costume contest and a special effects competition, where guests can show off their creeped out, one-of-a-kind creations and win prizes. It's a mad, mad monster massacre bash that you won't wanna miss! We're totally there, hard. CLICK THE IMAGE FOR THE CRYPTICON SITE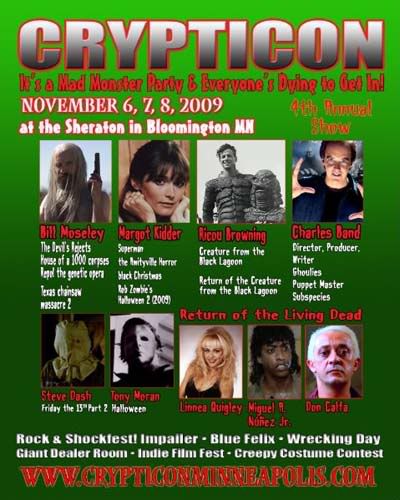 FRIDAY NOVEMBER 6TH (THROUGH SUNDAY) Art Attack @ Northrup King Building 1500 Jackson St. NE Minneapolis Friday 5pm-10pm, Sat Noon to 8pm, Sun Noon to 5pm / Free Northeast brews its finest all year long in preparation for Art Attack. Tour zillions of artists' studios, buy some locally made work, and make new best friends with an artist! Just a few of this year's highlights include Heinz Brummel's Mongolian yurts, letterpress printing demos, the Minnesota Women Ceramic Artists Exhibition, live music, and even a large painting with a "dog" theme that you're invited to contribute to. Think of Art Attack as your chance to get the jump on thoughtfully holiday shopping; after all, nothing says "I love you" like original artwork, if you ask us. After perusing the over 200 artists on display, make a pitstop in the parking lot and refuel at the Magic Bus Café with some snacks! BONUS: While you're there, be sure to check out the new exhibit at Sellout Gallery (Studio 456) featuring Brett Gustafson, Tynan Kerr and Andie Mazorol, and Chris Zerendow showing paintings and drawings that explore production, collectivism, and art in the age of digital reproduction. CLICK THE IMAGE FOR THE NORTHRUP KING SITE Art by Laura Stack/Studio #444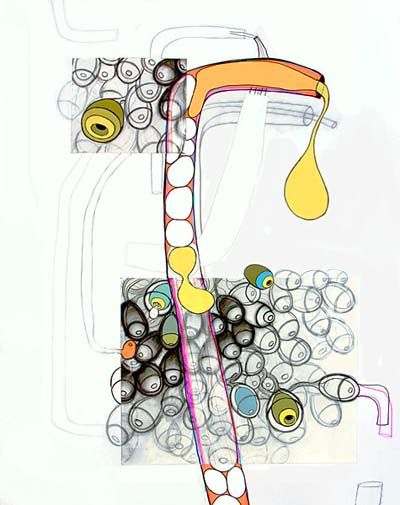 FRIDAY NOVEMBER 8TH Digital Frame Art @ Altered Esthetics 1224 Quincy Street NE Minneapolis 7-10pm / Free l'étoile hearts new media! Head to Altered Esthetics this evening for an exhibit that focuses on the different ways that artists are inspired by technology and flashy examples of how they incorporate it into their work. The show includes digitally-mastered artworks, images in screen rotation, and jewelry made from digital works. High tech! CLICK FOR THIS ART EVENT AND MORE AT MPLSART.COM
FRIDAY NOVEMBER 8TH Over Under Sideways Down @ Look Art Below 1224 Quincy NE. Minneapolis 7-11 pm / free After checking out the Altered Esthetics opening, head downstairs! Tonight's opening reception features the art and perspectives of ten local artists on view at Todd Peterson's cleverly named gallery, Look Art Below. Over Under Sideways Down includes original work from artist Joe Aschebrock, Jesse Draxler, Kara Hendershot, Todd Hollingsworth, D C Ice, Gina Louise, Toneski Love, Rhea Pappas, John Terwilliger, and Peterson himself. And if we know this gaggle of artists, we expect to see fantastical, colorful works that you'll definitely be tempted to snap up (and snap you should). Also on task is live music by alt-country artist, Bernie King. The exhibit runs through Monday, November 30th. The gallery is located on the lower level of the Q.Arma building in NE's art district. CLICK FOR THIS ART EVENT AND MORE AT MPLSART.COM Art by Joe Aschebrock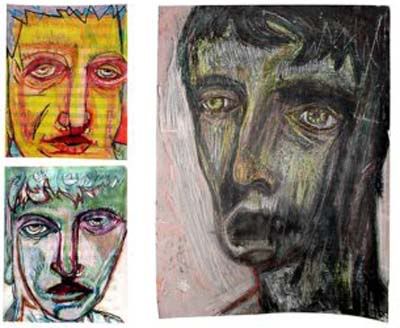 FRIDAY NOVEMBER 6TH Carpe Noctem @ The Loft at Barfly 711 Hennepin Ave. Minneapolis 8pm-2am / 18+ (21+ to drink) $12 Carpe Mammae and NOH Productions present an evening of music, fashion and dance for those who wish to "seize the night," complete with gothic flair and dark nuance. Carpe Noctem features an amazing musical line-up with live sets from darkwave cabaret outfit, Voltaire; local ethereal symphony creators, Bella Koshka; All the Pretty Horses vixen, Venus DeMars; gloomy carnival swaggerings from Uzza; and tunes by Transmission's DJ Jake Rudh. Tonight's nocturnal extravaganza includes a stylishly spooky fashion show by The Libertine Asylum with local designs from Samantha Rei of Blasphemina's Closet and Heather Luca of Scoundrelle's Keep, plus a special performance by Mythology Dance – a tribal fusion Belly Dance troupe. And don't forget to dress in your best gothic attire because Fairshadow Photography will have a photobooth on site to capture you and your friends in all your sinister loveliness. Carpe Noctem! CLICK THE IMAGE FOR MORE INFO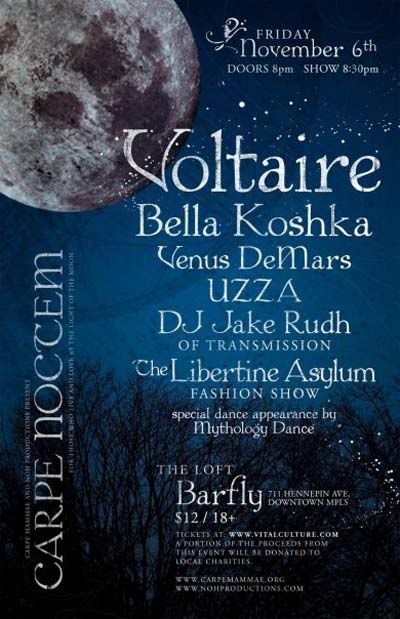 FRIDAY NOVEMBER 6TH Future of the Left @ 7th St. Entry 701 N. 1st Ave. Downtown Minneapolis 9 pm / 18+ / $10 Believe it or not, there's more to Cardiff, Wales than just Doctor Who and Torchwood. Musicians Future of the Left (avec Les Deux Magots) perform on Friday night. Curious about the Minneapolis connection? Future of the Left is a frequent collaborator with local screen print gurus, Aesthetic Apparatus, who have created plenty of album art for the trio. Head over to the Entry for some great live music and a chance to support stellar local design — and pick up a limited edition poster print while you're at it.
FRIDAY NOVEMBER 6TH Har Mar Superstar Homecoming Show @ Varsity Theater 14th & 4th Dinkytown Minneapolis 9pm / 21+ / $12 We hardly think this show needs our promotion, but we can't help but give it a shout out based soley on principal! Back for a stint at the Varsity Theater, the now Los Angeles-based hot commodity, Har Mar Superstar, will pull out all his sexy stops for this special "homecoming" performance in support of the recently released album, Dark Touches. The always-charismatic performer (a.k.a. Sean Tillman, head of former local bands Calvin Krime and Sean Na Na) will surely entertain with his crazy antics, suave moves, highly danceable jams, and if legacy means anything, an inappropriate amount of bare skin. Koo Koo Kangaroo kicks things off. Video for "Tall Boy"
FRIDAY NOVEMBER 6TH 8Hz Compilation Release Party @ The Turf Club 1601 University Ave. W St. Paul 9 pm / 21+ / $5 Get it together, kids. 8Hz is celebrating the release of their first record at The Turf, and your attendance has been requested. The new 12″ compilation includes tracks from Phantom Tails, Me and My Arrow, Speed's the Name, Old James, Buildings, Economy Team and Ford Wilson Riot. Each unique record is pressed in various colors and includes a hand-painted jacket. Yours may even have a surprise or two inside if you get there in time. CLICK THE IMAGE FOR THE FACEBOOK EVENT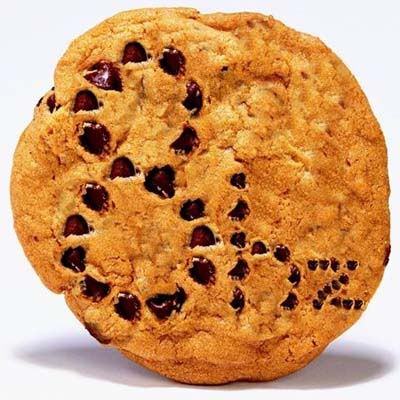 FRIDAY NOVEMBER 6TH Das Hotel @ Kitty Cat Klub 315 14th Ave. SE. Minneapolis 10 pm-2 am/ 21+/ no cover A German version of Hotel's monthly dance night? Ja, gerne! Tonight, your Hotel host and resident DJ, Herr Ackerman (Jonathan Ackerman), and special DJ guests Mosterbrüsten (aka duo compromised of ½ of Tendercakes and one part Molly Kroeten) and The Fricklemeïster serve up delicious dance tracks courtesy of our friends overseas. So, get ready to shake your sexy lederhosen-clad bodies on the dance floor to German beats and European treats. Wir lieben elektronikmusik! CLICK THE IMAGE FOR THE FACEBOOK EVENT
FRIDAY NOVEMBER 6TH Get Cryphy @ First Avenue 701 First Ave. N. Downtown Minneapolis 10 pm / 18+ / $5 Keep the November chills at bay and get toasty with tunes from DJ Jimmy2times and world-class guests Low B and DJ Sega. Bonus points if you yell "SEGA!" throughout the night. Both DJs have been a major influence on Get Cryphy from the beginning, so hustle down to the First Avenue danceteria to give thanks. Early arrival is always recommended, but especially so tonight. CLICK THE IMAGE FOR THE FIRST AVE SITE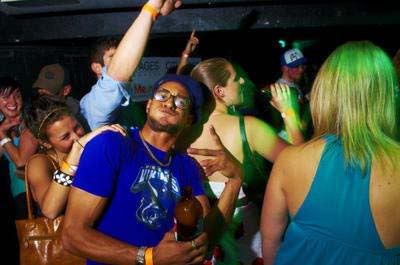 COOL LINK: MPLS.TV Forgive us for being on a bit of a TV kick lately, but we just had to share another fun broadcasting link, MPLS.TV. Created by a collective of locals dedicated to spotlighting culture in Minneapolis, the public access show features comedic sketches, interviews and highlights local hotspots and musicians — showcasing the unique and community-centered aspects of Minneapolis. With two episodes already released, "Breakfast" and Halloween," the show will be releasing their newest episode "Lakes" on Thursday (see Bonus section below) and a Christmas special at the end of the year. MPLS.TV also features a segment called "City of Music," where local music acts are caught performing in atypical average locations. Catch MPLS.TV on the Minneapolis Television Network (MTN) Cable Channel 17 on Thursdays at 11 pm, plus full episodes and clips online at Vimeo or at MPLS.TV's site HERE. Bonus: Check out MPLS.TV's premiere party this Thursday (Nov.5th) at 8 pm at the West Bank Social Center featuring a screening and a rockin' dance party. Laugh to a few episodes, share a beer and shimmy the night away. MPLS.TV's "Breakfast" Episode:
MPLS.TV Episode 1: Breakfast from MPLS.TV on Vimeo.
SATURDAY NOVEMBER 7TH (THROUGH SUNDAY) The Affair @ The Minneapolis Convention Center 1301 2nd Ave. S. Downtown Minneapolis 10am-6pm / $25-$30, special events at various locations range in price see website. It's hard to believe that winter's already rolling in, but since there's not much we can do about the weather, we might as well embrace it. Start warming up for the holiday season with tastings of truffles, pastries, wines, coffee and tea, cheeses, meats, and seasonal produce, while learning more about entertaining from experts on tabletop trends, fashion, cooking, baking, and more! There's an option for every entertaining connoisseur, whether you're a novice or a virtuoso. BONUS: Find our BFFs from Secrets of the City at the Affair, too, near the entertainment stage, as they offer assorted prizes and spout off various rakish secrets for holiday shopping and enjoyment! CLICK THE IMAGE FOR THE AFFAIR SITE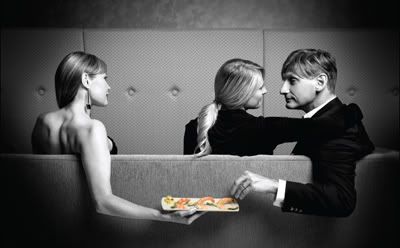 SATURDAY NOVEMBER 7TH Suicide Commandos Day @ Walker Art Center 1750 Hennipen Avenue Minneapolis 11am & 1pm / Free @ Dakota Jazz Club 1010 Nicollet Mall Minneapolis 11pm / $10 The legendary Suicide Commandos bring some "family friendly" punk rockin' fun to the Walker Art Center for two shows at 11 am and 1 pm as part of the WAC's "Rock Out" themed Free First Saturday event. However, if you're like us, you'll want to incorporate booze into your Suicide Commandos intake. Luckily, they'll be performing an acoustic set at 11 pm at Dakota Jazz Club & Restaurant, the perfect setting for a bottle of Veuve Cliquot Yellow Label with your very grown-up friends…grown up friends who appreciate ze punk de la rock that is. To make matters official, newly re-elected mayor, R.T. Rybak makes it one of his first orders of business to proclaim this Saturday officially "Suicide Commandos Day." How cool is that? We heart R.T.!
SATURDAY NOVEMBER 7TH Atmosfere Grand Opening Party @ Atmosfere 1426 W Lake St Minneapolis 4pm-10pm / Free Stylish men of the Twin Cities have relatively limited choices when it comes to clothing themselves, which is why they'll be coming out in droves for the grand opening of the Uptown location of Atmosfere. This men's boutique has already flourished in the Gaviide Common, and is sure to double its success in this location. We wish you all the best, fashionable gentlemen! CLICK THE IMAGE FOR THE FACEBOOK EVENT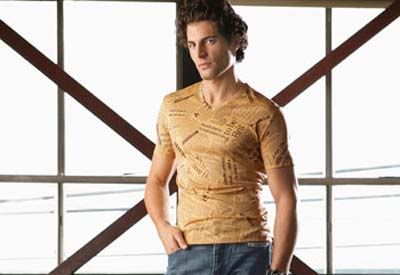 SATURDAY NOVEMBER 7TH Seven By Seven: New Works by L7 @ Umber Studios 3109 E. 42nd Street Minneapolis 7 pm / free Said to be significant in astrological, spiritual and mythological contexts, the number 7 is widely known as a "lucky" number. Umber Studio's latest gallery exhibit, Seven By Seven, highlights the intricate bearing the number has had in both a concrete and artistic sense. For instance, there are seven colors in the visible spectrum, seven tones in the musical scale, seven wonders of the natural world, seven chakras and seven days of the week. Coincidence? These artists think not. Tonight's opening reception features works from the 7 artists who compromise the L7 group, Cami Applequist, Julia Elizabeth Babb, Savita Bettaglio, Kat Corrigan, Jean Leuthner, Kari Maxwell and Claudi Poser. Note to grunge fans: the L7 group has no relation to the hard-hitting lady, '90s angst-rock band of the same name. It may, however, have something to do with the 1950s slang phrase meaning "square." CLICK FOR THIS ART EVENT AND MORE AT MPLSART.COM
SATURDAY NOVEMBER 7TH Grant Cutler & The Gorgeous Lords, Zoo Animal, and IS IS @ 331 Club 331 13th Ave. NE Minneapolis 9 p.m. / Free / 21+ Tonight, Lookbook's male half steps out to the forefront with the debut performance from his brand new band, Grant Cutler & The Gorgeous Lords. We were lucky enough to preview his demos, and let us be the first to tell you, Cutler has more than a few tricks up his sleeves. Showcasing his more-than-capable baritone, he sounds like a spacey, epic version of Leonard Cohen – and shockingly serious, coming from the man behind some of the hottest dance tracks in town. His venerable backing band is rounded out by members of The Plastic Constellations, Askeleton, and Brutal Becomings, while IS IS, another brand-new local supergroup featuring the Sarahs from Gospel Gossip and First Communion Afterparty, opens the show. Recent "Picked to Click" winners Zoo Animal headline. CLICK THE IMAGE FOR THE 331 SITE
SATURDAY NOVEMBER 7TH Mark Mallman, The Alpha Centauri, Magic Castles, Total Babe @ Turf Club 1601 University Ave St. Paul 9pm / $6 He's toured the country 23 times and still picks the Twin Cities as his home. He rocks the keyboard like no other, and his stage presence is full of charisma and flair. You have to see it to believe it. This snazzy showcase starring the ever-magnetic Mark Mallman along with hot local bands The Alpha Centauri, Magic Castles, and Total Babe is guaranteed to rock winter straight into spring! CLICK THE IMAGE FOR THE TURF SITE
SUNDAY MUSIC PICK: TEENAGE MOODS We want to warn you that if you click on their Myspace page, their songs will be stuck in your head for weeks! A sugary-sweet local punk/pop trio with one lovely lady bass player, Teenage Moods have simple songs that are addictive. A carefully placed bandana acts as a hidden microphone to make mysterious noises, and their positivity is infectious. If you haven't caught them around town yet, check them out! Then buy one of their self-released albums. Sweet sweet.
SUNDAY NOVEMBER 8TH Designer Sample Sale @ Cliche Boutique 2403 Lyndale Avenue Minneapolis 1pm-6pm / Free One of the hottest spots to procure local, independent fashion in the Twin Cities is preemptively planning your party wardrobe for the upcoming season! Head to Cliche this Sunday for the Local Designer Sample Sale featuring temptingly discounted delights from some of our faves including Kjurek Couture, Amanda Christine, Charmichael Claith, Jenny Carle, Arwyn Birch, Brianne Jones for Kelson and Andrea Oseland. Discounts on wares from local jewelry designers abound as well. Snap up deals, rub elbows with other fashion-forward peeps, and be prepared for a clamor, because if we know our local design hounds, they'll be out in full force today. Eye-gouging may or may not be applicable.
CLICK THE IMAGE FOR THE CLICHE SITE Amanda Christine Designs / Photo: Nic Marshall / Styling: Eclecticoiffeur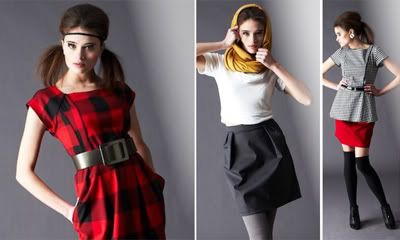 SUNDAY NOVEMBER 8TH Gallery Talk: Thoughts In and Around Photography Today @ College of Visual Arts 173 Western St. Paul 4pm / $10 Minnesota's photography star has been rising higher and higher for the past 30 years. In correspondence with CVA's show, The Minnesota Eye: Contemporary Photography, David E. Little, the curator of photography and new media at the MIA will talk about the state of photography today. Photographic superstars Alec Soth, Beth Dow, and JoAnn Verburg have work in the show, which runs through November 14th. Get over to St. Paul and show some love to our local shutterbugs! CLICK THE IMAGE FOR THE CVA SITE "Coaster" by Beth Dow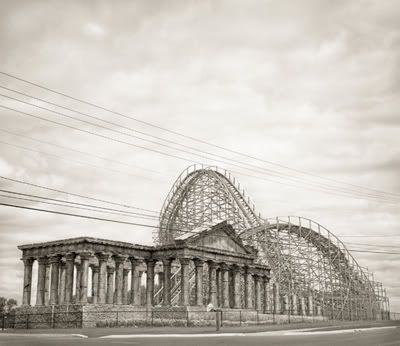 MONDAY NOVEMBER 9TH Trivia with Toneski! @ 501 Club 501 Washington Avenue Minneapolis 9 p.m. / 21+ / Free Kick back at the 501 with a brewski and a heapin' helpin' of pop culture at the first ever Trivia with Toneski! Already a hot item on the trivia circuit around town, Toneski livens up Monday with his time-tested hilarity (we can vouch for this) and his vast array of fun, useless-but-awesome-knowledge trivia questions. In what he calls a "popular and not-popular culture interactive trivia game show" you'll be subjected to not only regular ol' trivia questions, but multi-media ones as well dealing with music, movies and the like (think sound bytes, video clips, images, etc). Sweet prizes from such local businesses as ROBOTlove, Shuga Records, D'amico Kitchen, and many more…as well as a Jon Secada cassette tape single and a copy of Weekend at Bernie's on VHS (yes!). Sip drink specials, chow down delicious food, and get your trivia on with Toneski! We'll totally be there with bells on. CLICK THE IMAGE FOR THE FACEBOOK EVENT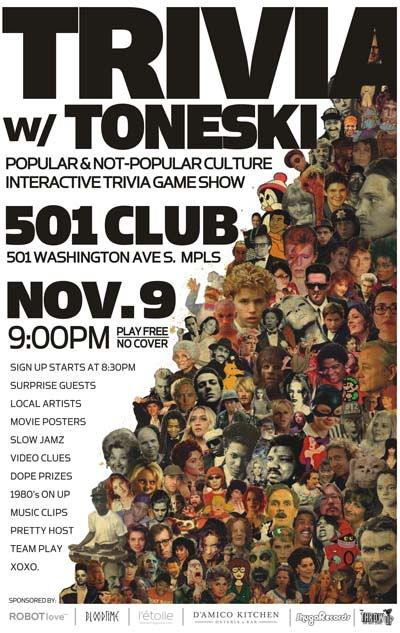 TUESDAY NOVEMBER 10TH JagerCon: Sci-Fi Tuesdays @ Clubhouse Jager 923 Washington Avenue N. Minneapolis Every Tuesday 10 p.m. / 21+ / Free Join hosts Kate Iverson (l'étoile magazine, Secrets of the City) and Beth Hammarlund (l'étoile magazine, A Tiny Machine) every Tuesday Night for JagerCon! JagerCon is a weekly sci-fi party featuring screenings of classic nerdy movies and television shows — topped off with 2-4-1 cocktails all night served by Star Captain Paul! Mingle with like-minded sci-fi geeks, discuss D&D strategies, and use that Captain Picard impression you've been perfecting to pick up chicks at the bar. Snort-laugh the night away while bragging about your MMORPG addiction and enjoy a cozy, nerd-friendly environment. Upcoming Events: Nov 10th: Westworld Nov 17th: Class of Nuke Em' High Nov 24th: Legend This week's flick is Westworld!
GUEST BLOGGER: A TINY MACHINE Beth Hammarlund breaks down Project Runway…again. Only five designers left It's time for a great big slice of humble pie here at a tiny machine, because good lord, le petit connaisseur and my predictions about the final three in this season of Project Runway turned out to be ever so wrong. Last night, Logan was sent home. It was a decision that I agreed with whole-heartedly, but didn't know how to reconcile with my predictions about the finale. If Logan didn't design the first collection, who did? And though I'm sticking to my guns about the third collection being Althea's (seriously, the headband is a dead give-away), I'm starting to wonder about the second collection as well. Could it actually be Christopher's? Or are we possibly looking at an Irina-Carol Hannah-Althea showdown? Only time will tell, as my predictions are apparently not to be trusted. Another note on last Thursday's episode: What was up with Althea's winning look? I liked the pants and the sweater, but couldn't really look away from the horrible, unflattering, unsupportive tank top. Model Tanisha's rack deserves better than that. CLICK THE IMAGE FOR THE TINY MACHINE SITE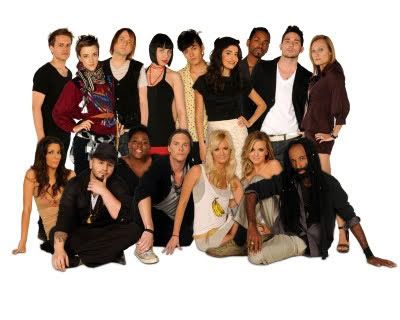 GUEST BLOGGER: LE PETIT CONNAISSEUR Jahna Peloquin gives us a sweet preview of CounterCouture. Always a bridesmaid, never a bride? That means you probably have tons of bridesmaid dresses gathering dust in the back of your closet that you'll never wear again. But Minneapolis-based eco-friendly clothing company Counter Couture was started to create a solution to that problem in a stylish way. It launches next week online at countercouturedesigns.com. CLICK THE IMAGE TO READ THE REST OF THE ARTICLE Look by Je Ne Regrette Rien / Image by Werthless Photography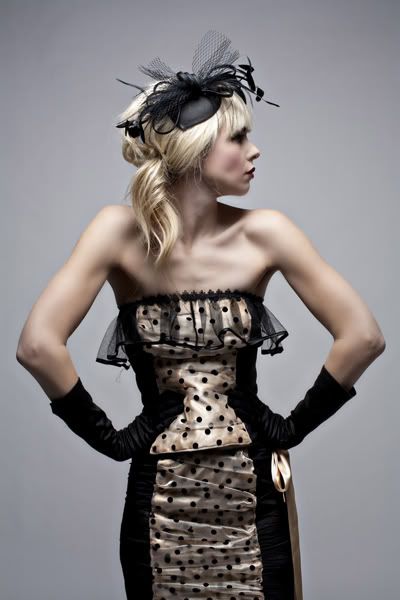 L'ETOILE NEWSWIRE Crispin/Secrets of the City Photo Contest "Whether represented by a photo or an illustration, we want to see your image of what is so damn cool in these towns. Think of an Ah Haa! discovery, a small wonder,
a fresh perspective…something we will be delighted to know about. In short, we want to see your artistic impression of a Secret of the City! Email your artwork or image (up to three per person) in a jpg or gif file format, under 1MB, to CONTESTS@secretsofthecity.com, with subject line: Crispin Cool. Please include your full name, and a description, if needed, of under 25 words. The contest is open through November 3. A select group of finalists will be invited to show their work at a special event (details TBD), and receive very cool Crispin on Ice products. Who knows what other Secret prizes might be revealed?" Click HERE to learn more about the contest and check out some other entries! $25 for a custom Joynoelle frock? You don't say! The Shubert Center and designer Joynoelle team up to bring you a totally awesome raffle benefiting a good cause
— the Shubert Theater of course! Enter for your chance to win a custom designed dress from Joy Teiken of Joynoelle, one of the Twin Cities leading fashion designers. Joy will work personally with the winner to design a custom dress for the opening night gala of the Minnesota Shubert Center. Raffle tickets are $25 each and can be purchased online or by mailing a check to the Minnesota Shubert Center. The winner will be announced after the Shubert Theater's groundbreaking ceremony on November 19th. Click HERE for more info! Editor in Chief: Kate Iverson Contributing Writers: Lacey Prpic Hedtke, Robyn Lewis, Juleana Enright, Kate Iverson, Beth Hammarlund, Jahna Peloquin, Rob Callahan