Halloween Weekend is officially here! Some of us are still trying to figure out what to wear, while others have their blood-soaked Lady Gaga suits primed and ready to go. The most whimsically terrifying day of the year is upon us and we simply can't wait to take it all in! Whatever you do this Halloween, be fearless and feel free to go completely overboard—that's what it's all about! Also, check out our Guide to All Hallows' Eve 2009 for spooky recommendations on treats, tricks, music, film, recipes and even a long-lost, never before seen photo shoot from the l'étoile archives and much more. xo-l'étoile p.s.- Don't forget to stop into l'étoile-o-ween at Clubhouse Jager this Saturday!
THURSDAY OCTOBER 29TH (THROUGH FRIDAY) An Evening Excursion @ Eat Street Various Locations Nicollet Avenue Minneapolis Thursday & Friday 5pm-10pm With additions like the stylishly hip, Head to Toe Salon and vintage-wear savants, Blacklist Vintage, Nicollet Avenue's token "Eat Street" is quickly becoming the neighborhood known for more than just great dining spots. Join over 15 bars, restaurants, shops and boutiques for a 2-night excursion where phrases like "50% off" and "2 for 1" deals on menu items, cocktails and clothing item are leisurely tossed around. Featuring specials at great local hot spots such as Azia, where you'll score $10 fancy cocktail/appetizer pairings; 2 for 1 margaritaville at Pancho Villa; DIY diner at the Bad Waitress; and more. Plus, dinner deals galore at the Black Forest Inn, Caravelle Pho, Christos Greek, Peninsula Malaysian, and Rainbow Chinese. Don't miss Quang's crazy Man vs Pho challenge: finish a 4 lb bowl of Pho in an hour and it's free – a $20 value! Not to mention an exotic fruit tasting at the Troung Thanh Market, 50% off haircuts at Head to Toe Salon and store-wide clothing sales at The Lost and Found and l'etoile fave, Blacklist Vintage. Bonus: Blacklist Vintage is all stocked with unique and vintage Halloween gear and accessories! So, head down and get your shop on. Looking for something specific? Their friendly staff always has great suggestions on putting together your unique ensemble. CLICK THE IMAGE FOR MORE INFO
THURSDAY OCTOBER 29TH Fame: Costumes & Couture @ Ignite Models Studio – Brin Building 600 Washington Ave. N. Suite 101 Minneapolis 7-10 pm/ $7 (or free before 7:30) Looking for a costume party this year more Alexander McQueen-esque than Ragstock adorned? Well, look no further. Boasting the most fashionable Halloween Party in town, Ignite Models, Inc. hosts "Costumes & Couture Halloween Bash," featuring a fashion show, cocktails, appetizers, spooky décor and a scarily good dance party. Local designers 2709, Allison Quinnell, Calpurnia Peach, Je Ne Regrette Rien, Marisa Grey and – the always dazzling – Max Lohrbach showcase their stunning Fall lines rocked out by the lovely, styled-to-a-tee Ignite Models. See something you like? Co-hosts, Design Collective, will have a mini-store on-site where guests can purchase the styles "hot off the runway." Artsy costumes are not only encouraged, but also get you into the party at a discounted cover charge. Don't forget to grab a stylish friend and capture your snazzy look at the Interactive Photo Booth, then shake your masqueraded tail feathers on the dance floor with beats provided by DJ Bach. CLICK THE IMAGE FOR THE IGNITE SITE
THURSDAY OCTOBER 29th NOTE: TRIVIA & SCREENING WILL BE HELD IN THE PRIVATE BAR TONIGHT DUE TO AN EVENT IN THE MAIN DINING ROOM. Project Runway Weekly Screenings @ Hell's Kitchen 80 S. 9th Street Downtown Minneapolis 8-9pm Fashion Trivia with l'étoile 9-10pm Project Runway 10-11pm Models of the Runway Come cheer on our hometown boy Christopher every Thursday at Hell's Kitchen — Ra'mon has been auf'ed but we've got high hopes for Straub! Put on something snazzy and join us for weekly screenings of Project Runway, sponsored by l'étoile and Metro Mag! Show up early from 6-8pm for live music, drink specials and the full dinner menu, then play fashion trivia with Kate and Beth from l'étoile, who will be giving away sweet prizes including a $50 bar tab every week. From 9-11pm settle in and watch back to back eps of Project Runway and spin off show, Models of the Runway, live on Hell's big screen. Enjoy drink specials, fashionable revelry, and damn good food at Hell's Kitchen every Thursday with us! Parking: $5 parking in adjacent lot, or metered street parking. Bonus: Christopher and/or Ra'mon will be joining us from time to time! CLICK THE IMAGE FOR THE FACEBOOK EVENT
THURSDAY OCTOBER 29TH Faux Jean (Original Lineup!) @ Uptown Bar 3018 Hennepin Ave Minneapolis 9pm / 21+ / $5 In the final days of the Uptown Bar as we know it, pop revivalists Faux Jean are bidding them an extra special adieu by reuniting in their original format for a solid rocking out in honor of the legendary hot spot. Stop by and raise your glasses in one final hurrah in the last remaining rock & roll bar in Uptown. Special guests John Swardson and Get Gone kick things off. CLICK THE IMAGE FOR THE UPTOWN SITE
FRIDAY ART PICK: FREAKY DEEKY Chances are if you're a public television troller like we are, you've seen some "interesting" images on cable access shows – gardening tips from cross-dressers, off-key choruses performed in skivvies – and MTN's channel, Freaky Deeky, is yet another eyebrow raising entertaining masterpiece for the vaults. Every Sunday night, catch Freaky Deeky's live call-in public broadcast featuring prophetic discussions with the late, great gore mini-celeb, Rock and Roll Ray; acid-inspired neon video trips and eccentric characters "drinking milk from their teets of exhibitionism" in a self-proclaimed display of "mustache piracy in full style." Headed by zany local video artist and creator, Hal Schuler (aka Time Squid, the video fun VJ of Worn to be Wild and Menergy parties), Freaky Deeky's lunacy is something that must be witnessed group-style, and without judgment. Check out their new Vimeo channel to view back episodes and crazy visual illusions. And just when you thought it was safe to turn on your tv… Click HERE for the Freaky Deeky Channel on Vimeo

FREAKY DEEKY Promo!! Live Freakout Call-in TV show MTN from Hal Schuler on Vimeo.
FRIDAY OCTOBER 30TH Zombie Machine's All Hallows Eve @ Shuga Records 165 13th Ave NE Minneapolis 7pm / All Ages / Free Listen to music and then snack on delicious braaaaiiiinzzz at new vinyl slingers Shuga Records. Gracing their new in-store stage for an early, all-ages Halloween show are Scottish popster Wallace Wylie, Dylan-esque folky Gabe Barnett, and blues newbies Union Shakedown. After partying it up at Shuga Records, refuel at our new personal favorite, Anchor Fish and Chips just up the block! CLICK THE IMAGE FOR THE SHUGA RECORDS SITE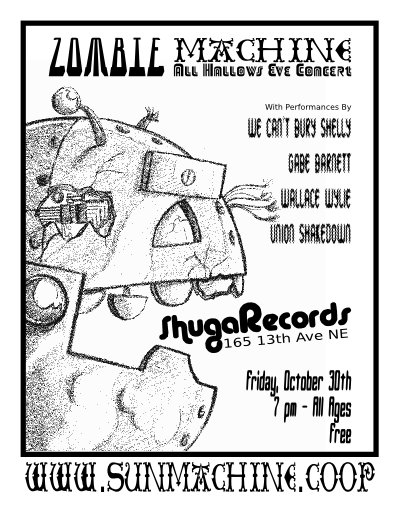 FRIDAY OCTOBER 30TH Tortured Cinema: The Great Works of Lon Chaney @ Fitzgerald Theater 10 E Exchange St. St. Paul 7:30pm / $12 adults, $10 MPR members, $6 under 16 Since this time of year is the best for the dead to cross over into the world of the living, perhaps tonight is the night the Fitzgerald Theater ghost will be in attendance. Only a negligent ghost would miss this night of silent films starring one of the Masters of horror, Lon Chaney. MPR's Movie Maven Stephanie Curtis hosts excerpts of The Hunchback of Notre Dame and Phantom of the Opera while the Fitz's Wurlitzer Theater Organ accompanies. Between films, musicians from the Indie Artist Residency Program present new compositions and arrangements specifically for the Theater Organ.

FRIDAY OCTOBER 30TH Bomp 9: Videodrome @ Bedlam Theatre 1501 S. 6th St. Minneapolis 10pm-2am/$5 with a costume, $7 without/18+ You are now entering the Videodrome. The Bomp crew is promising "mind blowing" video installations for this month's edition of the dance night we don't know what we'd do without. DJ Grocery is coming from St. Louis to do an all video DJ set, while Moon Goons, Get Cryphy, Bitch Ass Darius and Wzz Wshp stir it up. Prime your Halloween get-up for tomorrow night with a layer of dance sweat. When your moves get too hot, head to the rooftop patio, where Rambo Salinas and friends will flipping wax all night long. CLICK THE IMAGE FOR THE FACEBOOK EVENT
FRIDAY OCTOBER 30TH Distant Planet @ Gallery 13 811 LaSalle Ave Minneapolis 10pm-? / $20 / 21+ Halloween costume bizarre. Galaxy of freaks. What do these phrases mean and what does Gallery 13 have planned for us? Nico is responsible for the visual oddities, while a gaggle of DJs make use of the turbo sound system, including Centrific, Naughty Wood, Sovietpanda, Jobot, The Nightstalker, Wetlegs, and Sexbotz in a two room installation. Tricks, treats, drinks and costumes abound. This baby goes late, so feel free to hit it up after bar close.

COOL LINK: L'ETOILE'S GUIDE TO ALL HALLOWS' EVE 2009 Halloween is definitely our favorite holiday! Tricks, treats, elaborate costumes, horror movies, eerie ambiance — it's the stuff (scary) dreams are made of. With so much to do and only one night to do it, we've compiled a terrifyingly terrific guide to fill you in on what to wear and where to get it, tasty treats and sinful spirits, spooky stories, music, movies and of course, the hottest Halloween parties going on this Saturday! You'll even be privy to a long-lost Halloween-inspired l'étoile photo shoot! Have a ghoulishly grand Halloween, and remember, do not take candy from strangers…unless they are very good looking! Click below for the Guide! CLICK THE IMAGE FOR THE ALL HALLOWS' EVE GUIDE
SATURDAY OCTOBER 31ST Dan Graham: Beyond @ Walker Art Center 1750 Hennepin Ave. Minneapolis 2 pm/ free Iconic, multi-faceted artist, Dan Graham, has been exposing his ground-breaking modern art to the world since the '60s, from "the rise of conceptualism and minimalism to video and performance to explorations of architecture and the culture of rock and roll." In his famed early 1980s film, Rock My Religion, Graham presented rock & roll as the American religion of the era, and declared Patti Smith's androgyny as "reclaiming the totem of the phallus for femininity." Pretty cool, eh? Today, the Walker is proud to present a retrospective showcasing Graham's expansive body of work for the first time in the United States. Highlighting the evolution of his career stages, the extensive exhibit features video and performance innovations, media installations, prints, photographs, architectural glass-and-mirror pavilions and magazine projects. This exhibit's opening reception comes in the form of an afternoon dialogue between the artist and curators Bennett Simpson (Museum of Contemporary Art, LA) and Chrissie Iles (Whitney Museum of American Art, NY) along with a set from post-punk duo, Japanther. Yes, we repeat, yes, Dan Graham himself WILL be at the Walker this Saturday! The exhibit runs through January 24th. CLICK FOR THIS ART EVENT AND MORE AT MPLSART.COM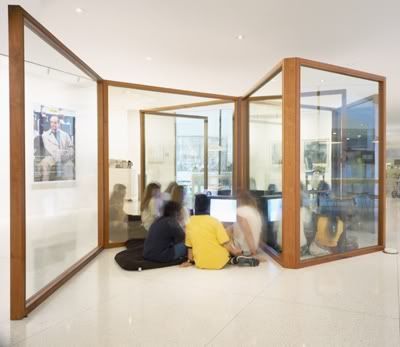 SATURDAY OCTOBER 31ST L'ETOILE-O-WEEN! @ Clubhouse Jager 923 Washington Avenue N. North Loop Minneapolis 10pm / 21+ / $5 Join l'étoile magazine and Clubhouse Jager for an evening of dark debauchery, liberal drinking and wild dancing this Halloween! Featuring devilishly sexy visuals on 4 projectors via the creative brilliance of Clement Shimizu and Demiétoile; a costume contest with prizes for most stylish (hello, it's l'étoile!), most scary, and most original; a photo booth by Digital Crush Photography within which to get your hottness commemorated; Ouija boards for drunken, otherworldly communications; and plenty of spooky drink specials and candy to sink your fangs into! Also featuring darkwave, electro, and synthtastic sounds from Demiétoile, Deus ex Machina (aka l'étoile's own Juleana Enright) and special guest, DJ Talk Radio. We'll be there, will you? CLICK THE IMAGE FOR THE FACEBOOK EVENT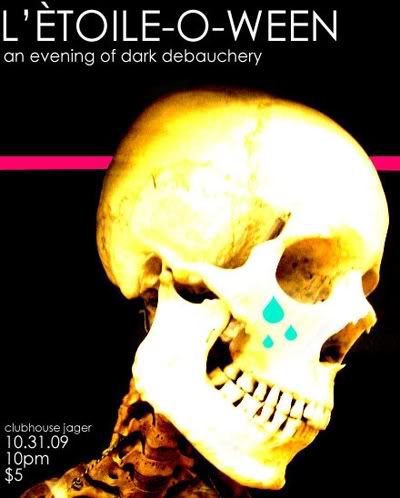 SATURDAY OCTOBER 31ST First Ave's Halloween Party / The Monster Mash 3 @ First Avenue/Entry 701 1st Ave. N. Minneapolis Mainroom: 8 pm/ 18+/ $5 advance, $10 w/costume, $15 w/o Entry: 9 pm/ 18+/ $6 Known strictly as "the best Halloween Party in town," this year First Ave's ghoulish dance/costume party features veteran emcee, Ian Rans (Drinking with Ian), First Ave resident DJs and inventive costumes galore. Why is it the best party? We're thinking it has something to do with the costume contest, which offers over $1,000 in cash prizes! And while you're on First Ave premises, don't forget to hand jive over to the Entry for a Monster Mash sop-hop. Back for a 3rd frightful installment, this dance party features smash hits from the 50's and 60's with special funked out and scratch-toned remixes from Mike the 2600 King and guest DJ King Otto. CLICK THE IMAGE FOR THE 1ST AVE SITE
SATURDAY OCTOBER 31ST Hot Roxx Halloween Hextravaganza @ Hexagon Bar 2600 27th Ave. S. Minneapolis 10pm / 21+ / Free Join rockin' dance night afficiandos, Hot Roxx and the Hexagon for a Hextravaganza Halloween celebration. Tonight's trick or treat concert features local acts including psych rockers Invisible Boy (w/ T.V.B.C. drummer, Freddy Votel); sound manipulation pioneers, To Kill a Petty Bourgeoisie; Mystery Supergroups and Hot Roxx DJs Nick and Jen. And since it's the Hex, expect strong drinks and plenty of friendly folks in masks. Costumes encouraged! CLICK THE IMAGE FOR THE FACEBOOK EVENT
SATURDAY OCTOBER 31ST Trylon Microcinema presents The Fly @ Trylon Microcinema 3258 Minnehaha Ave. S. Minneapolis 7 & 9 pm both Friday & Saturday / $8 Unlike it's cheesier counterpart – the original 50's Vincent Prince version – Cronenberg's big budget remake follows a much more psychological and dark plot line. Starring Jeff Goldblum and Geena Davis and known for its excessive gore and grotesque body disfigurement special effects, The Fly a perfect film to screen during Halloween. Take-Up Production's microcinema boasts one of the comfiest places to see a flick (horror, or otherwise) in town with its 20-foot screen, two 35mm projectors and intimate pint-sized 50 seat theater. The Fly screens both Friday and Saturday. Tickets are going fast so grab yours online now.

SATURDAY OCTOBER 31ST The Rocky Horror Picture Show Midnight Showing @ Uptown Theater 2906 Hennepin Ave. Minneapolis Midnight on Friday & Saturday / $9 Would it really be Halloween without a sweet transvestite? In honor of the longest running midnight film of all time, Uptown Theater screens the Tim Curry, Susan Sarandon and Barry Bostwick guilty pleasure at midnight both Friday and Saturday. A sex-crazed musical, it's part Hollywood horror, part Old Dark House melodramas, and the first interactive movie experience to grace the big screen – not to mention the one with the largest and most interestingly dressed cult following! Feel free to sing-a-long and shout at the screen with die-hard Rocky Horror apostles and local group, Transvestite Soup — and don't forget your fish nets and feather boa!

SATURDAY OCTOBER 31ST Pink Hobo Halloween Party @ Pink Hobo 507 East Hennepin Ave Minneapolis 7pm / Free Brush up on your monster knowledge before heading over to Pink Hobo's Halloween Party and Monster Print and Poster Show. Whether you wear a costume or not, be prepared to get into the Halloween spirit with ghoulish pieces from local artists including Jennifer Davis, Evan Palmer, Brittney Sabo, King Mini, Amy Jo, Tooth, Mike Davis and over 20 more. Refreshments will be provided, along with party music from DJ Kenny Kingston. CLICK THE IMAGE FOR THE PINK HOBO SITE
SATURDAY OCTOBER 31ST Ground Zero Halloween Masquerade @ Ground Zero 15 4th Street. NE Northeast Minneapolis 9pm / 21+ / cost TBD Grab your whip and polish your nipple clamps, because legendary Minneapolis S&M bar Ground Zero is hosting a Halloween Masquerade. Whether you're into a little light spanking or will be dressed in full dominatrix gear, Ground Zero promises a Halloween party full of debauchery you won't forget. And even if you could, your nipples wouldn't. Be sure to arrive in time to catch the stage show at midnight. Check your coat and inhibitions at the door. CLICK THE IMAGE FOR THE GROUNDZERO MYSPACE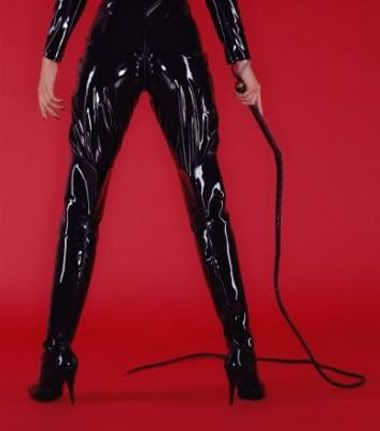 SATURDAY OCTOBER 31ST Dead Poets' & Writers' Halloween @ Kierans Irish Pub 300 2nd Ave. S. Minneapolis 8 pm / $10 suggested donation Looking for more than just a crowd full of predictably naughty nurses? Well, put on your slutty Shakespeare costume or your sexy Oscar Wilde getup and make your way over to Kieran's Irish Pub. Tonight's an open mic night will invite attendees to read from their favorite dark poetry, short stories and plays. But even though this event may be a little more intellectual than the usual Halloween fare, guests will still be encouraged to participate in the evening's costume contest. Proceeds from the evening will benefit the Loft Literary Center, so in addition to your costume, it's like you're also a philanthropist for Halloween! CLICK THE IMAGE FOR THE KIERAN'S SITE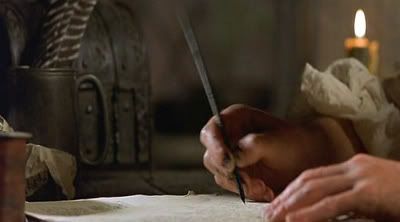 SATURDAY OCTOBER 31ST Barebones Halloween Night After-Show Party @ Bedlam Theatre 1501 S. 6th St. West Bank, Minneapolis 10 pm / 21+ / $10 ($7 in costume) Werewolves prowl. Ghosts haunt. Vampires lurk. But perhaps the scariest creatures of all hang lifelessly from string, until their masters bring them to life. That's right. We mean puppets, huge, artist-created puppets that is. Take in one of the BareBones puppetry and performance art spectaculars at Hidden Falls Park in St. Paul, then head over to the Bedlam Theater on the West Bank for the after party where you'll celebrate All Hallows' Eve with the spookiest artists in town. If the performances by Brass Messengers and Danceband don't get your feet moving, the creepy puppet masters will. CLICK THE IMAGE FOR THE BEDLAM SITE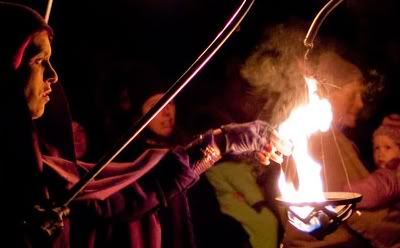 SATURDAY OCTOBER 31ST OM Halloween Party OM Restaurant and Bar 401 First Ave N Minneapolis 9pm / Free Still shaking from The Haunted Basement? Terrified after sitting through Paranormal Activity for the fourth time? Head over to OM to find some inner peace, or at least a couple calming Monsoon martinis. This annual Halloween Party includes cocktail samplings, all-night drink specials, and of course, delicious appetizers. Come in costume so that you can have your picture taken by awesome photog Vanessa Meade. Prizes will be awarded to the best "Ripped from the headlines" inspired costume including $150 and $100 gift certificates for OM and a magnum of Veuve Clicqout. CLICK THE IMAGE FOR THE OM SITE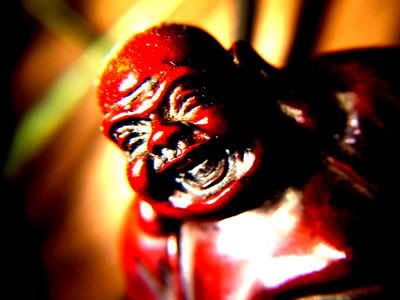 SATURDAY OCTOBER 31ST Thriller Halloween Party @ Nami Sushi 251 1st Avenue N. Minneapolis 10pm / 21+ Someone was bound to do it! The Familia peeps team up with Nami Sushi for a Michael Jackson themed Halloween bash, complete with super cheap drink specials for those dressed up as MJ himself. Win big in the costume contest, nosh on delicious sushi, and get down to the hot, hot beats of one Millions Billions and special guests, The Velvet Whips. If there ever was a legitimate use for that sequined glove you've got tucked under your mattress, this is it! CLICK THE IMAGE FOR THE FACEBOOK EVENT
SATURDAY OCTOBER 31ST Carnivale of the Bizarre @ Hell's Kitchen 80 S. 9th Street Minneapolis 9pm / Free With a name like Hell's Kitchen, you'll be "damned" to find a more creeptastic venue for your Halloween folly. The deliciously dungeon-esque underground lair pulls out all the stops for your terrification with Dr. Tinkerpaw and the Pandamonium Monster & Freak Show, video projections, DJs Sharin Biz and Loveless Aphrodite, Recovery performing mutated 80s anthems, a costume contest and more. Not to mention, a ghouls gotta eat — whether it be brains or an order of barbecued pork nachos. CLICK THE IMAGE FOR THE HELLS KITCHEN SITE
SATURDAY OCTOBER 31ST Tri-Polar @ Secret Location 30 mins outside the TC 9pm to ? / $12 pre-sale, $15 door, $18 no costume Let's just say if you dressed up as a raver this Halloween, you'll probably be paying the $18 door charge. If you're looking to keep your Halloween raging until dawn, however, you've definitely come to the right after party. A crazy lineup of over 20 DJs in multiple rooms of this secret venue will keep you dancing into the wee hours, and if we know the cats at UnCensoredUs, we know it will be one hell of a party. Click the link below for all the deetz, minus, of course, the location, which will be divulged day-of. CLICK THE IMAGE FOR MORE INFO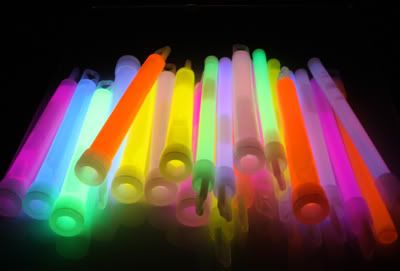 ADDITIONAL MUSIC EVENTS ON HALLOWEEN Lursurfer, Zebulon Pike, Buildings @ The Uptown Bar Luther the Devil, Gay Witch Abortion @ 331 Club Mystery Palace, The Blind Shake, Brutal Becomings @ 501 Sims, Kristoff Krane, Mel Gibson & The Pants @ Sauce Book of Right On, Red Pens, Lady Hard-On @ Turf Club Detrioration, Gutstump, Meth Tooth @ Big V's Zombie Season, The Funeral & The Twilight @ Kitty Cat Cocaine @ The 400 Bar E.L.nO., Night in the Box, DJ Mary Lucia @ Lee's Son of a Gun, Stellar Vector, She's in Film @ Terminal Kent Burnside, Fuck Knights, Sleaze @ Palmer's 80s rock cover bands @ Triple Rock
SUNDAY MUSIC (errr..AUDIO) PICK: NIGHTMARE FUEL Ok, so this isn't music, but you can listen to it, and it's awesome Nightmare Fuel is a Halloween Spoken Word Spectacular with stories by Rob Callahan, MontiLee Stormer, Allegra Lingo, Jerrod Balzer, S. D. Hintz, Rich Ristow, Wonder Dave and Mark McLaughlin. Put together by our own Rob Callahan, this collection contains a plethora of spooky tales, dark poems, and a heaping helping of irreverent humor courtesy of some of the best storytellers in town. The perfect late night listen when the wind is whistling on a dark Autumn night, if you ask us. Pair with a cup of hot apple cider (feel free to spike it) and cozy up on the couch for some seriously stellar storytelling a la Rob Callahan and friends. Click the image below to download the podcast (in the top, left-hand corner) and read bios on all its contributors. CLICK THE IMAGE FOR THE NIGHTMARE FUEL PODCAST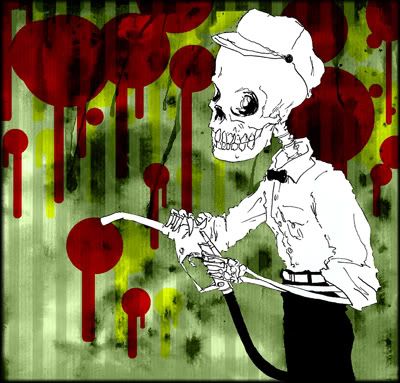 GUEST BLOGGER: A TINY MACHINE Beth Hammarlund does some serious detective work and fills you in on her predictions for the Project Runway top three — and solves the mystery of the hand tattoos while she's at it! Project Runway spoilers! But not really! If you don't want to hear any predictions about who makes it to Fashion Week on this season of Project Runway, stop reading now. I don't have any inside information or official spoilers about upcoming eliminations. However, images of the finalists' runway shows were made public last year. At that time I certainly didn't have a point of reference to make predictions, but after religiously watching the episodes, the designers' aesthetics and model choices for their final PR outing make it fairly obvious who made it to the final three. And world, I'm not sure you're going to be happy. CLICK THE IMAGE TO READ THE ARTICLE
GUEST BLOGGER: LE PETIT CONNAISSEUR Jahna Peloquin fills you in (with pictures!) on all the newly selected designers for Voltage: Fashion Amplified 2010! It's official: the runway designers for Voltage 2010 have been announced. (Full disclosure: I was one of a group that selected the designers.) There's a lot of unknowns, a couple of designers from previous seasons, and only one designer from Voltage 2009, but I'm really excited about it. It should harken back to the crazier, innovative, diverse Voltage shows of the past – but with higher level of craftsmanship than ever before. Oh, and there's not one, but two menswear designers this year. Drumroll please…. CLICK THE IMAGE FOR THE DESIGNER RUNDOWN Photo by Nic Marshall for George Moskal 2008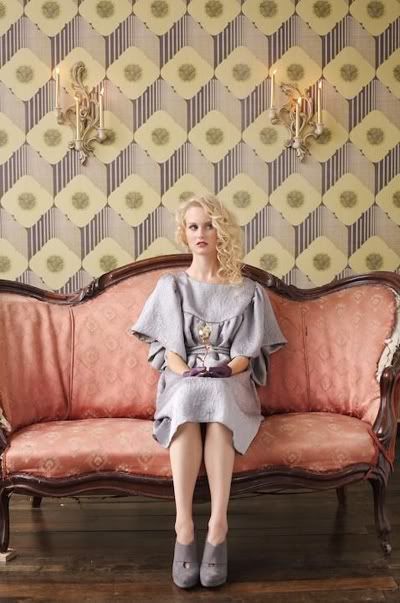 Editor in Chief: Kate Iverson Contributing Writers: Lacey Prpic Hedtke, Robyn Lewis, Juleana Enright, Kate Iverson, Beth Hammarlund, Jahna Peloquin, Rob Callahan