This weekend holds an over-abundance of group activities of the utmost epic proportions! For starters, the annual Zombie Pub Crawl is back. Each year the legions of undead seem to multiply, and this time around is no exception—we noted over 5,000 "attending" replies on the official Facebook event page. We've also got the St. Paul Art Crawl goin' on, which is definitely one of our favorite fall arts expeditions. But no matter where you go, posse up—after all, good things always come in packs of 12 or more!
xo-l'étoile
Photo: Kate Iverson/Styling: Eclecticoiffeur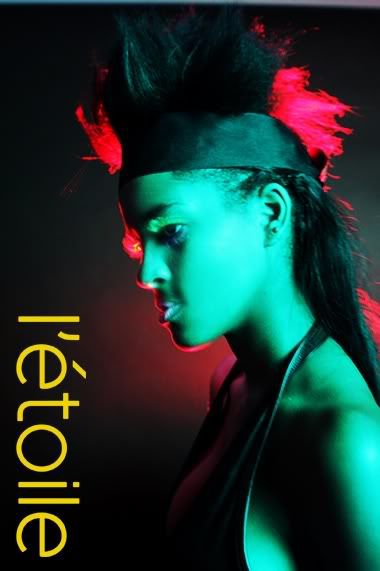 THIS PAST WEEK ON L'ETOILE Juleana Enright interviews local band, Lookbook HERE Jahna Peloquin recaps the last few events of MNFashion Week HERE Jahna Peloquin interviews BlueBlack boutique co-owner Steve Kang HERE Stephen Stephens shoots celebs at the Red Carpet Premiere of Nobody HERE
THURSDAY OCTOBER 8TH BlackBlue Grand Opening @ BlackBlue 614 Selby Avenue St. Paul 7-10 p.m. Free The Twin Cities seems to be in dire need of men's shops that sell clothing we would actually wear if we were a dude, so the arrival of well-edited menswear boutique BlackBlue in St. Paul comes into the open arms of fashion-craving fellas. Looking for a genuine flannel that's not from Urban Outfitters nor a moth-eaten thrift find? BlackBlue carries Pendleton, natch. Or, if the classic mod look is your deal, try an Original Penguin or Fred Perry polo. The grand opening will feature champagne, wine, cheese and music. Bonus: Read Jahna Peloquin's interview with BlackBlue's Steve Kang HERE.
CLICK THE IMAGE FOR THE BLACKBLUE SITE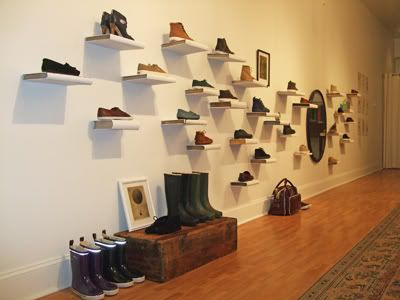 THURSDAY OCTOBER 8TH 414 Soundbar Anniversary @ 414 Soundbar 414 3rd Avenue North Minneapolis 8pm-2am / 21+ / RSVP required to erika@414soundbar.com Our pals at warehouse district hot spot 414 Soundbar celebrate their 2nd anniversary with signature extravagance! If you happened to attend last year's anniversary soiree, you know what we're talkin' 'bout. Tonight, be the first to lay eyes on the Soundbar's brand new secret decor, indulge in decadent food, drink, and luscious music all night long. In true Soundbar fashion, many surprises will abound, so e-mail erika@414soundbar.com to secure your spot on the guest list asap, as tonight is strictly invite only!
CLICK THE IMAGE FOR THE 414 SOUNDBAR SITE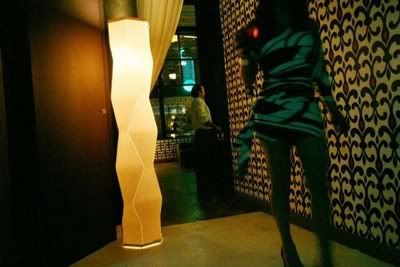 THURSDAY OCTOBER 1ST Project Runway Weekly Screenings @ Hell's Kitchen 80 S. 9th Street Downtown Minneapolis 8-9pm Fashion Trivia with l'étoile 9-10pm Project Runway 10-11pm Models of the Runway Come cheer on our hometown boy Christopher every Thursday at Hell's Kitchen — Ra'mon has been auf'ed but we've got high hopes for Straub! Put on something snazzy and join us for weekly screenings of Project Runway, sponsored by l'étoile and Metro Mag! Show up early from 6-8pm for live music, drink specials and the full dinner menu, then play fashion trivia with Kate and Beth from l'étoile, who will be giving away sweet prizes including a $50 bar tab every week. From 9-11pm settle in and watch back to back eps of Project Runway and spin off show, Models of the Runway, live on Hell's big screen. Enjoy drink specials, fashionable revelry, and damn good food at Hell's Kitchen every Thursday with us! Parking: $5 parking in adjacent lot, or metered street parking. Bonus: Christopher and/or Ra'mon will be joining us from time to time!
CLICK THE IMAGE FOR THE FACEBOOK EVENT
FRIDAY ART PICK: VALISTIKA We're suckers for good design, and Spanish art duo Guadalupe Cos-Gayon Alía and Miguel Abio Ruiz (Valistika) give us the warm-fuzzies. Their fresh, hip and eclectic works reflect a cool collaborative vibe that we just want to eat up. Since 2006 this cute couple have been working together on creative projects that include design, illustration, typography, fashion and advertising — often utilizing handmade works that mesh delightfully with digital mediums. With enough art direction street credentials racked up to impress even the most elitist of design nerds, Alía and Ruiz are certainly ones to watch in 2010.
CLICK THE IMAGE FOR THE VALISTIKA SITE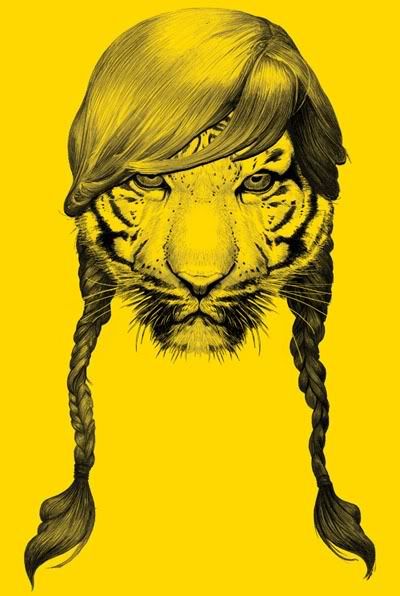 FRIDAY OCTOBER 9TH (THROUGH SUNDAY) Gaylaxicon @ Doubletree Hotel 1500 Park Place Boulevard Minneapolis Friday through Sunday / $80 registration If there are two things we love, it's science fiction conventions and the gays! Put these components together and you've got GAYLAXICON, a science fiction, horror and comic con for gay, lesbian, bisexual, and transgender peeps and their friends. Like any good convention, there will be mass amounts of late night partying and costumed debauchery, but there will also be a number of informative lectures, panels and special events. Check out the fan art show, or perhaps sit in on the Lesfic Fantasy panel discussion (hello, Xena and Gabrielle). Talk Joss Whedon with fellow Buffy-lovers or seek out our own Rob Callahan who will be holding court at this Con throughout the weekend (He'll be the one in the three piece suit spouting off about Dr. Who and drinking heavily). For a full program schedule and all the awesomely gay/nerdy details, click below!
CLICK THE IMAGE FOR THE GAYLAXICON SITE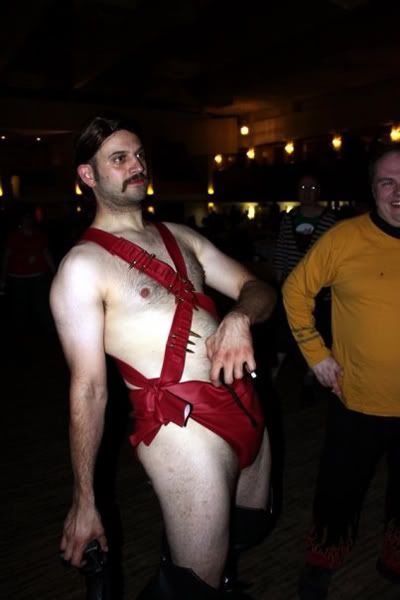 FRIDAY OCTOBER 9TH St. Paul Art Crawl @ Various Locations Lowertown St. Paul Friday 6-10pm Saturday Noon-8pm Sunday Noon-5pm We just love the St. Paul Art Crawl. Something about Lowertown in Autumn is so nostalgic. Maybe it's because when we ditched class in high school, Lowertown was one of our favorite destinations (anyone remember Kuppernikus?) or perhaps it's because the art crawl has been going on since ye olde 1991? Yes, that's probably it! Cross the river this weekend for a flurry of artistic activity from the likes of literally hundreds of artists in numerous buildings in Lowertown and beyond. Our recommendation? Pack a flask and wander aimlessly — you're sure to run into some cool peeps, fabulous art, and interesting situations. Click below for a map of locations, detailed artist and medium search functions, special events and more!
CLICK THE IMAGE FOR THE ST. PAUL ART CRAWL SITE Art by Matthew Rucker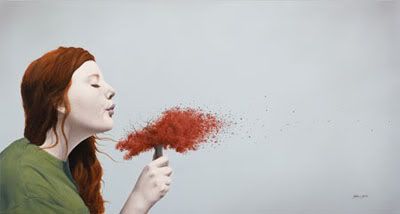 FRIDAY OCTOBER 9TH The Lumberjack Ball @ West Bank Social Center 501 Cedar Avenue S. West Bank Minneapolis 6 p.m. to Midnight Lumberjacks are the new black tonight at the West Bank Social Center! Channel Paul Bunyan by donning your flashiest flannels and fluffing your beards — Northwoods love is in the air! Grab your plaid-covered lad or lass and swing em' around to the tune of Lumberjack love songs, sip chilly northern libations and feast upon a glorious stump cake. Mix and mingle for the first part of the night, then stick around for a gallery of Lumberjack-inspired fashions at 9pm sharp. Bring in your artifical tree to add to the northwoods ambiance and score yourself a free bevie!
CLICK THE IMAGE FOR THE WBSC SITE
FRIDAY OCTOBER 9TH Out of the Pit @ Rogue Buddha Gallery 357 13th Ave NE Northeast Minneapolis 7pm – 11pm / Free Pennsylvania artist Ivan Fortushniak returns to Minneapolis for his second show at Rogue Buddha Gallery. The truth-seeking painter's work encourages self-reflection in the viewer, turning what could be a simple aesthetic experience into an exploration of one's sense of self. Prepare yourself for pretty art with a healthy dose of personal struggle! Plus, wine! (served by l'étoile staffers, no less)
CLICK FOR THIS ART EVENT AND MORE AT MPLSART.COM
FRIDAY OCTOBER 9TH Broken @ Soo Visual Arts Center 2640 Lyndale Ave. S. Uptown Minneapolis 6pm – 9pm / Free Greg Gossel's explores pop culture in his first solo exhibition in Minnesota. By referencing pulp novels, comic book characters and tabloid magazines, Gossel explores the darker side of pop media. His bright labor-intensive paintings can appear fun and light at first, but further examination reveals the artist's true intent: to challenge media manipulation and exploitation. Whether you're a novice art appreciator or a committed local art scenester, this exhibit will give you plenty to talk about over a glass or two of wine. BONUS: Amy Rice shows new work in the Soo Too Gallery!
CLICK FOR THIS ART EVENT AND MORE AT MPLSART.COM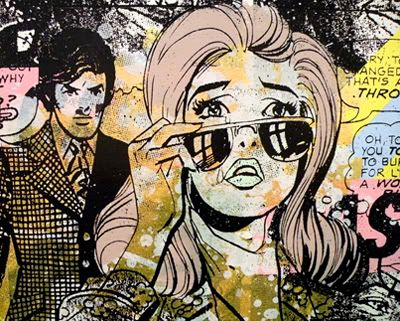 FRIDAY OCTOBER 9TH Street Sounds @ First Avenue VIP Room 701 1st Ave N Minneapolis 10pm / $5 / 18+ DJs Mike the 2600 King and King Otto invite you to "dance your ass in half." While we're not sure what that would look like or what the repercussions of that would be, by all means, dance and prance until you just can't anymore. Prepare yourself for all disco, all night! Sponsored by l'étoile, of course! BONUS: If you're ready to cross over into seriously electric territory, check out Asobi Seksu n the 7th St. Entry, a New York/Japanese reverb-y quartet.
CLICK THE IMAGE FOR THE FIRST AVE SITE
COOL LINK: BESTOW BOUTIQUE SALE Our pals at Bestow Boutique online are having a major blowout sale! Stock up on the most darling home accessories, glitzy jewelry, intimate apparel, bath and body products and more for both dames and gents. A great opportunity to get the jump on holiday shopping, if you ask us.
CLICK THE IMAGE FOR THE BESTOW BOUTIQUE SITE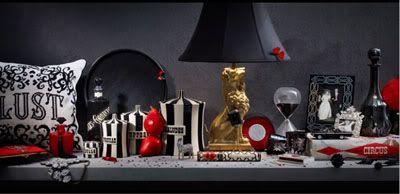 SATURDAY OCTOBER 10TH Rocktoberfest @Grumpy's Northeast 2200 4th Street NE Minneapolis 1pm / 21+ / $25 Don your hottest Lederhosen, grab a stein and get ready to celebrate the season's most intoxicating festivity…Grumpy's Rocktoberfest! And when we say intoxicating, we mean an inebriated, swilled and downright drunken good time. For this year's sausage soirée, Grumpy's will be grillin' out on the patio to the tune of over 10 loud-as-hell punk bands including American Penetration, The Museum Of Knives And Fire, 20 Dollar Love, Fiero, God Came From Space!, Kruddler, Still Pacific, The Deaf, Torch The Spires, and Dumpster Juice. 25 bucks admission gets you 5 beers and a sweet Rocktoberfest beer mug.
PROST!! CLICK THE IMAGE FOR THE GRUMPYS SITE
SATURDAY OCTOBER 10TH Dogtoberfest @ Urbanimal Parking Lot Franklin & Lyndale Minneapolis 11am-3pm/free If your dog is like ours, it loooves drinking beer and chomping brats while wearing adorable outfits. Dogs really know how to party. Follow their scent to Urbanimal's Uptown parking lot and enjoy fall festivities with your furry friend. While lederhosen is optional, can't you see it in your dog's eyes — that begging – please, let me dress up in traditional German tiny leather shorts! Pleaaase bring me to Dogtoberfest!
CLICK THE IMAGE FOR THE FACEBOOK EVENT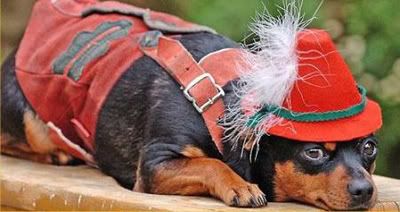 SATURDAY OCTOBER 10TH Zombie Pub Crawl @ The West Bank Various Locations Zombifying at 4pm in Gold Medal Park, Crawl kicks off at 5pm at The 501 Club / BRAAAINS! Er, FREEEEE! l'étoile hearts brains! Delicious braaaaaaaains! Catch the zombie plague (all the cool kids are doing it), and show off your decomposing flesh and filthy rags at The Minneapolis Zombie Pub Crawl. Head over to the West Bank to spread the infection with 5,000 of your closest zombie friends at numerous area bars. Enjoy undead drink specials, fun, games, and ghoulish good times. The Zombie Pub Crawl is certainly a sight to behold. Be sure to check out the after-party at the Cabooze — tickets are only $8 and you'll be treated to spooky DJ sets from Solid Gold and the Moon Goons, as well as a performance by the notoriously undead MC/VL.
CLICK THE IMAGE FOR THE ZOMBIE PUB CRAWL SITE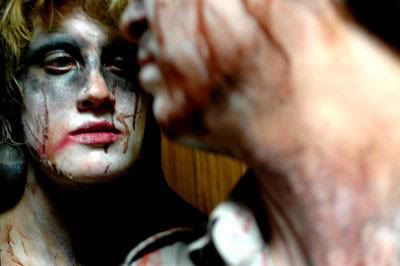 SATURDAY OCTOBER 10TH Prowl @ The Gallery at Fox Tax 503 1st Ave NE Northeast Minneapolis 6pm – 11pm / Free The works of Minneapolis-based artists Joe Sinness and Andrea Carlson will be showcased at The Gallery @ Fox Tax in the new exhibit Prowl, curated by l'étoile pal Emma Berg. Both artists use animal imagery in their work, tackling subjects such as consumerism and the stories of objects. Though their mediums are quite different (Sinness with his intricately detailed drawings and Carlson's unique sculptural "charms"), both manage to capture a sense of movement in their pieces. Fox Tax guarantees beautiful people-watching and a location that makes meandering over to The Red Stag for an after-show cocktail a far too convenient temptation.
CLICK FOR THIS ART EVENT AND MORE AT MPLSART.COM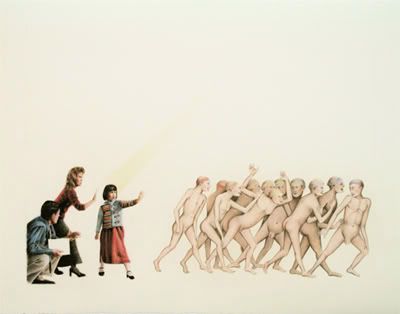 SATURDAY OCTOBER 10TH One Too Many Mornings @ Umber Studios 3109 E 42nd St. Minneapolis 8pm/free If not to see Garrett Perry's fantastic new body of work in his first solo show, then at least go to Umber tonight to see what one man can do when inspired by one photograph. This Minneapolis artist devoted his time to working with one photograph that remains a secret. See if you can eke out a guess at what that original image was through his colorful departures.
CLICK FOR THIS ART EVENT AND MORE AT MPLSART.COM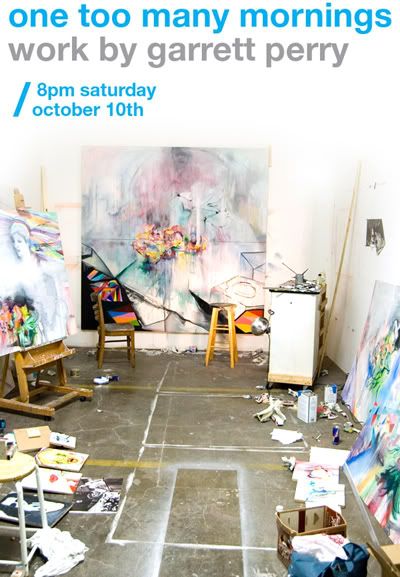 SATURDAY OCTOBER 10TH CHAT's Fresh Traditions III Fashion Show @ Epic 110 N 5th Street Minneapolis 612-332-3742 8pm / $25 What started as a showcase for the clothiers in the Hmong community two years ago has becoming a pool of burgeoning talent for the local fashion industry. The show's premise challenges its all-Hmong roster of designers to combine traditional garb with modern touches. As of late, a few of the show's designers have broken out into more mainstream fashion shows, including Pafoua Thao of PFT Couture (pictured below) – a standout at this fall's "Envision" show.
CLICK THE IMAGE FOR THE FRESH TRADITIONS SITE Fashion: PFT Couture/Photo: JWN Visual Addictions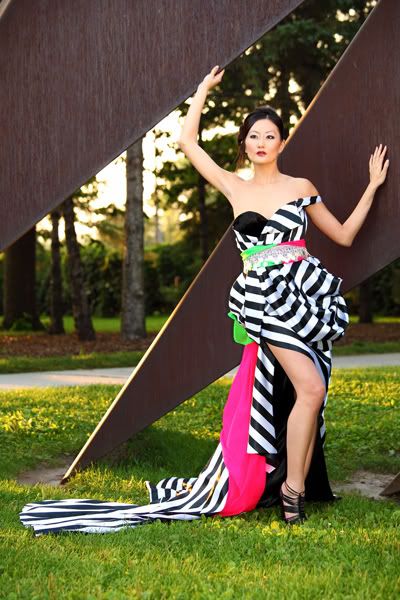 SATURDAY OCTOBER 10TH Return of the Iron Pour @ The Old Schmidt Brewery 882 W 7th St. St. Paul 7pm/free An abandoned haunted brewery…an alchemist and a bucket of boiling fire…a city councilman playing 1960s rock and roll…these are the mysteries that await you at Ye Olde Schmidt Brewery. The 2nd annual iron pour is a perfect reason to explore the West End of St. Paul. Stop by the new Mississippi Market down the road, pick up some snacks, and watch molten iron poured into molds made by the community. If you forgot to buy your own snacks, hot dogs and refreshments will be sold. Macho sculptors plus an old castle brewery plus fire equals dramatic spookiness. Perfect date material.
CLICK THE IMAGE FOR MORE INFO
SATURDAY OCTOBER 10TH Release! @ Gallery 13 811 Lasalle Avenue Minneapolis 10pm-4:30am / 21+ / $10 Yet another cool late night bash at Gallery 13, brought to you by the cool kids of Kode Nation and some of their equally cool associates. Celebrate the release of Chicago House legend, Traxx, brand new LP Faith, which has been garnering major accolades from the music industry. URB Magazine says, "Faith is a lengthy testament to an undying love for Chicago's nearly forgotten sound that once redefined dance music with legends like Phuture and Fast Eddie…" and we usually trust URB's judgment on such things. Also on task is fashion designer Kevin Kramp, who celebrates the release of his latest knitwear line; and although we won't be privy to a fashion show of his amazing, amazing work, you'll still get a taste through larger-than-life projections, and of course elbow-rubbing with the designer himself. Throw in fresh beats from Minneapolis staples E-Tones, Naughty Wood, Albert Elmore of ADV Club, and of course, Traxx, not to mention sweet artwork a la Gallery 13 and you've got yourself the party of the weekend!
CLICK THE IMAGE FOR THE FACEBOOK EVENT
SUNDAY MUSIC PICK: MIDNIGHT JUGGERNAUTS We've definitely plugged Midnight Juggernauts before, but given our impatient excitement for their next album (which will be releasing "soon") we couldn't help but give plug to their new video (below) and a shout out to the new single for "This New Technology." The single is available now on itunes, but the real deal is getting in a pre-order for the super-limited edition 7″ vinyl. The synthtastic Aussies sort of remind us of a cross between a hipster sci-fi-horror movie soundtrack and something dense, gritty and utterly, utterly dancable. Get on this bandwagon now, because we predict their new album will be the hottest thing to come out of the cold winter.

TUESDAY OCTOBER 13TH JagerCon: Sci-Fi Tuesdays @ Clubhouse Jager 923 Washington Avenue N. Minneapolis Every Tuesday 10 p.m. / 21+ / Free Join hosts Kate Iverson (l'étoile magazine, Secrets of the City) and Beth Hammarlund (l'étoile magazine, A Tiny Machine) every Tuesday Night for JagerCon! JagerCon is a weekly sci-fi party featuring screenings of classic nerdy movies and television shows — topped off with 2-4-1 cocktails all night served by Star Captain Paul! Mingle with like-minded sci-fi geeks, discuss D&D strategies, and use that Captain Picard impression you've been perfecting to pick up chicks at the bar. Snort-laugh the night away while bragging about your MMORPG addiction and enjoy a cozy, nerd-friendly environment. Upcoming Events: NEW SCHEDULE ANNOUNCED! Oct 13th: Planet of the Apes Oct 20th: Communion Oct 27th: Jason X: Jason in Outerspace Nov 3rd: Westworld Nov 10th: Cocoon Nov 17th: Class of Nuke Em' High Nov 24th: Legend This week's flick is Planet of the Apes!

GUEST BLOGGER: A TINY MACHINE Beth Hammarlund posts about a floating Viktor & Rolf gown!
CLICK THE IMAGE FOR THE TINY MACHINE SITE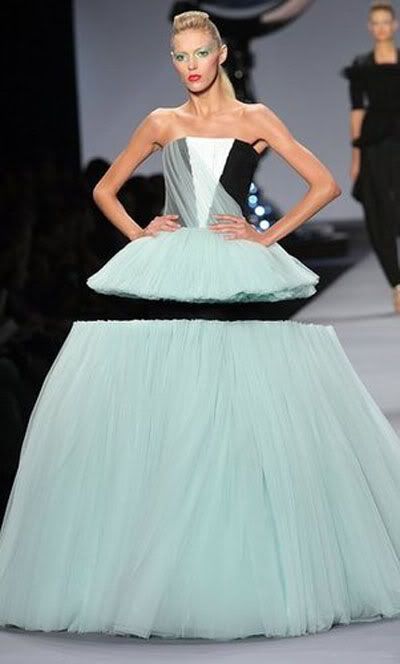 GUEST BLOGGER: LE PETIT CONNAISSEUR Jahna Peloquin rounds up even more fashion and shopping news you can use!
CLICK THE IMAGE FOR THE LE PETIT SITE A Spring 2010 look by Joynoelle / Image by Photogen-Inc.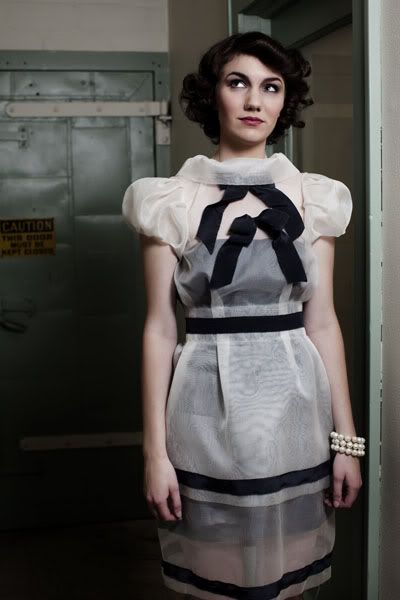 L'ETOILE NEWSWIRE Soap Factory Haunted Basement Tickets on Sale NOW! We're super-dupes excited to be the exclusive media sponsor of this year's Haunted Basement at the
Soap Factory! The annual event always manages to scare our pants off and we LOVE it! Traverse the spooky subterranean labyrinth that lies beneath the old warehouse art gallery and prepare to be terrified by numerous entities and creeptastic installations — created by disturbed artsy-types of course. The Haunted Basement runs from October 16th-November 1st and tickets are ON SALE NOW. Be sure to snap up yours today, as this annual event has sold out every single night in the past. You don't want to be stuck going to the Zoo Boo, now do you? Click HERE to purchase tickets! Editor in Chief: Kate Iverson Contributing Writers: Lacey Prpic Hedtke, Robyn Lewis, Juleana Enright, Rob Callahan, Kate Iverson, Beth Hammarlund, Jahna Peloquin