We can't think of a much more specific theme to the weekend aside from just plain AWESOME. Killer parties, mucho dancing, fantastical art (including a new gallery) along with plenty of rockin', rollin', and even some crazy puppetry to go around. Next weekend is Halloween, and that's a whole 'nother story (in fact, look for a huge guide from us come Monday), but this weekend certainly holds enough tricks and/or treats to inspire multiple costume changes!
xo-l'étoile
THURSDAY OCTOBER 22ND MN Monthly's Best of the Cities Party @ Calhoun Beach Club 2925 Dean Parkway Minneapolis 5:30-8 pm / $25 l'étoile hearts winning, and luckily for us we've been doing quite a lot of it lately. So, we couldn't be more stoked to be included in the 2009 Minnesota Monthly Magazine's "best of 2009" issue, with a charming kudos to the winner of "Best Social Director," l'étoile editor and party planning machine, Kate Iverson! Gussy up and come out to celebrate with us at MN Monthly's "Best of the Cities" bash tonight – after all we couldn't have done it without our loyal and savvy readers and the creativity of the Twin Cities arts community. Expect tasty appetizers, delicious cocktails, a fashion show featuring MN Monthly's favorite new boutiques, and a night of reveling in the best eat/shop/play places the TC has to offer. And don't forget to give Kate a congratulatory ass pat! The woman deserves it.
CLICK THE IMAGE FOR THE MNMO SITE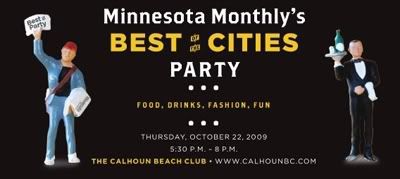 THURSDAY OCTOBER 22ND (THROUGH SUNDAY) Non Consensual Post Dada Constructivist Cerebral Warts @ SOOVAC 27th & Lyndale Minneapolis 6pm-Midnight through Sunday / $6 at the door OX-OP returns from its hibernation chamber to join forces with the Soo Visual Art Center this weekend for "Non Consensual Post Dada Constructivist Cerebral Warts" a strangely named, but awesomely enticing multimedia fest! On display in the main gallery will be a colorful retrospective of screenprint art from the likes of Burlesque of North America and Aesthetic Apparatus, along with a showing of over 100 hand-designed CD covers by AmRep Records guru/local artist HAZE XXL in the pocket gallery. Pair that with animated shorts by local art/music legend Chris Mars (of Replacements fame) and unusually presented musical performances by Grant Hart (Husker Du), Gay Witch Abortion, H.O.F., and the Melvins throughout the weekend, and we think you've got something awesome to do every day through Sunday!
CLICK FOR THIS ART EVENT AND MORE AT MPLSART.COM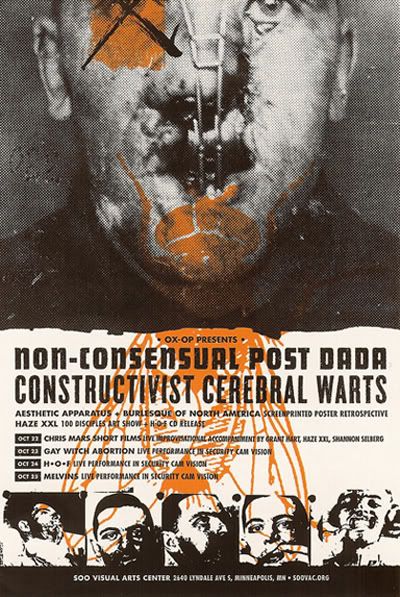 THURSDAY OCTOBER 22ND Project Runway Weekly Screenings @ Hell's Kitchen 80 S. 9th Street Downtown Minneapolis 8-9pm Fashion Trivia with l'étoile 9-10pm Project Runway 10-11pm Models of the Runway Come cheer on our hometown boy Christopher every Thursday at Hell's Kitchen — Ra'mon has been auf'ed but we've got high hopes for Straub! Put on something snazzy and join us for weekly screenings of Project Runway, sponsored by l'étoile and Metro Mag! Show up early from 6-8pm for live music, drink specials and the full dinner menu, then play fashion trivia with Kate and Beth from l'étoile, who will be giving away sweet prizes including a $50 bar tab every week. From 9-11pm settle in and watch back to back eps of Project Runway and spin off show, Models of the Runway, live on Hell's big screen. Enjoy drink specials, fashionable revelry, and damn good food at Hell's Kitchen every Thursday with us! Parking: $5 parking in adjacent lot, or metered street parking. Bonus: Christopher and/or Ra'mon will be joining us from time to time!
CLICK THE IMAGE FOR THE FACEBOOK EVENT
FRIDAY ART PICK: .FAUST COMMISSIONED ART Here at l'étoile, we have a major literary crush on Faust – anyone who sells their soul to the devil in exchange for better smarts is OK in our book. So, when we heard about a collaboration of Faust Comics created by local artists and inspired by classic and fantastic array of Faust legends, we almost geeked ourselves to death. Each week leading up the opening of the Sandbox Theater's production of .faust at the Red Eye Theatre November 6th, one "graphic novella" will be released on Sandbox Theater's website. The first piece in circulation, "The Summoning" is the tale of Faust summoning Mephistopheles from the forest floor, and features art by Joel Vollmer, color assist from Dave Wheeler and story by Ryan Hill. Other issues include stunning, original and never before viewed art from Jessica Boire, Andres Guzman and l'étoile pal and creative dabbler, Max Lohrbach. So cool!!!
CLICK THE IMAGE FOR THE SANDBOX THEATER SITE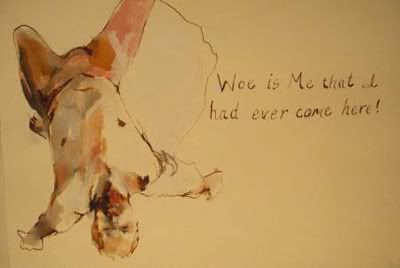 FRIDAY OCTOBER 23RD @ Weisman Art Museum 333 E. River Pkwy Minneapolis 5-8 pm / free Generous NYC art collectors Dorothy and Herbert Vogel donated over 2000 works to the National Museum, who in turn launched a program distributing the extensive art collection to 50 art institutions across 50 states. The Vogels were avid collectors who lived and breathed art; their story was so engaging, in fact, that it even inspired a documentary, which will also be on view at the Weisman through the run of the show. A relatively middle class couple who made art collecting their obsession, this exhibit — and the fascinating story behind it — will surely inspire you to re-think the common notion of "I can't afford to collect art." The exhibit features minimalist and conceptual works by such renowned artists as Will Barnet, Robert Barry, Lisa Bradley, Charles Clough, Mark Kostabi, Michael Lucero, Lucio Pozzi, Barbara Schwartz, and Richard Tuttle, among others. The most interesting pieces, however, are extremely personal. The Vogels forged close friendships with the artists they collected, resulting in works created specifically for the couple such as portraits, birthday cards and more. So, head to the Weisman tonight for the opening reception, hear more about the Vogels, rub elbows with other art appreciators, sip a wine, nibble a cheese, and absorb some awesome visual art courtesy of two seriously inspiring art lovers. The exhibit title To Have It About You is a direct quote from Dorothy Vogel herself, a simple statement that so aptly sums up why we love art. To have art about us on a daily basis is such an amazing gift! BONUS: Join l'étoile at 7 pm for the first ever l'étoile Field Trip group outing at the Weisman followed by a cocktail romp at the 501 Club for the "Be Excellent to Each Other" event (which we'll tell you all about below). Don't forget to stick to the buddy system!
CLICK FOR THIS ART EVENT AND MORE AT MPLSART.COM
FRIDAY OCTOBER 23RD Be Excellent to Each Other @ 501 Club 501 Washington Avenue S. Minneapolis 7pm / 21+ / Free We're really digging the nostalgically endearing title of this benefit event. "Benefit event?" you ask? "Yes" we answer. But make no mistake, this is far from the stodgy, high priced benefits you're used to reading about. Tonight at the 501 Club "gamers, bikers, gutter punks, hipsters, art geeks, urban crafters, and all other burgeoning philanthropists" are invited to party it up in the name of Children's Hospitals and Clinics of Minnesota and Child's Play, a national charitable organization that provides video games and systems for children's hospitals. And aptly, the main event of the evening focuses on video games…and rocking out! Watch local bands and other hip groups you know and love play competitive rounds of Rock Band, live on stage, with Transmission's DJ Jake Rudh spinning in between "sets." Also on task for your entertainment are performances by the Minnesota Rollergirls as well as some of your fave local bands (the secret lineup will be posted on the website prior to the event). How does this constitute a benefit, you ask? Well, drink up, kids. A portion of the bar proceeds will go directly to the deserving charities, and a totally awesome silent auction will ensue with items from local businesses such as ROBOTlove and Game Informer Magazine, as well as original art by local artists, video games, and even original pages from the latest run of the Green Lantern comic book and much, much more. With a lineup like this, we're quite tempted to say that this "benefit" is more of a benefit to us than to the organizations in question! Be there, we will! BONUS: Join l'étoile at 7 pm for the first ever l'étoile Field Trip group outing at the Weisman for the "To Have it About You" opening (see info in the post above), then follow us over to the 501 Club for "Be Excellent." We do love a good posse.
FRIDAY OCTOBER 23RD Ryn Gibson Art Opening @ Cliché 2403 Lyndale Avenue S. Minneapolis 7-9pm / Free Check out the bright and delectable art of Ryn Gibson at Cliche this evening! Gibson's colorful paintings of swirly curls and swooning babes are a perfectly girlish pairing to Cliché's racks of sassy designer duds. To make matters better, all clothing and accessories will be marked a whopping 25 percent off during the reception, and of course, and there's always plenty of wine and tasty snacks to go around. Save the date: there's also word the boutique is hosting a local designer sample sale on November 8.
CLICK FOR THIS ART EVENT AND MORE AT MPLSART.COM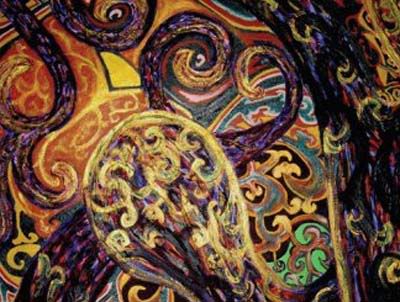 FRIDAY OCTOBER 23RD Women's Work @ West Bank Social Center 501 Cedar Ave Minneapolis 8pm / donation You Beast, You Gem and everyone's favorite monthly queer performance event, Pegasus, team up to bring you Women's Work, a night of performance art and music. Kris De La Rash and Cas Mercedes travel a long way to join feminist forces with Minneapolis' MonaLisa BGirl. Lady Enchantress MCs the evening of break dance, hip hop, spoken word, and a treat by The Default Project performance troupe. One of l'étoile's favorite DJs, Frankie Teardrop, spins along with Gold Star.
FRIDAY OCTOBER 23RD Sweet RVNG @ Galtier Plaza 8th Floor Rooftop Patio 280 Jackson St. St. Paul 7pm / $20 This will probably be the last time you're on a rooftop patio in 2009, and Richard Hall of RVNG and Genevieve Cooley of Vieve will make it worth the trip to St. Paul! You'll get a sneak peek at their 2010 Spring casual and swimwear lines while you drink from the martini fountain and eat sweets courtesy of Todd Cakes. Afterward, DJ Naughty Boyy spins while you meet the models and designers, and grab a little something for yourself from their Fall lines from the sales table.
CLICK THE IMAGE FOR MORE INFO
FRIDAY OCTOBER 23RD Murzik CD Release @ Kitty Cat Klub 313 14th Ave SE Minneapolis 9pm / 21+ / $5 The beautifully crafted dark-folk waltzes of the criminally underrated Murzik create the perfect fall soundtrack, and just out luck! They are releasing their 3rd album – Into the Darkness – a mesmerizing mix of Eastern European and Americana, recalling the moodiness of Devotchka and the simple arrangements of Beirut. To celebrate, Murzik will come together with James Apollo and a rare performance by Black Audience at the perfectly fitting confines of the Kitty Cat Klub.
CLICK THE IMAGE FOR THE MURZIK MYSPACE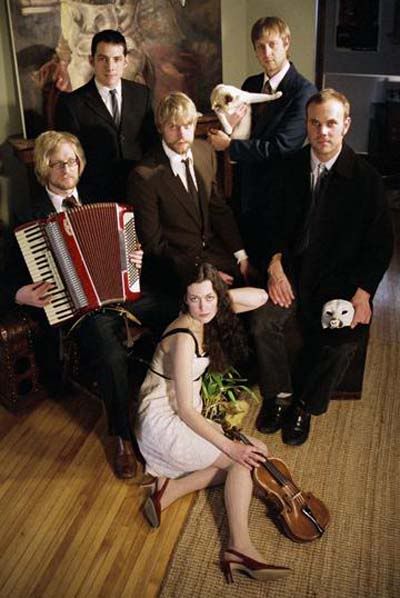 COOL LINK: D'AMICO KITCHEN LIVE Attention foodies! This is a pretty cool new concept, and of course, the Chambers Hotel is all over it. The recently opened D'Amico Kitchen and Osteria housed within everyone's fave downtown art hotel is pulling out all the stops to entice your taste buds. A visit to the Italian restaurateur's website each night between 7:30pm-10pm will give you a live, insiders peek at what goes on in the kitchen! Watch as these culinary masters whip up fancy feasts for their patrons via fly-on-the-wall cameras that capture every tasty tidbit. The live antics will also be projected on the outside of the building so passers-by will be tempted to stop in and indulge. What's more, is that as of October 28th, Executive Chef John Occhiato will debut his video blog, which will cover yummy topics such as seasonal ingredients, recipes, menu pairings and more. Visit the link below each evening between 7:30pm-10pm to check it out.
CLICK THE IMAGE FOR THE D'AMICO SITE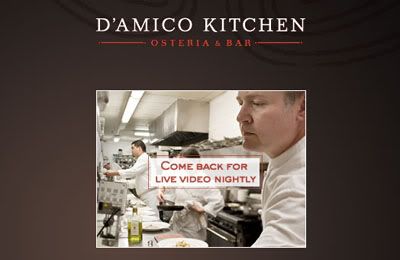 SATURDAY OCTOBER 24TH Chateau La Freak TC Music Industry Mixer @ Chateau LaFreak 1818 Lasalle Avenue Minneapolis 3pm-9pm / Free / RSVP required to home@chateaulafreak.com Why would you pass up the opportunity to mix and mingle with Twin Cities music industry type on the grounds of a totally sweet, historic mansion? We can't think of any good reason not to. In fact, it sounds pretty damn awesome if you ask us. Whether you're in a band, work in the industry, or just generally support the local scene, your presence is formally requested at Chateau LaFreak this Saturday. Make some connections, listen to fresh live tunes, sip some signature LaFreak Pumpkin Spice Hot Chocolate, mill around a bonfire, and oh-so much more. Bring your biz cards, ideas, CDs to swap, and a drink and/or appetizer to share and rub shoulders with the musically elite! What's better? The event starts and ends relatively early so there's plenty of time to go paint the town red afterward. RSVPs are required for admittance to home@chateaulafreak.com.
CLICK THE IMAGE FOR THE CHATEAU LAFREAK SITE
SATURDAY OCTOBER 24TH Citizen @ They Won't Find Us Here Gallery 3500 Bryant Ave S. Minneapolis 7pm-10pm / Free New D.I.Y. gallery alert! Now on their second show (the first one somehow escaped us) They Won't Find Us Here is an (5)artist run garage turned gallery. Tonight's show will feature the work of Bard College grad Page Whitmore and current MCAD student Alex Roche. Page's work is a Public Option Now project; she is working to make others aware of their say in the current Health Care concern. Alex's work offers advice to new American citizens, and incite to current citizens. She lays out some "ways to be a good citizen." A show brimming with relevant topics, we're curious to see what these art scene newcomers have come up with! Refreshments and stimulating conversation will surely abound.
CLICK FOR THIS ART EVENT AND MORE AT MPLSART.COM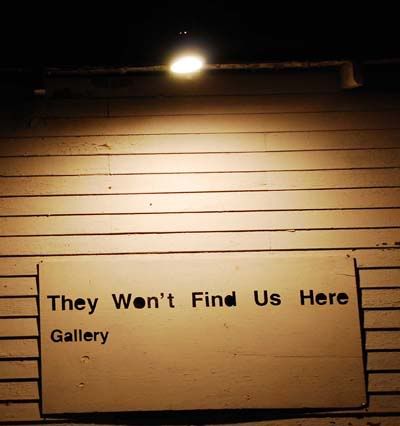 SATURDAY OCTOBER 24TH (THROUGH OCT 31ST) Barebones @ Hidden Falls Regional Park 1305 Mississippi River Blvd S St. Paul 7pm / $5-20 suggested donation Now in its 16th year, the Barebones Halloween Show is a tradition only gets bigger and better with age. Giant puppets, fire eating, a live 35-piece orchestra, the moonlit, woodsy backdrop — all of these things somehow merge seamlessly into one of the best annual Halloween events in Minnesota. This year's theme is "Devoured," a look at how and when we accept death in our lives. Dress for the weather, bring a blanket, some cash to drop in the bucket afterward, then enjoy post-show food and hot drinks from Sisters Camelot and live music by the Brass Messengers. Runs nightly through October 31st. Bonus: If sitting outside isn't in your goals for this evening, stop by the Bedlam Theatre for Minnesota Death-Songs & The Rats in the Walls—terrifying stories originally produced for the 2006 Fringe Festival, as told by Phillip Low. (7pm/$14 or $12 with Fringe button) Bonus to the bonus: Stick around after Minnesota Death-Songs for The Usual SuspectS' Witches, Wizards & TUSSizzurp: music from Minneapolines whose roots span the globe. This evening is made that much better by a costume contest, photo booth and live art by "Raw Neighborhood Boys". (10pm/$3 ladies, $4 guys, $5 no costume) Video from Barebones 2008
SATURDAY OCTOBER 24TH Sex Ed Rocks @ Hexagon Bar 2600 27th Ave S Minneapolis 9pm / 21+ / Free To raise money in support of one of our fave topics, Sexual Education, Planned Parenthood is bringing together a night of music, activism and free condoms. There will be sex trivia between bands and fabulous prizes from awesome local businesses including Birchwood Café, Burlesque of North America, and more. Best of all, while supporting the great work Planned Parenthood does, you get to listen to the extraordinary sounds of a diverse collection of performers including City On The Make,The Knotwells, Magic Castles, The Vignettes, and the Shahs.
CLICK THE IMAGE FOR MORE INFO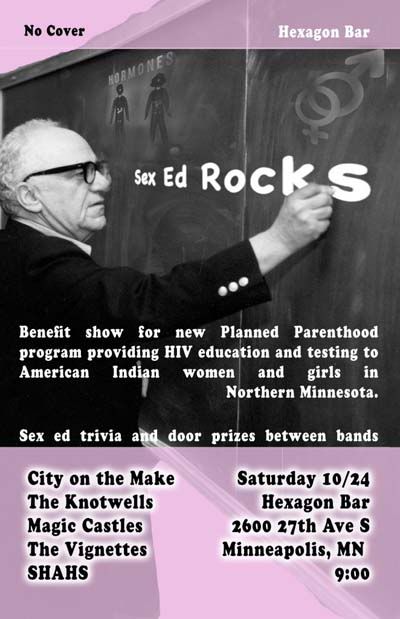 SATURDAY OCTOBER 24TH The Embassy presents: Session 9 @ Kitty Kat Club 313 14th Avenue SE Minneapolis 9pm-2am / 21+ / Free Head to the KCK for a fine evening of dancin' and drinkin' hosted by the Euro-friendly party purveyors of The Embassy. Featuring bangin' beats from the always sex-ay DJ Bach and a late night set from Tai. No cover charge = extra moola for moonshine!
CLICK THE IMAGE FOR THE FACEBOOK EVENT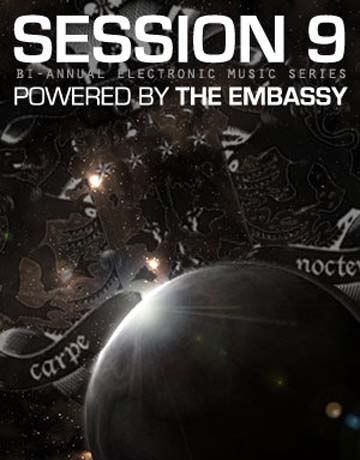 SATURDAY OCTOBER 24TH Mighty Mofos w/ Grant Hart, Private Dancer @ Turf Club 1601 University Ave St Paul 10pm / 21+ / $5 The Turf Club will be a bastion of local rock legends tonight as the Mighty Mofo's, celebrated for blasting through '60s garagemania in late '70s Minneapolis and paving the way for just about every band currently playing stages around town, join forces with Husker Du's Grant Hart and St. Paul's own Private Dancer to round out an outstanding line up of shining local rock.
CLICK THE IMAGE FOR THE TURF CLUB SITE Poster by Who Made Who
SATURDAY OCTOBER 24TH Saturday Night Fever of the Living Dead @ Clubhouse Jager 923 Washington Avenue N. Minneapolis 10pm / 21+ / Free Warm up for Halloween this Saturday eve at Clubhouse Jager as Dirty Mackenzie and Walker & Slater bust out their flyest disco tracks for an un-dead dance party of epic proportions! When you put the words "Zombie" and "Disco" together only good things can come of it, if you ask us. Test-drive your Halloween zombie makeup, drink up, and break it down like a fast-moving monster on the dance floor!
SATURDAY OCTOBER 24TH Private Number II @ 331 Club 331 13th Ave. NE Minneapolis 10 pm/ 21+/ no cover You know the horror tales: It's a dark and eerie night. You get a creepy call from a private number. We'll give you one guess where the call came from – and it's not your grandma's nursing home. Get outta that death trap of a house and onto the dance floor where the Private Number DJs will keep you safe all night long. Tonight, the 331 celebrates Halloween early with a terrifyingly awesome dance night presented by local electro cognoscenti, Ghost in the Water and Nyteowl. Paying homage to the holiday vibe of rubber masks, candy and extreme horror, witness scarily good live sets from Ghost in the Water and Nyteowl, then watch them take the decks for dance/pop doom DJ sets that'll leave you screaming…screaming for more that is! Bonus: Prepare yourself for the horror with a special preview mix from Little Ghost, jam packed with new Ghost in the Water material and original Little Ghost remixes. Download here.
CLICK THE IMAGE FOR THE 331 CLUB SITE
SATURDAY OCTOBER 24TH Klownboy Circus of Gore Film Premiere @ Riverview Theater 3800 42nd Ave S Minneapolis 11:30pm / $7 Some of Minneapolis' most horrific talent bring us a one night only showing of the story of a hideous clown who has escaped the Circus of Gore to terrorize and shock. Mike Etoll's special effects and creatures grace another locally-produced horror film. The soundtrack features Impaler, and Mommy S3z no!, the latter of which will kick things off while the lovely Scarlet Salem dazzles the crowd. The great Lloyd Kaufman (of Troma fame) will even make an appearance! Not just a premiere, but an event, there are be prizes to be won, weirdo stuff for sale, and horror fans in droves! This is low-budg, so-bad-its-good filmmaking at its finest.
SATURDAY OCTOBER 24TH Worn to be Wild: Anthem Heart Studio Series 2.0 @ Anthem Heart Studio 1224 Quincy St. NE (2nd floor) Minneapolis 10pm-4am / Free Move over TML, there's a new Saturday night special in town, and it offers up a lot more than just fancy footwork and neon-coated hipsters. Anthem Heart AKA the "3-man local whirlwind of squeegies, ink, music and mayhem" have a stylish party ready to pull out from up their talented sleeves! Round two of the screen printing and music methodology, Worn to be Wild, features the boys' signature concept of "interactive live t-shirts," custom made just for you while you watch. With variety of colors and shirt styles to choose from, you'll always get a personalized ready-to-wear tee all your friends can covet. On a budget? Bring your own shirt and get it printed for only 5 bones – you can't beat that! While the boys shell out some ink-laced elbow grease, the next room down will be thumping with electronic tunes from local DJ/hip-hop producer/artist, Booka B; indie dance remixer, Gigamesh; Anthem Heart owner, Real Talk Radio; Menergy host, The Nightstalker; and synthpop connoisseur, Deus ex Machina (l'étoile's own Juleana Enright), plus pixel pleasing visuals from Time Squid for an all-night dance fest. Not to mention, ice cold cans of Red Bull and such to keep you groovin' long into the late night.
CLICK THE IMAGE FOR THE ANTHEM HEART SITE
SUNDAY MUSIC PICK: MORTICIA An oldie but goodie from the vaults of the Minneapolis 1980s goth rock scene, just in time for Halloween! "In 1987, independent record label Channel 83 signed the band to record their first full length LP, Mortal Fear. Joining Jodie Tanaka and Matt Bachelor were androgynous bass player extraordinare Chrystopher Winter and Carmilla Casquette on lead guitar. Morticia live performances started with Jodie's emergence from a custom built coffin, and would end with Matt's trademark drum solo, during which he set his kit on fire and breathe and blow flames." The video for "Voyeur" was shot at the Faust Adult Cinema in Saint Paul days before it was torn down. Fun fact: Jodie from Morticia is l'étoile editor Kate Iverson's cousin!
SUNDAY OCTOBER 25TH New Vampire's Handbook reading @ Magers and Quinn 3038 Hennepin Ave S Minneapolis 7pm / Free Right before the witching hour, bone up on everything you need to know about being a bloodsucker from author Miles Proctor and his vampire posse. Consider The New Vampire's Handbook: a Guide for the Recently Turned Creature of the Night an Our Bodies, Ourselves for the fanged set. This tome is filled with tips on vampire feuds, advice for finding a coven, and how to lure prey and fake your way through meals of human food. Any vampire wants manners and proper etiquette—don't be caught un-dead without this helpful handbook! Dress the part and you'll win a prize! CLICK THE IMAGE FOR THE MAGERS AND QUINN SITE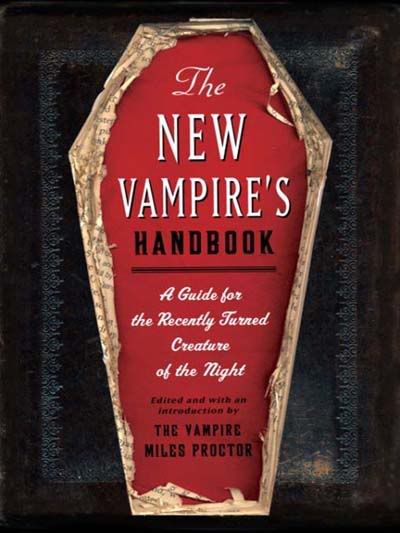 TUESDAY OCTOBER 27TH JagerCon: Sci-Fi Tuesdays @ Clubhouse Jager 923 Washington Avenue N. Minneapolis Every Tuesday 10 p.m. / 21+ / Free NOTE: JAGERCON WILL NOT HAPPEN ON NOVEMBER 3RD DUE TO A PRIVATE EVENT AT CLUBHOUSE JAGER. Join hosts Kate Iverson (l'étoile magazine, Secrets of the City) and Beth Hammarlund (l'étoile magazine, A Tiny Machine) every Tuesday Night for JagerCon! JagerCon is a weekly sci-fi party featuring screenings of classic nerdy movies and television shows — topped off with 2-4-1 cocktails all night served by Star Captain Paul! Mingle with like-minded sci-fi geeks, discuss D&D strategies, and use that Captain Picard impression you've been perfecting to pick up chicks at the bar. Snort-laugh the night away while bragging about your MMORPG addiction and enjoy a cozy, nerd-friendly environment. Upcoming Events: NEW SCHEDULE ANNOUNCED! Oct 27th: Jason X: Jason in Outerspace Nov 3rd: CANCELLED DUE TO PRIVATE EVENT Nov 10th: Westworld Nov 17th: Class of Nuke Em' High Nov 24th: Legend This week's flick is Jason X: Jason in Outerspace!
GUEST BLOGGER: A TINY MACHINE Just in time for Halloween, Beth Hammarlund reviews the hard-to-find and super terrifying Zombie flick, Pontypool. I've been waiting to see Pontypool forever. After reading all of the reviews, trying to find a copy in a local video store, ordering an over-priced DVD from an online seller (that I'm convinced is hoarding the all the world's copies), and checking my mailbox every day for its arrival, I was certain that I'd built the movie up so much in my head that there was no way it couldn't be a total disappointment. Fortunately, and as is often the case, I was wrong. Pontypool is awesome. Click HERE to read the review!
GUEST BLOGGER: LE PETIT CONNAISSEUR Jahna Peloquin checks in on one of our favorite local designers, Annie Larson a.k.a. Swank Dollar. I am loving the knitting work local designer Annie Larson (Swank Dollar) has been doing lately. Annie says on her blog: "Nearly all of Joy's outfit was created on the knitting machine with cotton and acrylic yarns. The dress she is wearing underneath the sweater was made last winter and crawled out of the closet this morning." Click below to read the entire article!
CLICK THE IMAGE FOR THE LE PETIT SITE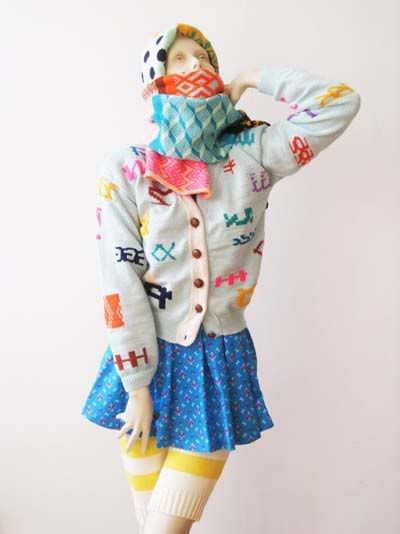 L'ETOILE NEWSWIRE Save the Date: L'ETOILE-O-WEEN Join us on Saturday, October 31st for ghoulish treats and tricks at this year's
Halloween Bash at Clubhouse Jager: L'ETOILE-O-WEEN! Featuring sexy/spooky projected visuals on four projectors from Clement Shimizu and Demietoile, intoxicating potions, a costume contest, hot tunes from Deux ex Machina and Demietoile, and much more! 10pm, Halloween Night, 21+, $5 at the door. Click HERE for the Facebook event! $25 for a custom Joynoelle frock? You don't say! The Shubert Center and designer Joynoelle team up to bring you a totally awesome raffle benefiting a good cause
— the Shubert Theater of course! Enter for your chance to win a custom designed dress from Joy Teiken of Joynoelle, one of the Twin Cities leading fashion designers. Joy will work personally with the winner to design a custom dress for the opening night gala of the Minnesota Shubert Center. Raffle tickets are $25 each and can be purchased online or by mailing a check to the Minnesota Shubert Center. The winner will be announced after the Shubert Theater's groundbreaking ceremony on November 19th. Click HERE for more info! Editor in Chief: Kate Iverson Contributing Writers: Lacey Prpic Hedtke, Robyn Lewis, Juleana Enright, Kate Iverson, Beth Hammarlund, Jahna Peloquin, Rob Callahan