It seems to be the winter dance party season opener this weekend! With both Friday and Saturday dominated by l'étoile-worthy club jams and secret location parties, you'll be hard-pressed not to run into an opportunity to get your "Butterfly" on. At this rate we'll be sweatin' right through the hard freeze! Of course, there's plenty of awesome art to go around and even a few can't-miss rock n' roll shows—so those with two left feet, fret not—we've gotcha covered!
xo-l'étoile
FRIDAY ART PICK: RYOHEI HASE Call us creeps, but we kind of want to make out with Ryohei Hase. His crushingly violent paintings of animal-human hybrids clawing and intertwining have a sort of sexual vibe that's both scary and mesmerizing. Based in Tokyo, this young artist claims his paintings express "the darkness of mind which is sad and gloomy but at the same time beautiful and strong." Also an accomplished digital illustrator, Hase has an extensive portfolio which includes not only paintings, but also eye-poppin' commercial and print work. Love! CLICK THE IMAGE FOR THE RYOHEI HASE SITE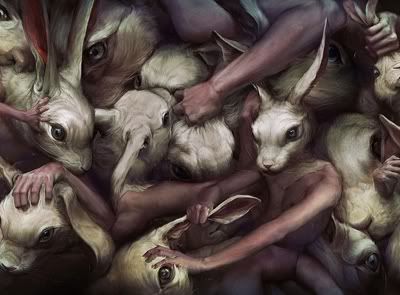 FRIDAY NOVEMBER 20TH Art Bar @ Mill City Café 2205 California St NE Minneapolis 5pm-1am/free Artist Aldo Moroni has been makin' creative magic since we were mere twinkles in our hippie parents' eyes. And it just so happens that Moroni is feeling a bit of nostalgia for the Stevens Gallery Co-op where "Dogs ran through the gallery and hippies stumbled into the franklin stove, knocking the bean stew onto the floor. Pregnant women lounged along the window sills in Mama Cass moo moo's and bad poets exchanged lines in the smoke filled gallery." His first show was 35 years ago this month, so join Aldo and friends for cheap drinks and music of the times. This party is sure to be filled to the brim with quirky, opinionated old artists, who incidentally, are our favorites. CLICK FOR THIS ART EVENT AND MORE AT MPLSART.COM
FRIDAY NOVEMBER 20TH MCAD Art Sale @ MCAD 2501 Stevens Avenue Minneapolis Friday: 6-9pm / $40 Saturday: 9am-5pm / Free Ah, the MCAD Art Sale. The art hunter's dream come true. Each year the school holds the biggest art sale in the Twin Cities within their sprawling halls, featuring over 7,000 pieces up for grabs. What's better? Every piece is priced under $1000, with the average price being under $100. So, for budding and established art collectors alike, the MCAD art sale is a god's honest art gold mine. Scour the premises for fresh new talent to adorn your walls with — you may just discover the next big thing! Personally, we can spend hours nitpicking through this amazing sale; the size and scope of it is simply, wonderfully maddening. Friday's preview includes a $40 admission that allows you first chance at getting your paws on the goods (warning, there could be eye-gouging involved), while Saturday the doors open to the public with free admission. Our advice? Wear a nut cup; collectors do not mess around at the MCAD Art Sale. CLICK FOR THIS ART EVENT AND MORE AT MPLSART.COM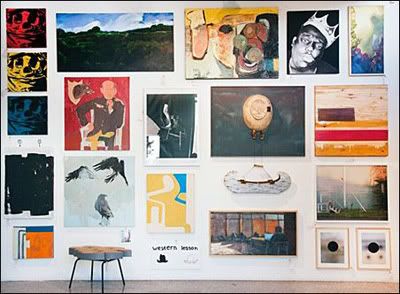 FRIDAY NOVEMBER 20TH Walker After Hours @ Walker Art Center 1750 Hennepin Ave. Minneapolis 9 pm-midnight/ $35 ($25 members) Celebrate the unveiling of Benches & Binoculars – a salon-style hanging of 100 paintings that challenge the "contemporary" genre, which have been gleeful unearthed from the Walker's vaults. As usual, the Walker invites its After Hours guests to view a visually captivating preview show before the galleries open to the public. Aside from being among the first to peep this new exhibit, you'll enjoy a killer interactive party with tunes from DJ Scott Stulen in the Cargill Lounge; a live set by electro darlings Lookbook in Gallery 8; a screening of Kenneth Anger's avant-garde film Scorpio Rising featuring themes of leather-clad bikers, Jesus, Nazis and the occult all set to bubblegum pop music; a special performance from Dafnis Prieto and Judith Sanchez Ruiz in the Burnet Gallery; and a "You're the Curator" arts and crafts project. Sip tasty cocktails, nibble on complimentary Wolfgang Puck treats, and work your angles in the popular Party People Pictures photo booth all evening long. We'll be there; will you? CLICK FOR THIS ART EVENT AND MORE AT MPLSART.COM
FRIDAY NOVEMBER 20TH Moodswings CD Release @ Sauce 3001 Lyndale Ave S Minneapolis 9pm / 21+ / $7 Epic Minneapolis indie popsters the Mood Swings are releasing their cleverly titled third album, Recessionista, tonight with a little help from their friends at Susstones. Recessionista is a poptastic disc full of humorous, irony-laden anthems about being thrifty yet fashionable in these trying times. With charismatic swagger, bold stage presence and shitloads of attitude, The Mood Swings guarantee enough ass-shaking goodness to get you through the weekend. We highly recommend scooting down to Sauce Soundbar tonight, as some of our other local faves including Two Harbors, First Communion Afterparty, and Blue Sky Blackout round out a magnificent bill of good old-fashioned rock and roll. CLICK THE IMAGE FOR THE SUSSTONES SITE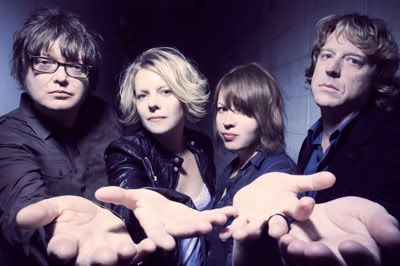 FRIDAY NOVEMBER 20TH Birthday Suits Tour Kick Off @ 7th St Entry 701 1st Ave N Minneapolis 9pm / 18+ / $6 There's no shortage of sonic fury at the Entry tonight with the unstoppable combination of Birthday Suits (playing their last local show of the year), Ouija Radio, The Heiz (all the way from Tokyo!) and Glowing Eyes, conjuring up a sonic storm of driving rock, garage, punk, and psychedelic. Prepare to have your mind (and eardrums) blown. Bonus: After getting your fill of loud-ass punk rock, mosey on up to the VIP room and dance till bar close with legendary DJ Frankie Bones! CLICK THE IMAGE FOR THE FIRST AVE SITE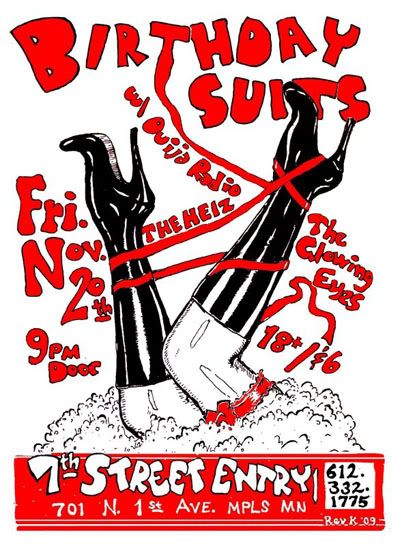 FRIDAY NOVEMBER 20TH Star Eyes & Jubilee @ Secret Location Minneapolis Join the Burlesque mailing list to receive location via email 10pm-2am Crazy dance party alert! This Friday night the cool cats at Burlesque of North America team up with two on-fire female DJs from the NYC: Star Eyes (Trouble & Bass) and Jubilee (Nightshifters/Flashing Lights). This Friday's "secret location" extravaganza is billed as a "spaced-out bass odyssey" and brings to mind the good old rave-days with a stylized, girl-fueled twist. We've been harboring a hard lady-crush on Ms. Star Eyes, whose appearance last year at Burlesque's "Do It To It" blow out at First Avenue got us all in a twitter with her combo of swarthy good looks and epic noise-bringing abilities. And Jubilee, though new to our ears, has easily added herself to our list of cool girls on which to obsess. Friday's bash also includes the ghetto tech stylings of Bitch Ass Darius and the funky breakdowns of Mike 2600. Add yourself to Burlesque's mailing list HERE to be alerted to the secret party location! BONUS: The girls are currently on a mini-tour, enroute to Minneapolis, but they took a few minutes to answer a few of our pressing questions via e-mail. Click HERE to read our interview with Star Eyes and Jubilee! CLICK THE IMAGE TO SIGN UP ON THE MAILING LIST FOR DETAILS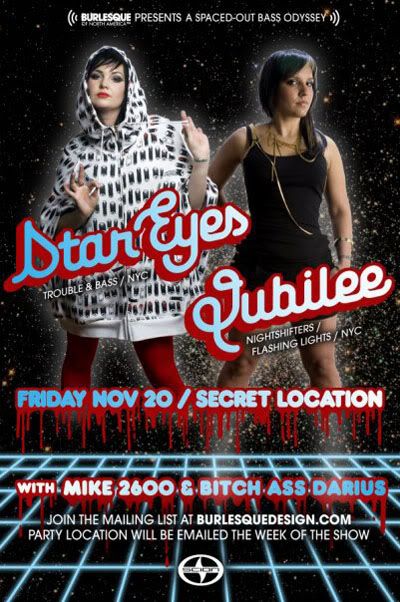 FRIDAY NOVEMBER 20TH Stachefest @ Bedlam Theater 1501 6th Street S. West Bank Minneapolis 10pm / 21+ We're a bit sick of the "ironic mustache" situation that's been going on for the past year or so. However, we can't help but appreciate a good party at the Bedlam, over-hyped lip worms be damned. Billed as a "costume contest in the center of your face," Stachefest will feature prizes for the best real and fake mustaches as well as killer tunes from Sam Keenan, Pretty Ugly, Hot Ashes, Jonathan Ackerman, The Sexbots, and Attitude City. CLICK THE IMAGE FOR THE FACEBOOK EVENT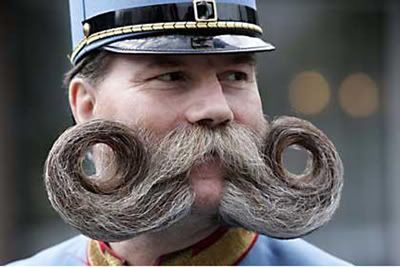 FRIDAY NOVEMBER 20TH I Like Your Status @ Super Secret Location Northeast Minneapolis 1-4 am / $5 Secret dance parties are the trend à la mode this week with mad beat bashes such as the Star Eyes & Jubilee Party and this über hushed after hours dance party, I Like Your Status. Although its creators aren't revealing many deets yet, we managed to score a few highlights from ILYS creator, Ashley Ryan – including a DJ roster that features dangerously hot sets from DJs Wizard of Gaz, So Gold, Kid Slyce (ATX) and tons more. Dance your ass into the wee hours of the AM and enjoy $2 drinks! Want the addy? ILYS peeps will be on hand Friday at Club Jager's Wants Vs. Needs, The Bedlam's Stachefest and also Star Eyes & Jubilee to provide potential party goers with the Northeast's secret location, so ask around. Oh, and btw, we like your status too! Note: Don't get confused and miss the party wagon. This event starts at 1 am Saturday morning, aka super late Friday night. CLICK THE IMAGE FOR THE FACEBOOK EVENT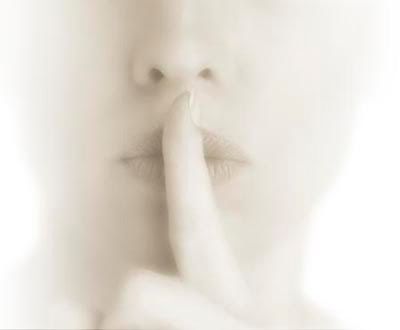 COOL LINK: CHANDI LANCASTER There's been a lot of Full House-related nostalgic prattle between the l'etoile girls lately –- and we're not afraid to admit it! When we discovered that the new line from Brooklyn-based clothing designer Chandi Lancaster screamed "Kimmy Gibbler," we couldn't help but share. With a few odd notches under her belt including an appearance on the early '90s Ricki Lake talk show as well as the apparel line she started in 1996, scandalously named "CUNT Clothing," Chandi might as well be Gibbler's long lost twin. Her kooky design style matches gaudy fabrics and prints and features cutout bandage dresses, onesies, bike shorts and random screenprint tees full of clocks, fangs and wild animals, creating a line she claims would make the girls of In Living Color damn proud. Full House? In Living Color? Sounds like a hot '90s mess we wouldn't mind putting on our bodies. CLICK THE IMAGE FOR THE CHANDI LANCASTER SITE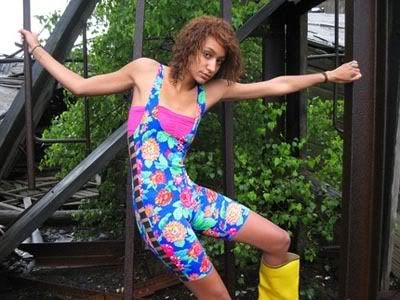 SATURDAY NOVEMBER 21ST Holiday Boutique Crawl @ Various locations East Hennepin Avenue-ish Northeast Minneapolis 10am-6pm / Free A grip of Northeast boutiques have teamed up to help you with your holiday shopping. Get it all over with in one swoop today, at shops like Bone Adventure (for your furry ones), Pacifier (for your little ones), I Like You (for your crafty ones), Belle Reve or Parc Boutique (for your stylish ones) and for the gourmet eaters on your list, snap up a gift card at the Red Stag Supper Club, Bulldog, or Punch. Also, enter to win a $500 shopping spree and score sweet deals at many of the participating shops! CLICK THE IMAGE FOR THE FACEBOOK EVENT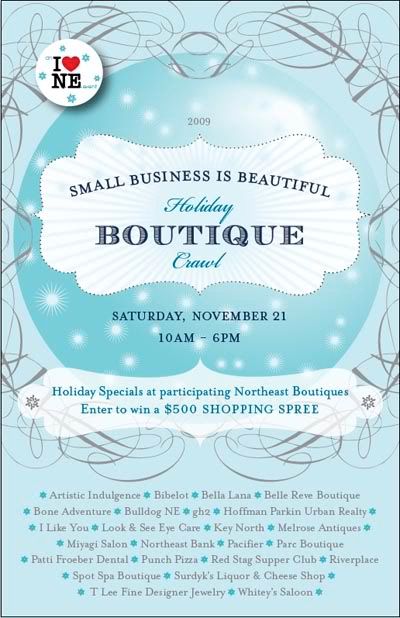 SATURDAY NOVEMBER 21ST TC Electropunk Compilation Release Party @ Club Underground 355 Monroe St. NE Minneapolis 8pm / $5 / 21+ The long-awaited Twin Cities Electropunk Vol. 5 compilation is finally here, and what's more, it will be available for free tonight at Club Underground! Electropunkers Avenpitch, Thosquanta, and OBCT will be on hand to commemorate the event, along with Pop Inc, milkbar and The Trapezoids. Good music, good times. CLICK THE IMAGE FOR THE FACEBOOK EVENT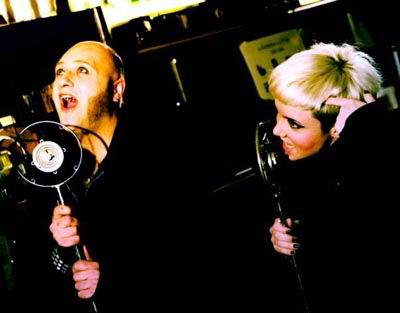 SATURDAY NOVEMBER 21ST Booby Trap @ The Bolt Underground 515 Washington Ave S Minneapolis 9pm / $5 / 21+ Hey laaaaadies! It's your night tonight at the usually testosterone-fueled Bolt Underground. Every third Saturday, The Booby Trap Girlz invade the subterranean downtown club for a smokin' hot lesbionic dance party and go-go show of epic proportions. DJ Shannon Blowtorch rocks the turn tables while you sip stiff drinks and develop numerous girl crushes. Remember to tip the go go girls! CLICK THE IMAGE FOR THE FACEBOOK EVENT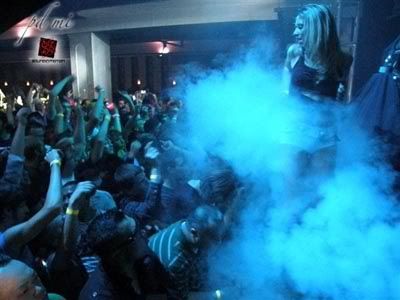 SATURDAY NOVEMBER 21ST Menergy @ Clubhouse Jager 923 Washington Ave N Minneapolis 10pm / 21+ / Free And for the boys…Everybody needs to dance, and tonight is the night to meet your monthly quota. Menergy promises an extra blast of testosterone in honor of DJ Nightstalker, who is celebrating his birthday! Expect body rockin' beats from the Menergy crew as well as special guest DJ, Jobot. As usual, this is bound to be an epic evening full of chest hair, muscles and machismo, as well as sweet visuals a la VJ Gap Kidz, so get down there and watch the magic unfold. Preferably in a loin cloth.
SATURDAY NOVEMBER 21ST Forever Young: West Bank Edition @ West Bank Social Center 501 Cedar Avenue S. (above Nomad Pub) Minneapolis 11pm-late / $5 with RSVP / $10 Without The Moongoons are at it again with yet another late night dance bash, this time, at the West Bank Social Center. Sneak around back and enter quietly — this is a hush-hush, late night affair, if you know what we mean. A slew of "really awesome" DJs are rumored to appear, though you won't know the official lineup until the day-of via the Moongoons blog. CLICK TO RSVP FOR REDUCED ADMISSION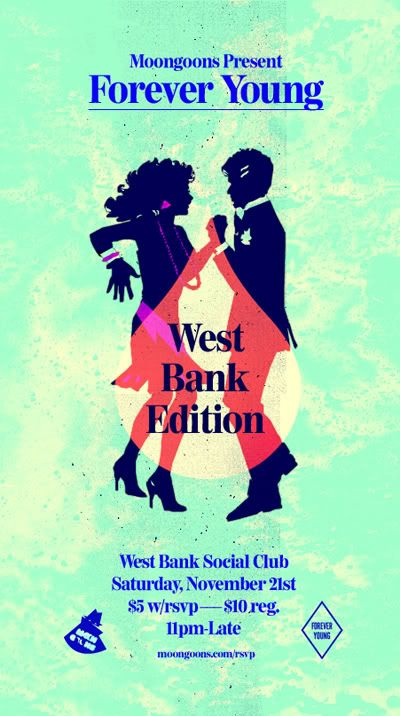 SUNDAY MUSIC PICK: PINE HILL HAINTS The Pine Hill Haints are a blast from the spooky, 1950s-haunted South. A washboard, mandolin, and washtub bass all make appearances in this group's repertoire. They'ves been around for ten years and just keep going. If you're lucky and clever, get your hands on one of their self-produced records. That's right, vinyl.
SUNDAY NOVEMBER 22ND Gastro Non Grata 12 @ Triple Rock 629 Cedar Ave. S. West Bank 6-10 pm/ 21+/ $5 Gastro Non Grata 12 is a salute to "comfort food" and "cans" just in time for the icy season. Warm your tummies with three sample courses from guest chef and Wienery hash slinger, Landon Schoenfeld. Much to the pleasure of local casserole lovers, Schoenfeld is scheduled to open his own restaurant, Haute Dish, featuring gourmet versions of comfort dish classics – we're hoping for a tater tot take on beef bourguignon – with two of tonight's sample courses straight from the Haute Dish menu. Gastro Non Grata also welcomes San Francisco's 21st Amendment Brewery as official beer agents, offering up their delicious cans of Hell or High Watermelon Wheat and Brew Free or Die IPA, plus a few new brews. Musical guests include Annandale Cardinals, the dueling pianos of the Legendary Cornbread Harris and Cadillac Kolstad, Arctic Universe, School of Rock Road Crew, and Falcon Crest. Dead Meat door prizes (yes, you heard us correctly) provided by Clancey's Meat and Fish and Northern Brewer beer samples kick off the event. CLICK THE IMAGE FOR THE GASTRO NON GRATA SITE
TUESDAY NOVEMBER 24TH JagerCon: Sci-Fi Tuesdays @ Clubhouse Jager 923 Washington Avenue N. Minneapolis Every Tuesday 10 p.m. / 21+ / Free Join hosts Kate Iverson (l'étoile magazine, Secrets of the City) and Beth Hammarlund (l'étoile magazine, A Tiny Machine) every Tuesday Night for JagerCon! JagerCon is a weekly sci-fi party featuring screenings of classic nerdy movies and television shows — topped off with 2-4-1 cocktails all night served by Star Captain Paul! Mingle with like-minded sci-fi geeks, discuss D&D strategies, and use that Captain Picard impression you've been perfecting to pick up chicks at the bar. Snort-laugh the night away while bragging about your MMORPG addiction and enjoy a cozy, nerd-friendly environment. Upcoming Events: Nov 24th: Legend This week's flick is LEGEND!
GUEST BLOGGER: A TINY MACHINE Beth Hammarlund raves about "The Quickies" now on stage at the Bryant Lake Bowl. Enjoy a quickie this weekend Last weekend I attended the second performance of Quickies 2009 at Bryant Lake Bowl. I'd missed Quickies 2008, but the buzz had been overwhelmingly positive. After a few beers, I went into the theater in good spirits and excited for a night of inexpensive theatre that didn't require me to dress up or sit in a seat for two and a half hours. Quickies delivered, and I found myself not only laughing out loud, but also unexpectedly touched by the material. CLICK HERE FOR THE REST OF THE POST
L'ETOILE NEWSWIRE HOT TICKET ALERT: WAMplified! featuring Mates of State Music is at the center of WAMplified!, a new late-night series at WAM. Offered three times a year, WAMplified! presents a live performance by a band or musician with a
thematic connection to the major exhibition in the galleries. In conjunction with the WAM exhibition To Have It About You: The Dorothy and Herbert Vogel Collection, Mates of State–featuring husband-and-wife team Jason Hammel and Kori Gardner–headline the inaugural installment on December 12, 2009 (doors at 9 p.m.). The event also includes food, drink, a video game lounge, and a midnight tour of the exhibition led by curator Diane Mullin and artist Lisa Bradley. Purchase tickets at http://northrop.umn.edu or call 612-624-2345. Editor in Chief: Kate Iverson Contributing Writers: Lacey Prpic Hedtke, Robyn Lewis, Juleana Enright, Kate Iverson, Beth Hammarlund, Jahna Peloquin, Rob Callahan