A collective whining could be heard throughout the land this week, as students of all ages had to shake their summer sass for a more scholarly demeanor. Despite this unofficial declaration that poor ol' summer is on its deathbed, we still look ahead to the lovely autumn season in Minnesota, where wools and velvets and cashmeres can be factored into flirty fall fashions. We here at l'étoile are still holding out hope for a bit more summer sun, so whatever you do this weekend—and we've got more than a few good suggestions—take a moment to enjoy the greenery, as it's definitely fleeting. xo-l'étoile
Photo by Kate Iverson for l'etoile agency/styling Eclecticoiffeur
THURSDAY SEPTEMBER 3RD Who Made Who Scratch & Dent Poster Sale & First Thursdays in the Art District @ Who Made Who 158 13th Avenue NE Northeast Minneapolis @ Various locations Northeast Minneapolis Who Made Who: 3pm-8pm / Free First Thursdays: 5pm-9pm / Free We love First Thursdays in the Art District, of course, but this month we're extra excited about the sale at Who Made Who! Make the rounds to the awesome Northeast art buildings but be sure to pop into this rad little print shop and score yourself some uber-cheap slightly damaged (usually undetectably so) rock n' roll poster prints for just $5 a pop! Renowned designers Amy Jo, Lonny Unitus, and Tooth will all be peddling their colorful wares, and in honor of Tooth's b-day will be offering additional limited edition prints for just $10. Pick up stickers, buttons, art prints, rock posters and more and re-decorate your place on the cheap! For a full list of open studio buildings in Northeast click below! Bonus: After you're all art crawled out, hit up the Red Stag for late night happy hour and live music! CLICK THE IMAGE FOR THE NEMAA SITE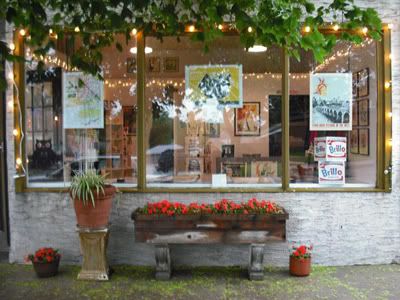 THURSDAY SEPTEMBER 3RD Where Fall Meets Fashion @ W Hotel 821 Marquette Avenue Downtown Minneapolis 7pm / $15 Spot the hottest fashion trends for Fall tonight at the W! Our own fashion editor, Jahna Peloquin, has been buzzing around like a little hummingbird this week prepping for her job as co-host and lead stylist for this seasonal showcase. See a sassy autumn-influenced runway show featuring designs from area boutiques Belle Reve, Bumbershute, Drama, Karma, Elsworth Menswear, and local designer Amanda Christine while you suckle a fancy cocktail and mingle with the stylish set. After all, you need an excuse to get dressed up — Thursday is definitely the new Friday this Fall. CLICK THE IMAGE FOR MORE INFO Photos by Nic Marshall/designer Amanda Christine/styling Eclecticoiffeur
THURSDAY SEPTEMBER 3RD (EVERY THURSDAY) Project Runway Weekly Screenings @ Hell's Kitchen 80 S. 9th Street Downtown Minneapolis 8-9pm Fashion Trivia with l'étoile 9-10pm Project Runway 10-11pm Models of the Runway Come cheer on our hometown boys Ra'mon and Christopher every Thursday at Hell's Kitchen! Put on something snazzy and join us for weekly screenings of Project Runway, sponsored by l'étoile and Metro Mag! Show up early from 6-8pm for live music, drink specials and the full dinner menu, then play fashion trivia with Kate and Beth from l'étoile, who will be giving away sweet prizes including a $50 bar tab every week. From 9-11pm settle in and watch back to back eps of Project Runway and spin off show, Models of the Runway, live on Hell's big screen. Enjoy drink specials, fashionable revelry, and damn good food at Hell's Kitchen every Thursday with us! Parking: $5 parking in adjacent lot, or metered street parking. Bonus: Christopher and/or Ra'mon will be joining us from time to time! CLICK THE IMAGE FOR THE FACEBOOK EVENT
THURSDAY SEPTEMBER 3RD Gerald Prokop CD Release Show @ Hexagon Bar 2600 27th Avenue South Minneapolis 9pm / 21+ / free Every city has its batch of prolific songwriter/recording artists. One of our favorites is Gerald Prokop. Stop by the Hex tonight to pick up his new CD, bid him adieu and good luck on his tour, and listen to some of the bands he thinks are cool. Teenage Moods, Bla Bla Blacksheep (which features l'etoile's own Lacey Pripc Hedtke!) and Fische help him welcome his newest album into the world. CLICK THE IMAGE FOR THE GERALD PROKOP SITE
THURSDAY SEPTEMBER 3RD Hot Roxx Hootenany @ Club Jager 923 Washington Ave N Minneapolis 10pm / 21+ / Free Howdy cowboys/girls! Hot Roxx is hollerin' out an invitation for y'all to join resident DJs Jen & Nick with special guest Nikki aka StuffedPheasant as they wrangle up all the best in vintage '70s country & western at the Hot Roxx Hootenanny. We hear baby'll have her tight-fittin' blue jeans on, so trade your American Apparel ensemb in for some spurs, embroidered button-ups and 10 Gallon hats and do Dolly, Loretta, and Tammy proud! CLICK THE IMAGE FOR THE HOT ROXX MYSPACE
FRIDAY ART PICK: JUST SEEDS Justseeds is a wide-spread online artist coop selling their work via the internetz to support social movements. From anarchism to capitalism to solidarity, they cover the gamut of radical culture through art. They're always working on cool projects, which they detail on their blog. Some prints start at under $10 so start covering your walls with posters and prints that will lighten up your life, and help promote social change! CLICK THE IMAGE FOR THE JUST SEEDS SITE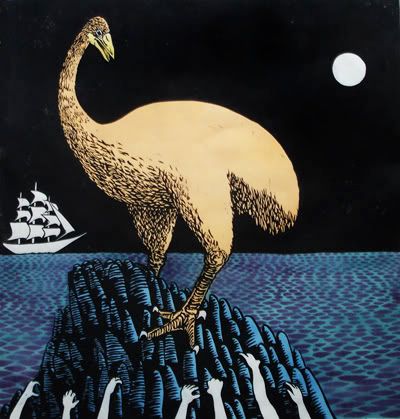 FRIDAY SEPTEMBER 4TH The Struggle Within @ Altered Esthetics 1224 Quincy St NE Minneapolis Reception 7pm-10pm / free Oh, Woe is us! Our lives are so hard. Artists know how to portray their craziness the best, using their talents to express what's going on in their more-sensitive-than-most lives. This opening, however, will be more fun than brooding. Any AE show promises to be packed with art from all over, all-encompassing and a lot of fun, despite the self-reflective subject matter. Runs through September 26. CLICK FOR THIS ART EVENT AND MORE AT MPLSART.COM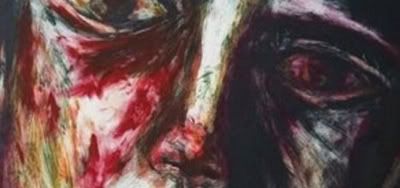 FRIDAY SEPTEMBER 4TH Degroot/ Rutter/ Wilgren Clyne @ Sellout Gallery Northrup King Building 1500 Jackson St. NE, Studio #456 Minneapolis Reception 6-9pm / free Continuing with their tri-artist showcase formula, Sellout Gallery welcomes new multimedia works by locals Carlos Degroot, Chad Rutter and Cheryl Wilgren Clyne exploring the themes of preservation and decline. View the artificially constructed physical, psychological, and spiritual landscapes created by Degroot; the intricate drawings of Rutter's American road trip travels; and a two-channel video presentation by Wilgren Clyne capturing the binaries of natural vs. artificial, conservation vs. destruction, space vs. form and stillness vs. movement. Exhibit runs through September 19th. CLICK FOR THIS ART EVENT AND MORE AT MPLSART.COM Still shot from video art by Cheryl Wilgren Clyne:
FRIDAY SEPTEMBER 4TH New Work by Daniel Kaniess @ Shoebox Gallery 2948 Chicago Ave. S. Minneapolis 6-8pm / free Lay eyes on work from local and regional veteran mnartist, Daniel Kaniess tonight at the Shoebox. Kaniess' "imagination meets experience" theme engages an expressive backdrop to illustrate simplistic observations. Alternating between humorous and thought-provoking, the pieces included in his solo show highlight a gallery within the gallery and challenge the concept of "here and now." Meet the artist and enjoy a musical performance from noise improv band, Blacki, featuring Daniel Kaniess. Then, head upstairs to the Smuda Studio (#304) as the Shoebox and curator Sean Smuda host an open house from 8-10 pm. CLICK FOR THIS ART EVENT AND MORE AT MPLSART.COM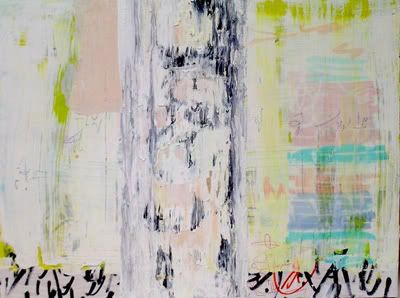 FRIDAY SEPTEMBER 4TH The Warriors @ Trylon Microcinema 3258 Minnehaha Ave. S. Minneapolis 7&9 pm/ $8 An underrated cultural touchstone, the cult classic film The Warriors screens at new microcinema the Trylon tonight. After a messianic/Malcolm X-esque leader who calls for the unification of the New York street gangs is assassinated, The Warriors – a misfit gang from Coney Island – is wrongfully blamed for the murder. What follows is a modernized version of The Odyssey with elements of Troma Entertainment cheese and violence, comic book hyperbole West Side Story confrontations with Village People adored thugs, a heavy handed racial and gender analysis, and screen full of buff pleather-vest-wearing eye candies. Hell hath no fury like a bored teenager with a baseball bat.

FRIDAY SEPTEMBER 4TH Hotel @ Kitty Cat Klub 313 14th Ave SE Minneapolis How can one man get so many people in a tizzy? The Kitty Cat Klub is always rockin' when l'etoile fave DJ Jonathan Ackerman commands the dance floor. Practice in front of your mirror, bring a hot date, and slay them with your phenomenal moves. Tonight belongs to lovers…lovers of DJ Jonathan Ackerman, that is. CLICK THE IMAGE FOR THE JONATHAN ACKERMAN SITE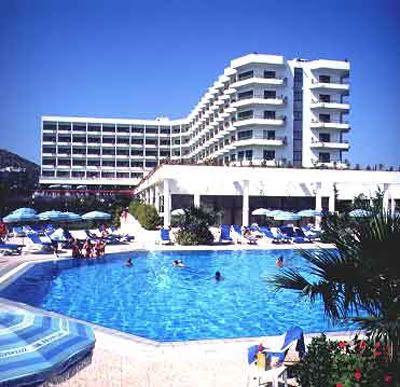 FRIDAY SEPTEMBER 4TH Get Cryphy @ First Avenue 701 1st Ave N Minneapolis 10pm / 18+ / $3 Everybody knows party rockin' disco jocks Jimmy2times and Plain Ole Bill cut up the finest crunk, gangsta rap, mash-ups and house this side of awesome. Along with the omnipresent aroma of blunts being passed and drinks sloshing around, the beats thrown around the VIP tonight are among the finest, so get there early for free gear from Familia Skate Shop and stay late to dance till you drop. CLICK THE IMAGE FOR THE GET CRYPHY MYSPACE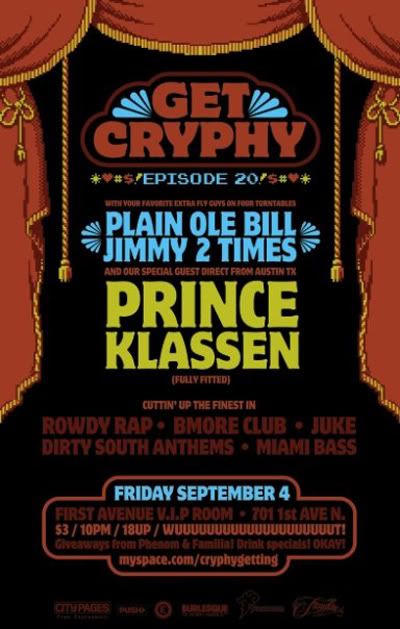 COOL LINK: ION MAGAZINE Although they may not be the most infamous in the scene, Vancouver-based art/fashion/culture mag, Ion Magazine, is definitely in our bookmarks for unprecedented style trends and indie culture news. Featuring a commercial-free medium that focuses on an unpretentious look into the art lifestyle, Ion Magazine reviews up and coming and provocative artists, musicians, films and designers nationally and worldwide. This month's issue features the ingenious and innovative local poster print art from Mike Davis of – l'étoile favorites – Burlesque of North America (MPLS represent!), as well spotlights Orb Clothing, artist Heidi Taillefer, music icons The Sonics and Swedish electro-pop sensation, Sally Shapiro. Sa-weet! CLICK THE IMAGE FOR THE ION MAG SITE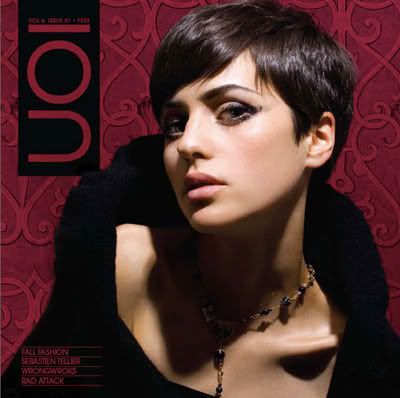 SATURDAY SEPTEMBER 5TH Clapperclaw Festival @ Intermedia Arts 2822 Lyndale Ave S Minneapolis 2pm / All Ages / $20 What the hell is a Clapperclaw, you ask? Well, Meriam-Webster informs us that it means "to swear at" – we like! Back for its third incarnation, this year's installment will feature an ambitious showcase of emerging local and national talent. Incorporating film, art, fashion, and an incredible line up of music, this party has got it all! And as a bonus, part of the proceeds go to benefit Intermedia Arts, so it's a win-win. Musical acts include Someone Still Loves You Boris Yeltsin, The Show is the Rainbow, Free Energy and more. See theater by rock opera-esque company, Lamb Lays with Lion, a group art show and fashion design, plus, Clapperclaw is also collaborating with Sound Unseen to bring you a special screening of All Tomorrow's Parties. Neat! CLICK THE IMAGE FOR THE CLAPPERCLAW SITE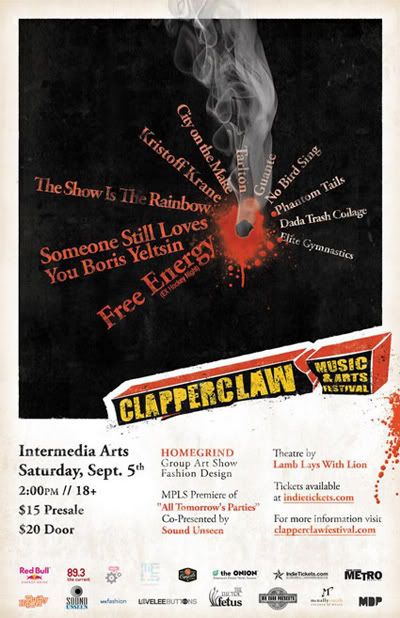 SATURDAY SEPTEMBER 5TH The Austerity Cookbook @ The Soap Factory 518 2nd St. SE. Minneapolis 7-11 pm/ free Re-purpose and re-use has always been an important theme of the Soap Factory's warehouse space, which has evolved from a railroad warehouse, a soap factory and now the beloved artist laboratory we know it as today. So their latest exhibit, inspired by 1975's prose cookbook and re-use handbook, The Austerity Cookbook, comes as no suprise. Featuring artwork from 11 artists across North America, including Canada's Scott Rogers, New York's Adam Parker Smith, locals Gregory Fitz and Lauren Herzak-Bauman, and Pennsylvania-based artist Eileen Maxson, the exhibit celebrates the book's motiv of staying calm, keeping creative and practicing resourcefulness during times of adversity and recession. Through humble sculpture, miniature barricades, and apocalyptic landscapes, the exhibit depicts a harsh winter and our current demise but gives hope of a resilient survival by following our creative voices. CLICK FOR THIS ART EVENT AND MORE AT MPLSART.COM
SATURDAY SEPTEMBER 5TH Punk Bowling Awards Ceremony @ Triple Rock Social Club 629 Cedar Ave Minneapolis 9pm / $12 / 21+ Whether or not you bowled/spectated earlier today at Memory Lanes for the great Minneapolis Punk Rock Bowling Tournament, tonight's awards ceremony is where tha party at! Iconic punkers, The Dwarves are flying in from California, and Retainers and Getting Even open. Even if you didn't bowl, what's there not to love about a rock and roll show put on by punks and enthusiastic bowlers? CLICK THE IMAGE FOR THE TRIPLE ROCK SITE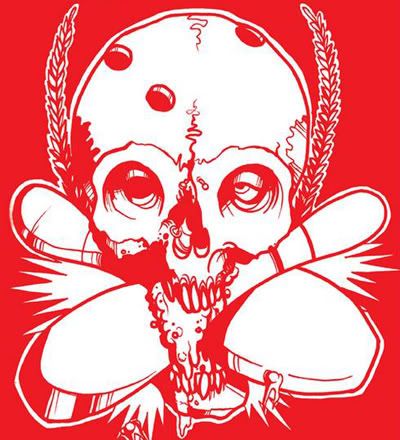 SATURDAY SEPTEMBER 5TH Super Romp @ Bedlam Theatre 1501 S. 6th St. Minneapolis 9pm/$5-15 Pay a lot if you can, because tonight's Super Romp is a benefit for one of our all-time favorite fall events, the Barebones Halloween Show! Someone's got to pay for all those giant puppets and fire eaters, after all. Tonight, The Brass Messengers toot their horns, Foxy Tann hosts, and DJs Asylum Soundsystem and Blowtorch set the tone. Expect dance, sketch comedy, the return of YXY, an epic five-minute movie, erotic bluegrass (we're intrigued) and of course, puppets galore! CLICK THE IMAGE FOR THE BEDLAM SITE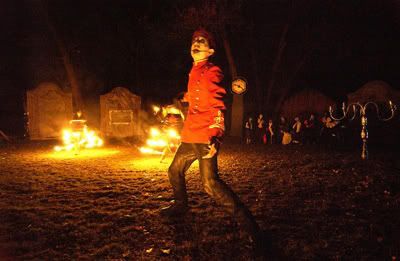 SATURDAY SEPTEMBER 5TH Building Better Bombs @ Sauce 3001 Lyndale Ave S Minneapolis 10pm / 21+ / $5 Head down to Uptown's newest digs Sauce on Saturday night for a break-neck set of crowd pummeling noise and throat shredding howls from punk/hardcore bad asses Building Better Bombs, who will be joined by special guests 9 Altos and Marlone. CLICK THE IMAGE FOR THE SAUCE MYSPACE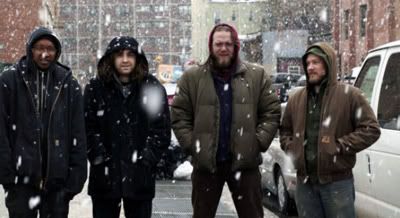 SUNDAY MUSIC PICK: THE XX The xx are a new band out of the UK that sound like the next big thing that might actually be the next big thing. With a sound strikingly mature for their age, these 20-year-old cuties make predominantly slow, furtive pop music, mostly about sex. The result is strangely rewarding and slow burning, like the negative space in a painting, or the smell of fog and eucalyptus at dawn in California. It just works – except that, when it comes to The xx, there is so much more that just defies description or language; they are a band best listened to rather than discussed.