This weekend we've got a killer balance of visuals and sound with a number of exciting new art shows opening, as well as a handful of can't-miss music events. Our opinion? A healthy dose of both is just what the party doctor ordered! Kill two birds with one stone at the Music Box, or hit the Luce Block Party and follow it up at Fox Tax Gallery. Perhaps the 501 on Friday and Rosalux on Saturday? The combinations are endless. Art and music are definitely the Twin Cities' hottest commodities, so get out there and enjoy!
xo-l'étoile
Photo by Jayme Halbritter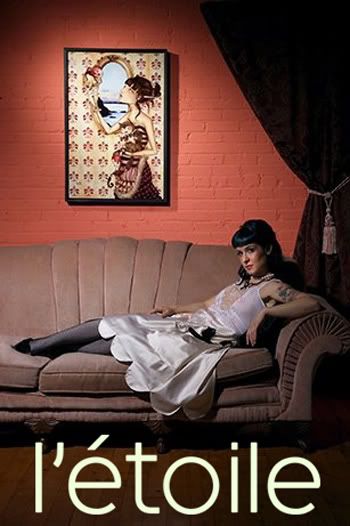 L'ETOILE'S 'BEST OF FRINGE'
Read Rob Callahan's 'Best of Fringe' run down!
CLICK THE IMAGE FOR L'ETOILE'S BEST OF FRINGE LIST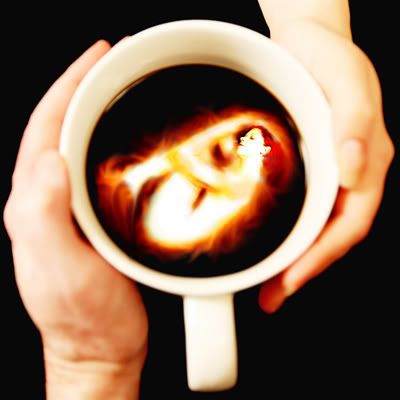 THURSDAY AUGUST 6TH
Hot Roxx w/ Mark Mallman
@ Club Jager
923 Washington Ave N
Minneapolis
10pm / 21+ / Free
If you're not in the mood for cool and classy, opt for loud and sassy. This monthly hipster-friendly sonic experience is sure to whet your classic rock whistle. Join DJ duo Jen Hughes and Nick Ryan as they host an extra special episode of Hot Roxx with guest DJ Mark Mallman! Expect a whole lot of skinny jeans and tousled hair, New York Dolls/Bowie/MC5-esque tunes, and the some of the stiffest drinks this side of the river.
CLICK THE IMAGE FOR THE HOT ROXX MYSPACE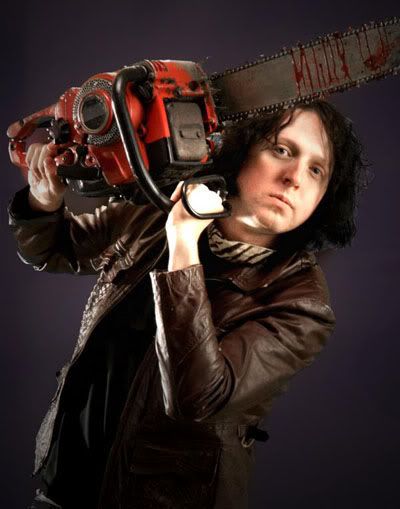 THURSDAY AUGUST 6TH
Suicide Commandos
@ 501 Club
501 Washington Ave
Minneapolis
8pm / 21+ / Free
Before the Hold Steady, before Soul Asylum, before Husker Du, before the Replacements, and even before Prince there was a swinging little punk rock trio called the Suicide Commandos – the godfathers of the Minneapolis rock scene that would eventually spawn some of the greatest bands in the country. Exploding the local music scene in 1974, The Commandos offered a unique and unforgettable flavor of punk rock and were the first and most influential, honest-to-god faster 'n' louder rock & roll band to come out of the TC. Along with giving the Minneapolis punk scene a jump-start, they proved that punk wasn't all safety pins, leather, and studs. And now, a whopping 35 years later, you can catch them in all their gritty punk glory, for free, at the 501 club in a special reunion show featuring SC side projects Steve Almaas & Friends and The Warblers, plus Fan Fiction (aka Martin Devaney), and Jenn Markey & Her Buckboard Boys. Music junkies, now is your chance to eat a slice of epic Minneapolis music history.
CLICK THE IMAGE FOR THE SUICIDE COMMANDOS MYSPACE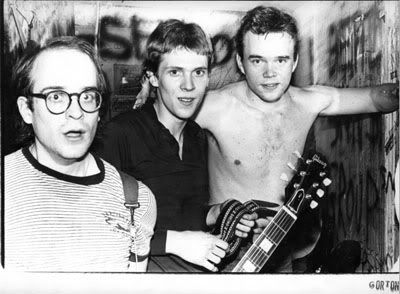 FRIDAY ART PICK: BLACK ACID CO-OP EXHIBIT
The Deitch Projects gallery in NYC's SoHo neighborhood is known for consistently pushing the conceptual envelope and expanding the visual eye, and its current exhibition by collaborative artists Jonah Freeman and Justin Lowe is no exception. A labyrinth of interiors exploring the seedy underbelly of American culture, Black Acid Co-op layers are a pop commentary on neo-vastness, drug culture, the upper-class division and social detachment. On this journey of dysfunction – which some sources have compared to as falling down Alice's proverbial rabbit hole – each interwoven corridor leads the viewer on an voyeuristic excavation with burnt out meth labs, red-carpet pseudo-galleries and hippie havens around every corner. You may not be able to see this trippy installation in person, but at least you can preview the action via its vivid photo slideshow.
CLICK THE IMAGE FOR THE BLACK ACID SITE
Photo by Greg Kessler of the New York Times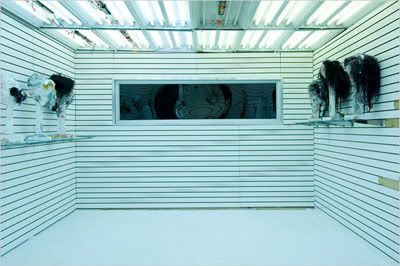 FRIDAY AUGUST 7TH
DANOS/DOSE/GARTHUS
@ SELLOUT Art
Northrup King Building
1500 Jackson St NE
Studio #456
Minneapolis
Reception 6pm-9pm / free
Jennifer Danos, Mitchell Dose and Ben Garthus are local artists exploring the "subjective subconscious, the ramifications of consumer culture, and the seemingly incongruent categories of: reality and perception, natural and artificial, and the accidental and intentional". The cozy SELLOUT gallery only opens once a month, and by appointment, so get it while it's good.
CLICK FOR THIS ART EVENT AND MORE AT MPLSART.COM


FRIDAY AUGUST 7TH
Big Funny
@ Altered Esthetics
1224 Quincy St. NE
Minneapolis
7pm-11pm/free
They say that newspapers are going the way of the dodo, but the The International Cartoonist Conspiracy is working for their survival, with the publication of a 48-page oversized newspaper featuring 45 comic artists. The show has historic comic pages from the archives, work by William Ede, and music by The Roe Family Singers. Pretend you're in the olden days, open the oversize newspaper into a stranger's face and be glad Minneapolis is full of outlandish comic artists. Through August 29.
CLICK FOR THIS ART EVENT AND MORE AT MPLSART.COM


FRIDAY AUGUST 7TH
Bangrock/Hootenanny
@ The Music Box Theater
1411 Nicollet Ave.
Minneapolis
6-8pm / Art opening: free/ Hoot: Pay what you can ($5 suggested)
Already home to the weekly musical commune, the Mad Ripple Hootenanny, the Music Box plays host to a community-centered performance exhibit featuring the visual work of local artists Jesse Draxler and Peter Lochner. A graphic matrimony of art, music and pop culture, Bangrock explores the contemporary themes of relationships, social issues and satire through the edgy styles of Draxler's multi-media compositions and Lochner's riveting rock poster illustrations. Opening reception will be held in the theater lobby followed by a brand new edition of the Hoot with host Jim Walsh and St. Dominic's Trio.
CLICK FOR THIS ART EVENT AND MORE AT MPLSART.COM


FRIDAY AUGUST 7TH
Frances Gumm
@ 501 Club
501 Washington Avenue
Minneapolis
9 p.m. / 21+ / Free
Lookin' for an evening of solid post-punk rock n' roll? Look no further. Frances Gumm, led by local "punk poet" Paul D. Dickinson on guitar and vocals, throws back to the good old days when music wasn't over-thought or slickly produced. Head to the 501 Club tonight, pretend its the 90s and that you're at a crowded basement show — it's bound to stir up a bit o' nostalgia. Bitch & Brown and The Goondas kick things off.

FRIDAY AUGUST 7TH
Hotel
@ Kitty Cat Klub
315 14th Ave SE
Minneapolis
10pm / 21+ / Free
DJ Jonathan Ackerman returns to spin the platters at his hot monthly at the KCK with a killer mish-mash of his hand picked favorites. Those who attend never know for sure if they'll hear minimal techno, club bangers, electro burners or disco anthems, but they are always guaranteed to lose their shit. This time around, Hotel welcomes none other than the lovely and talented Mattastic from everyone's favorite radio show Do You Party? and the wild man Stu Wiley who is one of the masterminds behind The Stay Spun blog.
CLICK THE IMAGE FOR MORE INFO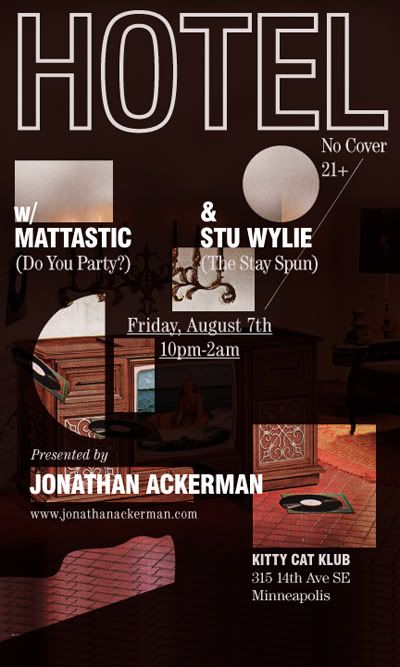 FRIDAY AUGUST 7TH
Get Cryphy
@ First Ave VIP Room
701 1st Ave. N.
Minneapolis
10 PM-2 AM/ 18+/ $3
OMG! It's the 19th installment of MPLS' crunkiest bash. And this time around the rowdy cryphaholics resident DJs – Jimmy2Times and DJ Fundamentalist – welcome the triumphant return of Brent Tactic, DJ B-STEE of the Brick Bandits and the Kansas City-based club rebels of Think 2wice Records to pump out VIP-worthy jams. Lately, the club banging remixes from Think 2wice Records have been blowing up music blogs and tonight you'll hear what all the hyp(h)e is about. Featuring emcee Last Word on the mic and plenty of tasty drink specials.
CLICK THE IMAGE FOR THE GET CRYPHY MYSPACE


COOL LINK: BEAUTY BETS
"So I'm staring at my bottle of Seche Vite wondering what to do with it now that shiny nails are out. Since I don't wear panty hose, I'm kind of at a loss. Perhaps a Dear Martha is in order… I don't remember a time when shiny hair, lips, and most definitely nails were the goal. Now a bunch of mattifying topcoats are hitting shelf for fall. Which sounded absolutely gross to me because chalky, dull nails make me think two things: dirty and goth."
This is just a sampling of the musings of Elizabeth Dehn, a magazine editor and beauty junkie whose dear diary-style new website Beauty Bets offers up a fresh and honest guide to the beauty products and treatments that make life a whole lot more groomed.
CLICK THE IMAGE FOR THE BEAUTY BETS SITE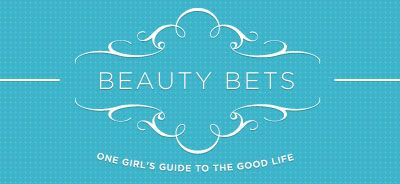 SATURDAY AUGUST 8TH
Handmade Nation
@ Common Room at the Soap Factory
110 5th Ave. SE
Minneapolis
12pm & 7pm / $12 film screening
Faythe Levine traveled the country several times over to document the DIY craft movement. Why would a person make something when they could buy it? Why has so-called "women's work" come back into popularity? You can ask Faythe these questions during the Q&A after each screening of Handmade Nation, and buy some hand-made from local crafters during the all-day craft fair. You'll be rushing to your googly eyes supplies bin to whip up your own unique craft after seeing this inspiring film! Tickets are available at Crafty Planet at 2833 Johnson St NE, or at the door on the day of the event.

SATURDAY AUGUST 8TH
Pizza Luce Block Party
@ Pizza Luce Uptown
3200 Lyndale Ave. S.
Minneapolis
Noon-10pm / Free
Get your sleepy weekenders butt up and head to Uptown's Pizza Luce today for day-long excursion in block-tastic fun. Kicking off at noon rain or shine, the block bash features live sets from local indie, rock and hip-hop acts the Jack Brass Band, Spacewolf, The Alrights, The Framed, The Radio Killers, F*ck Knights, Hobo Nephews of Uncle Frank, Me and My Arrow, MC/VL, Kid Dakota and Maria Isa. Emceed by our favorite local lush Ian (of Drinking With Ian), get your dance and mingle on with the amicable neighbors of Uptown, all while enjoying delicious Luce pizza, brats and Summit brewskies!
CLICK THE IMAGE FOR THE PIZZA LUCE SITE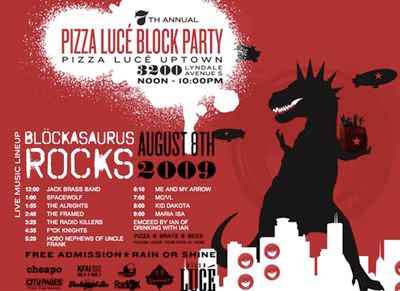 SATURDAY AUGUST 8TH
Waves, Toys & Pear-Feet: New Works by Bruce Nygren
@ Fox Tax Gallery
503 1st Ave. NE.
Minneapolis
6-11pm / Free
When Uptown's Flander's Gallery closed its door, Flander's exclusive painter and local veteran artist, Bruce Nygren, turned to the gallery at Fox Tax to preview a batch of his newest works. From spectacular scenes to fantastical stills, Nygren's contemporary, colorful paintings will be on view and ready to transport you from the gallery straight to the imaginative world of their creator. Join Fox Tax for the opening reception of Waves, Toys & Pear-Feet tonight, and experience the fantasy on the gallery's walls through September 4th.
CLICK FOR THIS ART EVENT AND MORE AT MPLSART.COM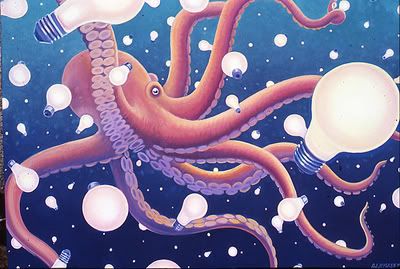 SATURDAY AUGUST 8TH
Fit To Be Tried Everything At Least Once
@ Art of This
3506 Nicollet Ave
Minneapolis
7pm-11pm / $5 donation
Ooh…self-reflective. Justin Schlepp and Michael Mott bring together Art of This's impact on the community and building in their sculptural installation that will exist for one night only, hence the one-nighter name. The space will be social, so bring some friends, and enjoy another famous Art of This event!
CLICK FOR THIS ART EVENT AND MORE AT MPLSART.COM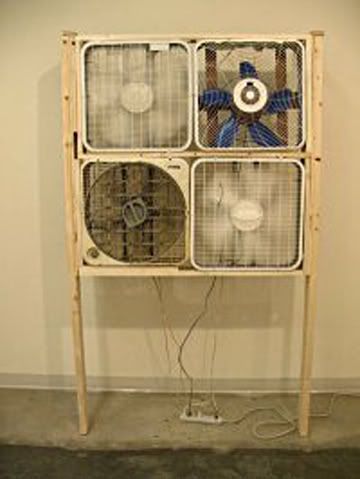 SATURDAY AUGUST 8TH
Save Canvas
@ 91 South 10th St
Minneapolis
7pm-10:30pm / Free
Overproof's latest project "Save Canvas" turns abandonment into art, creating a highly interactive playground for the senses. Three abandoned buildings in bustling downtown Minneapolis are given new life through the artistic sensibilities of visual artists Aaron Bickner and Andrew Shannon. A pop-up gallery will be on site to host a variety of pieces from a revolving roster of artists, as well as refreshments provided by Gastro non Grata and the sound of old vinyl cracks spun from DJ Rambo Salinas and special guests in this truly innovative and exciting experiment in public art.
CLICK FOR THIS ART EVENT AND MORE AT MPLSART.COM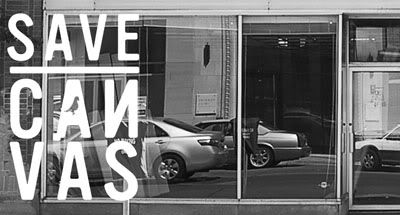 SATURDAY AUGUST 8TH
Storytime: New Work by Alex Kuno & Nick Howard
@ Rosalux Gallery
1011 Washington Avenue S
Minneapolis
7-11pm / Free
Rosalux Gallery has some sweet new works by visual artists Nick Howard, whose art explores the complexity of what it means to be human through a stunning series of ink drawings; and Alex Kuno, whose pieces are startlingly reminiscent of cult children's book Where the Wild Things Are. The show runs through August 30th.
Gossip: We hear Rosalux is moving to new digs…in the old Flanders Gallery space!
CLICK FOR THIS ART EVENT AND MORE AT MPLSART.COM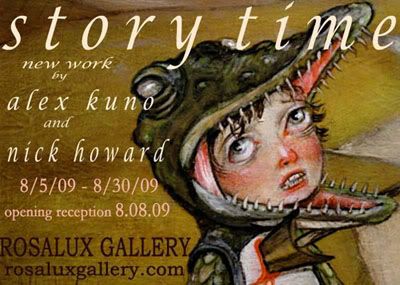 SUNDAY MUSIC PICK: DANIEL JOHNSTON
If you were alive in the '90s and listened to music, you probably heard a band influenced by and/or covering Daniel Johnston. A musician and cartoonist, Daniel has had some difficult times but has a documentary film about him, sublime stitching designs of his art, and work in the Whitney Biennial. Ever since Kurt Cobain sported his "Hi How Are You" image on his shirt, indie rock fans everywhere realized what a gem Daniel is. He's going to be at First Avenue August 13th, so save the date, and don't miss him!
CLICK THE IMAGE FOR THE DANIEL JOHNSTON SITE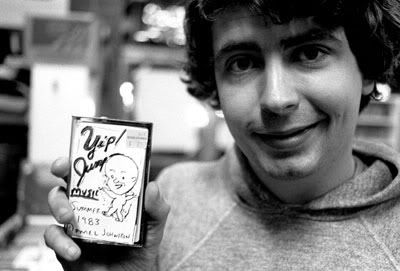 SUNDAY AUGUST 9TH
Bitch Flowers Luau
@ Seven Skybar
700 Hennepin Ave
Minneapolis
4pm-11pm / $30
A luau hosted by sassy queen, Bitch Flowers, is quite enough to get you running towards the party, but here are the deetz anyway: Expect a DJ, an all-you-can-eat Hawaiian buffet (a rare bird in these parts), a performance by Esera, two roasted pigs, and vintage Hawaiian films on the giant screen. Bitch Flowers provides the personality; Seven's Skybar provides the rooftop.
CLICK THE IMAGE FOR THE SEVEN SITE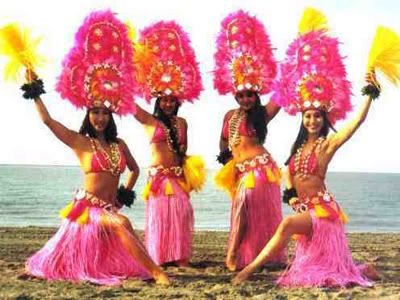 SUNDAY AUGUST 9TH
Riot Act Reading Series feat. Mark Mallman
@ Turf Club
1601 University Ave. W.
Saint Paul
7-9pm / 18+/ Free
St. Paul's unruly reading series, Riot Act, is back for another unconventional journey into the bowels of modern literature with a special guest appearance from local glam rocker and music sage, Mark Mallman. Set to read from his upcoming graphic novel, "Existential Criminal," Mallman joins Best New American Voices contributing writer, Emily Freeman and hosts Paul D. Dickinson and Laura Brandenburg for an evening of literary bliss. Grab a drink and embrace your inner anarchistic bookworm.
CLICK THE IMAGE FOR THE RIOT ACT SITE