Put on your seatbelts: this Thursday marks an epic milestone for Twin Cities fashion! We'll be celebrating two amazing designers with local ties at the premiere screening of Project Runway Season 6 in downtown St. Paul! We've worked hard to whip this huge event together in a super short time span just for you, and we hope you'll join us! We're so proud of Ra'mon and Christopher—words cannot express—and we can't wait to celebrate with all of you!
p.s. It's not just all about Thursday — the weekend holds plenty of festive shenanigans as well — including the l'étoile sponsored Sartorialist release party on Sunday at Magers & Quinn!
xo-l'étoile
THURSDAY AUGUST 20TH
Project Runway Premiere Party
w/ special guests Ra'mon Lawrence & Christopher Straub
Landmark Center Public Screening
7:30 p.m. to 10 p.m. / Free
Cocktail Reception & Trunk Show at Saint Paul Hotel
10 p.m. to Midnight / Free
After-After Party at Camp Bar
Midnight to 2 a.m. / Free
Our long-awaited Project Runway Premiere bash is finally here! And we couldn't be more excited. Join local fashion enthusiasts for a stylish evening at Landmark Center celebrating the success of local designers Ra'mon-Lawrence Coleman and Christopher Straub, who recently scored covetous spots on the design reality show, Project Runway. Mix with fashion-minded locals in the Landmark's gorgeous atrium from 7:30 to 9 p.m., check out the latest designs from Ra'mon during a special appearance from the designers themselves, then settle in for a live screening of the season premiere. Be sure to conserve energy, because after the episode it's on to non-stop, post party action at the Saint Paul Hotel (just across the street) with cocktails and elbow-rubbing with the designers PLUS a special trunk show by Christopher Straub from 10 p.m. to midnight. An after-AFTER party at the sassy Camp Bar from midnight to bar close seals the deal!
IMPORTANT NOTE: We have moved the previously planned plaza party and outdoor screening INSIDE the Landmark Center due to the expected rain (we wouldn't want you to ruin your 'do). Same location, just inside of the building!
Sponsored by l'étoile magazine, Capital City Partnership, The Saint Paul Hotel, Landmark Center, Comcast, Prairie Vodka, Solo Vino Wines, Secrets of the City, EMI, and Digital Crush Photography.
Watch a sneak preview of Project Runway Season 6:


THURSDAY AUGUST 20TH

Metro Guac-Off
@ Blue
2922 Aldrich Ave S
Minneapolis
6-8pm / $20
Vimlab Promotions and Metro Magazine present one of the best ideas of the summer, a Guac-Off, held at the fancy Blue Apartments in Uptown. Teams will dish out their best guacamole to be judged by the audience and a panel of foodies on categories such as Most Authentic, Most Unique, Best Team Name and Audience Choice. Nosh on bites from the Chef Shack, Manny's Tortas, Barbette, Common Roots, Baja Sol, and wash all that delish guac down with an ice cold Corona or Margarita while listening to the hot Latin house DJ stylings of David Drone. FYI, you must purchase tickets in advance as there won't be any sold at the door, so don't snooze!
CLICK THE IMAGE FOR THE METRO SITE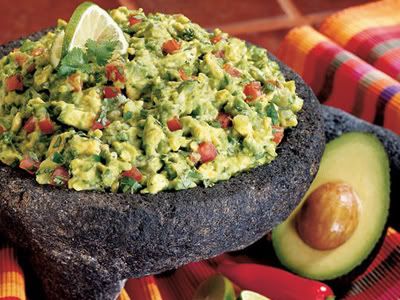 THURSDAY AUGUST 20TH

Jungle Red First Annual Clothing Swap
@ Jungle Red Salon Spa Gallery
1362 LaSalle Avenue
Minneapolis
6pm-8:30pm/free
You know the drill: Bring the (clean) clothes you can't bring yourself to wear one more time and leave with a whole new wardrobe, for the price of nothing! This swap is amped up — Jungle Red Salon is offering chair massages, nail/toe polishes services and lip/brow waxing for only $10 a pop. If you bring nonperishable food, you'll get a gift certificate to Red Jungle. Bring 3-10 pieces of clothing; whatever is left over will be donated to Avenues for Homeless Youth. Snacks provided by Little Tijiuana's!
CLICK THE IMAGE FOR THE JUNGLE RED SITE


FRIDAY ART PICK: KATY HORAN
Talk about detail-oriented. It boggles our mind to look at Horan's work; we can't imagine actually doing it. Her work swings between Bosch and folk art, with a lot of focus on magic and rituals. Working both on wood and paper, her delicate touch is more creepy than dainty. If you can't afford a huge piece, check out her store, which offers cards and mini Gocco print sets.
CLICK THE IMAGE FOR THE KATY HORAN SITE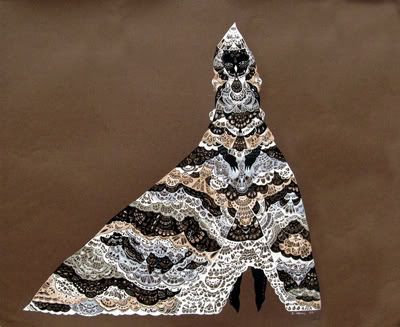 FRIDAY AUGUST 21ST
Go Live III
@ FiveTwoSix Salon & Gallery
526 Selby Ave
Saint Paul
7-11 pm / $5 suggested donation
Art, fashion, and music fused series, Go Live, returns for another installment with even more talented local artists and a new set of standards. Snack on appetizers from the Cheeky Monkey deli and sip wines selected by oenophile, Chuck from Solo Vino, while you enjoy the featured work of large scale, abstract collage artist, John Alspach and an interactive installation and performance from artist, Page Whitmore. Also, previous Go Live participants, Booka B and MJ Heubach are back tonight to reveal their collaborative gallery project while Booka B spins a set of originally produced tracks. Don't miss a live fashion show with garments from local designer Atom Pechman of FormFromForm in avant-garde styles created by 526's team of stylists.
CLICK THE IMAGE FOR THE 526 SITE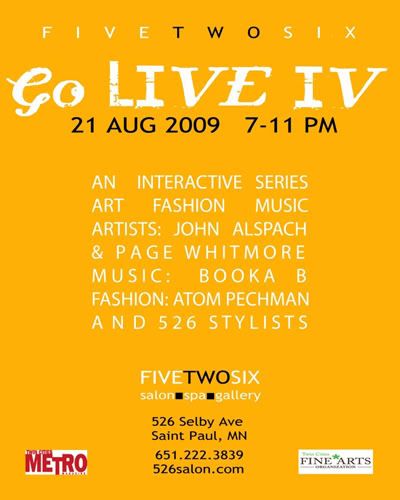 FRIDAY AUGUST 21ST
Wants Vs. Needs
@ Club Jager
923 Washington Ave. N.
North Loop
10 pm-2am / 21+ / no cover
Sadly, your wants and your needs rarely match up, but luckily, local collective, Wants Vs. Needs, knows how to merge what you want – namely a hot dance party – with what you need – a free dance party. For the third Wants Vs. Needs shindig, free, limited edition shirts featuring The Pressure's jam-dance logo are up for grabs, plus check out sound-tacular sets from DJs Espada, Petey Wheatstraw, So Gold!, and Anton. Indulge in a few bottles from the beer tubs offered on Jager's patio, but make sure you visit the dance floor once or twice to show off your skills.
CLICK THE IMAGE FOR THE WANTS VS NEEDS BLOG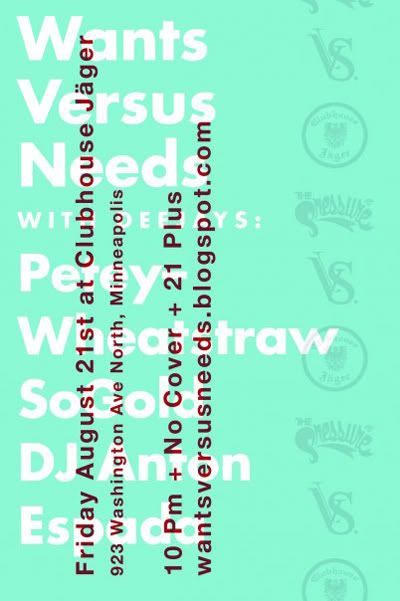 FRIDAY AUGUST 21ST
Mercurial Rage/Blue Sky Blackout/Invincible Kids
@ Uptown Bar
3018 Hennepin Ave
Minneapolis
9pm / 21+ / Free (or TBA?)
Prepare yourself for an interesting sonic mashup at the Uptown Bar this evening, with an unusual but brilliant lineup that includes rockers Mercurial Rage, Invincible Kids, and brand new band Blue Sky Blackout, whose catchy sound has us all in a tizzy!
CLICK THE IMAGE FOR THE UPTOWN BAR SITE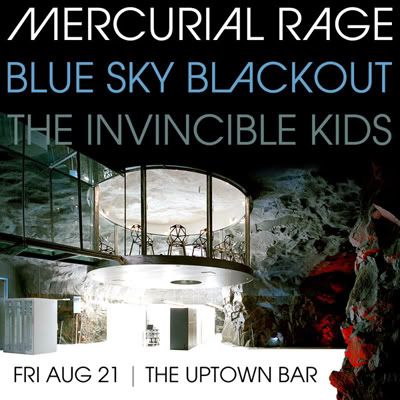 FRIDAY AUGUST 21ST
Strut n' Shock/Red Pens/International Espionage
@ Sauce
3001 Lyndale Ave S
Minneapolis
9pm / 21+ / $5
Sometimes really big things come in small packages. Such is the case with local two-piece the Red Pens, who craft magical walls of abstract sound à la Sonic Youth. Accompanying them on this Saucy line-up include 80s synth-inflected new wave rockers International Espionage, and the punk heat of the Strut n' Shock.
CLICK THE IMAGE FOR THE SAUCE MYSPACE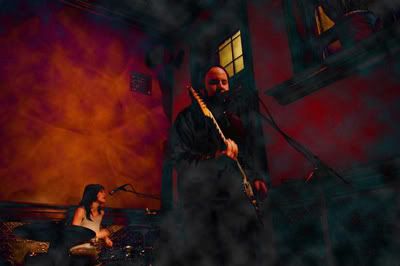 FRIDAY AUGUST 21ST
The Wurst and Last Honeymoon
@ 1st Avenue
701 1st Ave N
Minneapolis
9pm/$3 advance, $6 at door, free with RSVP/18+
The Honeymoon is over! Get used to underwear on the floor and nagging, because this is the very last honeymoon, ever. The dance floor will be slick with the tears of Moon Goons fans taking over all of First Avenue. Dance your sorrows away with the help of My Cousin Roy, Nick Chacona, Sovietpanda, Jimmy 2 Times, DJ Bach, Midnight Energy, Gary Slam and more.
CLICK THE IMAGE FOR THE MOONGOONS SITE


COOL LINK: MODCLOTH
We don't want to toot our own horn or anything, but here at l'étoile 'retro' and 'vintage' have always been in style; so the hullabaloo surrounding everything retro definitely makes us sit back and smile in approval. So, now that we're all nice and buttered up, it's time to share a link to one of our favorite vintage-minded online fashion spots, ModCloth. Relatively self-explanatory, this site specializes in charming retro-inspired women's apparel – from dresses to intimates, even apartment décor – at prices that won't break the bank. ModCloth also has a spread devoted to unique, true one-of-a-kind vintage pieces/finds, to assist you in completing your look authentically as possible. Be immersed in vintage-influenced modern pop culture with the selection, ModLife, which features style tips, street-spotted hot new looks, mod-fashion films, and – following Mad Men mania – a behind-the-scenes at a ModCloth's new Mad Men-inspired lookbook.
CLICK THE IMAGE FOR THE MODCLOTH SITE


SATURDAY AUGUST 22ND
Red Stag Block party + Tendercakes After party
@ Red Stag
509 1st Ave NE
Minneapolis
4pm-10:30pm / free
After party 10:30-2am / free
Add the Red Stag to your list of awesome block party hosts. Today's zero-waste event serves up Black Blondie, Roma di Luna, Romantica, Heiruspecs, Chooglin, and Mark Mallman. MCs Foxy Tann and Mary Lucia keep the party going, while the North Star Roller Girls mingle and stir up the crowds. A hula hoop contest keeps hips shaking, and organic food and drinks are on hand. The after party is inside the Stag features Millions Billions, Tendercakes, Solid Gold (DJ Set), DJ Fundo, and Last Word on the mic. Sweet!
CLICK THE IMAGE FOR THE RED STAG SITE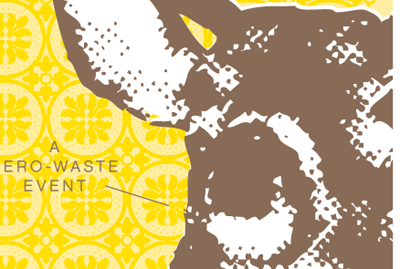 SATURDAY AUGUST 22ND
Common Room: Music Night w/ Andy DuCett
@ Soap Factory
518 2nd St. SE.
Minneapolis
7-10 pm / free
Join curators Andy Sturdevant and Sergio Vucci for another living-room-cozy exploration into community and interaction. Tonight's Common Room series welcomes installation and visual artist, Andy DuCett, for an intimate journey through his extensive personal LP collection as he spins tracks and discusses the correlation between his evolving musical taste and his ever-changing art-making style. Dance along while enjoying his favorites and request a few of your own!
Note: Common Room's entrance is located on the side of the Soap Factory building at 110 5th Ave. SE, not the regular 2nd St. entrance.
CLICK THE IMAGE FOR THE SOAP FACTORY SITE
Artwork by Andy DuCett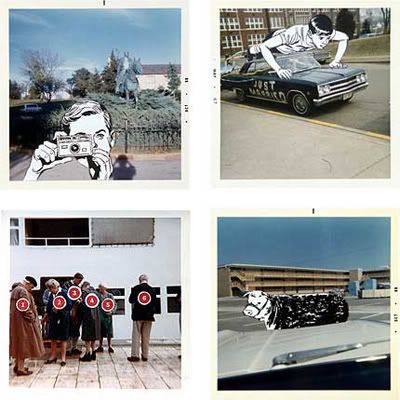 SATURDAY AUGUST 22ND
Hot Chicks With Douchebags
@ Clubhouse Jager
923 Washington Ave N
Minneapolis
10pm-2am / free / 21+
Revel in your inner douchebaggery or hotness tonight at Jager, where douchebags are usually a rare bird. D-bags and hotties can look forward to a rare appearance by DJ Apollo/Ralph Laurenn (our FAVE ghetto house master from back in the raver days!) and Walker & Slater spinning disco, house and techno, among other bootie-shaking sounds. When the hotness gets to be too much, enjoy the huge patio! If you're not sure what to wear, click HERE for some inspiration:
CLICK THE IMAGE FOR THE JAGER MYSPACE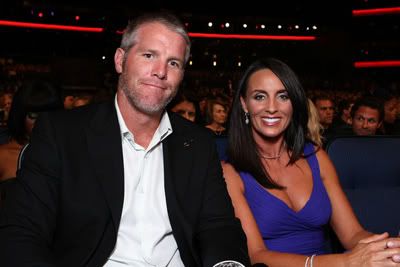 SATURDAY AUGUST 22ND
MCVL/Slapping Purses
@ 501 Club
501 Washington Ave
Minneapolis
10pm / 21+ / Free
Old-school rap revivalists, the ever-energetic MC/VL will perform their last show in a very long time tonight at the always-free 501 Club. Expect shirts to come off, sweat to fly, and beer to spray. One man noise dance project Slapping Purses open, so get ready to shake – there's usually nary a still body in the house during a Slapping Purses set.
CLICK THE IMAGE FOR THE 501 SITE


SATURDAY AUGUST 22ND
Sounds Kinda Kickin'
@ Secret Location
10pm / $13
Our homies over at UncencoredUS present to you an epic all-night rager featuring electronic powerhouses Tinhead and Heckadecimal pounding out ear-drum bleeding beats and encouraging intense dancing into the wee hours of the morning. Visit the link (day of) below for location info and directions.
CLICK THE IMAGE FOR MORE INFO


SUNDAY MUSIC PICK: DIRTY PROJECTORS
Come end of year, every critic, blogger, and music junkie across the US will be drooling over one of the most unique and underrated bands around, Brooklyn's art rock ensemble the Dirty Projectors. Preceded by an album made up entirely of Black Flag covers (genius) their most recent release "Bitte Orca" is the bands best album by a mile, and one that will bring them into the forefront of modern independent music with its intricate arrangements, brilliant soundscapes, and truly remarkable range in genre and sound.
CLICK THE IMAGE FOR THE DIRTY PROJECTORS SITE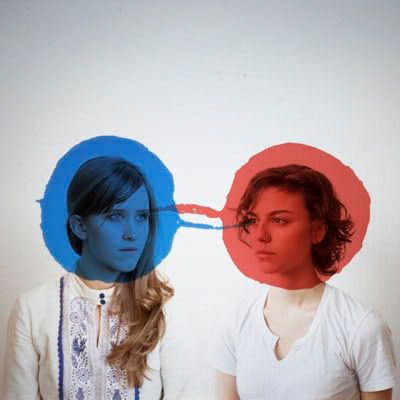 SUNDAY AUGUST 23RD
The Sartorialist Book Release Party
@ Magers & Quinn Booksellers
3038 Hennepin Ave. S.
Uptown Minneapolis
5-7 pm / free
Street fashion blog, The Sartorialist, has long been a favorite. After all, unique styles, sartorial tastes and creative self-expression is kind of our forte. Which is why, when we heard blog creator and photographer, Scott Schuman, was publishing a book of his 'best of', we knew we needed in on the action. Tonight, pick up your copy of the book that inspires every fashionista and makes the perfect coffee table conversation starter as you mingle with local fashion peeps and munch on Japanese "street food" from Uptown's Moto-I. Feel sartorialistic as Digital Crush snaps a chic photo of you in front of M+Q's fitting wall of art books. Not feeling flashy enough? Ask the fancy dames of Blacklist Vintage to help — they'll be on-hand to lend you some stylish accessories (which then you can buy, if you're so inclined!)
Sponsored by Magers and Quinn, l'etoile Magazine, Secrets of the City, Digital Crush Photography and Blacklist Vintage.
CLICK THE IMAGE FOR THE MAGERS & QUINN SITE


SUNDAY AUGUST 23RD
Gastro Non Grata
@ Triple Rock Social Club
629 Cedar Avenue S.
West Bank Minneapolis
6 p.m. / 21+ / $3
Gastro Non Grata is fancy talk for FREE FOOD, ya'll. This recurring foodie/rocker event out-does itself this time around with a delectable selection of treats to tempt your palate. Mike DeCamp from La Belle Vie feeds you (not by hand, sorry) a delicious Summer Vegetable Tart, while Erik Anderson from Sea Change provides preserved Albacore Tuna, Salmon Puffs and more. Frozen sweets from Raul and Victor of La Chiquita will cool you down, while Northern Brewer whets your whistle with a new batch of Rye Kolsch beer. Somehow strangely not convinced yet? Throw in tunes courtesy of The Dynamiters, Double Bird, Rope Trick, Tony Magee, and the Twin Cities Ukelele Orchestra and you've got yourself a pretty awesome Sunday evenin'.
CLICK THE IMAGE FOR THE GASTRO NON GRATA SITE