Not only are we celebrating the amazing announcement that two of our hometown talents, Ra'mon Lawrence Coleman and Christopher Straub, will be appearing on season six of Project Runway, but there are a bevy of brilliant art events going on this weekend as well—and that alone calls for festive fashion! Wear your "art" on your sleeve (that's code for dress the heck up!) and check out Intersections at the Goldstein Museum, where art and fashion collide in the best possible of ways. Or visit Pink Hobo Gallery for The Art of Yo Gabba Gabba, which will surely be vivid enough to keep you dreaming in Technicolor until Monday comes once again. No matter what you do this weekend, keep it colorful, and enjoy!
xo-l'étoile
FRIDAY ART PICK: ANA BENAROYA
Can we just get a subscription to everything this lovely lady produces? An illustrator, concert poster maker, screen printer, typographer, sketcher and surface designer — Benaroya does it all. She also seems really cool, and we want to hang out with her, and you know, just watch her work and eat some burgers with her. She's got a grip of clients, from Bust Magazine to Wilco to ABC News. Her color! Her design! Her humor! Yep, she pretty much blows our minds!
CLICK THE IMAGE FOR THE ANA BENAROYA SITE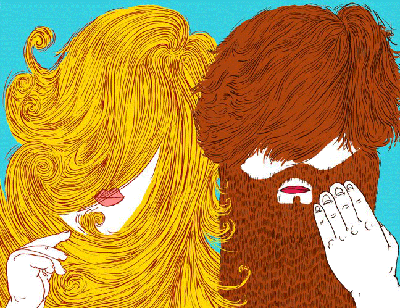 FRIDAY JULY 10TH
What I did with the Sun during the War
@ Shoebox Gallery
2948 Chicago Ave S
Minneapolis
5pm-7pm / free
Ok. Christopher Hauseman's installation is described by the Shoebox Gallery as follows: "a multi-layered peep show through newspaper of his body on exposed photographic paper, accompanied by giant crumpled American Flag. Bring your tap shoes," and we certainly can't argue with that! We never know what to quite expect from Shoebox Gallery, but this Sean Smuda-curated Chicago Avenue window installation always brings the thoughtful, the beautiful, and the delightfully quirky. Through September 5th.
CLICK FOR THIS ART EVENT AND MORE AT MPLSART.COM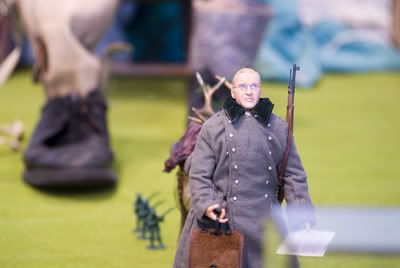 FRIDAY JULY 10TH
Intersections: Where Art Meets Fashion
@ Goldstein Museum of Design
College of Design, University of Minnesota
364 McNeal Hall, 1985 Buford Ave.
St. Paul
6-8pm / Free
Inspired by Pop Art and the creative design aesthetic of noted fashion journalist, Margot Siegel, curators Mark Schultz and Barbara Heinemann present an evening of art and fashion. Intersections pairs Siegel's personal collection of artwork by Pop Art pioneers, Andy Warhol and Richard Hamilton, the fashions from Louis Vuitton, Martin Margiela and Steven Sprouse with the exquisite fashions from the Goldstein permanent collection. The exhibit's subthemes, "Fashion Uses Art," "Art Uses Fashion," "Artful Handbags" and "Art, Fashion and Consumerism" features limited-edition Louis Vuitton handbags designed by the iconic Takashi Murakami and Richard Prince; Wayne Thiebaud's artistic shoes and lipsticks; and Italian designer Franco Moschino's "logo" handbags. Tonight's opening reception celebrates art, fashion and pop culture and is a must-see for fashionistas and art history aficionados. Runs through November 1st.
CLICK FOR THIS ART EVENT AND MORE AT MPLSART.COM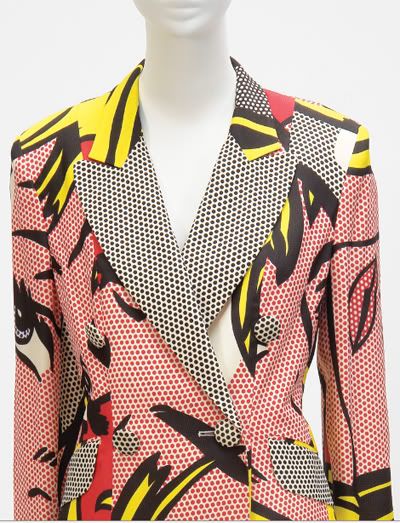 FRIDAY JULY 10TH
Illustration/Comics Exhibition
@ The Black Dog Café
308 Prince St.
St. Paul
8pm-11pm / free
Dain Germscheid, Steve Robbins, and Tom Spence offer up some amazing comics and illustration at one of our favorite St. Paul spots. The Fantastic Merlins provide live music for you to ponder art, sip a mocha, and eat one of the Black Dog's fabulous pizzas!
CLICK THE IMAGE FOR THE BLACK DOG SITE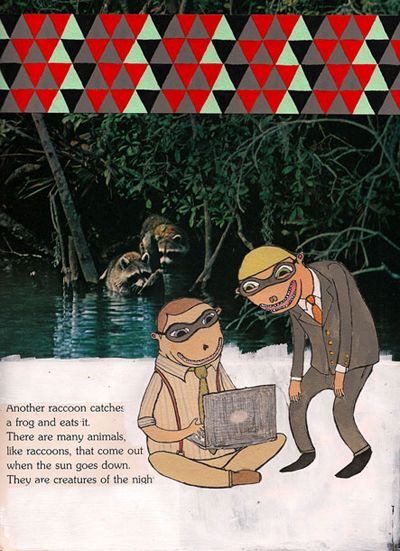 FRIDAY JULY 10TH
Street Sounds
@ First Avenue VIP Room
701 1st Ave N
Minneapolis
10pm / $5 / 18+
DJs Attitude City, Mike the 2600 King and Winship get you moving tonight in the VIP Lounge. And we do mean moving! Everyone's always talking about how Prince filmed Purple Rain here, which means he set the standard for dancing and style — and you need to live up to that, right? We realize that's a very high bar to set, but we also realize you Minneapolines are no slugs when it comes to busting out the hottest dance moves…so make Prince proud! Ok? Even if you hear too much Michael Jackson.

Street Sounds is proudly sponsored by l'etoile!
CLICK THE IMAGE FOR THE FIRST AVE SITE


FRIDAY JULY 10TH
Brutal Becomings CD Release
@ 501Club
501 Washington Ave. S.
Minneapolis
10pm / 21+ / Free
There are two things you should know about Brutal Becomings. One, their myspace page lists the Turf Club's Clown Lounge under "influences." Awesome. And two, they are releasing a CD called The White Lodge (Twin Peaks, anyone?) that sounds like a bunch of mad scientists experimenting with a concoction of raw musical ingredients to see what sort of explosive chain reaction they can set off. The result is so energetic and fluid you can practically lose yourself in it – we highly suggest you check them out for yourself at their CD release party at our fave new digs the 501 Club. As an added perk, openers Lookbook will be playing with a full live band.
CLICK THE IMAGE FOR THE BRUTAL BECOMINGS MYSPACE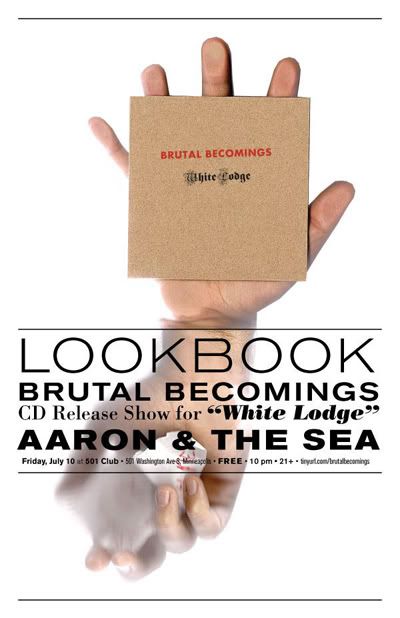 FRIDAY JULY 10TH
OldSkool MPLS Rave Scene Reunion
@ 7th Street Entry
701 First Avenue N.
Minneapolis
10pm-2am / 21+/ $10
If you've called the Twin Cities home for a while and are of a certain age -you know who you are- chances are you remember the rave scene. A heavy kudos to the hippie generation that proceeded them, these "raver" kids were driven by energetic electronic beats, candy-colored fashion, glowing apparatuses and love (whether drug induced or not). Tonight prepare yourself for a lot of dewy-eyed, nostalgic raver adults as First Ave, Ecstatic Music, and the Wall of Bass reunite the MPLS rave scene for a special oldskool alumni party. Featuring a mad throwdown by Midwest legends of the past, present and future, including sets by DJ Terry Mullan, DJ ESP Woody McBride, DJ Tyrone, DJ EasyRider and The Push. Win prizes for those in their best raver gear, enjoy drink specials, and pick up a free copy of DJ ESP's new mix album. So, steal a pacifier, grab your glow sticks, and we'll see you there!
BONUS: Come early (7pm) to enjoy cocktails and appetizers!
Glowstick twirling refresher course:


COOL LINK: COUTE QUE COUTE
Despite their self-claimed status of "insignificance," we find Coute Que Coute to be anything but. Featuring random tidbits on emerging artists and designers, fashion photography, films and music, Coute Que Coute is your one stop guide to the fashion-conscious culture dimension. We're hooked merely for the fashion photos which can only be described as disgustingly cool. This week's headlines: Chanel's Fall promo featuring a sinistered-up Sasha Pivovarova inside a gothic Lolita meets Midsummer Night's Dream set; a fashion photography spread from Zoo Magazine, which industrial punks who dig the angsty mind of Gus Van Sant will love; style goodies from Lookbook.nu; and mind-blowing art prints by Mark Weaver. This uber-hot blog also introduces you to new pop culture journals like the cutting edge Aussie fashion mag, Oyster. What could be better?!
CLICK THE IMAGE FOR THE COUTE QUE COUTE BLOG
Chanel Fall/Winter 2009/2010 advertisment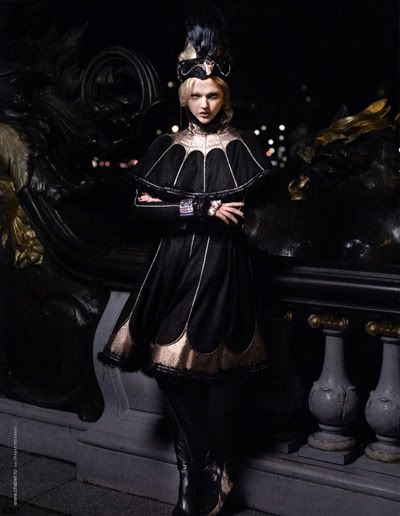 SATURDAY JULY 11TH
Shoestring Chic
@ Art & Architecture
3338 University Avenue SE
Minneapolis
10am-Noon / $20 ($15 for MNHS members) / Reservations required to 651-259-3015
As part of the Minnesota Historical Society's ongoing series of D.I.Y. workshops, Saturday's presentation by local designer Sarah Holm is sure to turn you from a recessionista to a fashionista in no time. Drawing inspiration from the "flour sack" fashions of the Great Depression, when re-purposed fabric was used to make everything from quilts to underwear, Holm will share some fun ways to reinvent your wardrobe without having to spend a dime. The workshop will feature a small project in which you'll learn how to make your own hair accessories, based on Holm's own line of appropriated garments and accessories, "Reevolution."
CLICK THE IMAGE FOR THE MN HISTORICAL SOCIETY SITE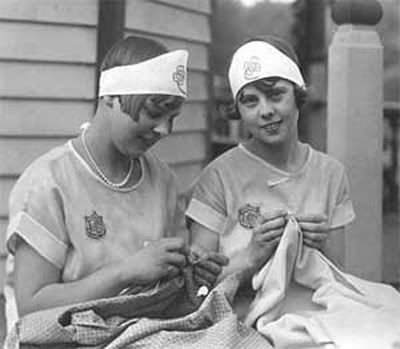 SATURDAY JULY 11TH
Strange Capers presents: As You Like It
@ Boom Island Park
724 Sibley Street NE
Minneapolis
2 p.m. Saturdays & Sundays through Aug 16th / free or suggested donation
What is summer without a little Shakespeare in the Park? Local theater super-troupe, Strange Capers, indulges the season with their sassy production of As You Like It. This whimsical re-telling of the bard's classic tale of love in a enchanted forest will definitely charm and delight young and old alike. Directed by Guthrie alum Randy Reyes and featuring a cast of well-seasoned Twin Cities theater vets, As You Like It is a can't miss on your summer itinerary. The play runs Saturdays and Sundays through August 16th, so pack a picnic and reserve a spot on your calendar to experience this festive summer tradition!
CLICK THE IMAGE FOR THE STRANGE CAPERS FACEBOOK PAGE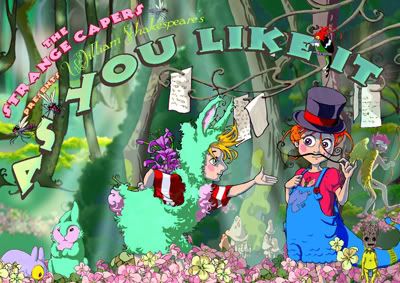 SATURDAY JULY 11TH (THROUGH SUNDAY)
Twin Cities Zine Fest
@ Stevens Square Center for the Arts
1905 3rd Ave S.
Minneapolis
Saturday 11am-5pm, Sunday 11am-4am / Free
Refresher: Zines are little handmade books that anyone with access to a copy machine can make. This weekend's zine convergence is going to be bigger and better than any this city has seen! Over 40 zinesters and distros will be hawking and trading their stickers, books and DIY projects. During the day there will be an open mic reading by exhibitors, a showing of a documentary and a living zine (what will that entail, we wonder?) Bring some cash and your curiosity, because you can learn about everything from fixing your bike to proper etiquette. Pssst…we hear there is a gangster zine making its debut! Seek out zine-making l'etoile contributor, Lacey Pripc-Hedtke, and say hello!
BONUS: Stop by Arise Bookstore for the after party on Saturday evening and get to know all those cool and friendly people who make things! Zombie Season, Bla Bla Blacksheep, Gerald Prokop, and Teenage Moods will play on Arise's lovely back patio. 2441 Lyndale Ave S., Minneapolis, 6pm, free.
CLICK THE IMAGE FOR THE ZINEFEST SITE


SATURDAY JULY 11TH
The Art of Yo Gabba Gabba
@ Pink Hobo Gallery
507 E. Hennepin Ave
Minneapolis
5pm-Midnight / Free
Cult children's TV show Yo Gabba Gabba! looks like it was created in some sort of time warp to both the future and the 70s – colorful, candy-coated, and totally made for toddlers with cool parents. Its creative design and novel animation make it easily the most pop-saturated, design savvy show since Peewee's Playhouse, but with way cooler special guests (The Shins, The Ting Tings, etc). The infectious wonderment of Gabbaland will invade the Pink Hobo gallery tonight with never-before seen original drawings and sketches from the show's creator Parker Jacobs and guest artists King Mini, Mark Mothersbaugh, Option-G, Panda Panther, as well as props used in the show.
Bonus: Pink Hobo Gallery is run by the crew at Puny Entertainment, who have worked on the show as well!
CLICK FOR THIS ART EVENT AND MORE AT MPLSART.COM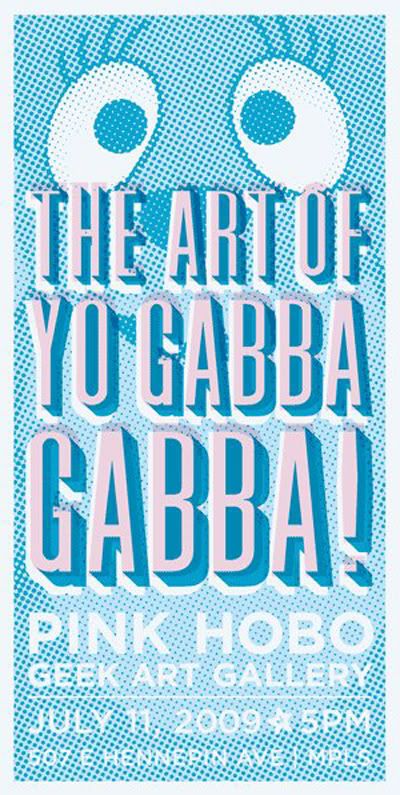 SATURDAY JULY 11TH
Bockley Gallery Annual Pot Luck
@ Bockley Gallery
2123 W 21st St.
Minneapolis
3pm-7pm/free
Munch on some goodies, bring some amazing treat to share, and see work by Stuart Nielsen, Frank Big Bear, Andrea Carlson, Jim Denomie, Glen Hanson, Carolyn Anderson, Julie Buffalohead, Dietrich Sieling, Star Wallowing Bull, and others. The Bockley Gallery has such a friendly feel to it, we can't think of a better place for an art potluck in true summer style.
CLICK FOR THIS ART EVENT AND MORE AT MPLSART.COM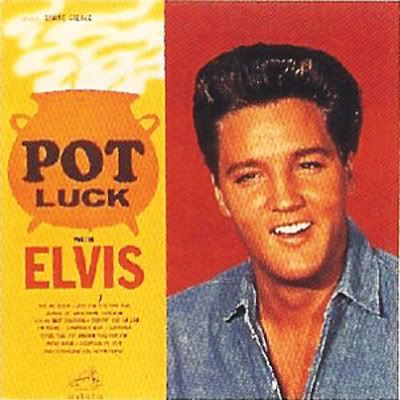 SATURDAY JULY 11TH
Susstacular
@ Sauce Spirits & Soundbar
3001 Lyndale Ave. S.
Minneapolis
9pm-2am / $5
Minneapolis' newest soundbar, The Sauce, may only be in its early stages of existence, but after last weekend's soft opening, Sauce is on it's way to becoming one of the hottest music venues in the Uptown area. One look at the club's packed music calendar was all it took to get our stamp of approval! Tonight, the super-shiny new hipster joint hosts a showcase of hot local rock and/or roll from Twin Cities record label, Susstones. Featuring performances by The Mood Swings, Two Harbors, Mecurial Rage, Bluesky Blackout (a brand new supergroup!), DJ Marc the "GOV" and a special acoustic set by Joe Werner of Strange Lights. Join in the riot before Sauce becomes "too cool" for you!
CLICK THE IMAGE FOR THE SAUCE SITE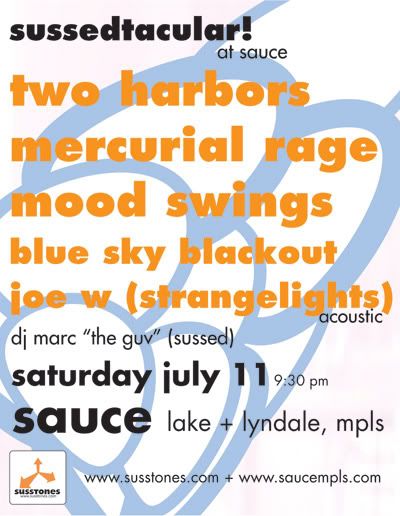 SATUDAY JULY 11TH
Let's Dance!
@ Red Stag Supper Club
509 1st Avenue NE
Northeast Minneapolis
11pm / 21+ / Free
A raging dance party in a supper club? You bet! Booty-shakin' professionals Millions Billions and Tendercakes will tickle your dance-bone with their sexy selection of slammin' trax tonight at the Red Stag! Along with some major dance action, you'll enjoy killer late night happy hour specials such as $3 taps and wine, $4 cocktails, and cheapie gourmet treats ranging from $2-$4.
CLICK THE IMAGE FOR THE RED STAG SITE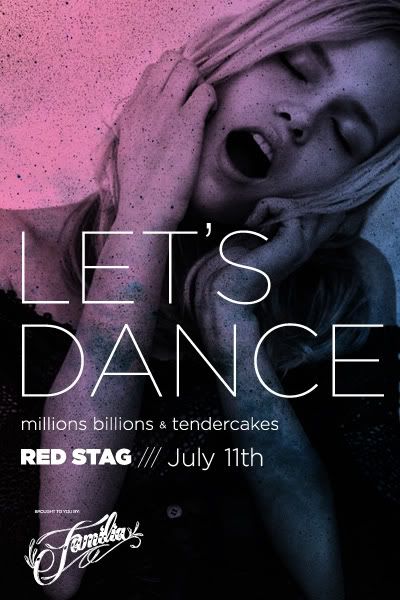 SUNDAY JULY 12TH
Bastille Day
@ Outside of Café Barbette
Lake & Irving
Uptown Minneapolis
4-10pm / All Ages / Free
If you're like us, you find the 4th July a little dull. Sure, we are proud to be Americans. But fireworks, hot dogs, and little plastic flags get a little old. As an alternative to celebrating our own nation's birthday, why not celebrate the French national holiday – Bastille Day – a week and a half later? Bust out your Beret, because Café Barbette has assembled an outstanding line up of local music to soundtrack an evening of, well, drinking outside (our fave)! Celebrate revolution, revelry, and those amazing pomme frites with a wide array of entertainment including music by The Idle Hands, Sims of Doomtree, Romantica, Halloween, Alaska and street performances by aerialist Jim Domenick, and the North Star Roller Girls as well as a flea market and organic food and drink. Viva la France!
CLICK THE IMAGE FOR THE BARBETTE SITE