This weekend is shaping up to be pretty darn spectacular with an almost a perfect balance of art, music, and culture. Head to Stevens Square Park for some D.I.Y. art shopping, or check out the cultural flav of Minneapolis Mosaic as they kick off their summer-long extravaganza of art and performance. Perhaps you'd like to celebrate the album release of a couple of our favorite local acts, or maybe eat a cupcake while gazing at art, or even skateboard with la Familia. No matter what you do, you're destined to create some amazing summer memories!
xo-l'étoile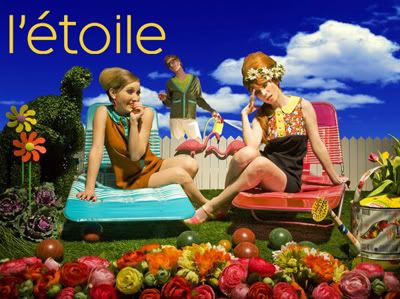 FRIDAY JUNE 5TH (THROUGH SUNDAY)
Pachyderm Electronic Music Festival
@ Pachyderm Studio
7840 County 17 Blvd
Cannon Falls, MN
Noon/ $25 Advance, $40 Day of Event
Miss the Detroit Electronic Festival last week? No worries. All the electronic music your beat adoring ears could ever want is right here in Minnesota at the Pachyderm Electronic Music Festival — not to mention it's enviro-friendly! Escape to the Pachyderm Studio, located in the heart of a secluded natural woodlands, for the perfect blend of indoor and outdoor musical bliss. The 2 night campout hosts MCs, DJs, live bands, dance and visual art performance as part of an effort to save the Old Growth Forest from a real estate venture. Featuring local DJs DVS1, Centrific, 3 Kings Soundsystem, bands Alicia Wiley and hip-hop artists Omaur Bliss, plus buckets more! Hug a tree, hug a friend, be one with nature and shake it all night long. Click HERE to purchase advance tickets.
CLICK THE IMAGE FOR THE PACHYDERM SITE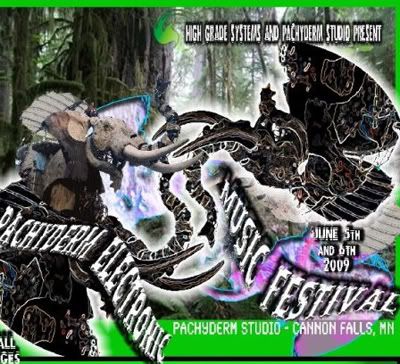 FRIDAY JUNE 5TH
Bicycle Art IV
@ Altered Esthetics
1224 Quincy St. NE
Minneapolis
7-10pm / Free
Altered Esthetics gallery is back with another exhibit harmoniously joining together MPLS' love of fixed gear road warriors and local art. More than just a gallery show, Bicycle Art IV is a way to engage communities and activate creativity, both locally and nationwide. Whether you're a hardcore spandex-wearing cyclist, a tall bike rider, or borrowing your grandma's Schwinn for an evening cruise, tonight's opening reception is the place to show off your spokes and get your art on.
CLICK FOR THIS ART EVENT AND MORE AT MPLSART.COM



FRIDAY JUNE 5TH
Springtime Follies and A New Breed of Watercolor
@ SooVAC
2640 Lyndale Ave S
Minneapolis
6pm-9pm / free
These are two shows not to be missed. Local artist Alex Kuno's creepy-nostalgic-cartoonish kids hang in Gallery Too. We've been anxiously awaiting to see what his pleasantly twisted mind has painted up and what strange alternate world his Miscreants of Tiny Town will take us to. If you've ever tried watercolor painting, you'll know how challenging it is. In the main gallery, watercolorists Serena Cole, Keren Kroul, Margaret Pezalla-Granlund, Lindsay Smith and Betsy Walton whip us into an admiring frenzy. Through July 26th.
CLICK FOR THIS ART EVENT AND MORE AT MPLSART.COM
Art by Alex Kuno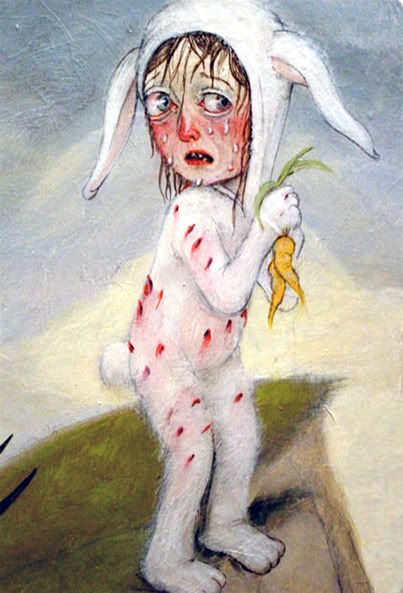 FRIDAY JUNE 5TH
Maria Isa CD-Release Show
@ First Ave
701 1st Ave. N.
Minneapolis
8pm / 18+/ $8, $6 Advance
Hip-hop starlet and activist, Maria Isa is one hot chica who knows how to deliver a packed politico punch. Celebrating the drop of her sophomore album, Street Politics, Maria Isa brings her unique afro-beat, reggae, Latin, R&B and rap fusion to the First Ave mainroom tonight for an evening of killer hip-hop acts. Anyone who witnessed Maria Isa's dynamic performance at this year's Voltage – where she belted out a hip-hop cover of the 90's funk hit "Groove is in the Heart" – can attest to her commanding stage presence and a flair for genre-bending. Released on her independent, family-owned label, SotaRico, Street Politics is a sensual album with political imagery and emotive lyrics which Isa describes as "the United Nations roundtable meets MAC lipgloss fantastic." Featuring beat-busting performances by Muja Messiah, Dance Band, I Self Devine, Mayda, Kill the Vultures, St. Paul Slim, and sets from DJs Wrek and Turtleneck.
CLICK THE IMAGE FOR THE MARIA ISA MYSPACE
Photo by BFresh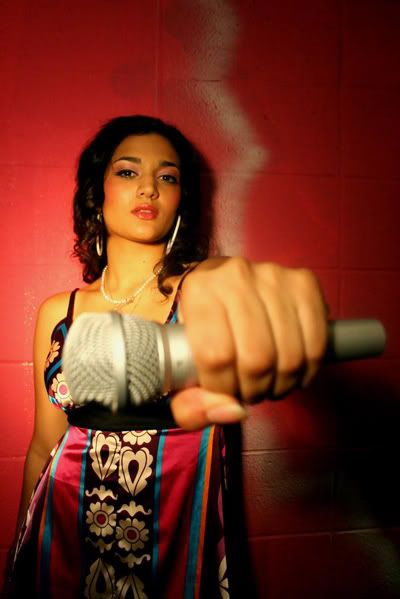 FRIDAY JUNE 5TH
Hotel
@ Kitty Cat Klub
14th & 4th St.
Dinkytown
10pm / 21+ / Free
Jonathan Ackerman and Co. are back once again for their monthly dance bash at the Kitty Cat Klub! Tonight's special guest is none other than Toronto's own Egyptrixx, a producer and dance floor slayer extraordinaire. The Egyptrixx sound has been described as "a shifting balance between melodic and dissonant, rapturous and antisocial," and that sounds cool as hell to us. Not to mention, and evening at the Kitty Cat Klub is never a dull one!
CLICK THE IMAGE FOR THE FACEBOOK PAGE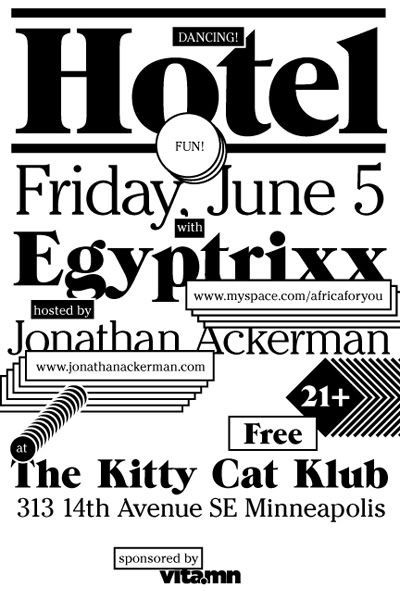 FRIDAY JUNE 5TH
Get Cryphy!
@ VIP Room
701 1st Avenue N.
Minneapolis
10pm / 18+ / $3
After you hit the Maria Isa show, be sure to cap things off with a raging dance party in the VIP! The always lively monthly, Get Cryphy, will inspire you to booty dance like nobody's business — guaranteed. Featuring Jimmy 2 Times, So Gold, and Fundo, and hosted by Felix from Heiruspecs. Drink specials and giveaways from Phenom and Familia abound.
CLICK THE IMAGE FOR THE GET CRYPHY MYSPACE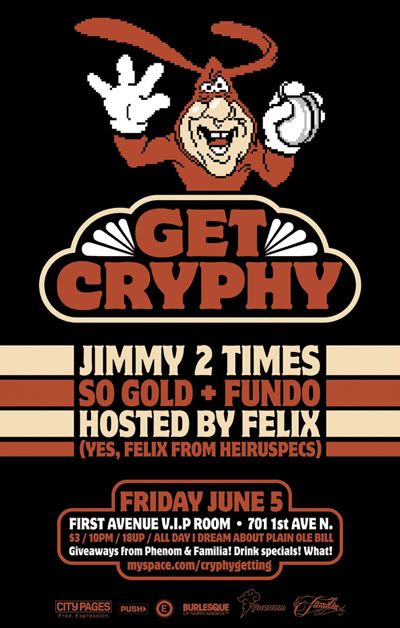 COOL LINK: GUIDE TO A STYLISH SUMMER
Our own Jahna Peloquin previews not only the hottest events this summer, but also tells you what to wear via Secrets of the City! Yes, it's still only May, but now's the time to start planning your outfits for summer's most stylish soirees in Minneapolis. Here's a guide on what to put in your social planner and ideas on what to wear.
CLICK THE IMAGE FOR THE SECRETS OF THE CITY SITE


SATURDAY JUNE 5TH
Frosted Inspiration
@ Mitrebox
213 Washington Avenue N.
Minneapolis
10 a.m. to 1 p.m. / Free
How sweet! Art darling Amy Rice and cupcake-makin' lovely Sheela Namakkal of miel y leche catering team up for a sugary sweet art party this Saturday morning. Lay eyes on the delectable stencil works of Ms. Rice featuring whimsical frosted confections and sample a smattering of Sheela's famed cupcakes, which are coveted by sweet-toothed connoisseurs all over the Twin Cities. An inspiring and deliciously perfect way to kick off a sunny Saturday, if you ask us!
CLICK THE IMAGE FOR THE MIEL Y LECHE BLOG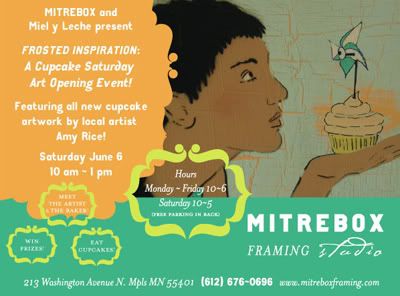 SATURDAY JUNE 6TH (THROUGH SUNDAY)
Red Hot Art
@ Stevens Square Park
1905 3rd Avenue S
Minneapolis
11 a.m.-7 p.m. Saturday / 11 a.m.-5 p.m. Sunday / Free
Steven Square Center for the Arts' annual Red Hot Art festival is like an art fair for the DIY-minded set. The local artist-fueled fest showcases over 100 emerging local artists and live music from 30 musical acts (including Cadillac Kolstad and The Knotwells) as well as food from local vendors like Holy Land Deli. We say skip the Edina Art Fair — save your money and support the locals instead.
For this art event and more visit www.mplsart.com

SATURDAY JUNE 6TH
Day of the Familia
@ Various locations
Twin Cities
Noon-2pm Mendota Heights Park; 6pm Oak St. Cinema, 10pm Bryant Lake Bowl
The boys of Familia Skate Shop have more energy than anyone we know. Constantly sponsoring and throwing cool events, this crew is a non-stop party machine that we can hardly keep up with! Today's three-part event features a early afternoon skate session with the whole "familia" at Mendota Heights Skate Park from Noon to 2pm, followed by the premiere screening of Familia's first video, simply titled "The Video," capped off with a late night, 21+ party at the Bryant Lake Bowl.
CLICK THE IMAGE FOR THE FAMILIA SITE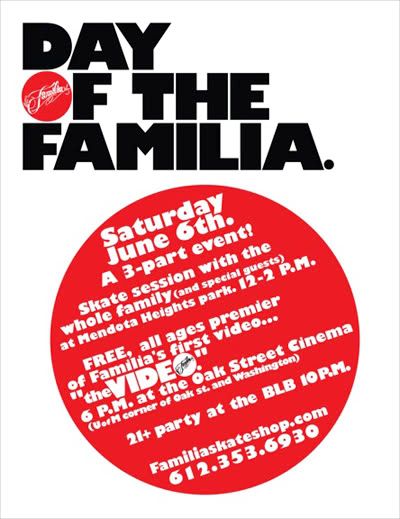 SATURDAY JUNE 6TH
Minneapolis Mosaic Kick Off
@ 7th & Hennepin
Downtown Minneapolis
5:30pm to 10pm / Free
Each summer, the mission of Minneapolis Mosaic is to "celebrate the richness and diversity of the arts and cultures of Minneapolis" and who can argue with that? Join in on the as Mosaic kicks off their summer-long bonanza of arts and culture events. Tonight's outdoor party will feature live music in multiple locations on and around 7th & Hennepin in the heart of Downtown Minneapolis. See street performers, fine arts exhibitions (including commissioned photos by l'étoile fave, Sean Smuda), eat delicious international food, and rock out over 40 live acts such as The Brass Messengers, Afro-Brazilian Capoeira Association, Maria Isa and a slew more.
CLICK THE IMAGE FOR THE MINNEAPOLIS MOSAIC SITE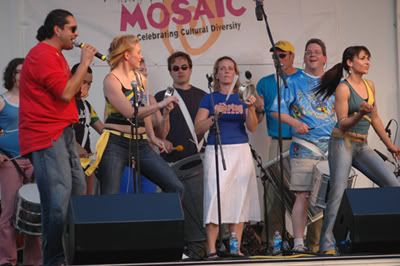 SATURDAY JUNE 6TH
Green
@ Rosalux Gallery
1011 Washington Avenue S.
Minneapolis
7-11pm / Free
One of our favorite fundraising events of the year, Rosalux Gallery's annual Green show features numerous works donated by member artists up for raffle. The perfect recession-proof way to support local art, the gallery will offer raffle tix for a mere $5 a pop. Meander through three floors of amazing artworks and prizes from local businesses and pick and choose where you want to drop your tickets — you could win big! Also: wine, beer, and hot people!
CLICK FOR THIS ART EVENT AND MORE AT MPLSART.COM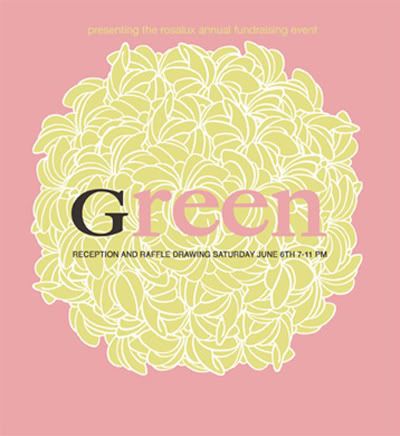 SATURDAY JUNE 6TH
Frontier Preachers
@ Soap Factory
110 5th Ave. SE
Minneapolis
7-11pm / Free
It's easy to forget that the very waters we cross, perhaps every day, to get to our jobs or school were once the mysterious pathways to uncharted territories. Paddle boats along the river banks of the Mississippi River ushered in an endless array of possibility and opportunity, in the form of people and goods, and the heart of the Midwest was born. At yet, the same river that brought such potential for creation is still a force of nature with the potential for destruction as we saw with the tragic events of Hurricane Katrina. United by the collective American story and the majestically feared Mississippi, the eleven artists in Frontier Preaches have created an exhibit dedicated to the duality of humanity. Featuring large scale, site-specific installations, video and multi-media pieces from Tim Best, Kyle Bravo, Aubrey Edwards, Alison Fensterstock, Courtney Egan, Stephen Collier, Sally Heller, Jenny LeBlanc, Srdjan Loncar, Cynthia Scott, David Sullivan and Dan Tague. Runs through July 26th.
CLICK FOR THIS ART EVENT AND MORE AT MPLSART.COM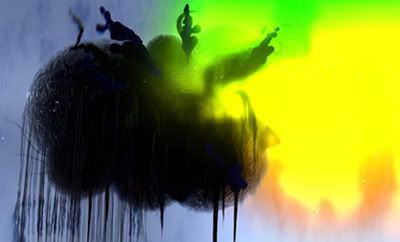 SATURDAY JUNE 6TH
Dearling Physique/Lookbook/To Kill a Petty Bourgeoisie
@ Intermedia Arts
2822 Lyndale Ave. S.
Minneapolis
8pm / $8 Advance, $10 Door
The innovative MPLS creative group, Lovelee Buttons presents a night of mixed media entertainment at catalyst venue, Intermedia Arts. Featuring electro darlings, Lookbook along with electronic ambient group Dearling Physique plus indie rockers, To Kill A Petty Bourgeoisie, tonight's performance combines video, light and art visuals with energetic local music.
CLICK THE IMAGE FOR THE LOVELEE BUTTONS SITE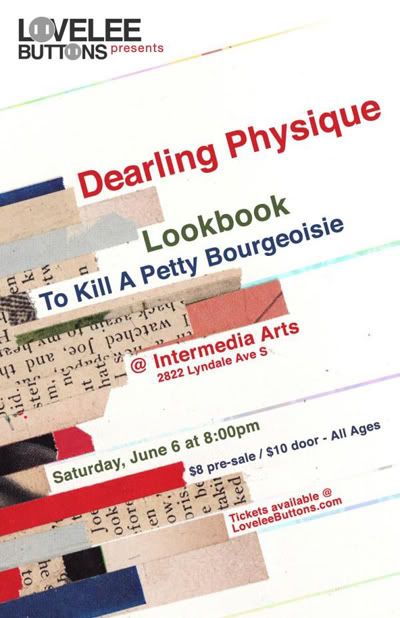 SATURDAY JUNE 6TH
The Idle Hands CD Release
@ Kitty Cat Klub
315 14th Avenue SE
Minneapolis
9 p.m. / $5
Minneapolis' resident Brit-pop purveyors The Idle Hands have been around for seemingly ever, but it took them five-plus years and a series of line-up changes before releasing their well-worth-the-wait full-length debut this weekend. After years spent rockin' out in underground obscurity, Ciaran Daly and Co. have been getting tons of airplay on The Current as of late, so expect a well-deserved full house! Sun in the Satellite, The Guystorm, and First Communion Afterparty open.
CLICK THE IMAGE FOR THE IDLE HANDS MYSPACE
Photo by Melissa Johnson


SUNDAY JUNE 7TH
Grand Old Day
@ Grand Avenue
St. Paul
12 p.m.-5 p.m. / Free or $6 for wristband
Did you know Grand Old Day is the largest one-day festival in the Midwest? There will be tons of cheap food vendors lining Minnesota's loveliest street, Grand Avenue, not to mention cute shops and eateries built into historic houses, an art fair, and the Minnesota RollerGirls (would it really be a party without them?) But what we really go for is the various stages packed with the Twin Cities' best live acts around, all for the price of a wristband. This year's acts we're making sure to check out: Solid Gold followed by Eyedea and Abilities on the Dixie's on Grand stage, super-cool cover band E.L.nO. on The Onion stage, Heiruspecs on the Salut stage, and Gospel Gossip on the D'Amico & Sons stage.
CLICK THE IMAGE FOR THE GRAND AVE SITE
Photo by Dave Adams, 2007