This weekend's forecast looks a bit dreary, but when has that ever stopped you from partying? Whether you're braving the potential precipitation at one of the many outdoor extravaganzas or keepin' your 'do dry inside, there are more than enough opportunities to shake what your momma gave ya. There are no shortage of dance parties to be had, and with the abundance of fashion, art and live music around town this weekend, we're sure you'll find a way to make it memorable—rain or shine!
p.s.-Don't forget to visit Dad this Sunday!
xo-l'étoile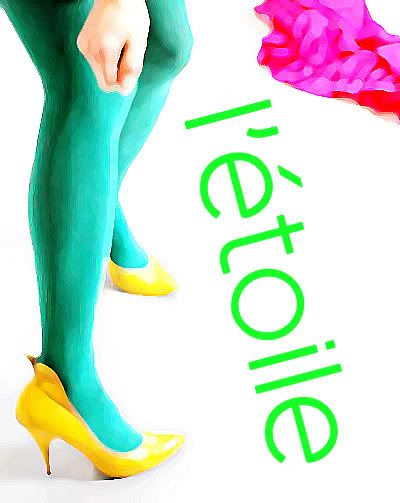 THURSDAY JUNE 18TH
Third Thursdays: Victoria's Virtue
@ Minneapolis Institute of Arts
2400 3rd Ave S.
Minneapolis
6pm-9pm / Free
It's a Pre-Raphaelite evening at the MIA! Sin and Salvation just opened, so you can get a taste of controversial British Victorian painters. Watch Dr. Jekyll and Mr. Hyde, the creepy silent film inspired by Robert Louis Stevenson. The Pre-Raphaelite aesthetic is lush and romantic, and as you listen to the music of Jeremy Messersmith, you'll be lusting over Anna Lee's hats and headdresses. You might not be able to wear all those frilly, bustier-showcasing frocks, but you can at least take a bit of the whimsical home with you on your head, courtesy of the Ruby3 trunk show.
Bonus: The Walker Art Center also has a free Thursday event, featuring Beatrix*JAR playing in the sky pesher!
CLICK THE IMAGE FOR THE MIA SITE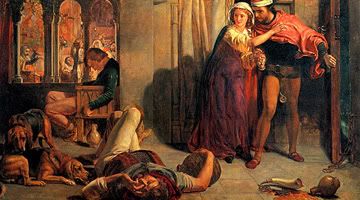 THURSDAY JUNE 18TH

Poolside Fashion Show
@ Calhoun Beach Club
2925 Dean Pkwy
Minneapolis
7pm / $15 / $25 VIP
Celebrate the return of warm, sunny weather at the third annual Vita.mn Poolside Fashion Show. Gather 'round the Calhoun Beach Club's swank rooftop poolside at dusk for a look at the best of this season's warm-weather wear, and walk away with a checklist of must-have garments to add to your sunny weather wardrobes. A jazz band will accompany the three-part runway soiree featuring a range of styles from local and national designers. As of 3 p.m. the show is still scheduled to go on, rain or shine!
Bonus: Fashion styling by l'étoile contributor Jahna Peloquin!
CLICK THE IMAGE FOR THE VITA.MN SITE
Image by Alex Uncather. Styling by Jahna, Charlie & Romeny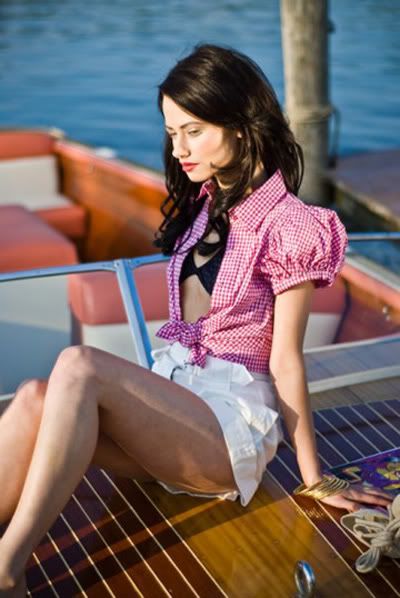 THURSDAY JUNE 19TH
Slap!
@ Kitty Cat Klub
313 14th Ave SE
Minneapolis
10pm / 21+ / Free
Get slap happy at the Kitty Cat Klub with unstoppable ménage Tendercakes and Millz Billz, this month accompanied by super special guest DJ Fundo. These bad-asses are constantly finding newer, kinkier ways of mashing up hip-hop, dance music, and rock 'n' roll, making it nearly impossible to have a bad time. And as always, Slap will include jams, drinks, dancing, laughs, DJs, photos, kisses and lots o' SLAPS!

SLAP! is sponsored by l'étoile magazine!
CLICK THE IMAGE FOR THE KITTY CAT KLUB SITE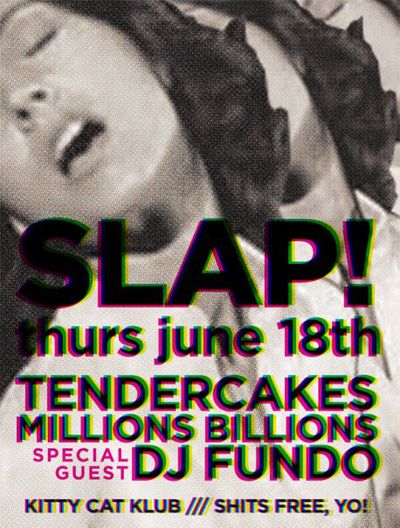 ART PICK: JESSICA WARD
Guam-born artist, Jessica Ward, is not about to glamorize being a teenage girl with lip gloss and mini-skirts. Her vivid graphite and color drawings of female figures with detached limbs and incomplete bodies are a visual reminder that hidden neuroses can pop up in the prettiest of places. Exposing the paranoia of eating disorders and teens, Ward's subjects become more monster than teen and illustrate a storybook of inner delusions where hair is a girl's worst enemy and cats become accepting protectors and symbols of escape.
CLICK THE IMAGE FOR THE JESSICA WARD SITE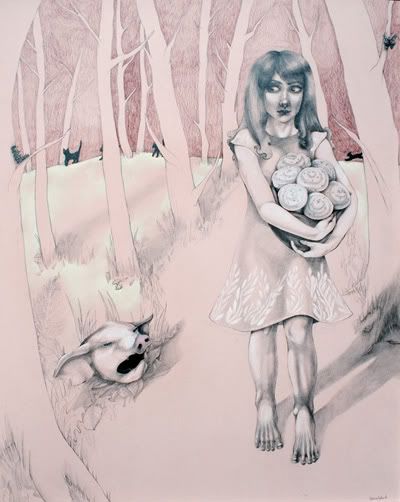 FRIDAY JUNE 19TH
Hootenanny: A Community
@ Fox Tax Gallery
501 1st Ave. NE
Minneapolis
6-11pm / 21+/ $5
When MPLS music critic and songwriter Jim Walsh of the Mad Ripple started the weekly series, Hootenanny, it was just supposed to be a casual social for musicians to consort, swap stories and share ditties. But for Minneapolis-based photographer, Tony Nelson, it became the perfect opportunity to document local creativity, capturing candid portraits of artists doing what they love to do. Nelson added to the project by photographing the artists in more personal settings, recording studios, their homes, wherever they felt the tug of inspiration. Tonight, Fox Tax Gallery and curator Emma Berg present the result of that photojournalistic journey in the exhibit, Hootenanny: A Community. After 11 p.m. head down the block to the Red Stag for a special Hoot with the Mad Ripple immediately following the reception.
CLICK FOR THIS ART EVENT AND MORE AT MPLSART.COM


FRIDAY JUNE 19TH
Le Fluers De Mal
@ Bedlam Theatre
1501 St. 6th St.
Minneapolis
9pm / $10 / 18+
The Bedlam hosts a "Spring Fetish Fashion Bash", with fashions by Seamstrix, Red Shoe Clothing, Golgotha and Gretta Herman. With Venus DeMars of All the Pretty Horses, Stellar Victor and The NoNo's on musical duty. Dress to impress! After all, we're sure you've got something vinyl or leather in your closet — and you may have even gone through a "goth" phase in high school, so improvise!
Bonus: June may very well be the gayest month, due to the Stonewall riots of 1968. 40 years later Stonewall is remembered with "Pegasus" a monthly drag show/dance night/outrageous evening at a place-that-cannot-be-named in close proximity to the Bedlam. 10pm.
CLICK THE IMAGE FOR THE BEDLAM SITE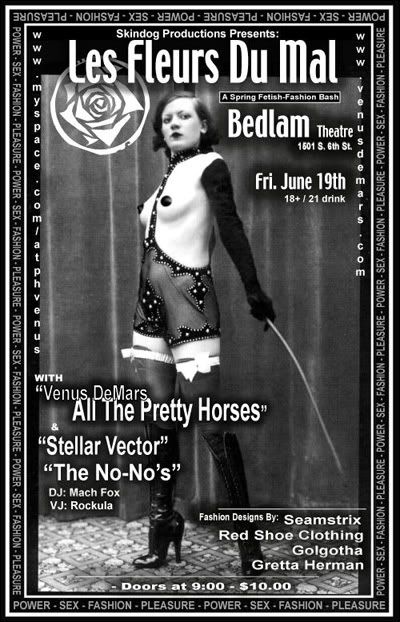 FRIDAY JUNE 19TH
Nyteowl vs. Lookbook vs. Foodteam vs. Solid Gold DJ set
@ Hexagon
2600 27th Ave S
Minneapolis
10pm / 21+ / Free
Head down to the Hex for a night of live electro-flavored music with local darlings Lookbook, along with electronic-whiz Nyteowl, and the Mystery Palace side project, Foodteam. Plus, indie rockers Solid Gold will be doing a special DJ set in anticipation of their Rock the Garden show on Saturday. Shimmy up to the bar for a delicious adult beverage, served up by our favorite bartenders in town, Rose, Tattoo Bob, and Gaylord! Sounds to us like the Hex will be the place to be on Friday night.
CLICK THE IMAGE FOR THE HEXAGON SITE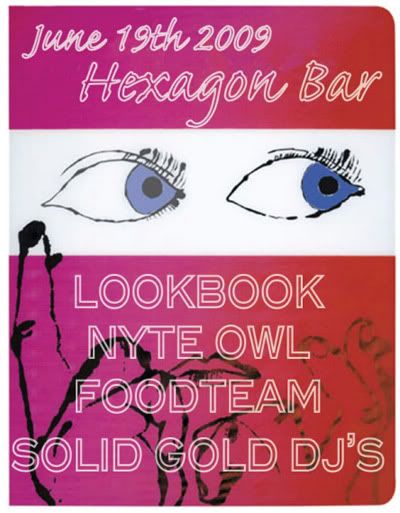 FRIDAY JUNE 19TH
Wants vs. Needs
@ Club Jager
923 Washington Ave N
Minneapolis
10pm / 21+ / Free
Good things happen when a group of talented friends with a deep love of music decide to join forces and release a bang-up new mixtape. Props to DJs Espada, Petey Wheatstraw, So Gold, and DJ Anton – they seamlessly mix in B-more, r&b, 80's, and rap for a sound that is certain to make your neck jerk in musical ecstasy. Join them at the (free) debut of Wants Vs. Needs, pick up a (free) copy of the mixtape, and score yourself a (free) limited edition t-shirt designed by past l'etoile contributor Adam Garcia! Anybody looking for a truly live party this Friday should definitely check it out.
CLICK THE IMAGE FOR THE WVN BLOG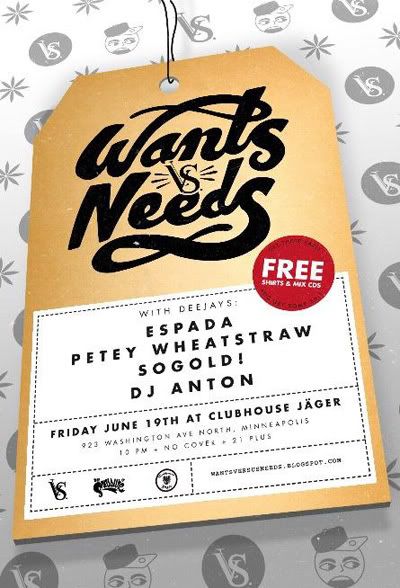 FRIDAY JUNE 19TH
Honeymoon
@ First Avenue VIP Room
701 1st Ave N
Minneapolis
10pm / $3 with RSVP, $6 at the door / 18+
Giddyup and rope em' in…tonight's Honeymoon theme is the Wild Wild West. Wear those daisy dukes and neckerchiefs to mop your brow after sweating to the sounds of The Dongers, an all vinyl disco duo from Eau Claire. Also featuring Jimmy 2 Times from Get Cryphy and your gracious hosts, the Moongoons. Horses and mules must be parked outside, and revolvers checked at the door — the only showdown tonight will be on the dance floor.
CLICK THE IMAGE FOR THE HONEYMOON SITE


COOL LINK: LITTER
We were immediately obsessed with this San Fransisco-based line as soon as we laid eyes on it. One part rock n' roll and one part warrior princess, Litter is the epitome of tough-girl elegance. Adorn your limbs with long, delicate chains that loop and cross or add some hardcore to your stilettos with chain mail "shoe jewelry." Litter's hair metal era-inspired ear cuff pieces, scorpion ring/bracelet combos, and Cleopatra-worthy head decorations are bold-statement accessories that may just inspire you to revamp your wardrobe to match.
CLICK THE IMAGE FOR THE LITTER SITE


SATURDAY JUNE 20TH
Photographing Journeys: A Family Day
@ Weisman
333 East River Road
Minneapolis
Noon-4 PM/ Free
Today, in conjunction with World Refugee Day, the Weisman celebrates Somali culture through art and family-friendly fun. First, go on an arts and culture excursion complete with interactive activities, henna art, stories told in both English and Somali, photography projects by neighborhood youths and documentaries created by local Somali girls. Take a tour of the new exhibition, Stories of the Somali Diaspora: Photographs by Abdi Roble, a collection of images that document the transition of Somali communities from Africa to the United States.
CLICK THE IMAGE FOR THE WEISMAN SITE


SATURDAY JUNE 20TH (THROUGH SUNDAY)
Stone Arch Festival of the Arts
@ St. Anthony Main
Minneapolis
Saturday and Sunday 10am-6pm / Free
Didn't snag a ticket to the sold out Rock the Garden? If it's outdoor music and art you're after this Saturday, look no further than the Stone Arch Festival of the Arts. In addition to a kick ass art festival along the riverfront, the Stone Arch festival offers 4 different stages with music from bands like Spaghetti Western String Co, The Idle Hands, Roma di Luna, Brad Senne, Caroline Smith & The Good Night Sleeps, Wars of 1812, The Absent Arch, Me & My Arrow, John Swardson & Eliza Blue, Jenny Dalton and Chastity Brown. With this much to choose from, you can surely bring Dad! Sounds like one helluva way to kill a hot summer weekend.
CLICK THE IMAGE FOR THE STONEARCH SITE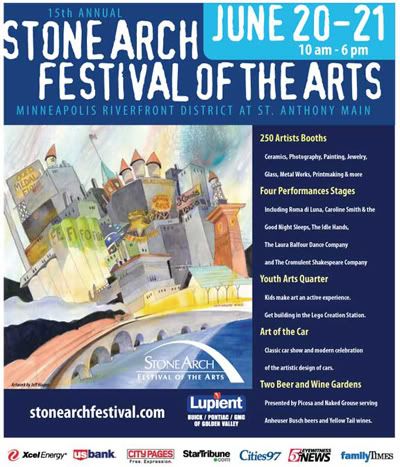 SATURDAY JUNE 20TH
Disco Picnic
@ Old Arizona Studios patio
2821 Nicollet Avenue
Minneapolis
2pm-7pm / Free
Would you like a scrumptious slice of John Travolta to accompany your glittery bit of the BeeGees? An afternoon eating and drinking is made better by only one thing: disco. DJs Focus, Nola and Soulfeather spin disco, funk and soul while you patio it up. Practice some disco moves, and zip yourself into those tight, tight pants if you want to quickly make some new friends here.

SATURDAY JUNE 20TH
Brake or Bust
@ Nicademus Art & Framing
225 N. Snelling Ave
St. Paul
6pm-11pm / Free
We swooned over Dennis Conrad earlier this year, and our crush has only intensified. His colorful graffiti-inspired work is the type we've come to expect from one of our favorite St. Paul galleries. If you find a piece you can't live without, which is likely, you can pick out a frame for it too! Through July 6th.
CLICK THE IMAGE FOR THE NICADEMUS SITE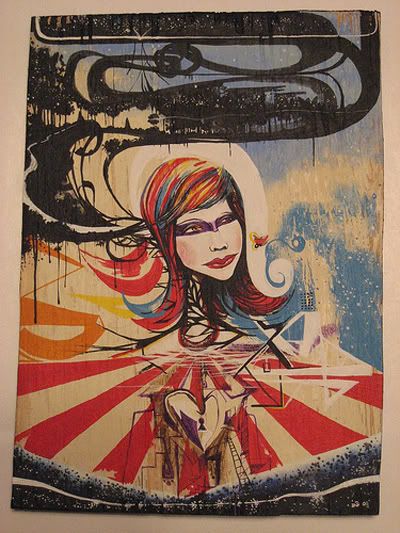 SATURDAY JUNE 18TH
The Together Show
@ Umber Studios
3109 East 42nd St.
Minneapolis
8pm / Free
Where would an art studio be without the work of emerging painters, photographers and mixed media artists? Not celebrating their 2 year anniversary, that's for sure. Tonight, Umber Studios toasts to the talented peeps who have made the gallery a hotbed for amazing local art. Together exhibits the new work of every artist to have graced the studio wall over the past two years, including Aaron Bickner, Jake Keeler, Keegan Wenkman, Terrence Payne and many more. Come down, celebrate with the gallery owners and artists and pick up an exclusive pair of "I Heart Umber" undies (Umberwear?) Yes, really.
CLICK FOR THIS ART EVENT AND MORE AT MPLSART.COM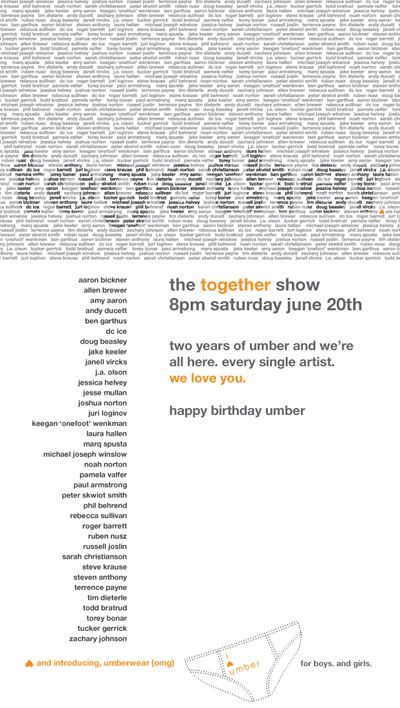 SATURDAY JUNE 20TH
Femergy
@ Clubhouse Jager
923 Washington Avenue N
North Loop
10 p.m. / 21+ / Free
The typically testosterone-fueled monthly dance party, Menergy, gets slapped with a healthy dose of estrogen this evening! Red devil sister DJ duo Tendercakes will take over the dance floor in all their girly, booty shakin' glory, accompanied by feminized visuals by resident vid-master Time Squid and his "Femergization Machine." Hosted by Menergy creator, The Nightstalker, who has succumbed to the wiles of femininity for a rare night of girl-powered body rockin'.
CLICK THE IMAGE FOR THE JAGER MYSPACE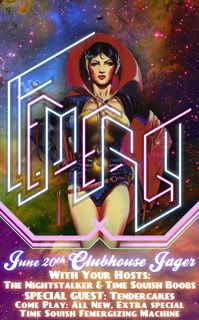 MUSIC PICK: LITERAL VISUALS
Have you ever noticed how messed up and intense music videos from the 80's were? Someone did, and just to point out their severe weirdness, people have begun covering songs and describing exactly what's happening in the videos. Our favorite is Bonnie Tyler's Total Eclipse of the Heart. Soon you'll forget the original lyrics and find yourself singing…"What the effing crap, that angel guy just felt me up." You'll see.
Click HERE for more Literal Videos!

SUNDAY JUNE 21ST
Bloody Sunday
@ Azia
2500 Nicollet Avenue S.
Minneapolis
11am-3pm every Sunday
Here at l'etoile, we are completely obsessed with drinking good Bloody Marys! Our favorite meal-in-a-cup/hangover cure has been taken to the next level at Eat Street staple, Azia. From 11 a.m. to 3 p.m. each Sunday you can indulge in the ultimate build-your-own Bloody Mary bar. Featuring not only all the standard Bloody-friendly fare, but also glorious additions such as red curry, serano chili, lychee and pickled ginger — just to name a few. Put your own spin on bloody sake, bloody beer, and other bloody concoctions made with vodka, tequila, whiskey and gin. Accompany your drink with something off Azia's new "Sunday Snackin'" menu featuring such delectables as Pork Steamed Buns, Sweet Potato Fries with Curry Aioli, Kobe or Crabcake sliders, Tempura veggies and more. What could make this even more enticing? Everything on the menu is ONLY $5 — food AND bloodys. What a deal!

SPECIAL DEAL FOR L'ETOILE READERS: Mention l'etoile and recieve a free appetizer off the Bloody Sunday menu with the purchase of any Bloody Mary!

CLICK THE IMAGE FOR THE AZIA WEBSITE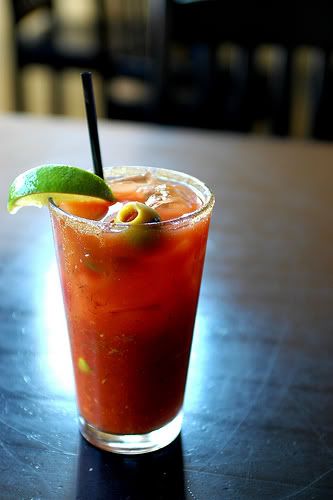 SUNDAY JUNE 21st
Pride Picnic
@ Como Park, East Pavilions
1225 Estabrook Dr
St Paul
It's that time of year again to celebrate Twin Cities Pride! And what could be a better opportunity on Father's day than to kick off GLBT pride at an outing that even Dad would love? This free event provides yummy grilled fare, old-fashioned races, games, and of course softball. Mosey over to the Como Zoo and Conservatory, take a spin on the old carousel, or just have a gay old time with friends and family.
CLICK THE IMAGE FOR THE TC PRIDE SITE