We're quite obsessed with the new Valentino documentary opening at the Oak Street Cinema this Friday, so we're officially declaring this weekend a RED weekend! When you're out and about, enjoying all the fantastic events in the Twin Cities, channel an inner Valentino by poppin' your signature style with a bit o' crimson. Whether you're hip hoppin', rockin', or gazin' at glorious art, this colorful weekend will be one of delectably stylin' proportions!
xo-l'étoile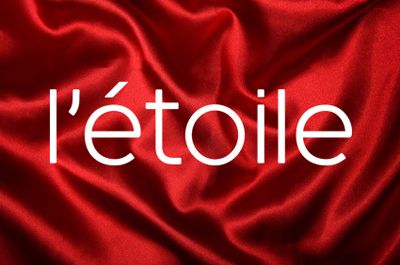 THURSDAY JUNE 11TH
5 Years of Love: Cliché 5 Year Anniversary Show
@ Plaza Verde
1516 East Lake St.
Minneapolis
8pm / $8
It's hard to believe that the stylish Uptown boutique Cliché is turning 5 this year – they grow up so fast! We are forever indebted to the chic boutique for bringing us the latest styles from hot local designers and giving independent fashion a place to call home. Tonight, show Cliché your undying devotion by reserving a spot at the exclusive anniversary show, Cliché: Five Years of Love. Featuring runway collections from amazing local designers including Ivan Idland, Kjurek Couture, Maritza Ramirez, Red Shoe Clothing, Amanda Christine and Jenny Carle Designs, and many more. Cliche's Plaza Verde show is your ticket to fabulous local fashion and breathtaking, wearable, creative innovation — now that's amoré! Seating is limited and, if past shows are any indicator, will sell out quickly. Pick up your tix at Cliché before another fashionista snatches 'em all away. Call ahead to check availability 612-870-0420.
CLICK THE IMAGE FOR THE CLICHE SITE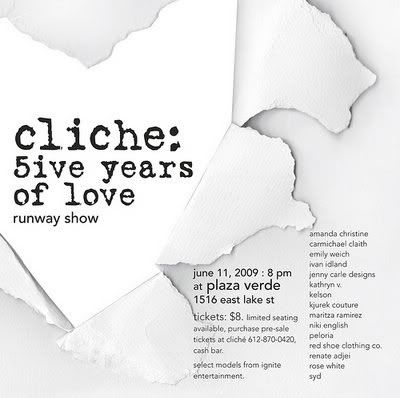 THURSDAY JUNE 11TH
Docomomo
@ Design Within Reach
2939 Hennepin Ave S.
Minneapolis
6-8pm / Free
Despite its strange moniker — which reminds us of the cheesy Beach Boy hit "Kokomo" — DOCOMOMO really has absolutely nothing to do with pop music. It does, however, have to do with pop culture. The new chapter of international organization, DOCOMOMO, holds it's launch party tonight at Uptown boutique, Design Within Reach. Comprised of enthusiasts, historians, architects, designers, students and preservationists, DOCOMOMO's members' love for the Modern Movement gives Ikea a run for their money. The group promotes public interest through didactic lectures and advocates the protection of historical and endangered sites and buildings. Enjoy refreshments and conversation with other modern-loving minds.
CLICK THE IMAGE FOR THE DOCOMOMO SITE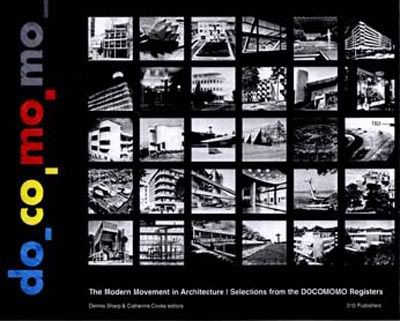 THURSDAY JUNE 11TH
MinnEconomy
@ Electric Fetus
2000 4th Ave. S
Minneapolis
6-9pm / Free
The Electric Fetus presents MinnEconomy, tapping into the shop-local trend which empowers both shoppers and artists by offering them a forum to sell their craft. Every month the legendary record store pairs Minneapolis musicians and artists with neighborhood businesses to encourage buying local and to promote local talent. This month's MinnEconomy begins with a reception with food from Birchwood Cafe and Thousand Hills Cattle Company, beverages courtesy of Summit Brewing, and the music of l'étoile faves Lookbook AND a rare performance by Halloween, Alaska. Stop down to support buying local!
CLICK THE IMAGE FOR THE ELECTRIC FETUS SITE


FRIDAY ART PICK: PAT KECK
If you crossed a New Wave enthusiast with a wood sculptor, then sent them to join the circus — then your end result might be Pat Keck. An artist from Andover, Mass., Keck sculpts ghosts, zombies, and automatons' which are often coin-operated. She sculpts the figures, engineers the working parts, and paints them up all pretty. In short, she is a living legend and a hidden gem of sculptors!
CLICK THE IMAGE FOR THE PAT KECK SITE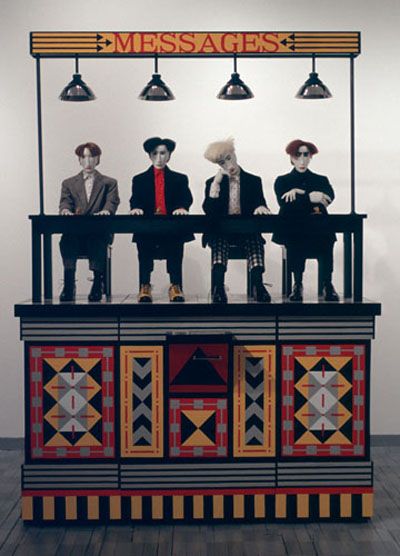 FRIDAY JUNE 12TH
2007/2008 McKnight Photographers Exhibition
@ Franklin Art Works
1021 East Franklin Avenue
Minneapolis
7pm-9pm / Free
What would you do with $25,000 and a lot of recognition if you were a photographer? These four talents–Peter Latner, Anthony Marchetti, Paula McCartney, and Tom Wik show off works created after being named McKnight Fellows last year. From calming nature to apartment interiors, these photographers represent the best of the best! Through August 1st.
CLICK FOR THIS ART EVENT AND MORE AT MPLSART.COM
Image by Anthony Marchetti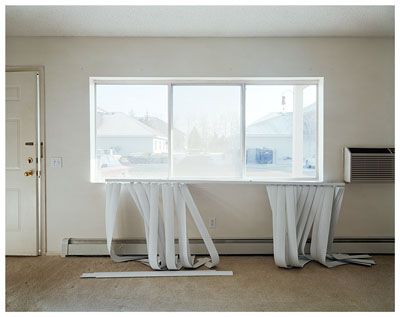 FRIDAY JUNE 12TH
Valentino: The Last Emperor
@ Oak Street Cinema
309 Oak Street SE.
Minneapolis
7:15 & 9:15/ $7 General, $6 Students, $5 Members
From the runways of the Paris ateliers to the local Oak Street Cinema screen, tonight's opening night viewing of Valentino: The Last Emperor, celebrates the brilliant fashion career of Italy's infamous designer, Valentino Garavani. The dramatic film from Vanity Fair editor, Matt Trynauer, invites the audience to embark on a colorful and exclusive journey into the intimate closet of Valentino's haute couture fashion empire. Shot over the course of two years, the condensed 250 hours of footage in this feature length film provides unprecedented access to Valentino's life and personal relationships, and a behind the scenes look into the 20th Century fashion business. Opening night is co-sponsored by MNfashion. Wear RED! Runs through June 25th.
BONUS: Mention MNfashion and receive $1 off both screening times.

FRIDAY JUNE 12TH
Blue Groove
@ Blue
2922 Aldrich Ave. S.
Minneapolis
8pm / $25 / RSVP ONLY
If the modernly chic architecture of Uptown Lyndale's new luxury apartments, Blue, hasn't already captured your eye's attention, tonight's swanky shindig is definitely guaranteed to. Produced by the one and only Brant Kingman, this exclusive party transforms the building's urban amenities into a "sensory playground." Featuring gravity defying aerialists in the entry; fire dancers, hula hoopers and fire art sculptures in the courtyard; synchronized swimmers in the pool area; electronic tunes from local deejays; hor d'oeuvres and specialty cocktails — plus special surprises around every stylish corner. Proceeds from the event go towards the youth oriented non-profit organization Elpis Enterprises and ticket costs include complimentary valet parking and refreshments. This event is RSVP only. Email rsvp@move2blue.com with TICKET PURCHASE in the subject line for VIP guest spots!
CLICK THE IMAGE FOR THE BLUE WEBSITE


FRIDAY JUNE 12TH
Vimlab Boat Party
@ Boom Island Park
700 Sibley St NE
Minneapolis
9:30pm-1am / 21+ / $30
All aboard the Minneapolis Queen! Kick off the warm, breezy summer nights in style as this floating dance party sets sail (rain or shine) for the first time this summer. The Queen takes off at 10pm sharp and takes you down the mighty Mississip along the Grand Rounds Scenic Byway and Heritage Trail, past Nicollet Island and through the lock at Historic St. Anthony Falls, passing under the Stone Arch Bridge and beyond. The boat will be bangin' with very special guest DJs Jevne and Love & Payne. Don't miss out on one of the best floating parties of the summer!
CLICK THE IMAGE FOR THE VIMLAB SITE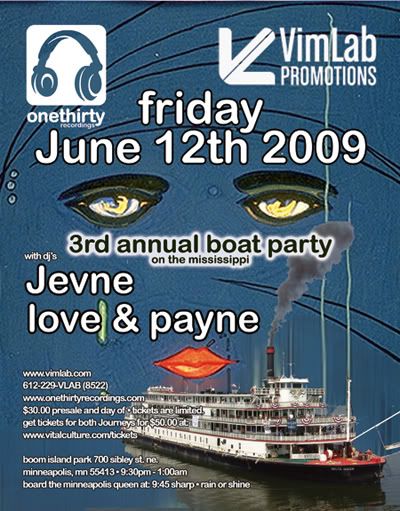 FRIDAY JUNE 12TH
Cramps Tribute Show
@ Triple Rock Social Club
629 Cedar Ave S
Minneapolis
9pm / 21+ / $5
Legendary psychobilly band The Cramps unexpectedly lost its lead singer this past February, the campy but brilliant Lux Interior. Tonight's tribute celebrates the uniquely weird pastiche of rock'n'roll, psychedelia, sexuality, and monster movie/junk food/swamp-creature aesthetic that made the Cramps notorious. Featuring the music of Revolver Modele, The Hostages, Hot Rod Hearse, Dissateratti, Vaudevillainess, and a special appearance from Heather Spears. Hosted by Lux Inferior and Poison Ivory, with vintage Cramps footage showing all night.

FRIDAY JUNE 12TH
How Was the Show 7th Anniversary Party
@ Turf Club
1601 University Avenue
St. Paul
9pm / 21+ / $6
Founder David de Young says it best: "In Internet years, 7 is a long time!" Beloved local website HowWasTheShow.com celebrates seven years online as one of the cities' most trusted sources of live-music coverage. This year the HowWasTheShow staff hand picked some of their favorite Twin Cities bands and put together a celebration that includes instrumental cover band Big Trouble (with a few surprise vocalists!) along with Communist Daughter, Aby Wolf and indie pop band The Inwood Radio.
CLICK THE IMAGE FOR THE HOW WAS THE SHOW SITE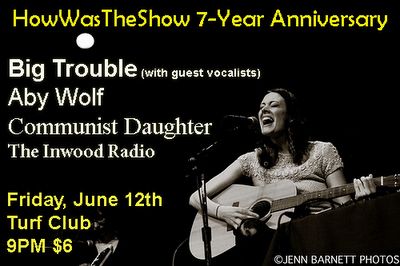 FRIDAY JUNE 12TH
Street Sounds Swirlin' Through My Mind
@ First Avenue VIP Room
701 1st Ave N
Minneapolis
10pm / $5 / 18+
June might have gotten off to a chilly start, but things will be heating up at the VIP Room tonight during monthly dance party, Street Sounds. DJs Attitude City, Mike the 2600 King and Winship stir up disco, boogie and house to get you sweating. Wear your dance pants!
CLICK THE IMAGE FOR THE FIRST AVE SITE


COOL LINK: ALIDRA ALIC JEWELRY
To go along with the season's blooming flowers, we bring you the sweet, delicate designs of Danish darling Alidra Alic. Based in nature with a romantic, avant garde twist, Alic's latest collection features bold rings made of both plastic and metal. Comprised of big, melty blooms and lacy, whimsical mini-sculptures for the fingers, it's really no wonder this dreamy collection is inspired by the tale of Alice in Wonderland.
CLICK THE IMAGE FOR THE ALIDRA ALIC SITE


SATURDAY JUNE 13TH
Los Vesarados
@ Northrup King Building
1500 Jackson St. NE
3rd Floor Gallery
Minneapolis
6pm-11pm / free
Ride your vintage turquoise Vespa (we wish we had one!) to this mod affair celebrating the art of the scooter. Outside, a scooter exhibition in the parking lot gets everyone reved up, while inside a memorabilia display by Michael & Eric Dregni, delights and educates. Over 25 local and international artists show their art along with a raffle, a DJ spinning mod tunes, and projections of scooter movies and commercials.
CLICK FOR THIS ART EVENT AND MORE AT MPLSART.COM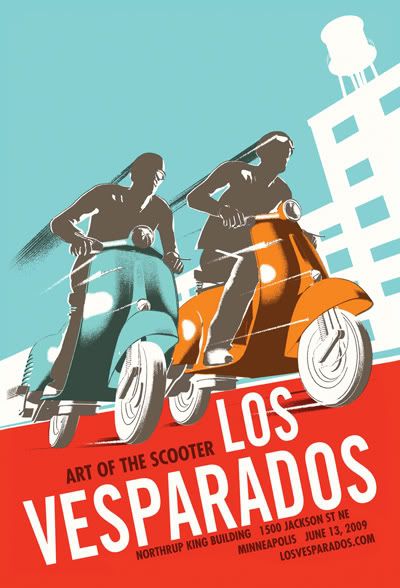 SATURDAY JUNE 13TH
BBQ & Hip Hop
@ Nomad World Pub
501 Cedar Ave S
Minneapolis
6pm / $6 / 21+
The Nomad never ceases to bring creativity to the bar scene! Munch on some BBQ'd treats while listening to the beats of Illuminous 3, Usual Suspects, Blade Brown and Sevadar Sehaj. DJ Mixwell commands the turntables and your full belly decides how much you can move afterwards. Grilling and music equals summer is officially here!
CLICK THE IMAGE FOR THE NOMAD SITE


SATURDAY JUNE 13TH
Sweet Hair
@ Art Minion
1828 NE Marshall St
Minneapolis
7-10pm / Free
Northeast Minneapolis' Art Minion Gallery hosts Sweet Hair, a super cool art event that showcases the hairy work of 37 locally-based designers, printmakers and artists. DJs Rambo Salinas and Talk Radio will be spinning tunes, and professional stylists from Mezzanine Salon will be on hand to make you purdy. It's sponsored by Surly Brewing Co. (mmm…beer) and it's for a good cause: proceeds go to Locks of Love, which provides hairpieces for financially disadvantaged children with long-term hair loss due to illness. Get all your hair cut off and request that it be made into a wicked pompadour wig, a sweet mullet, a "Rachel," or maybe even a Farrah Fawcett. The show will be up for one month following tonight's opening reception, and all art purchased will be accompanied by a discount to Frame Ups Custom Framing. Sweet deal!
Check out this promo vid made by SBT Films

Sweet Hair Poster Show | Promo Video from SBT Films on Vimeo.

SATURDAY JUNE 13TH
Hip Hop Against Homophobia Vol. 2
@ Bedlam Theater
1501 S. 6th St.
Minneapolis
9pm / 18+/ $5
We're here! We're queer! And we love hip-hop! Ushered in by the success of last year, musical activist event Hip Hop Against Homophobia, is back for another round — and this time bigger and better than ever. Presented by Culturebully, Cypher Coalition, TruRuts and MN GLBTA Campus Alliance, HHAH features a hot line-up of MC's and performers including Tori Fixx, Johnny Dangerous, Lindsey of 2 Flytz, Bottom Feeders & EZRA of Death Ray Scientific, See More Perspective and the Point of View Band, Poetic Assassins, and DJ Blowtorch with proceeds going to benefit the local organizations Color CoordiNATION, GLBT Host Home Program and Reclaim. Damn straight, err..gay.
CLICK THE IMAGE FOR THE BEDLAM SITE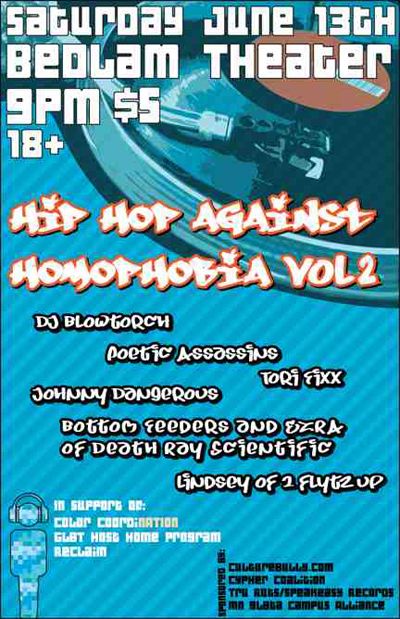 SATURDAY JUNE 13TH
Let's Dance
@ Red Stag Supper Club
509 1st Avenue NE
Northeast Minneapolis
11pm / 21+ / Free
A raging dance party in a supper club? You bet! Booty-shakin' professionals Millions Billions and Tendercakes will tickle your dance-bone with their sexy selection of slammin' trax tonight at the Red Stag! Along with some major dance action, you'll enjoy killer late night happy hour specials such as $3 taps and wine, $4 cocktails, and cheapie gourmet treats ranging from $2-$4.
CLICK THE IMAGE FOR THE RED STAG SITE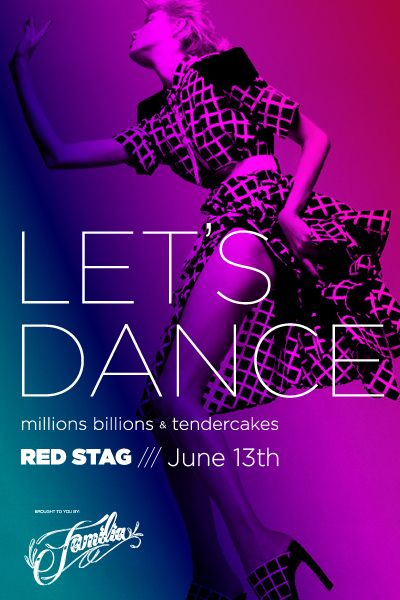 SATURDAY JUNE 13TH
Jon Hester Farewell Party
@ 414 Soundbar
414 3rd Ave N
Minneapolis
10pm/$6
Minneapolis is losing a good one to far away Barcelona (Yes, SPAIN). Stop by tonight to say your goodbyes and thank yous to the luminous and talented DJ Jon Hester. Between 10 and 11, the complimentary champagne will be flowing thanks to Ed Hardy, and DJ Mike Moilanen will provide the tunes. Mike G and Hester will make special DJ appearances throughout the evening. Adios, ciao, farewell Jon — Minneapolis won't be the same without you!
CLICK THE IMAGE FOR THE JON HESTER MYSPACE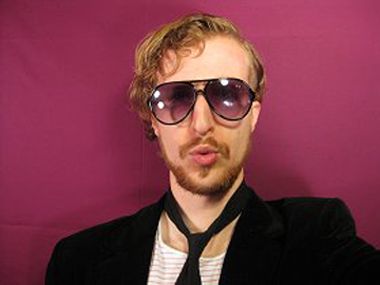 SUNDAY MUSIC PICK: FREE ENERGY
Before we say anything, just be warned. Once you hear Free Energy's totally rad and obviously brilliant new track 'Dream City', you will, and we mean you WILL have it stuck in your head and be singing along like a damned fool — which might cause you some embarrassment. Oh well. Remember awesome local band Hockey Night? Well, a couple of the dudes from that band (including past l'étoile contributor Lauren Schad's super cute boyfriend, Paul Sprangers!) moved to NYC and hooked up with the DFA's James Murphy and recorded this album of Thin Lizzy-loving, '70s classic rock soft triumphs with a real high-fidelity, guitar-heavy and totally un-ironic AM-rock sound that reminds us of Tom Petty and epic summer nights.
CLICK THE IMAGE FOR THE FREE ENERGY MYSPACE
Photo by Rachel Leah Woliansky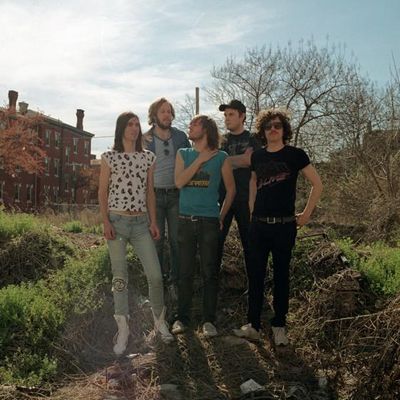 SUNDAY JUNE 14TH
Gig Poster Book Release and Poster Sale
@ Magers and Quinn
3038 Hennepin Ave. S.
Minneapolis
6-9pm / Free
Let's face it, our local poster artists rock! Celebrating the release of Gig Posters Vol. 1 – a book compiled of great rock show art – Magers and Quinn and gigposters.com present a night dedicated to the talented designers and collectives holding down feature spreads in the pages of the book. Peruse through screen-print works from local designers Adam Turman, Aesthetic Apparatus, DWITT, Squad 19, Tooth, Amy Jo, Lonny Unitus and Burlesque of North American. Meet the artists and best of all, your favorite infamous prints will be available for purchase. To top it off, Magers and Quinn will be offering 10% off their entire selection of music books – perfect for any die-hard music junkie and great as coffee table accessories.
CLICK THE IMAGE FOR THE MAGERS AND QUINN SITE