Well, we've been out of school for longer than we care to admit, but that doesn't mean we can't fully appreciate the exuberance of youth! There's an electric vibe rippin' through town and that can only mean one thing: Summer is about to make its grand debut. The overflow of cool events and the potential for outdoor carousing is seemingly endless, and we can't wait to partake!
xo-l'étoile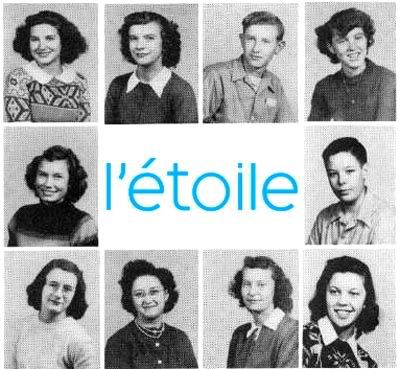 FRIDAY ART PICK: SOO KIM
A New York artist originally from Seoul, Korea, Soo Kim makes drawings, prints and paintings of microcosms and dreamscapes. In her colorful works, imaginary worlds intersect with characters and their back stories. She's exhibited all around the world, and if she ever shows in the Twin Cities, she'll already have a dedicated fan base in l'étoile!
Check out this interview with Soo Kim in one of our fave rags, Bust Magazine.
CLICK THE IMAGE FOR THE SOO KIM SITE


FRIDAY MAY 29TH (THROUGH SUNDAY)
MN Homegrown Music Festival
@ El Rancho Manana
Richmond, MN
Fri 5pm-11pm, Sat 11am-5pm, Sun 10am-4pm /$15 for one day
No less than 24 Minnesota bluegrass and old timey bands want to show you a weekend of fiddles, banjos and washboards. Make a weekend of it by camping, taking a workshop, throwing down in a jam session and eating some food at this annual fest! Campfires, good music and good company are promised on this kickoff to the summer bluegrass festival season. Through Sunday, May 31st.
CLICK THE IMAGE FOR THE MN BLUEGRASS SITE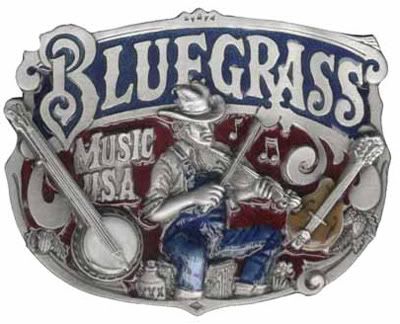 FRIDAY MAY 29TH
Brad Senne CD Release Party
@ Kitty Cat Klub
14th & 4th
Dinkytown Mpls
9:30 p.m. / 21+
Our pal Brad Senne has been a busy bee this year! His new album, Aerial Views, is a fresh collection of sweet indie pop gems that will definitely be on l'étoile's heavy rotation this summer. These are tunes we can imagine waking up on a Sunday morning to, or driving around in the rain to. The kind of music that creates pretty little memory pockets; reminders of summer lovin' and dreamy interludes of time passed. Not to mention, Senne's equally talented lady-love, local art darling Jennifer Davis did the cute-enough-to-frame cover art for the new album! Head to the Kitty Cat tonight, pick up a CD, and hear Brad perform live, accompanied by Ben Durrant on guitar and Ryan Lovan on drums. Local bands Ballast and Unguided kick things off.
Click HERE for the Brad Senne Myspace page to check out tunes from Aerial Views!
Video by Dante della Maggiore


FRIDAY MAY 29TH
Familia True Heads Vol. 3 series Release party
@ Nami
251 1st Ave N
Minneapolis
9pm-2am / Free / 21+
True Heads is Familia Skate Shop's version of the Grammys for local skateboarding. An ongoing series dedicated to honoring those in the skate scene that help it along, promote, or push it in some way. Tonight 4 more important players in the scene will be honored with their own boards, flowin' cocktails, and DJ Millions Billions on the turntables. So kick/push your ass over to Nami tonight and pay homage!
CLICK THE IMAGE FOR THE FAMILIA SITE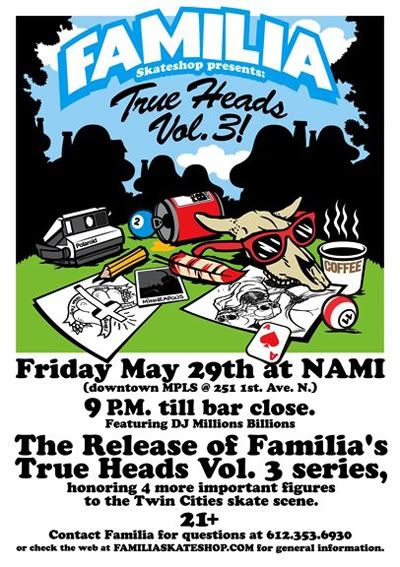 FRIDAY MAY 29TH
Fischerspooner
@ First Ave
701 First Avenue
Minneapolis
8pm / 18+ / $25
Fischerspooner have built their quirky reputation around seeing just how far they can increase the boundaries of dance music. By providing knob-tweaking know-how for epic electro-clash bangers, this dramatic duo guarantees a truly spectacular event packed to the brim with elaborate costumes and props, experimental choreography, and of course loads of overt lip-synching. Cross over to the 7th Street Entry to rock out with High on Stress, The Glad Version, The Moodswings, and the Snaps!
BONUS: This raging party resumes at the Saloon after the show, with a DJ set by the boys of Fischerspooner themselves!
CLICK THE IMAGE FOR THE FISCHERSPOONER MYSPACE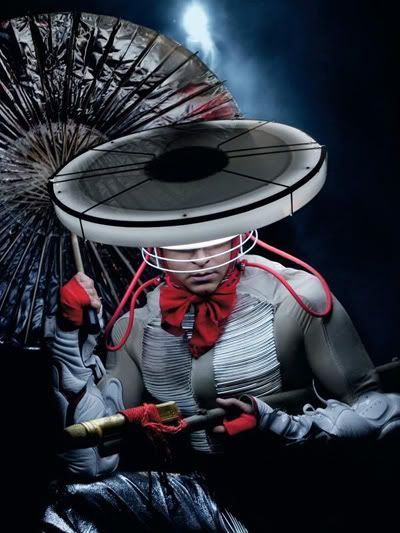 FRIDAY MAY 29TH
BOMP!
@ Bedlam Theater
1501 S. 6th Street
West Bank Minneapolis
10:30 p.m. / 18+ / $5
Phew. There are enough dance parties this week to (almost) make up for all that sitting around you did this past winter! The decision making process may even be too much, too soon for some of you hibernators. However, when you pair some of the hottest local DJs with the most radical performance space in the Twin Cities, the result is one hell of a wicked dance party that you ought not miss. A melting pot of scenesters from all castes seem to come together each month for this epic throw down; bond in sweat with punks, fashionistas, lezzies, art nerds, the lenseless glasses/neon bandanna set and a wide variety of randoms! This month's musical guests include DJ Dirty Finger (Brooklyn), The Moongoons, Jimmy 2 Times, and of course, your fabulous hosts Shannon Blowtorch and Wes Winship.
Co-Sponsored by l'étoile magazine, yo!
CLICK THE IMAGE FOR THE BEDLAM SITE


COOL LINK: SAINT PAUL STAYCATION
Looking for a little travel adventure this season, but your pocket funds aren't cooperating? Look no further than your own backyard. By now, no doubt you've heard this term pop-up in conversation. The word "staycation" – coined for a vacation spent close to home – has been gaining popularity with cities nationwide and this year St. Paul has jumped on the bandwagon. Hoping to create a bit more Summer revenue for local businesses, states are encouraging residents to forgo those outrageous trips this year and enjoy the amenities your city has to offer. It's a chance to explore your roots and regain that "honeymoon" love your city once brought you. St. Paul's STAYcation blog is everything you need to know about our beloved sister city. Featuring a buzzworthy and under the radar guide to restaurants, clubs, festivals, outdoor activities, family fun, style and nightlife in the St. Paul area. Check out twice-weekly posts from l'étoile's own Kate Iverson, Jahna Peloquin and Juleana Enright, as well as local writers Alisa Blackwood and Todd Smith. Keep glued to St. Paul Staycation blog all Summer long because this year the hottest action is right here at home.
CLICK THE IMAGE FOR THE STAYCATION SITE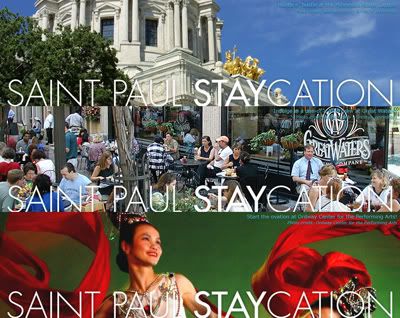 SATURDAY MAY 30th
Naturally
@ Back Alley Gallery
262 E 4th St. #LL2
St. Paul
7pm-10pm / Free
David Witt (Dwitt) and fellow artist Christopher Bowman have been making art nonstop to bring you a stellar show tonight. They'll show solo work and collaborations, including the biggest painting either one has made in over a decade. It's no secret Dwitt rocks our world with his prolific output of snazzy rock posters and illustrations, so stop by Lowertown tonight and see what this awesome artist and his talented cohort have been up to.
CLICK THE IMAGE FOR MORE INFO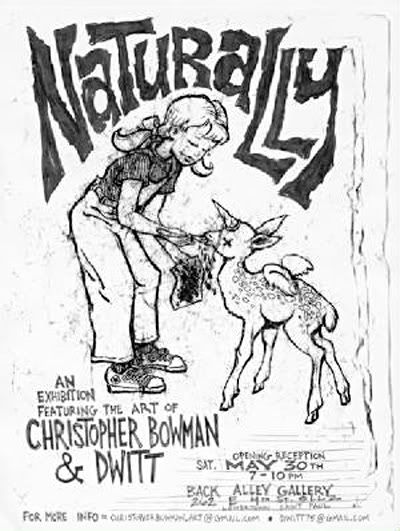 SATURDAY MAY 30TH
Mike Moore, Richard Hall, & Joel Zinnel
@ Mill District Arts Gallery
1023 Washington Ave
Minneapolis
7pm-9pm / Free
You've got just one night to see photography by Mike Moore, Richard Hall, and Joel Zinnel. And if you want to see the work for more than one night, buy a piece! It will all be for sale of course, so have a drink, think it over, and then invest in some local photography and impress all your art-lovin' friends.
CLICK THE IMAGE FOR THIS ART EVENT AND MORE AT MPLSART.COM


SATURDAY MAY 30TH
Formidable Flat
@ First Amendment Gallery
1101 Stinson Blvd. NE
Minneapolis
7-10pm / Free
Featuring the new works of artists Drew Peterson and Kristina Paabus, tonight's opening of Formidable Flats explores spacial relations in the "real" world and on paper. With Peterson's colorful, deftly-lined prints and Paabus' felt, cellophane and wire installations, the artists create a detailed "Magic Eye-esque" trippy world. Special music sets from Cecil Otter (of Doomtree) and the BRLSQOTHEQUE DJs.
CLICK FOR THIS ART EVENT AND MORE AT MPLSART.COM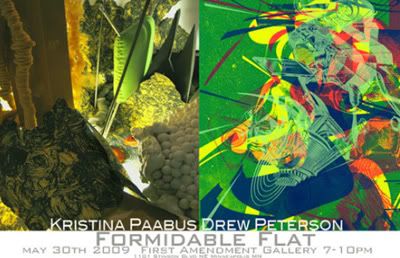 SATURDAY MAY 30TH
El Circo Art Exhibit
@ California Building Gallery
2205 California St. NE
Minneapolis
7-11pm / Free
In the exhibit, El Circo, visual artists Xavier and Maria Cristina Tavera dig deeper into the underground community of the circus and street performer and how it relates to the Latino community. Through a series of narrative photographs, Xavier Tavera juxtaposes the everyday lives of Latinos with the darling spectacle world of circus performers, highlighting the similarities between social outcasts in both worlds, while Maria Cristina Tavera's complimentary paintings reflect the nonconformist, communal and cooperative lifestyle of the circus realm. Theatrical performances by local Latino circus performers, El Barrilito clown and Sinjun the Contortionist open the show. Runs through June 13th.
CLICK THE IMAGE FOR MORE INFO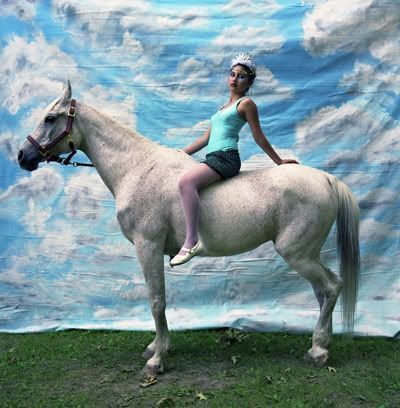 SATURDAY MAY 30TH
2531
@ 2531 Quincy Street NE
Minneapolis
6-10pm / Free
Who is Gudrun Lock? We're really not sure. Gleaning a sparse amount of info from the web on this elusive creative, we've been able to cobble together that: A. Gudrun Lock is a pretty cool artist and B. She fancies her home a contemporary art gallery. These, of course, are two things we can definitely get behind. Head Northeasy tonight for a peek into the inner sanctum of this quirky artist, whose one-weekend-only exhibit draws on elements within the home itself. The invite says, to "bring your own beverage." So load up your backpack with ironic malt liquor and get arting!
CLICK THE IMAGE FOR NOT A LOT MORE INFO


SATURDAY MAY 30TH
Dearling Physique + Bella Koshka
@ The Entry
701 1st Ave. N.
Minneapolis
9pm / 18+/ $6
Tonight, First Ave will be bopping from both sides as local synthesized ambient rockers, Dearling Physique and the organic electronic melodies of Bella Koshka inflict the Entry stage with a symphony of electronic energy. With openers, concrete experimental band, Dada Trash Collage.
Bonus: Already at First Ave for the (sold out) Yeah Yeah Yeah's mainroom show? Enjoy a discounted crossover charge. And after that $25 YYY ticket, a few extra bucks is really just chump change.
CLICK THE IMAGE FOR THE FIRST AVE SITE


SATURDAY MAY 30TH
Gogol Bordello
@ Cabooze Parking Lot
917 Cedar Ave S
Minneapolis
6pm / All Ages / $24
Gogol Bordello's live show is an off-the-hizzy party from start to finish. We're not talking about a crazy shindig where jock rockers smash beer cans over their heads. No. Gogol Bordello whips the crowd into a frenzy with thought-provoking lyrics, weaving heated social and political commentary into their lively communal gypsy-punk anthems. Each and every Bordello jam is literally oozing with passion as if possessed by some kind of supercharged gyspy spirit. It's raw, it's sexual, and it's everything you need to experience after a long winter in Minneapolis. Get there early to catch awesome openers Man Man.
CLICK THE IMAGE FOR THE GOGOL BORDELLO MYSPACE


SATURDAY MAY 30TH
Attitude City
@ Clubhouse Jager
913 Washington Ave
Minneapolis
10pm / 21+ / Free
The Attitude City boys are back at Jager once again for their monthly mix of badditude to blow up the dance floor with a carefully curated cache of beats, creating the perfect setting to get buck wild. Hands down one of our favorite parties of the month!
CLICK THE IMAGE FOR THE ATTITUDE CITY SITE


SATURDAY MAY 30TH
Session 8
@ The Kitty Cat Klub
14th & 4th
Dinkytown Mpls
We can always count on O.G. Minneapolis party starter DJ Bach to bring the funnin'. Head to the Kitty Cat Klub tonight for The Embassy's bi-annual dance off featuring the hotness that is Bach and electro wonder-kid DJ Taitan on the turntables all night long. The Embassy is a collective devoted to "connecting the world: one Minnesotan at a time." How? Through partying, of course!
CLICK THE IMAGE FOR THE FACEBOOK EVENT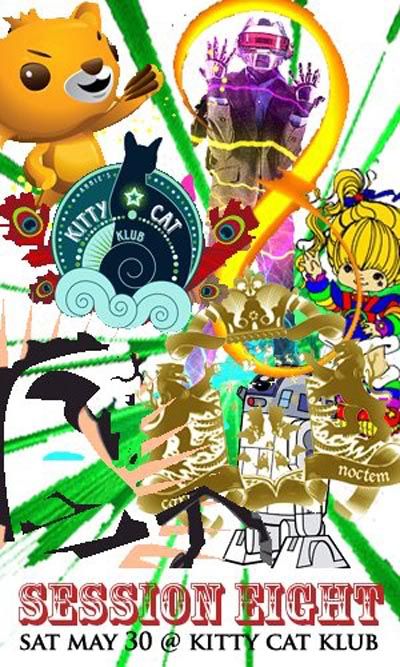 SUNDAY MUSIC PICK: PASSION PIT
If you have never heard the song "Sleepyhead" by Passion Pit, stop reading this right now, slap yourself, pay a little visit to their Myspace, and CRANK your speakers. Now that we're all caught up let's get to it. If MGMT got together with Postal Service for a few drinks and decided to create music that balanced out batshit crazy with bespectacled yearning, the result might sound something like Passion Pit. Their debut album is out now on Frenchkiss. Check it!
CLICK THE IMAGE FOR THE PASSION PIT MYSPACE