If you've got one of those pesky Monday through Friday jobs, you're probably rejoicing in the fact that you've got Monday off. And lucky for you, this weekend is packed with a healthy abundance of potential hijinx. From dance parties to theater, and art events to outdoor hip-hop fests, l'étoile expects you'll find something to go buck-wild about. The official transition to summer is upon us—and Monday's Memorial Day holiday kicks it all off, so don't forget the sunblock!
xo-l'étoile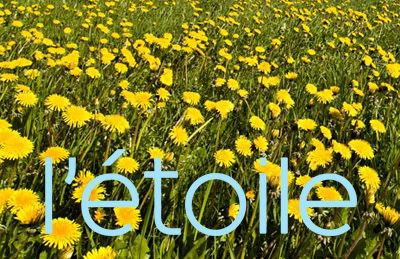 FRIDAY ART PICK: BRIAN WALKER
Contemporary photographer Brian Walker creates playfully kitschy scenes that fuse illustration and fashion with a surrealist element of surprise. His latest series, aptly titled Plastic Fantastic, features compositions such as battery packed human figurines, fur clad models destined for the meat market, and a post modern take on nursery rhymes. His own website offers this amazingly poignant description: "Viewing this work is the equivalent of a photographic excursion into the mind of a serial filler of funtime plastic-fantastic realities. Brian Walker is a world renowned digital artist, with a playfully kitsch postmodern view on the world at large. View them with a grain of salt in hand ready to rub into your own proverbial visual wound that he taketh pleasure in inflicting"
CLICK THE IMAGE FOR THE BRIAN WALKER SITE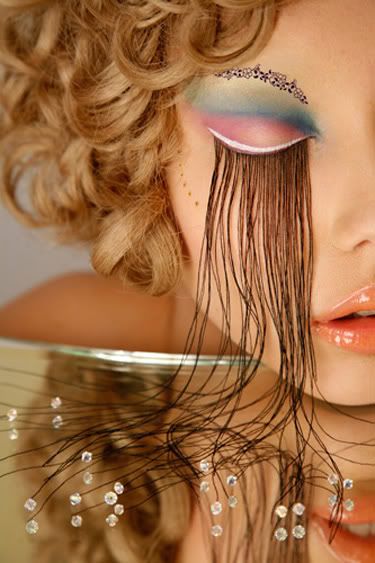 FRIDAY MAY 22ND
Go Live III
@ FIVETWOSIX
526 Selby Ave
St. Paul, MN
6-10pm / Free
In live art, there are no mistakes only new creative junctions. Witness the impromptu work of local artists in the third installation of Go Live at St. Paul's FiveTwoSix Gallery. Featuring a collaborative painting and music from artists MJ Heubach and Booka B, experimental art from MCAD grad, Aron Taylor and avant-garde creations by 526 stylists working their magic on live models showcasing the designs of Brittany Hughes and Renalie Bailey. Inspire some creativity as you sample snacks and sip delectable wine from St. Paul wine hub, Solo Vino.
CLICK THE IMAGE FOR
Past collaborative work from Heubach and Booka B


FRIDAY MAY 22ND
Freshcool
@ Cliche
2403 Lyndale Ave S
Minneapolis
7pm/free
Artist and photographer Laura Hallen presents her new Photo-Plexibox paintings, layered multi-media studies on plants and organic existence in acrylic, plexiglass, beeswax and colored shellacs. In addition, Cliché is offering 10% off during the opening, and DJ Talk Radio spins while you sip wine and chomp appetizers. Gorgeous!
CLICK FOR THIS ART EVENT AND MORE AT MPLSART.COM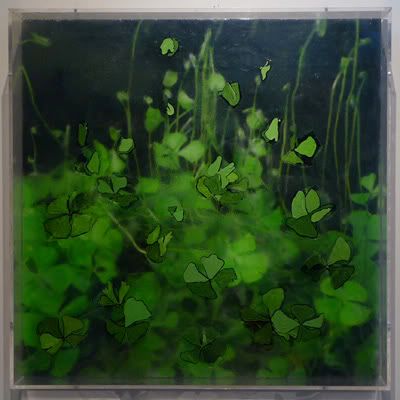 FRIDAY MAY 22ND (THROUGH SATURDAY)
Ten Minute Play Festival
@ Bedlam Theatre
1501 S 6th St
Minneapolis
6pm & 8pm / $10 for one, $15 for both
We know it's hard, considering your a.d.d., to sit through an entire play. That's why the 8th Annual Community ten minute plays are perfect snack-sized productions. The plays are performed in four separate sets, so you can mix and match what you want to see. Each play is exactly ten minutes, and the definition of a play is loosely interpreted in some instances. Stop by early or stay late and munch on the Bedlam's Polish-inspired menu items.
CLICK THE IMAGE FOR THE BEDLAM SITE


FRIDAY MAY 22ND
Rebel Rebel: Rock for Pussy VI
@ First Ave
701 1st Ave North
Minneapolis
8pm / 18+ / $8
This Friday night, glitz, glitter and glam reign supreme at Rock For Pussy – the 6th annual tribute to David Bowie. Curated by 89.3 The Current fave Mary Lucia, sexy musical savants include Jeremy Messersmith, Jim Walsh, Chris Pavlich, Venus and All The Pretty Horses, Matt Coffee, Ciaran Daly, Dave Campbell, Liam Watkins, Lori Barbero (woo-hoo!), Marc Perlman, George Mckelvey, Laurie Lindeen, and Chris Lynch in a musical homage to the Thin White Duke himself. Dress up in your Bowie best and shakedown to the hottest glam jams provided by DJ Mark Wheat in between sets. All proceeds benefit the Minnesota Valley Humane Society Cat Shelter. Seriously people, who doesn't want to help a bunch of destitute little pussies? Meow!
Click HERE for the 1st Avenue site.

Flight of the Concords Bowie clip via 1st Ave blog


COOL LINK: MUSEUM OF BAD ALBUM COVERS
Over the years, musicians have made a plethora of bad choices. Guys with feathered and teased hair, uberly tight jumpsuits…Christmas tributes. And now The Museum of Bad Album Covers pulls another stack memorabilia out of the embarrassing music career closet these artists thought they could hide from. Browse through the gallery that boasts a display 156 of the most hideous, shocking and down right disturbing album covers in music history designed to "assault both your ears and your eyes at the same time." Vote for your faves or buy a T-shirt featuring the "best" of the worst cover art from the gift shop.
CLICK THE IMAGE FOR THE WEBSITE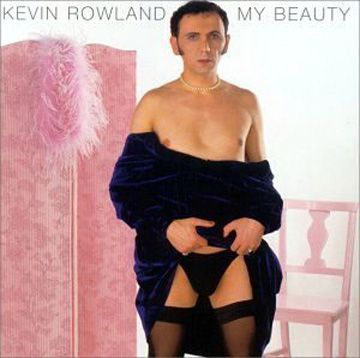 SATURDAY MAY 23RD
Ghost Comics Book Release Party
@ Arise Bookstore backyard
2441 Lyndale Ave. S.
Minneapolis
4pm / donation
Parties in Arise's backyard equals summer, and book release parties with bands are the crème de la crème of this radical bookseller. Ghost Comics is a Xeric Award-winning comic anthology featuring a grip of comic artists, including Zak Sally, Ed Moorman and Will Dinski. It's a big deal! Clamor around the artists for a signing at 4pm, get cozy at 5pm to listen to no less than seven bands, and stick around for the outdoor movie at 8:30. All proceeds from Ghost Comics benefit local substance abuse treatment facility RS Eden, so it's a win-win!
CLICK THE IMAGE FOR THE ARISE SITE


SATURDAY MAY 23RD
Lookbook
@ Turf Club
1601 University Ave W
St. Paul
9pm / 21+ / $5
l'étoile's current fave band (and hopefully yours too), Lookbook, will be dishing out their impossibly addictive electro-pop beats at the Turf tonight, and we wouldn't dare miss getting our fix. Drawing on influences as diverse as 80's pop, electronica, and modern indie rock, Lookbook creates a formula that captivates our ears every time we hear it. The utterly endearing duo of Grant Cutler and Maggie Morrison adds an impeccable style and unique flavor to their performance that we are simply gaga over. Openers We Are Hex and Kill to Kill kick things off.
CLICK THE IMAGE FOR THE LOOKBOOK MYSPACE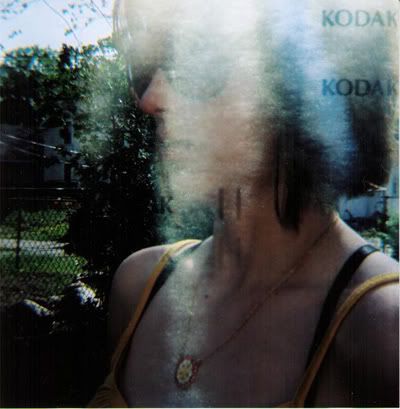 SATURDAY MAY 23RD
Traffic Light Party
@ Clubhouse Jager
923 Washington Ave N.
Minneapolis
10pm-2am / 21+/ Free
Admit it. Spring makes you…well, let's just say, HOT. But with all the ambiguous and drunken flirting going on in the club scene it's tough to know who's available and who has a large, jealous significant other waiting just around the corner. Luckily, Dirty McKenzie and Bass-United Recordings have devised a color-coded party that takes the guess work out of meeting hotties. How does it work? Wear green if you're single, red if you're taken, yellow if you're undecided, and none of the above if you're a killjoy. Dirty McKenzie and Slater & Walker spin the best in new wave, disco, 80's and 90's jams while you spend the night dancing among the rainbow of possibilities, care and fancy-free. A jealous ex-significant other, now that's another story.
Sponsored by your favorite matchmakers, l'étoile magazine!
CLICK THE IMAGE FOR THE FACEBOOK EVENT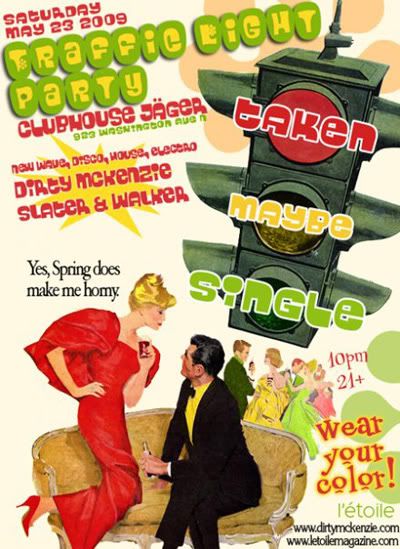 SATURDAY MAY 23RD
Big Quarters CD Release Show
@ Triple Rock
629 Cedar Ave S.
Minneapolis
9pm / 18+/ $7
Local rappers and hip-hop debonairs, Big Quarters, celebrate the release of their sophomore album, From the Home of Brown Babies and White Mothers tonight, West Bank style. Known for their stage presence and energetic sound which incorporates all of the best aspects of rap from the last decade. On top of being critically acclaimed musicians, Big Quarters have collaborated with fellow hip hopper P.O.S., are regulars on campus airwaves Radio K, and are a fierce representation of the sort of smart heat the local rap scene is packing. Live sets from Mankwe Ndosi, Kill the Vultures, Alissa Paris, DJs Noam the Drummer, Todda, Benzilla and special guests.
CLICK THE IMAGE FOR THE BIG QUARTERS MYSPACE


SATURDAY MAY 23RD
West Rocks "U.S. of May" Party
@ Uptown Bar
3018 Hennepin Ave. S.
Minneapolis
9pm-2am/ 21+/ $5 with Flyer or RSVP
In the early winter months of '07, a club night devoted to exposing new talent emerged in West London. Two years later, it's become an infamous monthly dance extravaganza and live music showcase known simply by the moniker,"West Rocks." Tonight, we're privy to a loving spoonful of the "rockin'" club party as West Rocks leaves its West London digs for a U.S. tour starting right here in MPLS. The MPLS installment features local acts, Guystorm, Idle Hands, Bouncer Fighter, Communist Daughter, Chelsea Boys, Camel of the Sea, Absent Arch and DJ sets from A-Ray, Guystorm, Solid Gold, Ryan PN and of course, charismatic party founder, Tara Rocks. We have a hunch Solid Gold's golden shoulder-rubbing connections at SXSW – where they shared a stage with West Rocks – are at least partly responsible for this party venturing to the Twin Cities. Kudos boys; we promise to take full advantage. RSPV @ westrocksguestlist@gmail.com for $5 cover charge.
CLICK THE IMAGE FOR THE WEST ROCKS MYSPACE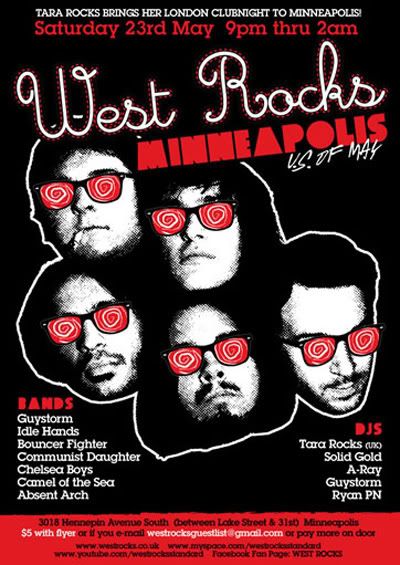 SUNDAY MUSIC PICK: MIKE WATT
Last Friday the Twin Cities was reminded of what pure punk rock is all about. Mike Watt rolled into town in his van, with a bass in his hand, to shake the 7th St. Entry. Without Watt's bands The Minutemen, fIREHOSE, and work with Sonic Youth as Ciccone Youth, rock and roll wouldn't exist as we know it today. An anchor necklace, a penchant for plaids, and his own vocabulary make him a character we adore. So, even if you missed last week's show (which was neglected by us due to Art-A-Whirl) we suggest you take a refresher course in good old fashioned rock n' roll a la Watt.
CLICK THE IMAGE FOR THE MIKE WATT MYSPACE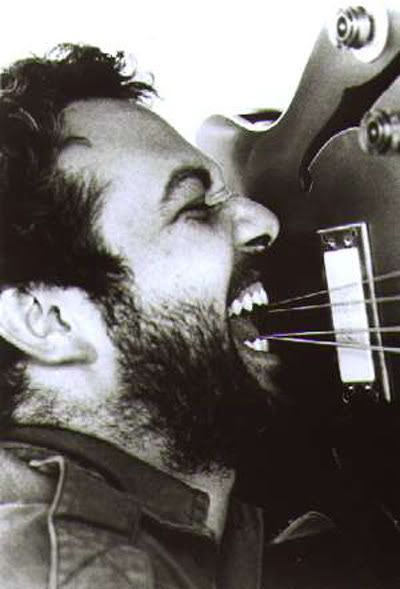 SUNDAY MAY 24TH
Soundset
@ Canterbury Park
1100 Canterbury Road South
Shakopee
11am-8pm / All Ages / $35
The second annual Soundset, self-described as the Official Mid-West Summer Kick-Off, is set to go down Sunday at Canterbury Park (of…um…horse racing fame) with eight raptastic hours of hip hop, b-boy battles, live DJs, a low-rider car show, skateboard demos, and plenty of awesome performances by a bevy of local and national artists including Atmosphere, The Pharcyde, MF Doom, Brother Ali, Sage Francis, Immortal Technique, P.O.S, El P with Mr. Dibbs, Eyedea & Abilities, Prince Paul, Buck 65, Blueprint, Heiruspecs, Sims of Doomtree, I Self Devine, Awol One, Mike Mictlan & Lazerbeak of Doomtree, Toki Wright, Grieves, Unknown Prophets, Plain Ole Bill, BK One, King Otto, and way more than we can list here. The fest is totally kid friendly, so bring your young'ns down for a rap spectacular on this lovely holiday weekend!
CLICK THE IMAGE FOR THE SOUNDSET MYSPACE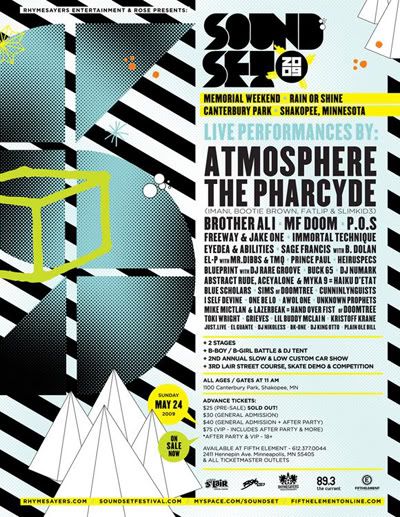 SUNDAY MAY 24TH
Gastro Non Grata
@ Triple Rock Social Club
629 Cedar Ave S
Minneapolis
6pm-10pm/$3 or food donation
Nom nom nom. If you were lucky enough to catch the Gastro Non Grata at the Modern during Art-a-Whirl, you know what deliciousness is in store. Tonight you'll try samples of Rush River Brewing Company's beer while chef Heather Hartman of Spoonriver offers a mushroom pate and Vietnamese Grilled Pork salad, then enjoy sweetness from Rogue Chocolatier. Oh, and p.s. — Birthday Suits, His Mischief, Evening Rig, and our very favorite, Dreamland Faces are playing. ALL FOR $3!!!!!!
CLICK THE IMAGE FOR THE GASTRO NON GRATA SITE