OMG! It's here! It's Art-A-Whirl Weekend, our FAVORITE time of year! The whole of Northeast Minneapolis will be a-buzz with artsy excitement x 100 all weekend long. This annual neighborhood-wide open studio crawl is the largest in the nation, with scads of buildings and hundreds of artists throwing open the doors to their work spaces and galleries to show off the amazing work they've been creating over the past year. Use this week's edition of l'étoile to plan your itinerary; you'll need to be organized to get the full experience, trust us. We've got the skinny on all the coolest special events, art parties, gallery openings and more. Pick up the official 2009 Art-A-Whirl catalog at info booths and buildings all over Northeast for a full listing of artists and a handy-dandy map that will help you traverse the art district with ease. Happy Arting!
Art-A-Whirl 2009 is co-sponsored by l'étoile magazine!
BONUS: In un-Art-A-Whirl related news, we're giving away two pairs of tickets to Friday's Solid Gold show at 1st Avenue! See our Friday listing below on how to enter to win!
To see the rest of the pics from our AAW shoot and find out where you can see the art pictured, click HERE.

Photo by Stephen Stephen's for l'étoile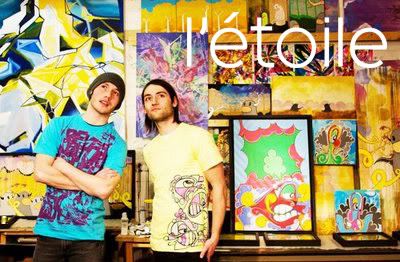 THURSDAY MAY 14TH
Crank It
@ Club Jager
923 Washington Ave N
Minneapolis
7pm-11pm / Free
Ok, Art-A-Whirl doesn't start until Friday, but that doesn't mean you can't have a lil' fun on Thursday. As if participating in the 300-mile Red Ribbon bike ride isn't enough, Team Milkshake is also hosting tonight's silent auction for AIDS/HIV nonprofit organizations and research. Dance it up, bid on a treasure, and enjoy special performances by Audra Tracy, The North High Beaverettes and Jaime Carrera w/ MC Go Go Pimp Tif and DJs Ajent Orange and Brad Wrolstad.
CLICK THE IMAGE FOR TEAM MILKSHAKE PAGE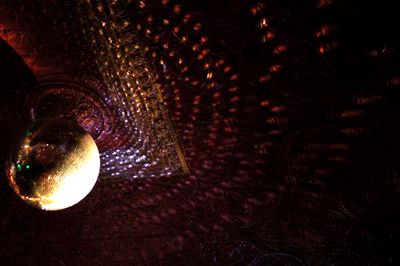 ART-A-WHIRL ARTIST SPOTLIGHT: ANTHEM HEART
Where would Twin Cities' fashion punks, streetwear junkies and hipsters be without the colorful apparel of design collective Anthem Heart? Thankfully, we don't have to think about that dark, alternate reality. With their recent explosion of popularity and success, it would almost take effort not to have noticed the screenprinting heart throbs of Anthem Heart. Born from the creative minds of Nick Ulrich, Dennis Evert and Ken Hannigan, AH has been a prominent force in the local fashion community, teaming up with poster artist and fellow screenprinter Mike Davis (of Burlesque of North America); creating commissioned designs for local superstar DJs The Moon Goons; interfacing with local boutiques Robot Love and Cliché; and rocking the runways of recent fashion shows, like Avoid the Grey where they collaborated with Voltage designer Maritza Ramirez. During this year's Art-A-Whirl, catch Anthem Heart in their studio (Q.arma Building, 1224 Quincy St. NE) for a live and interactive t-shirt printing process where they will be sharing another vibrant print that pays homage to our infamous city skyline. T-shirts will be selling for $8-15, or bring your own blank tee and get a homegrown print on it for only $5.
We met up with active Anthem Heart member and local DJ Ken Hannigan for a few deets on how it all started and future projects:
l'étoile: How did Anthem Heart come to be? Who is involved?
Ken Hannigan: Anthem Heart consists of Nick
Ulrich, Dennis Evert and myself. We all met at the University of Wisconsin Stout in the early 2000s. Nick was the lead singer of a band called Regimen Rong. In 2005 and he came to me with an idea and a name for a clothing line to sell at his shows and to go on tour with. We learned quickly that we needed to print the line ourselves if we wanted to do have control over the process, so we bought a small used press and some screens. In short, the tour never materialized and we moved into a studio space on Lake and Lyndale and landed some printing accounts for a salon and some bands to pay the studio rent.
l'étoile: Your studio is in the Q.arma Building, what do you think about the communal vibe of the building and the Northeast art scene in general?
KH: We like it much better than being in the Calhoun Building in Lyn-Lake. Don't get me wrong I love Uptown and miss that rooftop, but the rent is cheaper here and you can't beat Art-a-Whirl!
l'étoile: Your design work has evolved a lot since we first met. How do you keep on top of trend while still maintaining originality?
KH: I am as much a consumer as anyone else. A

lot of it has to do with music and blogs, although I should probably read more fashion blogs than I do. In a quest to do something different, I rejected small illustrative prints and began working with bigger more repetitive and geometric prints, many based on a framework of something appropriated. For our show at VS Social Standard we commissioned and licensed some designs from local heroes such as Mike Davis, Eric Inkala, and John Grider. There is still so much potential for the graphic T as a means of expression.
l'étoile: What's your favorite thing about Art-A-Whirl? And aside from your studio, what would you personally recommend people see?
KH: When we were chatting with the owner of the Q.arma Building and poised to sign the lease, he mentioned the company in the studio next to us were screen printers as well. It turned out to be some more friends from Stout – a pure coincidence! The company is called Lovely Mpls, so be sure to check them out when you come to visit us!
l'étoile: What will you be doing this Art-A-Whirl at the Anthem Heart studio?
KH: Remember that Minneapolis Skyline shirt we did last summer? This year we are doing an interactive homage to our beloved

city. We will be printing live during Art-a-Whirl. Pick and choose from various screen stencils, shirt styles and colors to create your own version of this years' design. The t-shirts will be selling for $8-$15 depending on the t-shirt style. Or raid your closet for a blank t-shirt and we'll print on it for $5. The design is top secret until Friday, and the only way to get one is to visit our studio!
l'étoile: Where else can people purchase Anthem Heart Clothing?
KH: Cliche has been a huge supporter of ours from the beginning. Robot Love and VS Social Standard have given us great opportunities to showcase our work as well. All of our work is currently sold out or pulled from the retail shelves, and is available only at the studio for Art-A-Whirl. We've actually been working on a new online store for a couple years, off and on, but we are poised to relaunch Anthem Heart into the retail realm after our new website is actually ready.
l'étoile: Top albums to screenprint to?
KH: George Clinton and Parliament Funkadelic / Self titled
The Dead Kennedy's / Fresh Fruit for Rotting Vegatables
Smif-N-Wessun / Dah Shinin'
Ghostland Observatory / Paparazzi Lightning
Visit Anthem Heart this Art-A-Whirl Weekend at the Q.arma Building, 1224 Quincy Street NE, 2nd Floor.
CLICK THE IMAGE FOR THE ANTHEM HEART SITE
Photos by Stephen Stephens for l'étoile/Clothing by Anthem Heart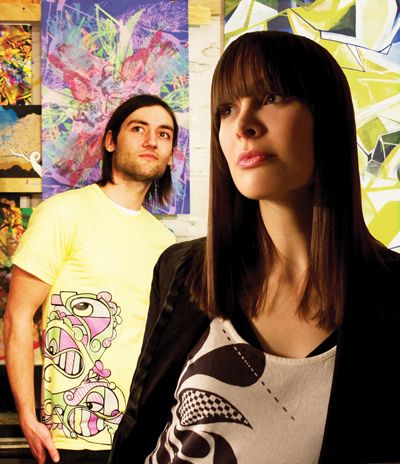 FRIDAY MAY 15TH
Gallery Grooves: Art-A-Whirl Edition
@ Mpls Photo Center
2400 North 2nd Street
2nd Floor
Minneapolis 55411
6-9pm / Free
Our besties at Secrets of the City and Jazz88 team up with the Mpls Photo Center and the Northeast Minneapolis Arts Association (NEMAA) for a special edition of Gallery Grooves! Come explore the extensive galleries of the beautiful photo center, spanning two floors. See the Pinhole Photography Exhibit as well as work by Mpls Photo Center members, plus bid on work from NEMAA artists in the silent auction. Enjoy refreshments, live music from cute folk-pop group Bla Bla Blacksheep (which features l'étoile's own Lacey Pripc-Hedtke and French jazz guru Robert Bell, and experience the good-time Art-A-Whirl vibe that will be taking over Northeast Minneapolis all weekend long!
Sponsored by Secrets of the City, Jazz88, MVP Wines, Miel y Leche, and Mpls Photo Center
BONUS: The Photo Center will be open regular Art-A-Whirl Hours through Sunday!
CLICK THE IMAGE FOR THE SOTC SITE


FRIDAY MAY 15TH (THROUGH SUNDAY)
NEMAA Silent Auction
@ Northrup King Building
1500 Jackson Street NE
3rd Floor Gallery
Northeast Minneapolis
Friday 5 p.m. to 9 p.m.
Saturday Noon to 8 p.m.
Sunday Noon to 3 p.m.
Any seasoned Art-A-Whirlee knows that the Northrup King Building is THE biggest stop on the map. Over 150 professional artists inhabit this sprawling arts warehouse, where one can spend hours meandering and falling in love with piece after piece of fantastic art. Our favorite stop in the NKB is definitely the NEMAA Silent Auction, held each year in the 3rd floor gallery space (#332). See over 100 pieces of art by NEMAA member artists — a vast representation of Northeast Artists all in one room. Not to mention, you can catch a deal on cool art AND support the Northeast Minneapolis Arts Association (NEMAA) — as proceeds go to benefit this super awesome non-profit arts organization.
CLICK THE IMAGE FOR THE NEMAA SITE



FRIDAY MAY 15TH (THROUGH SUNDAY)
More Is a Four Letter Word
@ Fox Tax
503 1st Ave. NE
Minneapolis
Friday Reception 6-11 p.m./ Free
Regular AAW Hours Sat-Sun
"More" usually isn't a word grouped in the category of negative four-letter words, and believe us when we say we know just about all of them. But it seems these days when everyone is being entreated to want less, the desire to "want more" can leave us feeling just as helpless as a Dickens character. Exploring this concept, Fox Tax gallery proudly presents a show curated by mplsart.com's, Emma Berg, entitled More Is a Four Letter Word. The work from artists Tynan Kerr & Andie Mazorol, Zach Pearl, Alex Kuno, and Garrett Perry is an exhibit of sharp colors, bleak imagery and abstract pieces conveying the struggle for a balance between a healthy hunger for knowledge and power and one that is destructive. Tonight's opening reception is a must-see stop on your Art-A-Whirl tour. On view until June 15th.
More is a Four Letter Word will be open regular Art-A-Whirl hours throughout the weekend.
CLICK THE IMAGE FOR THE FOX TAX SITE
Art by Andie Mazorol & Tynan Kerr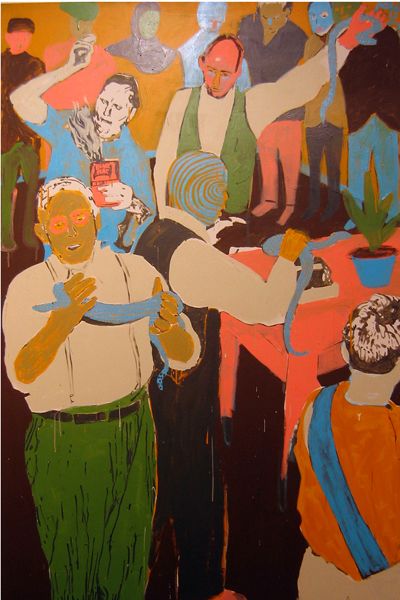 FRIDAY MAY 15TH (THROUGH SUNDAY)
Dreamwhirl
@ Gallery 122 at Hang It
122 8th St. SE
Minneapolis
Friday Reception 7pm-10pm / Free
Saturday Noon to 8 p.m.
Sunday Noon to 5 p.m.
Sweater people, strange animals and figurative abstracts make up Gallery 122's second annual Art-A-Whirl show. Wisconsin fiber artist Amy Arnold uses recycled sweaters to create Peepwool-little wool people. Our own Jennifer Davis paints fantasy creatures, and Iowa painter Chris Vance works with color and composition. Through June 22nd.
CLICK THE IMAGE FOR THE GALLERY 122 SITE
Art by Jennifer Davis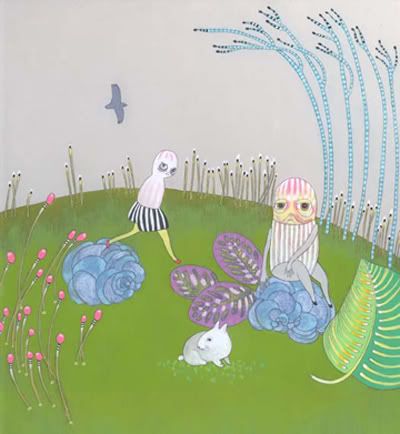 FRIDAY MAY 15TH (THROUGH SUNDAY)
One Equals Two: A Tribute to Ramon Muxter
@ Thorpe Building
1618 Central Avenue
Suite 222
Northeast Minneapolis
Friday 4 p.m. to 10 p.m.
Saturday 11 a.m. to 5 p.m.
Sunday 11 a.m. to 5 p.m.
Seeing this show is one of our top Art-A-Whirl recommendations! l'étoile friend and cohort Ramon Muxter passed away in 2007. He left behind a legacy of amazing photographic work, as well as a notorious history that spanned from coast to coast. From the wilds of the West Bank to the shiny New York City art scene, Muxter's work equally captured the glitz and the grime. Off the cuff shots hint at epic stories, and stark imagery speaks honestly of the life and times of this artist and his unconventional cronies. See a number of his photos, borrowed from the personal collections of friends, along with written stories and observations from his subjects and pals (including l'étoile editor, Kate Iverson). The show will be open to the public over Art-A-Whirl weekend, but will also be open by appointment through June 13th by emailing shackway1@gmail.com.
CLICK THE IMAGE TO SEE MORE OF MUXTER'S WORK


FRIDAY MAY 15TH (THROUGH SUNDAY
Fleischer/ Nusz/ Stulen
@ SELLOUT Gallery
1500 Jackson St., Studio #456
Minneapolis
Reception 7-10pm / Free
Sat-Sun Regular Art-A-Whirl Hours
The anti-pretentious conceptual art space, SELLOUT gallery, kicks off their official 2009 exhibit schedule with new works from gallery founders, John Fleischer, Ruben Nusz and Scott Stulen. Featuring Fleischer's hybrid structures constructed from used materials; a haunting painting and sculpture series from Nusz, which revisits the drowning of actress, Natalie Wood; and an experimental examination of how disappointment shapes identity illustrated by Stulen's dinosaurs, rest stops and family vacation paintings. Not to mention, l'étoile has mad "talent crushes" on all three of these artists so you know it's good!
CLICK THE SELLOUT SITE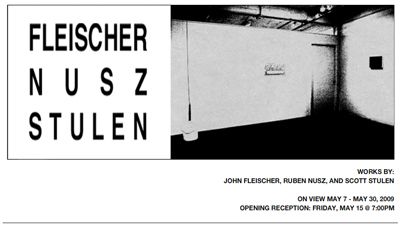 FRIDAY MAY 15TH (THROUGH SATURDAY)
Don't Sleep On It / BRLSQOTHEQUE
@ California Building
2205 California St NE
Minneapolis
Kick-off: Friday, May 15, 6pm
Closing: Saturday, May 16, 8pm
Budding artists are invited to embrace insomnia and bathe the walls of the California Building in paintings, drawings, collage, photos, and videos with help from a rotating list of local artists including Erik Burke, Mike Fitzsimmons, Andy Ducett, John Grider, Hardland/Heartland, Liz Miller, Kristina Mooney, Chris Pennington, Brett Smith, Erin Smith, and Scott Stulen in this 24-hour art making marathon. Stay awake with help from music provided by our pals from BRLSQOTHEQUE, who implore you to jam with them using your own flashing lights, cowbells, drumsticks, airhorns, shakers, glowsticks, and anything that lights up or makes noise. They even plan to fashion a massive mosaic mural made out of LP jackets!
Check out this promo video the Walker Teen Council did with absolute favorite artist collective, Hardland/Heartland:

FRIDAY MAY 15TH (THROUGH SUNDAY)
Creative Electric SS Infinite Regress
@ Behind the Sample Room on the Mississippi River
2124 Marshall Street NE
Minneapolis
Friday 7pm – Sunday 3pm / Free
The legend of the abandoned houseboat found floating down the Mississippi is a little clouded, but one thing is for certain: It makes for one hell of an art project. Survivalist Dennis "Kiddie" Cramer left behind all sorts of things on the boat – candles, gas-burning lamps, logbooks, journals, ceiling maps, self-defense weapons, Homeland Security instructions and a bunch of other useless crap. Creative Electric Studios transformed the houseboat into an interactive gallery, debuting it at last year's Art-A-Whirl. This year, Creative Electric invites you to take a strange voyage on the SS Infinite Regress. For a $5 donation, visitors will be asked to don a white hazmat suit (provided) and walk amongst video-projected walls, a mirrored room, and other bizarre spectacles. Add in some live music on a free floating raft, and you've got a truly unique Art-A-Whirl experience not to be missed.
The musical line up beginning Friday at dusk will include Gay Witch Abortion and Knife World; Saturday music will run all day featuring an acoustic coffee time set by Jon Olson & Caveman, Adam Wirtzfeld & friends in the afternoon, and White Map and Allison LaBonne of the Owls at dusk. Sample Room will be hosting a BBQ at the docks, $5 gets you A Beer and A Brat!
CLICK THE IMAGE FOR THE CREATIVE ELECTRIC SITE


FRIDAY MAY 15TH (THROUGH SUNDAY)
Who Made Who Open Studio
@ Who Made Who
158 13th Avenue NE
Minneapolis
Friday 5-10pm / Saturday 12-8pm / Sunday 12-5pm
l'étoile fave Miss Amy Jo is the kind of rockstar artist that most people only dream of being. One of the leading ladies of the burgeoning rock poster world, Amy Jo has carved out her niche creating pieces that are daring, visually arresting graphic exclamation points for musicians as varied as Of Montreal, Joan Jett, and the Melvins. If you've paid even the slightest attention to the local music scene these past several years, you've undoubtedly seen some of her work. Make a pit stop at the storefront gallery she shares with fellow artists Tooth and Lonny Unitus for a sampling of limited edition silk-screened posters, fine art prints, handmade merchandise including greeting cards, calendars, books, t-shirts, stickers, and toys. They're even offering a sweet raffle and delicious mini cupcakes!
CLICK THE IMAGE FOR THE WHO MADE WHO FACEBOOK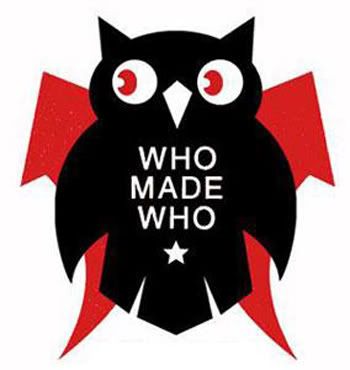 FRIDAY MAY 15TH (THROUGH SUNDAY)
Johnstock 2009
@ Johnson Street Merchants NE
29th & Johnson St. NE
Minneapolis
Friday 5 p.m. to 9 p.m.
Saturday 10 a.m. to 7 p.m.
Sunday 10 a.m. to 3 p.m.
Woot, woot! Party on Johnson Street! Friday night, watch Lady Hard On and Noise Quean Ant play for the Zak Sally art opening, then stick around for the Muppet Movie screening in the parking lot! On Saturday and Sunday, 35+ craft and art vendors hawk their wares like gypsies on the streets, accompanied by live music, kids activities and plenty of yummy food!
CLICK THE IMAGE FOR THE JOHNSTOCK MYSPACE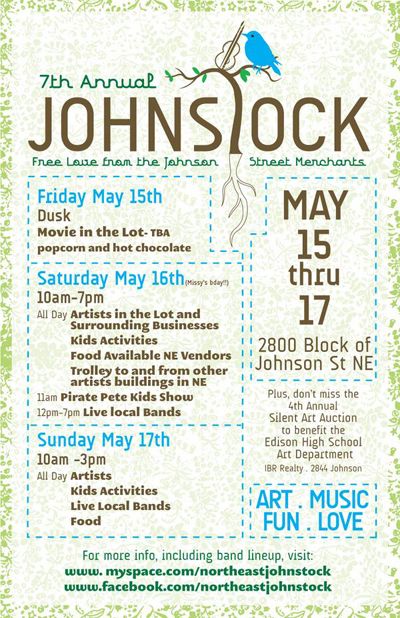 FRIDAY MAY 15TH (THROUGH SUNDAY)
Accumulated Art-A-Whirl
@ Thorpe Building
1618-1620 Central Ave NE
Suite 07
Northeast Minneapolis
Friday 5 p.m. to 9 p.m.
Saturday Noon to 8 p.m.
Sunday Noon to 5 p.m.
An accumulation of painting, sculpture, photography, craft and mixed media collage is on show at Accumulated Objects' new gallery. Work by Sherri Dahl, Aaron Hinkel, Ric Hinkel, and James Jones keeps you company while you snack, sip wine and listen to music.
CLICK THE IMAGE FOR MORE INFO
Art by Sherri Dahl


FRIDAY MAY 15TH (THROUGH SUNDAY)
Art-A-Whirl at the Grainbelt
@ Grainbelt Bottling House
79 13th Avenue NE
Northeast Minneapolis
Friday Reception 5 p.m. to Midnight (w/ live music)
Saturday Noon to 8 p.m.
Sunday Noon to 5 p.m.
Artspace Projects and The Grain Belt Artists present a free multimedia event featuring resident and guest artists working in film, music, performance art, painting, mixed media, clay, sculpture and photography. See the work all weekend long but be sure to pop in Friday night for the official opening reception, with live music until Midnight!
CLICK THE IMAGE FOR THE NEMAA SITE
Art by Lynn Speaker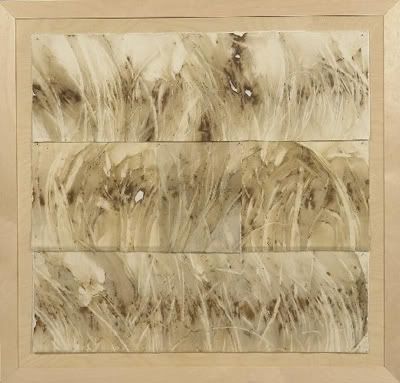 FRIDAY MAY 15TH (THROUGH SATURDAY)
Art-A-Whirl at Stasiu's
@ Stasiu's Place
2500 University Ave NE
Minneapolis
Friday 10 p.m. / $5 / 21+
Saturday 10 p.m. / $5 / 21+
You'll get more than your daily required dose of art this weekend, but what about your music needs? Stasiu's has it covered. You don't even have to leave the neighborhood to rock. Thanks Stasiu's!
Friday 10 p.m.: The Hostages, Bastard Sons Of Bukowski And Little Irvy
Saturday 10 p.m.: Buildings, Nina And The Pinta, Red Daughter And Power Of 2
CLICK THE IMAGE FOR THE STASIU'S MYSPACE


FRIDAY MAY 15TH (THROUGH SUNDAY)
Art-A-Whirl at the 331 Club
@ The 331 Club
331 13th Ave NE
Minneapolis
All Weekend / Free
This Art-A-Whirl weekend, Northeast's favorite bar the 331 club is going balls out with weekend long of festivities assembling the some of the local music scene's best bands. Kicking things off on Friday night are Daughters of the Sun, Sicbay, and France Has The Bomb. Saturday, beginning at noon and running all the live long day will be Lookbook, Mystery Palace, One For The Team, Skoal Kodiak, and Lucy Michele & Velvet Lapelles. Moving the party inside at 9pm, All the Pretty Horses and Luther the Devil will wrap things up. Sounds like a pretty spectacular bash to us!
BONUS: Our pals at Vita.mn have commissioned local artists Marshall LaCount and Tynan Kerr to create a 12-panel mural that will cover the University Ave wall of the 331 Club where it will stand for the year until next Art-a-Whirl! Stop by during the day on Saturday to see the artists creating their masterpiece, live!
CLICK THE IMAGE FOR THE 331 CLUB SITE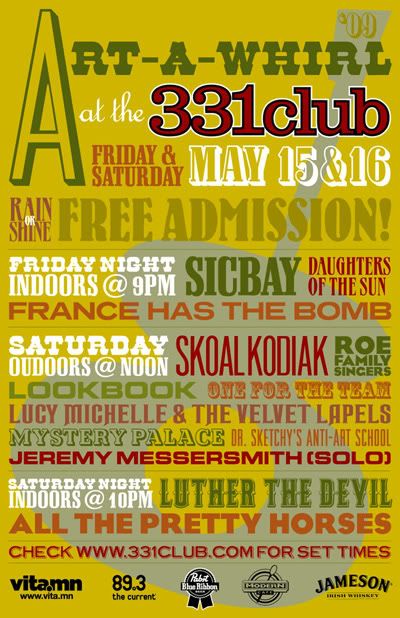 FRIDAY MAY 15TH
Solid Gold w/ Lookbook
@ First Avenue
701 1st Ave N
Minneapolis
8pm / 18+ / $10
So this post is not exactly Art-A-Whirl related but we just can't help but give mad props to one of our fave local bands who are on their way to top! Like a rite of passage into the big leagues, Solid Gold will play their first ever headlining show at the big daddy of local clubs, First Avenue this Friday night with openers Lookbook. Poised for a national breakthrough, electro-pop trio Solid Gold continues to ride high on the wave of success brought by the release of their debut album Bodies of Water. See them rock out the tunes you've been humming along to on the Current, and be a part of this truly exciting local happening. And if you're still on the fence, their sexy cover of Chris Isaak's Wicked Game should be reason enough to get you in the door.
Hey, we're so excited we're giving away 2 pairs of tickets to the show! Send us your favorite Solid Gold experience or story about the band and not only will you get on the old guest list, we'll also publish your tale right here on ye olde L'etoile blog next week! E-mail kate@letoilemagazine.com with your story AND your e-mail and phone number to be entered to win. Winners will be contact early Friday afternoon.
BONUS: Don't forget to hop up to the VIP after the show for Honeymoon, providing you with party rockin' beats to dance until the wee hours of the night. RSVP for a $3 admission.
CLICK THE IMAGE FOR THE SOLID GOLD MYSPACE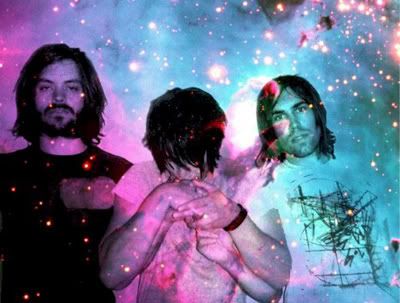 BUILDING SPOTLIGHT: Q.ARMA BUILDING
@ 1224 Quincy St. NE
(Broadway & Quincy)
Northeast Minneapolis
Friday 5 p.m. to 10 p.m.
Saturday Noon to 8 p.m. (Movies and bonfire after dark)
Sunday Noon to 5 p.m.
The always-rockin' Q.arma Building boasts 30 artists, spanning 3 floors! See sculpture, woodcarving, painting, drawing, photography, ceramics, architecture, and more. Stop in to see our pals at Altered Esthetics Gallery, where the "I Heart Northeast" show is currently on display, or head up to the second floor to score a limited edition screen printed "Minneapolis" shirt from Anthem Heart. Live music will rock the parking lot all day on both Friday and Saturday, including some of our local faves Quist and the Hats (Friday 6:15pm) and The Nightinghales (Saturday 5:45pm). See live bronze casting by Yarbi Design in the yard on Saturday from 1 p.m. to 2 p.m. and 3 p.m. to 4 p.m.; or see woodwork artist Kevin Showell do a live chainsaw carving from 2 p.m.. to 3 p.m. on Saturday. Stick around after dark on Saturday night for movies projected on the wall in the yard, grilled treats and a raging bonfire.
CLICK THE IMAGE FOR THE Q.ARMA SITE
Print of Q.arma Building by Adam Turman


SATURDAY MAY 16TH (THROUGH SUNDAY)
Svedberg Studio
@ 3359 Tyler Street NE
Northeast Minneapolis
Saturday Noon to 8 p.m.
Sunday Noon to 5 p.m.
This off the beaten path must-see is not a gallery, nor is it a warehouse art studio — it's the home of artist Laurie Svedberg. One of the most bright and sassy ladies we've had the pleasure of meeting, Svedberg's home mirrors her colorful personality to a T. This story-book property is surrounded by greenery and eccentricities that scream ART LIVES HERE, loud and clear. Filled with a myriad of murals, hand painted furniture pieces and odd ball objects de art, this unique spot and its inhabitant are one of a kind, and definitely worth the short trek off beyond the Art District's borders.
CLICK THE IMAGE FOR THE SVEDBERG STUDIOS SITE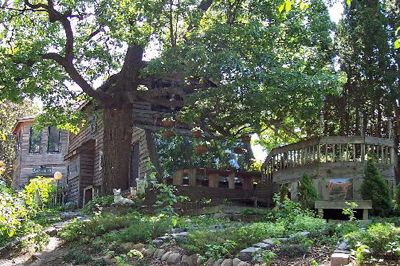 SATURDAY MAY 16TH
PICTURES/ FILM/ SOUND
@ Stephanie Colgan's Studio
Casket Art Building
681 17th Ave NE, Studio 115
Minneapolis
11am-4pm / Free
The Pictures/ Film/ Sound exhibit is exactly what the name implies – a multimedia exhibit featuring photos by Stephanie Colgan and Edison High School students, a film screening of animated shorts, and live DJ set from Estate, plus performances from Aby Wolf and The Idle Hands. Feel free to browse the other Casket studios including a "Sculpting with Chemistry" and Dollmaking demonstration in the Carriage House, but be sure to stick around. The Casket Arts Silo Outdoor Rock Show starts at 8pm with sets from local bands Poor Weather Club and Marvelle.
CLICK THE IMAGE FOR THE STEPHANIE COLGAN SITE


SATURDAY MAY 16TH
Freight Sessions
@ Historic Thorpe Building Freight Elevator
1618 Central Ave NE
Minneapolis
Saturday 12-8pm / Free
The Historic Thorpe Building brings a whole new meaning to elevator music. Since Art-A-Whirl began, the Thorpe Building has presented local singers in their freight elevator. This year the tradition continues with a variety of diverse performances presented by founder Mean Larry, beginning at noon on Saturday and continuing all day. Seating is limited but the sound carries throughout the building, so while you are buying art you can hear folks like Slim Dunlap, Robert Wilkinson, Craig Teiken, Stacy K, Alicia Corbett, Molly Maher, Gabe Barnett, Mean Larry and more.
Can't make it? Freight Sessions Radio Show can be heard Sunday May 10th 6pm on KFAI 90.3 / 106.7fm, hosted by Mean Larry with very special guest Stacy K performing in the studio, as well as performances recorded in the freight elevator.
CLICK THE IMAGE FOR THE THORPE WEBSITE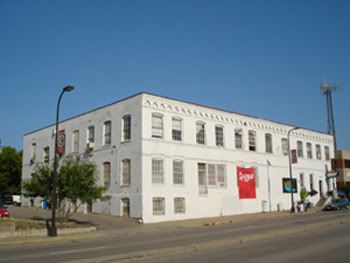 SATURDAY MAY 16TH
Grumpy's NE Art-A-Whirl Party
@ Grumpy's NE
2200 4th St. NE
Minneapolis
Noon – 10pm / Free
There's nothing like a pre-bash of liquor and local tunes to get you in the mood for a night of Art-A-Whirl-ing. Join NE hot spot, Grumpy's as they celebrate AAW the best way they know how – with an all-day party! Featuring a neighborhood barbecue and a live, "artsy" musical showcase with sets from Guzzard, Gay Witch Abortion, Awesome Snakes, Lady Hard On, Bastard Saint, and tons more. Today's shindig is guaranteed to get you pumped for arting!
CLICK THE IMAGE FOR THE GRUMPY'S SITE


SATURDAY MAY 16TH (THROUGH SUNDAY)
Big Shots
@ The Lab
Thorp Building
1620 Central Ave. NE, Suite 130
Minneapolis
Noon-8pm / Free
Eric Recktenwald knows that to make a big impact sometimes you need to stop, collaborate and listen. For this exhibit, Recktenwald (owner of the digital imaging/ print studio, The Lab), has elicited the help of 20 of the top local photographers to create an exhibit of photographic prints that are as largely noteworthy as they are in literal size. Displayed on paper, canvas and metal, the prints will range from 30"x40" to 60"x90" and feature many never-before-seen images. The exhibiters include Tom Arndt, Laura Crosby, Mike Dvorak, Vance Gellert, David Goldes, Stewart Klipper, Colin Kopp, Chris Larson, Anthony Marchetti, Scott Nedrelow, Justin Newhall, Steve Ozone, Josh Quigley, Paul Shambroom, Mickey Smith, Sean Smuda, Alec Soth, Angela Strassheim, Katherine Turczan, JoAnn Verburg. Yes, REALLY. Can't get down to The Lab tonight? The studio will be open to the public on Sunday as well, from noon to 5 p.m.
CLICK THE IMAGE FOR THE LAB SITE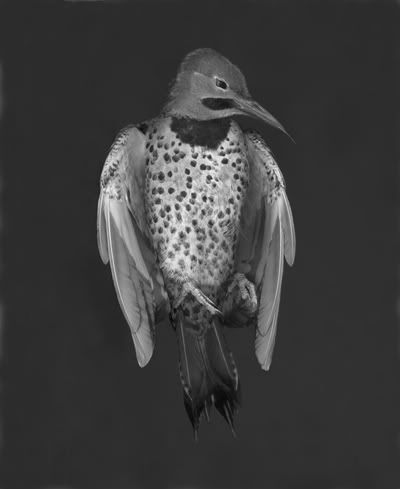 SATURDAY MAY 16TH
Rock Show and Live Art
@ Casket Arts Building
681 17th Ave NE
Minneapolis
8pm / Free
Local bands Poor Weather Club and Marvelle rock the Casket with their electric violin, bass and drums while canvas painter Linnea Doyle makes live art. Real! Live! See it here!
EXTRA: The Casket Arts Building, which houses dozens of artists, will also be open to the pubic throughout Art-A-Whirl Weekend!
CLICK THE IMAGE FOR THE CASKET ARTS SITE


SATURDAY MAY 16TH
IMAGO
@ Rogue Buddha Gallery
357 13th Avenue NE
Northeast Minneapolis
Saturday Reception 9 p.m. to 2 a.m. / Free
Open Regular AAW hours through the weekend
The Rogue Buddha and l'étoile magazine invite you to celebrate Art-A-Whirl with us! Saturday's reception will feature delicious food from Chowgirls as well music from Michael Cina and jamespatrick. As the Rogue Buddha Gallery celebrates its 10th year of business, we are proud to sponsor this exhibit of three artists whose work captures the spirit of the RBG and whose artistic maturity, not unlike the Rogue Buddha itself, has come to fruition. See the amazing work of Michael Thomsen, Kyle Fokken, and gallery owner Nicholas Harper — three of our absolute favorites!
Sponsored by l'étoile magazine
CLICK THE IMAGE FOR THE ROGUE BUDDHA SITE


SATURDAY MAY 16TH
Let's Dance
@ Red Stag
509 1st Avenue NE
Minneapolis
11pm / 21+ / Free
There's plenty for you to do this Art-A-Whirl weekend, but after a long day of bustling around Northeasy, take a load off at the Red Stag for Familia Skate Shop's monthly throw-down Let's Dance. You know the deal – Millions Billions and Tendercakes will be holding down the tables all night, playing all your favorite crunk hits. So tell a friend to tell some friends to come down and get down. Expect food and drink specials dancing, singing, high-fiving, kissing and general shenanies.
BONUS: Head down to the Stag early for an Art Car workshop in the parking lot!
CLICK THE IMAGE FOR THE RED STAG SITE


ART-A-WHIRL BUILDING SPOTLIGHT: CALIFORNIA BUILDING
It's hard to imagine the NE Arts District as anything other than the central and respected hub of the local art scene, but before the plethora of studios popped up, there was a building that started it all – the California Building. A former grain mill turned studio space, the California Building is known as the first art building in the NE neighborhood and has been home to a diversified group of local artists since the 1980s, including the 80 artists who currently call the building home.This weekend make the historic California Building a necessary stop on your Art-A-Whirl tour! Some highlight's this year at the Cali Building include the much buzzed about Walker Teen Art Council's "Don't Sleep On It" 24-Hour art making extravaganza; visiting artist Sean Smuda, whose commissioned portraits for Minneapolis Mosaic will make their debut this weekend; and any and all of the numerous artists of all shapes, sizes, and mediums that you'll find while exploring this historic arts building!
CLICK THE IMAGE FOR THE CALIFORNIA BUILDING SITE


SUNDAY MAY 17TH
Gastro Non Grata
@ The Modern Cafe Parking Lot
337 13th Ave NE
Minneapolis
11am-6pm / Free
It's Sunday Funday, Art-A-Whirl style! The insanely popular food and music themed affair Gastro Non Grata will be invading the parking lot behind the Modern Café for a day long celebration packed with pig roasting, art showing, beer drinking, rocking out and getting tan! The musical entertainment will include the symphonic stylings of Les Ourses, the Modern Café's own That's What You Get, followed by the brooding noise of Hunting Club. To put a rock cherry on the top of this music sundae, hard chargin' Private Dancer and free-wheeling Chooglin' will see if they can't muster up a noise complaint or two before the sun sets. Two Brothers Brewing will be on hand to sample beer with the crowd, and St. Paul wine distributor Bourget Imports will supply the wine to pair with the swine, making this event a true grand finale to the biggest and best Art-A-Whirl weekend yet.
CLICK THE IMAGE FOR GASTRO NON GRATA MYSPACE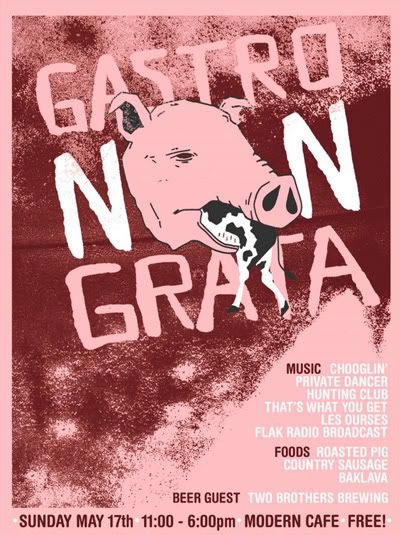 SUNDAY MAY 17TH
Sean Smuda and Jacob Gossel Opening
@ Barbette
1600 W. Lake Street
Uptown Minneapolis
3 p.m. to 6 p.m. / Free
If you feel the urge to escape Northeast, and are in the mood for french fries with a side of awesome art, head to Uptown's Barbette! Hot photog Sean Smuda and graf maestro Jacob Gossel share the wall space this month, so get thee to Barbette for a relaxing afternoon of complimentary apps, good conversation, and a few glasses of vino with the artists and their lovely curator, Teri Anvid!
CLICK THE IMAGE FOR THE BARBETTE SITE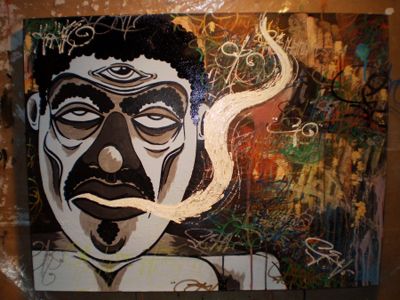 ART-A-WHIRL FASHION GUIDE
We all know MNfashion Week ended a few weeks ago and that Art-A-Whirl is all about the art. But here at l'étoile, we like to think that the things we wear can be art, too. Northeast happens to be home to many of the Twin Cities' artwear designers. We've compiled a list of l'étoile-approved clothing and jewelry designers opening their studios this weekend for your convenience. Happy shopping!
Clothing
Cat House Fashions
Cat House Fashions will be hosting an open house and fashion show featuring their one-of-a-kind, DIY-styled clothing and accessories at their Quincy Street studio. The line's designers Greta Herman and Saira Huff are longtime staples of the underground fashion community, but occasionally appear above the radar. The duo joined up in 2006 when Herman began helping Huff sew the tour costumes for FAGGOT (in which Huff plays bass), and the rest was history.

Fashion show: 7 p.m. Sat. Quincy Street Studios, 1330 Quincy St. NE. 4th floor, Mpls.
Anthem Heart
L'etoile BFFs Anthem Heart have been experimenting with live screen-printing their original t-shirt designs over the past year, and now they're taking it a step further. You can select your own print, t-shirt style and color, and for a mere $8-15, you can have your own one-of-a-kind Anthem Heart shirt. Better yet, you can bring in a shirt of your own and they'll print on it for 5 bucks. Anthem Heart collaborator Forest Bash will be showing his latest art and DJ Real Talk Radio will provide stylish beats throughout the weekend.
Q.arma Building, 1224 Quincy St. NE. #225, Mpls. www.anthemheart.com

Betty Scagnetti
Betty Scagnetti's line of one-of-a-kind clothing made from artfully-combined, re-purposed vintage fabrics will be selling her spring line at her Northrup King studio. The designer currently sells her line at Design Collective and her etsy shop, but expect to run across some pieces that aren't available anywhere else.
Northrup King Building, 1500 Jackson St. NE. #350, Mpls. www.bettyscagnetti.com
Foat Design
Find hand-knit yoga wear, casual tops and dresses by eco-friendly line Foat Design. Owned by sisters Kaja and Zoe Foat, both trained yoga instructors, the line has been evolving since its earliest inception in 2002. Since then they've sold their line at Design Collective and added a more sophisticated off-shoot of their line, Foat Couture.
1828 Marshall St. NE., Mpls. www.foatdesign.com
Rewind Vintage
The recently-expanded Rewind Vintage will be open per usual, as well as participating in the annual Johnstock! flea market this weekend. Owner Sarah Hoese tells us that the store will be having its grand opening soon, but in the meantime be sure to swing by and check out their amazing selection of vintage accessories and expertly-edited '70s and '80s-era clothing.
2829 Johnston St. NE., Mpls. 612-788-9870 www.rewindminneapolis.com

Accessories & Jewelry
Carly Stipe
Duct tape accessories may not seem like anything new, but chances are that Carly Stipe was making them before anyone else. The designer, who once created prom looks out of duct tape for an Anna Lee-produced fashion show at the Walker, will be selling her eclectic assortment of duct tape accessories throughout the weekend, including brightly-colored handbags, clutches, wallets, and hair accessories.
Northrup King Building, 1500 Jackson St. NE. #386, Mpls., www.carlystipe.com
Karin Jacobsen & Adrienne Grahn
Jewelry designer Karin Jacobson and handbag designer Adrienne Grahn – both of whom were featured in Voltage 2009 – are opening their studios up to sell their latest offerings, including their Voltage lines as well as the fringed leather cuffs, necklaces and anklets Grahn created for the recent kjurek couture solo show.
Northrup King Building, 1500 Jackson St. NE. #288, Mpls., www.adriennegrahn.com www.superkarin.com

EC Design Studios
To get all your jewelry needs covered in one studio, check out the open house of five local metalsmiths. Emily Johnson of EC Design, Britta Lynn Design, 3 Jäg Design, Susan Frerichs Metalworks, and Rare Bird Jewelry will be selling their metal-cast, organic-inspired designs. Johnson tells us she'll be taking 30-50% off her discontinued items, in addition to showing her latest collection.
Northrup King Building, 1500 Jackson St. NE. #435, Mpls. www.ecdesignstudios.com
Rox Boutique
A studio opening at Robyne Robinson's jewelry studio is always full of a who's-who of the Minneapolis arts crowd, so Art-A-Whirl should be no different. She'll be selling her latest pieces for her line ROX, which includes the jeweled cuff bracelets she created for Voltage and necklaces, bracelets and earrings made from bold, semi-precious stones and sterling silver.

California Building, 2205 California St. NE. #403, Mpls. www.roxmpls.com
Johnstock Crafters
Finally, be sure to swing by the aforementioned Johnstock! for its flea market-style craft fair, which features handmade goods from 40+ crafters and designers. Our top picks: Lilluxe's bold baubles crafted from vintage jewelry into new and modernized combinations, and hand-knit sock monkey-adorned kids stuff by Hazel and Melvin's Room – it's so cute we want to buy the stuff even though we don't have kids of our own! (10 a.m.-7 p.m. Sat. 10 a.m.-3 p.m. Sun. Free.
2800 block of Johnson St. NE., Mpls. www.myspace.com/northeastjohnstock

Art-A-Whirl hours: 5-10 p.m. Fri., Noon-8 p.m. Sat., Noon-5 p.m. Sun.
FOR MORE GENERAL INFO ON ART-A-WHIRL VISIT WWW.NEMAA.ORG