MNFashion Week is still weeks away but the scene is already putting on its game face. Figure out what you're doing THIS weekend; with everything from cool art exhibits to readings, dance parties to legendary punk accordionists—we've got you covered.
BONUS: If you're in the mood for a laugh, check out our hilarious April Fool's Day blog, where we poke fun at some of our favorite Minneapolis scene staples.
xo-l'étoile

Photo by Kate Iverson/Styling by Eclecticoiffeur


THURSDAY APRIL 2ND
Grey Gardens
@ Ordway's McKnight Theatre
345 Washiongton St.
Saint Paul
8pm / $40-45
The once underground cult classic documentary of two indomitable women, Edith Bouvier Beale and her daughter "Little Edie," comes to life on the stage in the Park Square Theater/Ordway production of Grey Gardens. Every family has one, that embarrassing, eccentric relative, whose spit-fire personality you can either embrace or keep hidden. In the case of Jacqueline Kennedy Onassis, her aunt and cousin, the infamous Edies, became the gossip du jour in the 1970's. Headlines swirled around the once prime holders of a glamorous 1940's East Hampton estate who became reduced to cat-hoarding, squalid recluses. Channeling a young Bette Davis, with expressive eyes and charming demure, local actress Christina Baldwin stars in this two part musical set in the eras pre and post fame. Grey Gardens is at times humorous and other times heartbreaking. A look at fading glory and the sacrifices and psychological web of the family unit, with a musical score that plays the strings of laughter, cynicism and nostalgia. Runs through May.
CLICK THE IMAGE FOR THE ORDWAY SITE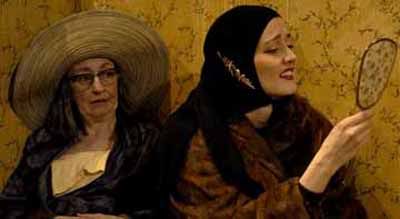 THURSDAY APRIL 2ND
Bouncer Fighter/Bla Bla Blacksheep/Gerald Prokop/Telepathos
@ The Hexagon Bar
2600 27th Ave S
Minneapolis
9pm / Free
If anything, tonight's show at the Hex is going to be high energy. Bla Bla Blacksheep, a trio of charmers who play wistful tunes perfect for daydreaming or dancing, kick it off; Gerald Prokop's perfect-for-a-rainy-day catchy songs are tested by a full band; and Anti-Civ's Bouncer Fighter just plain rocks it.
BONUS: l'étoile's own Lacey Pripc-Hedtke plays in Bla Bla Blacksheep, so you know it's good!
CLICK THE IMAGE FOR THE HEX SITE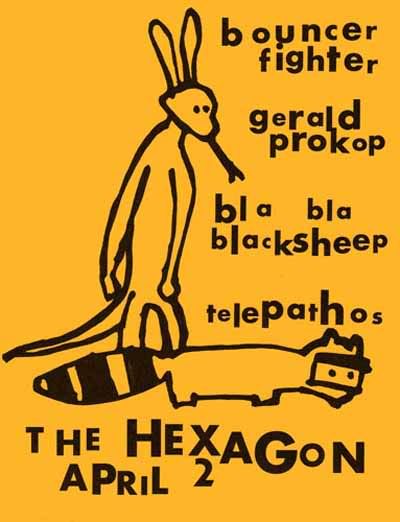 THURSDAY APRIL 2ND
Sin and Guilt/Holy Land
@ Minneapolis Institute of Arts
MAEP Gallery
2400 Third Ave S.
Minneapolis
7-9 PM/ Free
The two artists involved in the Minnesota Artist Exhibition Program's newest installation have set out to make "once a upon a time" personal. The exhibits of Sara Belleau and Nancy Robinson take the viewer to a folklore land where biblical texts become ubiquitous vernacular and a girl's memory can be transformed into a fantastic fable. In Holy Land, Sara Belleau mixes photography with lively, hand-painted backgrounds animating the ancient stories from the Bible, Toran and Qur'an into elaborate tales that explore their social/political meaning in modern terms. Memories transform into a story board of vivid color and humor as Nancy Robinson embodies iconic characters in the surreal self-portrait paintings that comprise the exhibit, Sin and Guilt. Join the artists tonight for a "mythical" opening reception of the exhibit which runs through May 31st.
CLICK FOR THIS ART EVENT AND MORE AT MPLSART.COM


THURSDAY APRIL 2ND
Hot Roxx
@ Clubhouse Jager
923 Washington Avenue N
Minneapolis
10pm / Free
Join the Hot Roxx crew for tonight's super glam Ladytron after party at the Clubhouse! Resident DJs Jen and Nick are joined by special guests Annie of Awesome Snakes and Tracy of the Psychedelicates, ensuring that your evening will be choked full pure rock n' roll. You know how they do: Bowie, Pretenders, New York Dolls, Roxy Music and the best (and worst) of the 70s and beyond. Always a great soundtrack for vampin', drinkin' and flirtin', if you ask us.
CLICK THE IMAGE FOR THE HOT ROXX MYSPACE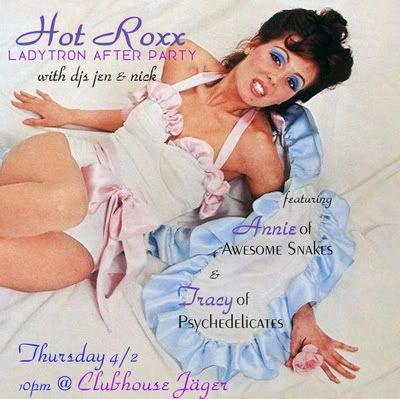 VOLTAGE FASHION PICK: MAX LOHRBACH
Max Lohrbach has thoughtfully designed his Voltage 2009 collection for all the interesting ladies he's met this year. Awww…He must be meeting some pretty incredible women, because his new line includes hand painted fabrics, embellishments, and the impeccable construction we've come to expect from Max. His love of the old seeps into his work; imagine fine couture vintage combined with historical costume dress, strained through a fairytale.
CLICK THE IMAGE FOR THE VOLTAGE SITE
Image by Jayme Halbritter for l'etoile/mplsart.com/Dress by Max Lohrbach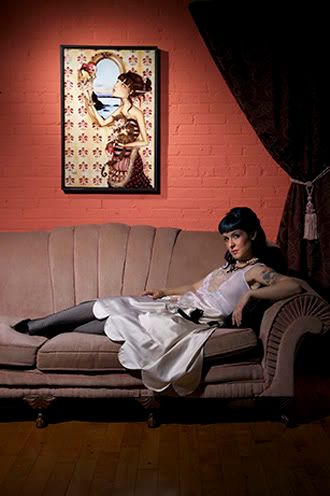 FRIDAY APRIL 3RD
Scion's Installation 5
@ Rogue Buddha
357 13th Ave NE
Minneapolis
7-11 PM/ Free
Rogue Buddha Gallery rolls out the red carpet tonight for Scion's Installation 5 Art Tour. Asked to create pieces of work based on the theme, "self-portrait," the artists and painters involved in Installation 5 (making stops in only 9 cities across the country) have taken common concept and given it a fresh reinterpretation. Tonight's reception promises to be a mixer of art, music and visuals. Enjoy a set from DJs Jonathan Ackerman and Millions Billions and feast your eyes on stunning video art from El Yem, Ian Lynam, Peter Glover and Something In the Universe while touring the work of 20+ emerging and established artists, including Buddha's own, Nicholas Harper.
CLICK FOR THIS ART EVENT AND MORE AT MPLSART.COM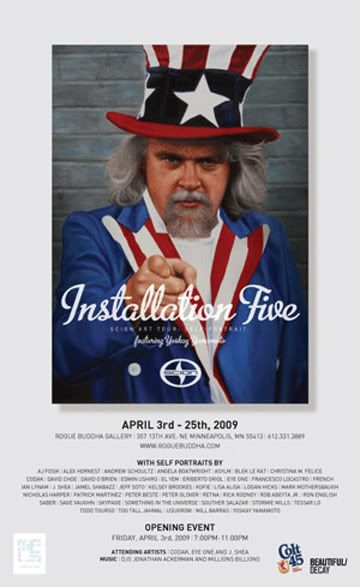 FRIDAY APRIL 3RD
Coloring Outside the Lines II
@ Altered Esthetics
1224 Quincy St. NE
Minneapolis
6pm-10pm/free
Everyone's always up in arms about "family values". What about the children? (in a shrieky voice) This month, Altered Esthetics exhibits children's art about their families, their idea of family and the ties that bind. We're hoping to see some of the artists at the opening tonight. Talk to a kid about their art, get their take on families, and meet some mini-artists that can seriously be defined as emerging. Through April 25th.
CLICK FOR THIS ART EVENT AND MORE AT MPLSART.COM


FRIDAY APRIL 3RD
Solid Gold/Yer Cronies/Switzerland
@ The Turf Club
Uni & Snelling
St. Paul
9pm / 21+ / $8
In case you haven't heard, our own hometown electro-psych rockers Solid Gold have been pegged to open The Walker Art Center/The Current's Rock the Garden extravaganza this June! They've been blowing up everywhere, so such a gig comes as no surprise. Tonight's intimate show at the Turf is a good opportunity to catch the boys in action before hordes of stampeding fans beat you to the front row. Openers Yer Cronies and Switzerland ensure you'll be primed and ready for dancing, and the Turf's signature stiff drinks will help ease the situation along as well.
CLICK THE IMAGE FOR THE SOLID GOLD MYSPACE
Photo by D. Back


FRIDAY APRIL 3RD
Hotel
@ Kitty Cat Klub
14th & 4th
Dinkytown
10pm / Free
Jonathan Ackerman's monthly dance party, Hotel, welcomes newcomer DJ Niiko to the decks. Niiko's first time playing out pops off with a bang at this always-crazy dance riot. According to Ackerman, it's going to be awesome, "I've seen him in action and he's got what it takes, so come on out and heckle him, cheer him, and buy him drinks." And what Ackerman says, goes.
CLICK THE IMAGE FOR MORE INFO


FRIDAY APRIL 3RD
Get Cryphy
@ First Avenue VIP Room
701 1st Ave N
Minneapolis
10pm/$3/18+
It's Jimmy 2 Times' birthday! Which means he's an Aries, and THAT means the party will be wild! No holding back tonight on the dance floor, ok? Give those DJs a run for their money. Scott Matelic is in town from Indianapolis to spin for ya'll, and of course Plain Ole Bill, DJ Fundamentalist and the man of the hour, Jimmy 2 Times, will keep your panties in a bundle during this hot, hot dance party.
CLICK THE IMAGE FOR THE CRYPHY MYSPACE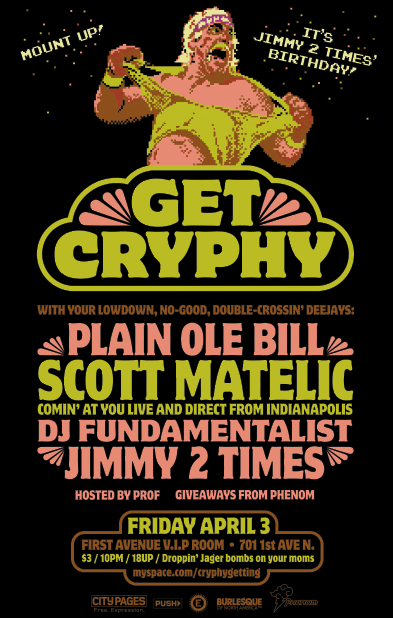 COOL LINK: FINE WHINE BLOG
Sacre Bleu! A wine blog founded on unpretentiousness? No, it's not an oxymoron it's the basis of local blog Fine Whine. With features like "Should I Spit or Swallow?," it's clear this blog is quirky and clever link with topics a bit cheekier than those gossiped about during your mother's wine tasting parties. In the spirit of the wine label, Sacre Bleu, hailing from the Southern France region Languedoc, where art is abundant and wine is a muse, Fine Whine merges pop culture — youtube videos and twitter links — with wine related facts, tidbits and details on Sacre Bleu sponsored parties. With the breeze of a click you can get schooled on the body of fine wine while still in your pajamas. Now, that's what we like to hear!

CLICK HERE TO CHECK OUT THE FINE WHINE BLOG!
BONUS: Check out the Sacre Bleu ad campaign featuring music from The Alarmists and White Light Riot live from the Varsity Theater!

SATURDAY APRIL 4TH
Reads Like The Paper
@ Midway Contemporary Art
527 2nd Ave SE
Minneapolis
7pm-9pm/free
New York artist Patricia Esquivias has been working on a series of short videos since her MFA days at California College of the Arts. Spanning 3+ years of videos, her work brings up melancholy and the details of the day-to-day. Minneapolis mixed media artist Isa Newby Gagarin shows as well. Through May 30th.
CLICK FOR THIS ART EVENT AND MORE AT MPLSART.COM


SATURDAY APRIL 4TH
Richard Barlow
@ ARThouse
117 1st Ave NE
New London, MN
5-9pm / Free
A few times a year, the private home of artists Andrew Nordin and Lisa Bergh opens up to become ARThouse, an unlikely space designed to showcase contemporary artists of the Midwest. Tonight, ARThouse invites you to view the works of art educator, musician, writer and artist, Richard Barlow. Barlow's digitally designed multiples and paintings are both locally and nationally known, with an aesthetic nod to the nature of Minnesota. While there, don't miss a chance to check out the intensive, eclectic art collection Andrew and Lisa's ARThouse boasts. And while this art destination may be a bit off the beaten path, it's definitely an excursion worth taking.

BONUS: Get there early, as the first 15 people through the door get a free arty door prize, a ARThouse tradition!
CLICK THE IMAGE FOR THE ARTHOUSE SITE


SATURDAY APRIL 4TH
Artcrank
@ One On One Bicycle Studio
117 Washington Ave N.
Minneapolis
7pm-Midnight / Free
We, like most of MPLS will unabashedly admit, heart a well-designed, eye popping poster, especially if it's local. Tonight, Artcrank returns to MPLS for its third year with a show of bicycle-inspired, original poster art for your viewing and purchasing pleasure. Artcrank 2009 features art work from l'étoile friends, Aesthetic Apparatus, Squad 19, Sevnthsin, and many more. Munch on snacks from Chowgirls Killer Catering; sip down free brewskies contributed by Rock Bottom Brewery; and enjoy tuneage by Keston and Westdal and DJ Millions Billions. Don't forget to enter a drawing for a special edition canvas bag – something no biker can have too many of – courtesy of Minnehaha Bag Company. We also hear pretty ladies and floral design dynamos Bastian + Skoog have a special surprise up their green sleeves, and that alone is reason to attend this party.
CLICK FOR THIS ART EVENT AND MORE AT MPLSART.COM
Poster by Artcrank artist Steve Tenebrini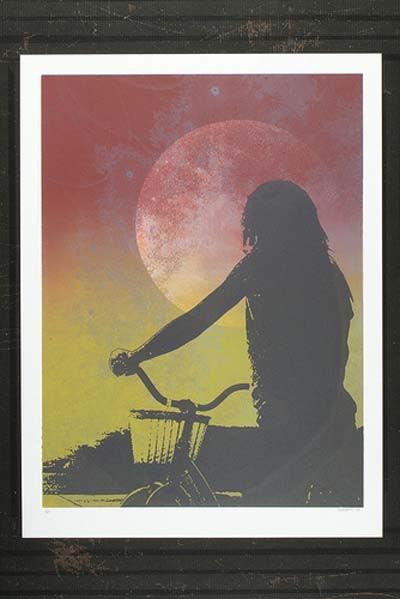 SATURDAY APRIL 4TH
Floating Worlds
@ Soap Factory
518 Second St. SE
Minneapolis
8pm-10pm / Free
In response to the latest gallery installation which features air-filled sculptures, Almost Nothing, from Clive Murphy, TalkingImageConnection and the Soap Factory present, "Floating Worlds." A reading event where Murphy's animated art is replaced by the oral word suspension of writers. Tonight's performers, Andrea Jenkins, Jen McClung, Meghan Maloney-Vinz, Heidi Rivers, Andy Sturdevant and Saymoukda Vongsay will share their work of poems and stories. Although both names could suggest a semi-ethereal theme, we promise an evening of tangible concepts.
CLICK THE IMAGE FOR THE SOAP FACTORY SITE


SATURDAY APRIL 4TH
John Grider Art Opening
@ 501 Club
501 Washington Ave S.
Minneapolis
8pm / Free
It's official. Much to our excitement, 331 Club owner and art scene legend John Oulman and his son Jarret have returned with a sister location to the popular NE district venue. Bringing more numbers and, of course, more nightlife, the 501 Club promises tantamount, no cover parties with more performers than ever, as well as a larger menu and an expanded space. This laid-back, lack-of-label bar should be a nice pit stop for downtown dwellers, art lovers, and music scenesters alike. Tonight's art reception for local artist and graffiti guru, John Grider is a petit preview of the club's atmosphere, set to officially open for business Monday, April 6th. We're calling it: the 501 might just be our new fave spot!
CLICK FOR THIS ART EVENT AND MORE AT MPLSART.COM
"Angel Baby" painting by John Grider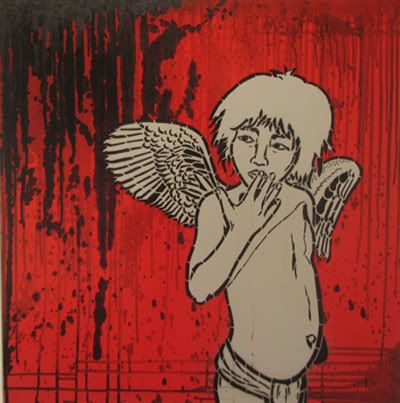 SATURDAY APRIL 4TH
Jason Webley Legendary Punk Accordionist
@ Bedlam Theater
1501 S 6th St.
Minneapolis
10:30pm / suggested donation
When an accordionist has a loyal following in Russia, they must be something special. Jason Webley's wild squeezebox playing is sure to inspire a polka dance or waltz tonight. He's theatrical, he's a character, he's well traveled, he's produced a 7" record with Amanda Palmer from The Dresden Dolls about conjoined twin sisters both named Evelyn. Local bands The Painted Saints and The Bewitched open.
Twitter Gossip: Wildly popular fantasy writer, Neil Gaiman, just tweeted that he is going to see this show! Gaiman and Webley in one room may just make our heads explode and our shirts fly off!
CLICK THE IMAGE FOR THE BEDLAM SITE


SATURDAY APRIL 4TH
Satisfied 2.0
@ Secret Location
www.uncensoredus.com
While the flier design definitely brings the LOLs, we're pretty sure this sweet lineup of techno powerhouses will bring the dance party. Featuring Portland's own drum n' bass guru SPL, DJ/Producer Kyle Geiger, Hardstyle DJ Paladin 6.0, and Drop Bass Network co-founder Jedediah along with 24 more sonic purveyors playing electro, breaks, hardcore, house, trance, acid, and any other style of techno jamz you can possibly imagine. Click the link below to decipher the secret location, if you dare! Neon wigs and bras are not required, though probably encouraged — it is a rave after all.
CLICK THE IMAGE FOR THE UNCENSORED US SITE