That's right, Twin Citians. Seize the day! We can already feel the excitement building as our creative cohorts begin to come out of winter hibernation—even our own seasonal depression is beginning to vacate the premises. This weekend, however, we suggest you think big! The world waits for no one, after all, and you're much too good looking to remain in hiding.
xo-l'étoile
Photo by Eric Eul for l'étoile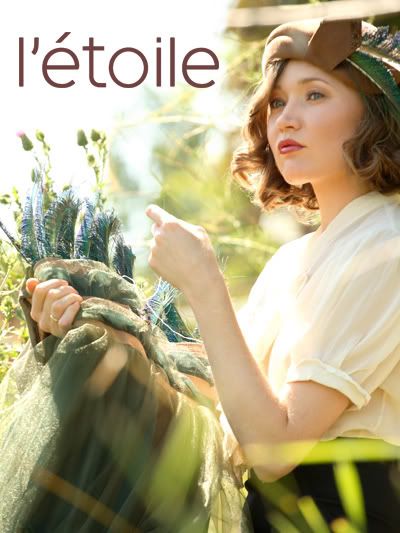 THURSDAY MARCH 26TH
Handsome Furs
@ The Entry
701 1st Ave. N.
Minneapolis
8pm / 18+/ $10
Freshly hailing from SXSW, Montreal-based, Sub Pop duo, Handsome Furs, strut their stuff on stage tonight for this Radio K sponsored show. With drum machines and repetitive electronic beats from Alexei Perry paired with the reverberating guitar fuzz and the familiar vocals of Wolf Parade's Dan Boeckner, the husband-and-wife team pull matrimony into realms of indie electronic and harness a sound Rolling Stone calls "a dingy version of the Cure rocking some hipster dive bar." While we wouldn't quite call The Entry a "dive bar," one thing's for sure; the Handsome Furs and guests The Cinnamon Band will definitely get the place a'rockin'.
CLICK THE IMAGE FOR THE HANDSOME FURS MYSPACE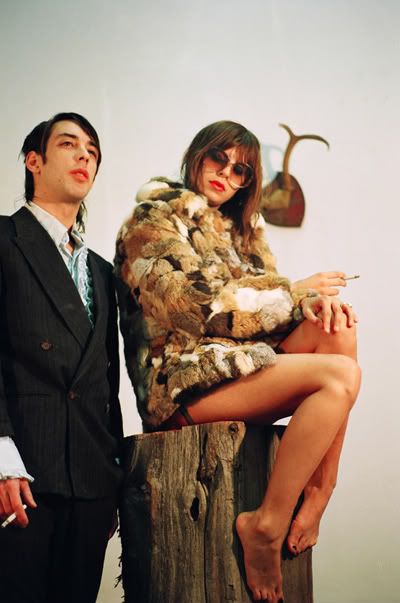 THURSDAY MARCH 26TH
Milkbagbrother & Ironbitchface
@ Hexagon Bar
2600 27th Ave S
Minneapolis
9pm / Free
This is bound to be quite a show! Not one, but two ambassadors bring good tidings from our Canadian neighbors to the north. Milkbagbrother's R. Kelly Trapped in the Closet-inspired songs are hilarious and Ironbitchface delivers black metal-punk-noise (doesn't Canada allow spaces in their band names?) Even more reason to go out tonight is Minneapolis's newest lounge band, Tropical Ambrosia Salad, and Bri from BFF's solo act, Bri and her Big Shirt.
CLICK THE IMAGE FOR THE HEX SITE


FRIDAY ART PICK: GWON OSANG

Korean Artist Gwon Osang makes delightfully creepy life-size sculptures using hundreds of photographic images to build up the surface appearance of the models – including their face, hair and clothes. Osang's unique process gives these brilliantly crafted figures both photo-realist and surrealist qualities that plays with the idea of scale and proportion, making ordinary objects look extraordinary. We loves it!
CLICK THE IMAGE FOR THE GWON OSANG SITE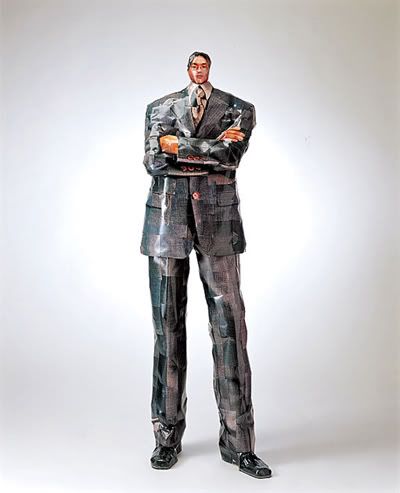 FRIDAY MARCH 27TH
A Raisin in the Sun
@ Guthrie Theater
818 2nd Avenue S.
Minneapolis
Times vary, Check website / $29-$53 (see ticket deal below)
The Guthrie and The Penumbra Theater Company have teamed up to bring the literary classic, A Raisin in the Sun, to the stage. A vibrant ensemble cast recreates the life and times of a family struggling to succeed in 1950's America. With big dreams and high hopes, the Younger family is conflicted over how best to use the $10,000 life insurance settlement from the estate of their late patriarch. Walter Lee's entrepreneurial aspirations, Benetha's education, and Ruth and Lena's dreams of living in a new home all come to a head when the check arrives. An inspiring, yet poignant tale of a hardworking African American family determined to build a happy, successful life for themselves in an era of repression, A Raisin in the Sun is an important note in American History. Thoughtfully cast, this production is filled with intense emotion, pride, and cleverly delivered good humor. A must-see Guthrie/Penumbra collabo endeavor, A Raisin in the Sun may just inspire you to appreciate the truly important things in life that much more.
BONUS: Special deal Alert! Tickets are $20 on Tuesday, Wednesday and Friday evenings! Call the Guthrie Box Office at 612.377.2224 and quote code "A74."
CLICK THE IMAGE FOR THE GUTHRIE SITE


FRIDAY MARCH 27TH
Amarcord
@ Lagoon
1320 Lagoon Ave
Minneapolis
Times vary / $9
Ah, youth. While in it, you can't wait to escape its restrictive grasp. When you're grown, you nostalgically long for its freedom and simplicity. Newly restored in 35 MM prints, Federico Fellini's Amarcord or "I Remember," is a satirical recollection of the famed director's own youth, growing up in 1930s provincial Rimini. A personal masterpiece, the film's carnivalesque setting portrays "daily life as a circus of social rituals" juxtaposed between an adolescent fantasy world of desire and naivety, and the realities of Fascist, pre-war Italy. Running for one week only, don't miss the "Best Foreign Film" Academy Award-winning classic that's known as the most intimate and gentle film Fellini ever made.
Visit the Landmark Theater website for show times.

FRIDAY MARCH 27TH
Project Project 2
@ Kitty Cat Klub
315 14th Ave. SE
Minneapolis
9pm / 21+/ $5
Project, Project: so nice they named it twice! The second installment of the multi-media concert Project Project from locals Nobot and Estate returns to the Kitty Cat Klub tonight featuring a dose of music, art, visual performance and, of course, dancing that will have you seeing double. Featuring Estate's CD release party, electro-charmers Ghost in the Water, noise guru Nobot, live visuals by Beeple, and dual sets from DJs Gigamesh and Bach. For an assured good time, follow the event's tagline request: Look, listen, dance, repeat.
CLICK THE IMAGE FOR THE KITTY CAT KLUB SITE


FRIDAY MARCH 27TH
Bomp! 2.0
@ Bedlam Theater
1501 S. 6th St
Minneapolis
10pm / 18+ / $5
Providing plenty of bumping beats for booty shaking, host Wes Winship of BRLSQ has a knack for bringing sexy back. With a music menu that includes the hottest record slingers in the 612, we're sure Bomp! will continue to cause a stir for some time to come. DJ's Tendercakes and Mill$ Bill$, Moon Goons, Plain Ole Bill & Jimmy 2 Times, Rambo Salinas of Hot Pants, Wes Winship, and Shannon Blowtorch will be rocking not one but two stages at the Bedlam. And when you sweat through your clothes (and we know you will), cool off on the Bedlam's awesome rooftop patio.
Sponsored by l'étoile magazine, of course!
CLICK THE IMAGE FOR THE BEDLAM SITE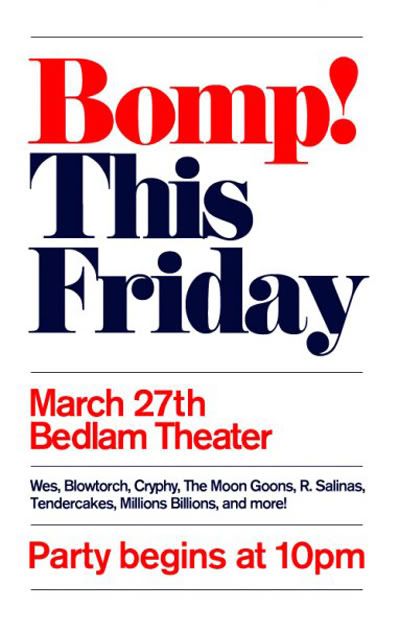 FRIDAY MARCH 27TH
Tattoo Art
@ Gallery 122 at Hang it
122 8th Street SE
Minneapolis
7-10pm / Free
Let's face it. Tattoos are hot. The art of ink on skin has been around since cave peeps were painting on stone canvases. This Friday, Gallery 112 @ Hang It invites the public to the opening of Tattoo Art, an exhibition from the artists of Uptown Tattoo. Come check out this unique chance to see paintings and drawings done by self-taught artists Brandon Holt, Zack Kinsey, Dan Kytola, Nic Skrade, Tom Strom, and Jon Sweet as they show off their skills on surfaces other than human flesh.
CLICK FOR THIS ART EVENT AND MORE AT MPLSART.COM


FRIDAY MARCH 27TH
Faux Jean
@ 400 Bar
400 Cedar Ave S
Minneapolis
Pop revivalists Faux Jean have earned their position as one of the best bands in the Twin Cities the old fashioned way, by playing great live shows. Faux Jean's latest incarnation sees front man (and only consistent member) Matty Schindler with backup band the Port Wine Stains for a swingin, stompin good time at the 400. Joined by openers We Became Actors, Communist Daughter, and a special reunion set by Friends Like These.
CLICK THE IMAGE FOR THE FAUX JEAN MYSPACE
Photo by Vanessa Meade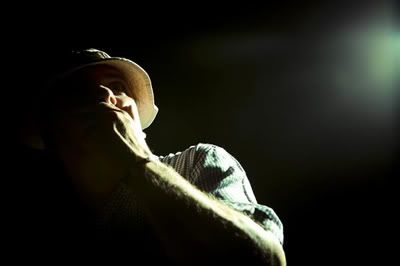 COOL LINK: ZEUS JONES
While most of the world was focused on the music aspect of SXSW, our friends at interactive design firms, Zeus Jones and Sierra Bravo, were participating in an environmental competition that started right here in MPLS. As winners of Microsoft's regional PhizzPop Design Challenge – where designers were asked to create an environmentally sound way to market technology on a worldwide scale – Zeus Jones moved onto the finals in Austin to compete against other regional winners from across the country. The challenge to "help the citizens of Austin live more sustainably using currently-available technologies," gave participants a 2 week project deadline to be presented in a seven minute live talk before the SXSW audience and a panel of judges. Inspired by the plethora of environmental and sustainability programs the city of Austin already undertakes, Zeus Jones developed their national winning concept, USEMORE, an idea involving a conceptual social networking platform designed to unite the community in sharing underused resources. Watch the video and give these sustainable geniuses some mad props! The more backing this idea has, the better likelihood that we can project it locally in the Twin Cities. Our personal opinion? Brilliant! Color us impressed.
http://www.zeusjones.com/blog/2009/zeus-jones-wins-phizzpop-nationals-at-sxsw/

Zeus Jones Phizzpop SXSW Finale from Zeus Jones on Vimeo.

SATURDAY MARCH 28TH
Aesthetic Apparatus 10-Year Anniversary
@ AA Headquarters
2251 Snelling Avenue
Minneapolis
Noon to Midnight (live music at 7pm) / Free
Amazing screen-print group Aesthetic Apparatus has been impressing the world with their artistic wit and colorful designs for 10 whole years! Join the boys at their studio space for an all-day celebration that includes a "scratch and dent poster super sale" featuring slightly defective poster prints of all shapes and sizes, priced at a mere 5 bones. For the more discerning collector, a sweet selection of AA's most coveted, rare prints will be up for bid in an all-day silent auction as well. Stick around until the sun goes down for a rockin' finale featuring local bands Awesome Snakes and The Deaths to make your evening complete.
CLICK FOR THIS ART EVENT AND MORE AT MPLSART.COM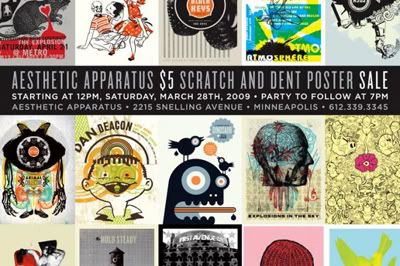 SATURDAY MARCH 28TH
Dirty Hands
@33Design Gallery
5704 W. 36th Street
Minneapolis
7 p.m. / Free
New galleries always perk us up, and newcomer 33Design has our full attention. Dirty Hands features a ridiculously awesome lineup of artists that represent the scope and talent of the Minneapolis art scene. Lay eyes on work by Rudy Fig, Deuce Seven, Steve Tenebrini, Give Up, Chris Krapohl, Danny Sigelman, Nate Szklarski, and gallery owner Erin Sayer. Local rockers Gay Witch Abortion and Self Sound Orchestra entice your ears while the artists one-up their own work by painting live.
CLICK FOR THIS ART EVENT AND MORE AT MPLSART.COM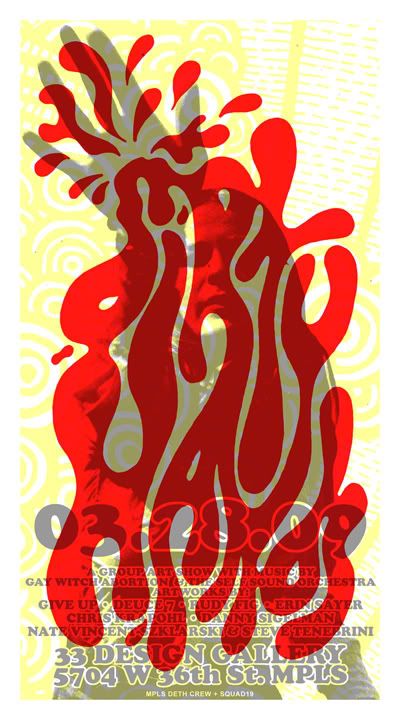 SATURDAY MARCH 28TH
Almost Homeless
@ First Amendment Gallery
1101 Stinson Blvd
Northeast Minneapolis
7pm / Free
Two years after opening their collaborative group show Almost Famous, artists Keiko Yagishita, John Grider, Isaac Arvold, and Eric Inkala return for Almost Homeless. Sharing numerous canvases, the artists each took a stab at re-tooling each others' distinctive designs, resulting in a vivid and imaginative collection of pop art masterpieces. While this group may still be on the road to fame and fortune, we have a feeling it's nipping dangerously at their heels. Snapping up one of these works is an investment well worth making!
For this art event and more visit mplsart.com

SATURDAY MARCH 28TH
Manifestation ft. Sage Francis
@ First Ave
701 1st Ave. N.
Minneapolis
8pm / 18+/ $13 Advance, $15 Door
The non-profit org Substance believes, much like we do, that arts, music and activism should go hand in hand. A continuation of the Ripple Effect started during the RNC, tonight's launch party for the environmental and social justice non-partisan, Substance, is designed to unite local progressive minds. Hosted by Tish Jones, the event features (deep breath) the eloquent stylings of Rhode Island hip-hop artist, Sage Francis; special guests B. Dolan; P.O.S.' punk band Building Better Bombs; Doomtree's Cecil Otter and The God Damn Doo Wop Band; rock yr socks spoken word performances by El Guante and See More Perspective; a speech by Louis King of Hire MN; a set by DJ Verb-X; live art — and a few surprises hidden up the guests sleeves. Have some afternoon down time to kill before the show? Drop by The Entry for a $7 pre-show sure to activate your spirits with Cecil Otter, The Battle Royale, Big Cats and El Guante.
CLICK THE IMAGE FOR THE FIRST AVE SITE


SATURDAY MARCH 28TH
Information Society
@ Varsity Theater
1308 4th St. SE
Minneapolis
7:30pm / $20 / 18+
Minneapolis produced some killer bands in the 80s. Information Society started as an electro-dance trio who went on to fame and fortune with their hit "Running." And this evening they're coming home to wow the dance floor of the Varsity for one night only. Wear your finest 80s weirdo attire! With Moulin Noir, Faith Assembly and Milkbar.
CLICK THE IMAGE FOR THE VARSITY SITE


SATURDAY MARCH 28TH
The Spank Tank: Revisited
@ The Spank Tank
417 5th Avenue SE
Minneapolis
8:30 p.m. / $5 donation
We're pretty sure this is an old school basement show in Dinkytown, and may very well be jam-packed with rowdy indie-rock college kids. We hear there will be jello shots though, and that's something we can always get behind. We were rowdy college kids once, after all, and now we're rowdy mid-twenties to (very young looking) thirty-somethings so we really can't judge. l'étoile pal (and local art/music instigator) Phil B.'s band, Quist and the Hats, is playing along with RisingSide and Gladiola, so it will definitely turn out to be quite the rock n' roll extravaganza!
CLICK THE IMAGE FOR THE QUIST & THE HATS MYSPACE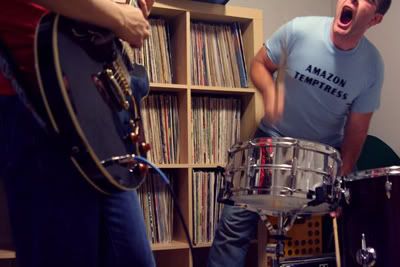 SATURDAY MARCH 28TH
Johann's Birthday Party
@ 414 Soundbar
414 3rd Avenue N.
Warehouse District
8pm / 21+
Uh-oh! An undisclosed number of spankings are in order! Soundbar owner and international playboy Johann Sfaellos turns another year older, wiser, and better looking today, so shake a leg to this Warehouse District hot spot for an evening of decadent debauchery and fabulosity! Responsible for bringin' the funnin' to the Minneapolis club scene for many years, Johann deserves your kisses and well wishes. Dance the night away to DJ Mike Moilanen, Mike G, Walter Chancelor Jr. on sax, live singers, and super special surprise guests! This event is INVITE ONLY so e-mail Erika@414soundbar.com to get on tha list!
CLICK THE IMAGE FOR THE SOUNDBAR SITE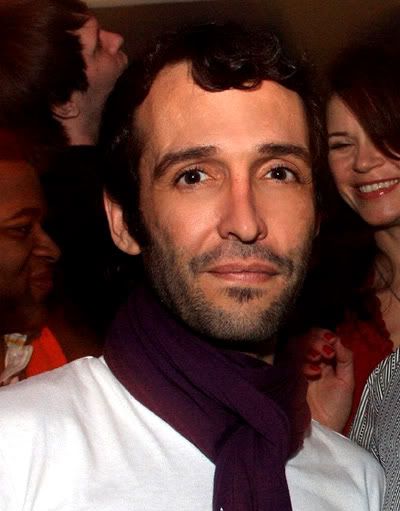 SUNDAY MUSIC PICK: DEAD MOON
Warning: if you listen to any Dead Moon you will become addicted. A certain l'étoile writer has developed an unhealthy obsession. Formed in 1987 in Portland, Oregon by Fred Cole and his wife Toody in the style of true punk rock romance, they lasted 20 years — with 15 albums to prove it. High-energy rock and roll at its finest.
CLICK THE IMAGE FOR THE DEAD MOON SITE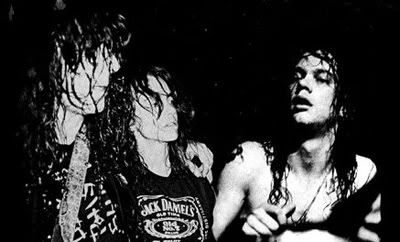 SUNDAY MARCH 29TH
Allen Brewer and Mason Hall
@ Barbette
1600 W Lake St.
Minneapolis
3pm-6pm / Free
Barbette's art shows are consistently great. This time Allen Brewer's series of paintings on old chalkboards and game boards bring up a lot of memories, while Mason Hall's work is rooted in public consciousness and printmaking history. A lovely Sunday afternoon with Barbette's famous french fries gets that much better with an art opening. With any luck, the weather may allow for outdoor seating and socializing after taking in the art!
CLICK THE IMAGE FOR THE BARBETTE SITE