What a weekend for the Twin Cities! Not only are we sending off our best and brightest to the SXSW Festival with a bang at First Avenue, but we're also privy to new work by Minneapolis graffiti darling Deuce Seven, putting on his first full-scale solo show in the SooVAC's main gallery. Add in a bit of steampunk fashion, full moon puppetry, and the christening of a brand new art gallery in St. Paul, and you've got yourself a weekend of boundless possibilities and extravagant theatrics. Spring is just around the bend, so don't let this week's cold snap put you in the corner, baby!
xo-l'étoile
Photo by Jayme Halbritter/art by Rudy Fig
for mplsart.com/l'étoile 2008


THURSDAY MARCH 12TH
Experimental and Media Arts
@ Regis Center of Art
405 21st Ave. S
Minneapolis
6-8pm/ Free
The twenty-one artists involved in the current exhibit at the U of M's Regis Center are comfortable with experimenting, very comfortable. As members of faculty, graduate students and alumni in the UMN Department of Art's Experimental and Media arts from 2004 to 2009, the artists have been traveling the country developing their eclectic style and incorporating atypical mediums to create unique projects. Join host Northern Lights and multi-modal artist and visiting critic Diane Willow for a catalytic lecture and a sensory display including work from film, video, performance, interactive installation and sculpture and hybrids of everything in between.
Photograph by Bruce Charlesworth, one of tonight's featured artists.
CLICK THE IMAGE FOR THE REGIS SITE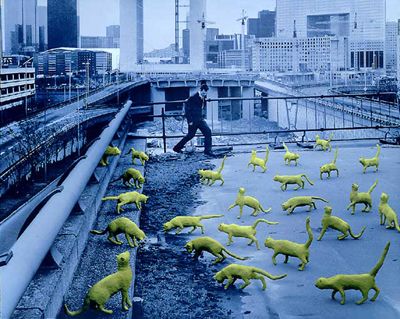 THURSDAY 12TH
Poor Cow
@ Cinema Revolution
2431 Lyndale Ave S
Minneapolis
7pm / Free
Cinema Revolution has teamed up with John Behling to bring us a sex and power film discussion group. This week he takes on Poor Cow, a 1960s working-class English barmaid's story of bad decisions and luck, set to the groovy sounds of Donovan.
CLICK THE IMAGE FOR THE CINEMA REVOLUTION SITE


FRIDAY ART PICK: MNPIXELS.NET
Everybody gets artists' block sometimes, and it's nice to have somewhere to go to get your creative juices flowing again. Luckily, a new curated online art gallery featuring rotating Twin Cities artists has been launched, devoted to inspiring creativity on a local level. Poke around the gallery to peep drawings, mixed media, paintings, photography, and digital imagery of your local contemporaries, and even submit your own art for consideration. Best of all, MNPixels.net doesn't have a lot of banner ad noise, allowing you to focus directly on the showcased pieces. Check back often, as new pieces are uploaded daily.
CLICK THE IMAGE FOR THE MNPIXELS SITE
Art by The Paper Prophet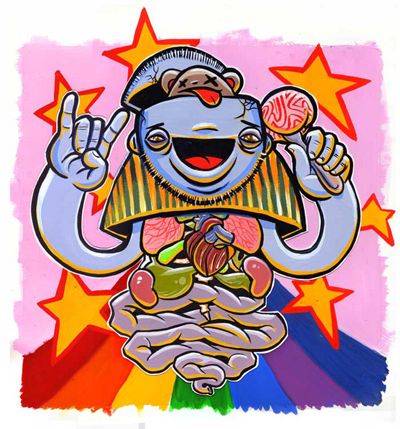 FRIDAY MARCH 13TH
Lost Souls of the Cascade Tunnel
@ Soo Visual Arts Center
2640 Lyndale Ave. S
Minneapolis
6-9pm / Free
Over time much can change for an artist, such as style, medias, and collaborations. But, if they are talented, the complexity of their creations is a factor that never varies. This Friday, local graf artist Deuce Seven returns to the SooVAC, three years after his first solo show in the Soo's pocket Toomer Gallery, this time graduating to the main gallery space. His new solo exhibition features pieces composed of vibrant colors, hypnotic line formations and psychedelic visuals proving his art is still as compelling as ever. The hidden figures and fantasy creatures in Deuce Seven's art work materialize with each glance, making tonight's opening reception an optical adventure ride for its viewers. Lost Souls runs through April 12.
CLICK FOR THIS ART EVENT AND MORE AT MPLSART.COM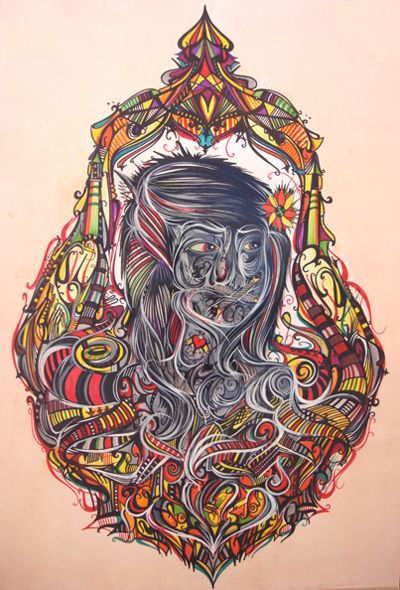 FRIDAY MARCH 13TH
Art in Every Degree
@ Gallery 360
3011 West 50th Street
Minneapolis, MN
7-10pm / Free
With slushy snow covering the ground, it may be difficult to picture yourself in a flirty outfit that doesn't include multiple layers, but that doesn't stop the designers in tonight's fashion event from showing off their Spring lines. Weather-forward pieces from designers Liz Plambeck, Heather Hambrecht, Atom Pechman and Martha McQuade will be showcased. A collection of looks inspired by the Mediterranean from prolific local designer Kimberly Jurek of Kjurek Couture are sure to conjure thoughts of a warm, luxurious life. Grab glass of wine, find a seat, and be whisked away to a fashion land where Uggs and feather-down do not exist.
CLICK THE IMAGE FOR THE GALLERY 360 SITE
Image from kjurekcouture.net


FRIDAY MARCH 13TH
Minneapolis Steampunk Cabaret
@ Ground Zero
15 4th St. NE
Minneapolis
10pm-2am / $8 / 18+
Quick refresher: Steampunk style is based on Victorian aesthetic with a touch of sci-fi and fantasy. In other words, fun and theatrical! Tonight's cabaret is a celebration of all things steampunk. Burlesque dancers Midnight Muse Revue's Painted Ladies will perform, bands Painted Saints and The Scarring Party will play, and Pi Bar's DJ Blowtorch will flip wax. Not to mention the rune readings, palmistry, tarot card readings, and attractively-dressed anachronisms.
CLICK THE IMAGE FOR THE FACEBOOK EVENT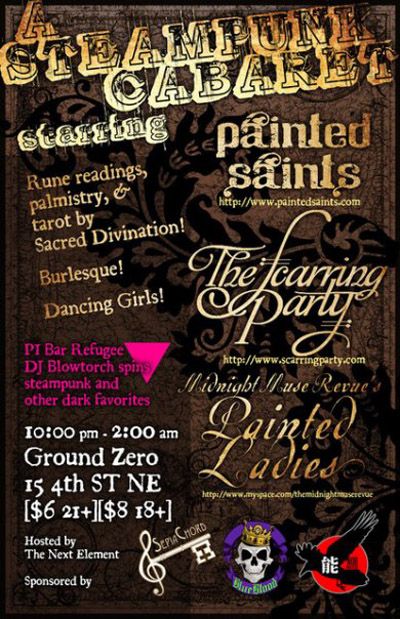 FRIDAY MARCH 13TH
Full Moon Puppet Show Cabaret
@ Bedlam Theatre
1501 S. 6th St.
Minneapolis
10pm / $3
Every month around the full moon, the Bedlam treats us to a cabaret involving puppets, music, and giggles. Drum & Squeeze host this eclectic performance series, and since it IS the Bedlam, expect something you've never seen before.
CLICK THE IMAGE FOR THE BEDLAM SITE


FRIDAY MARCH 13TH
Now or Never Grand Opening
@ Now or Never
2554 Como Ave
St. Paul
7:30pm-late / Free
This city can never have enough art galleries, especially in St. Paul. Our prediction for 2009? St. Paul's art scene is going to blow up! Welcome Now or Never into the world with a bonfire, dance party, and recent work by Jamie Barber, Andrew MacGuffie and Kari Reardon.
CLICK THE IMAGE FOR MORE INFO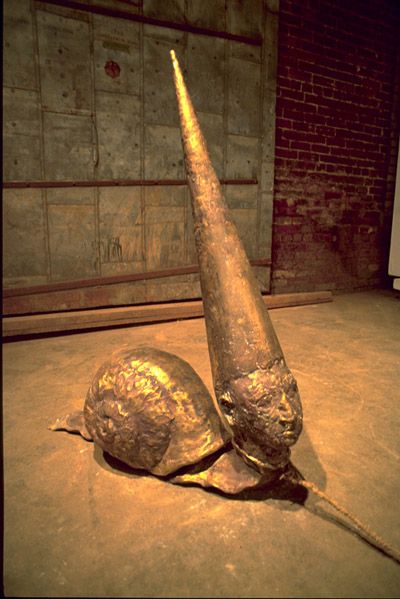 FRIDAY MARCH 13TH
Street Sounds
@ VIP Room
701 First Ave N
Minneapolis
10pm / 18+ / $5
Lose the arms-crossed pose, jaded hipsters. It's time to get down! Vinyl specialists Attitude City, Mike the 2600 King and Winship (along with l'étoile magazine, of course) are ruthlessly dedicated to providing this city with an incredibly diverse night life and making sure you have a bangin' good time with yet another installment of body-rockin' monthly disco dance party, Street Sounds.
CLICK THE IMAGE FOR THE BURLESQUE SITE


COOL LINK: PINK OF PERFECTION
In the tunnel vision era of recession, knowing when to pinch pennies and when to give in to the urge to splurge is an art highly coveted, much like the colloquial "knowing when to hold 'em and when to fold 'em." The mindset of blog Pink of Perfection is that being thrift-conscious doesn't necessarily mean ditching sushi for Ramen and the opera for evening cable, but rather being cleverly resourceful, scouting for the best deals and embracing the simple pleasures, while never sacrificing the creative and adventurous life you deserve. Pink of Perfection is described as a modern-day rendition of Martha Stewart's Living, the thrifty girl's guide to la dolce vita (The Sweet Life) featuring craft projects, literary escapes, recipes, and even a few tips on how to avoid the weekend recession blues.
CLICK THE IMAGE FOR THE PINK OF PERFECTION BLOG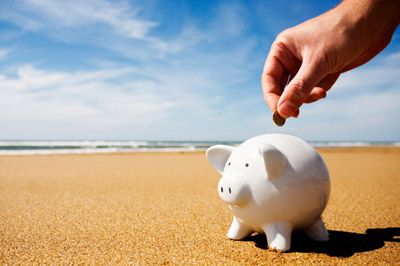 SATURDAY MARCH 14
Make: Day
@ The Science Museum of Minnesota
120 W. Kellogg Blvd.
Saint Paul
10am-3pm / Free
In the spirit of sparking local ingenuity and creativity, public television's Make: TV (based on Make Magazine), Geek Squad and the Science museum have teamed up to present the first annual Make: Day, an ultimate community interactive arts and crafts affair. Local inventors, artists, tinkers and engineers have been busy channeling their inner mad scientist and Wayne Szalinski persona and today have the opportunity to showcase their DIY creations to enthusiastic museum attendees. Meet the inventor of rollerblades, experience wearable LED technology and animatronic sculptures, enjoy the music of Savage Aural Hotbed and take part in numerous hands-on projects and crafts.
CLICK THE IMAGE FOR THE SCIENCE MUSEUM SITE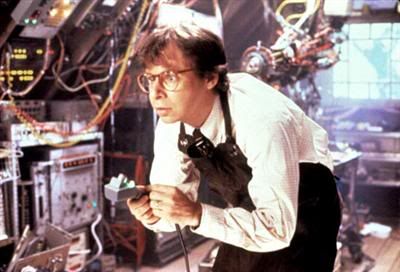 SATURDAY MARCH 14TH
Are You Local?
@ First Ave
701 First Ave N
Minneapolis
6pm / 18+ / $6
For those of us not lucky enough to make the trip down to Texas for ye olde SXSW this year, keep that chin up. On Saturday, some of the best local bands will be tackling the Mainroom stage before playing at one of the nation's largest music festivals. Help send off our local stars in style as they make the long trek down to Austin! Here's the line up, and brace yourself, it's a doozy: Synth-dance-pop hotties Solid Gold, neo-psychedelic collective First Communion Afterparty, recently Pitchforked dream-pop trio Gospel Gossip, Sims of Doomtree fame, the ever stylish and sexy Bella Koshka, and up-and-coming indie darlings The Idle Hands. Plus, screening of local films screening at SXSW, and…HOT DOGS! Who doesn't love a good wiener every once in awhile! Now that's a lot of bang for your six bucks.
BONUS: For an additional five bones, Lookbook will be in the Entry with Vampire Hands, and a special DJ set from Solid Gold.
CLICK THE IMAGE FOR THE VITA.MN SITE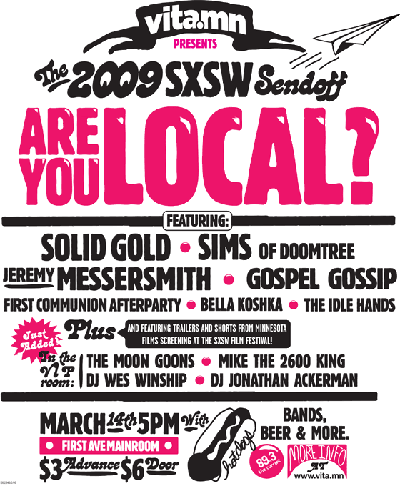 SATURDAY MARCH 14TH
Alters
@ Stevens Square Center for the Arts
1905 Third Avenue S
Minneapolis
7pm / Free
From animal sacrifices to ritual offerings of bread and wine, and even portraits of Elvis Presley, alters have been used for centuries as a means to offer up praise to a greater power. The Stevens Square Center for the Arts is proud to present their latest exhibit featuring eleven artists' interpretations of sacrifice and worship. Working in a variety of media, the artists have created deeply personal and distinctive redefinitions of what constitutes a shrine. The exhibition runs until April 13th.
CLICK FOR THIS ART EVENT AND MORE AT MPLSART.COM


SATURDAY MARCH 14TH
Black featuring Matthew Dear
@ 1st Ave VIP Room
701 1st Avenue N.
Minneapolis
10pm / 18+ / $10
If you missed Matthew Dear early last year when he played the Triple Rock, tonight you're in luck. The electronic wonder-kid rolls into the VIP for a super-special set in an intimate environment. One of the darlings of coveted NYC label, Ghostly International, Dear is an under-the-mainstream-radar rockstar and an experience worth braving the chaos of First Avenue on a Saturday night for. l'etoile BFF Aaron Bliss kicks things off the right way. Enter through the side door on 1st to avoid 18 year olds in Mr.T bling and go straight to the VIP lounge.

SATURDAY MARCH 14TH
Lets Dance
@ Red Stag
509 1st Avenue NE
Northeast Mpls
11pm / 21+ / Free
Last month, when Millions Billions and Tendercakes played the Red Stag we became so claustrophobic due to the insane crowd we almost started punching hipsters. Luckily we restrained ourselves. But, if you're personally into gyrating throngs of of stylish young things, getting crunk in close quarters, and truffle oil popcorn (a Red Stag staple snack) this may be your best bet for a Saturday late-night dance battle.
CLICK THE IMAGE FOR THE RED STAG SITE


SATURDAY MARCH 14TH
Hot Pants
@ Club Jager
923 Washington Ave. N
Minneapolis
10pm-2am / +21/ No Cover
When you're dancing to the soul-tastic rhythm created by the Hot Pants DJs, you'll be amazed at how your pants -and your moves- automatically become sexier. The 2nd Saturday of every month, Club Jager's dance floor transforms into a musical time wrap even James Brown would applaud. DJs Rambo Salinas, Ben Mena, Brian Engel (Hipshaker), Dale Burback and special guests control the decks for an album spin set featuring the best in rare funk and blues. Shake it like a sex machine and don't forget to wear something extra funky.
CLICK THE IMAGE FOR THE HOT PANTS MYSPACE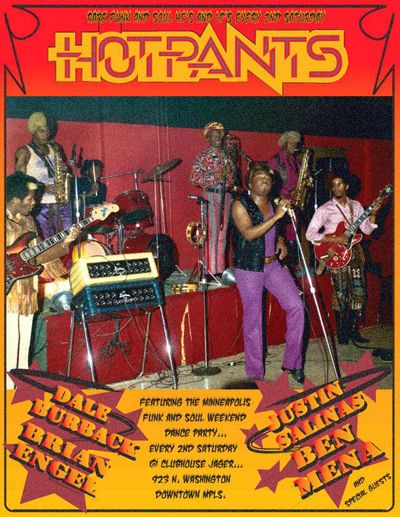 SUNDAY MUSIC PICK: TRIXIE & THE TREETRUNKS
Ok, so it's actually a band made of puppets, but still musical all the same. The cutest puppets ever (created by Ms. Pussycat and Quintron) meet a happy tree who tells them they should adopt all the stray cats and start a band to deliver messages from the center of the earth. In this ten-part puppet series they find an evil drummer; attend a Quintron show; sloppily apply their makeup; and learn to play their cardboard instruments. This is what happens when musicians get crafty!