Way to bounce back! The Twin Cities seem to have easily shaken off their holiday lethargy just in time for a pretty rockin' weekend. Art exhibits, which have been on holiday hiatus as of late, are back in full effect; while rock shows and dance parties continue to ignite flames all over town. Our suggestion? Go out on the prowl! Meet some new people, see some new sights, and experience some fresh excitement. It is 2009 after all (an excuse we'll be using throughout January, if not February).
xo-l'étoile
THURSDAY JANUARY 9TH

National Theater of the USA: Chautauqua
@ The Walker McGuire Theater
1750 Hennepin Ave
Minneapolis
8pm / $18 ($15 Walker members)
In the mid-twenties, President Theodore Roosevelt called the traveling Chautauqua Circuit "the most American thing in America." Although present-day mediums of entertainment have evolved as we became a more technologically advanced nation, it's still Egalitarian and "American" to want to entertain others – just look at the increased popularity of the Youtube community. Tonight, New York City collective, National Theater of USA reinvents the art form of the circus troupe and pays homage to the Chautauqua Circuit in particular. The performance showcases choreographed dance, circus acts, vaudeville, music and more. Tonight's show features a bit more skin than a Shiners circus, so you might want to leave the kids at home. Runs Friday and Saturday night for just a few extra benjamins.
BONUS: Thursday night's kickoff performance also features FREE beer from Summit Brewing!
CLICK THE IMAGE FOR THE WALKER SITE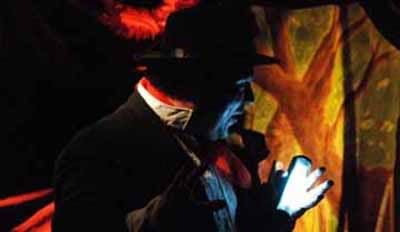 THURSDAY JANUARY 8TH
VS Pizza Party
@ VS Social Standard
1221 W. Lake St. #102
Minneapolis
10pm – 2am / Free/ All Ages
Join VS Social Standard for a night celebrating the launch of their new website. Sets by local DJs Badrad, The Nightstalker (aka Grandmother Grant) and Kayne keep the dance floor banging, along with visuals by the all powerful vid-tastic master Timesquid. Check out VS' warehouse décor and streetwear fashion while enjoying complimentary pizza and cake and clowns (yes, clowns! They aren't scary we promise). The other party favors are up to you to bring!
CLICK THE IMAGE FOR THE VS SITE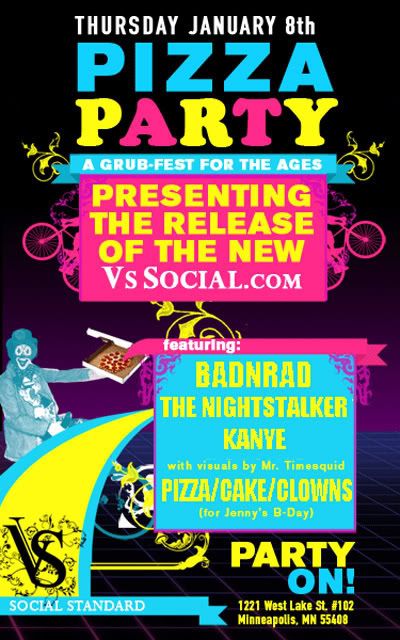 THURSDAY JANUARY 8TH
DD Thursdays w/ Jonathan Ackerman
@ Aloft Hotel
900 Washington Avenue S.
Downtown Minneapolis
10pm – 2am / Free
Tonight, see why the wxyz bar at Aloft was named one of the best new bars of 2008 in a Vita.mn user poll. The chic, modernly decorated Aloft lounge offers vintage games, a Wii console and of course, tasty drink concoctions. So, relax as DJ Jonathan Ackerman sets the tone. For the perfect atmosphere on a Thursday night, just remember three final alphabet consonants and one sometimes vowel!
CLICK THE IMAGE FOR THE ALOFT SITE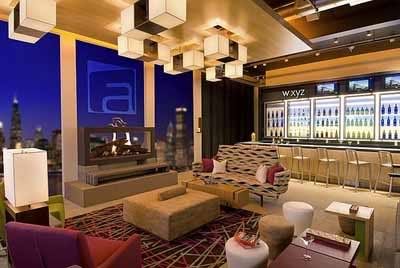 FRIDAY ART PICK: POSTERBOY
How many times have you looked at an ad and thought, "I could make this hilarious with a little time?" Posterboy has taken the NYC subway ads by storm, cutting and pasting them (in analog, not on the computer) to turn consumerist schlock into hilarious, political and subversive commentary on capitalism, war and sex.
Click HERE to read an interview with Posterboy at BigRed&Shiny
CLICK THE IMAGE FOR THE POSTERBOY FLICKR SITE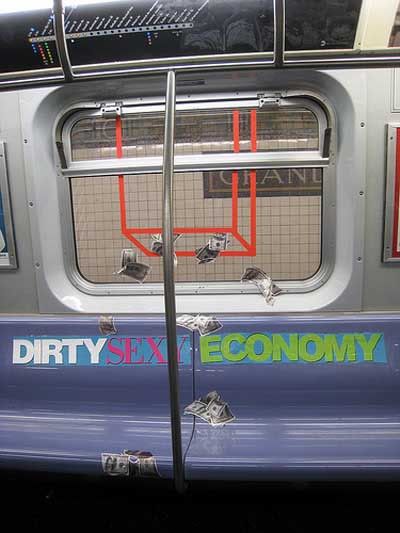 FRIDAY JANUARY 9TH
REVIEW=REFLECT=RECYCLE: Art For The Taking
@ Susan Hensel Gallery
3441 Cedar Ave S.
Minneapolis
5pm-9pm / Free
It's a new year! what are you ready to change? Artist James Michael Lawrence is ready for a major transition. He'll be covering the walls of the Susan Hensel Gallery from floor to ceiling with colorful collage influenced by calligraphy, Japanese culture, and texture. His goal: To never see this work again. Come for the opening, spy a piece you'd like to take home, and at the closing reception on February 21st, all work will be up for grabs with a pay-what-you-can donation. His work spans 15 years, so his old could be your new piece of art.
CLICK FOR THIS ART EVENT AND MORE AT MPLSART.COM


FRIDAY JANUARY 9TH
Here is Better Than Anywhere & 5X5
@ Rosalux Gallery
1011 Washington Avenue S.
Downtown Minneapolis
7pm – 10 pm / Free
Head to Rosalux Gallery this evening for a joint exhibit between abstract landscape painter Kimberly Tschida Petters and exiting Rosalux member/video artist, Cheryl Wilgren Clyne. Also opening in the lower level Pocket Gallery is 5×5, an exhibition of new works by local and international artists, juried by Jennifer Phelps, art director of the Chambers Art Gallery.
CLICK FOR THIS ART EVENT AND MORE AT MPLSART.COM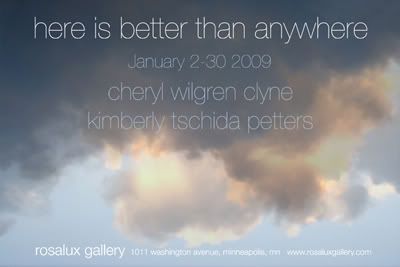 FRIDAY JANUARY 9TH
New Work
@ Franklin Art Works
1021 E. Franklin Ave.
Minneapolis
6pm-8pm / Free
One of our favorite galleries in town opens a new show, simply titled "New Work." Lay eyes on paintings by Carolyn Swiszcz that depict regional landmarks from realty offices to flower shops (and probably a few places you'll recognize) in the main gallery, while the Project Space hosts the photographic collages of New York artist Javier Pinon.
CLICK FOR THIS ART EVENT AND MORE AT MPLSART.COM


FRIDAY JANUARY 9TH
John Berryman Poetry Party
@ Smuda Studio
2948 Chicago Ave. S, Buzzer # 08
Minneapolis
10:30 pm
Join local artists as they celebrate the lugubrious life and topical work of American poet John Berryman. Berryman's layered neo-Elizabethan imagination and quirky colloquialisms launched his success but it was perhaps his fatal and tragic jump from the Washington Avenue Bridge in 1972 that cemented his notoriety. Berryman's demise has become part of MPLS folklore to the extent that it has inspired other influential artists, like native band The Hold Steady who's song "Stuck Between Stations" fictionalizes the poet's suicide and feelings of isolation. Tonight, local artists, including photographer and studio owner Sean Smuda, read from Berryman's Pulitzer Prize winning volume 77 Dream Songs and screen a 30 minute 1974 documentary, I Don't Think I Will Sing Anymore Just Now by Carol Johnson in honor of a fallen legend.
BONUS: This event takes place following Dobby Gibson's book release party for Skirmish, his latest collection of poems at The Loft at 7pm. Gibson will also read at the Berryman event.
CLICK THE IMAGE FOR DIRECTIONS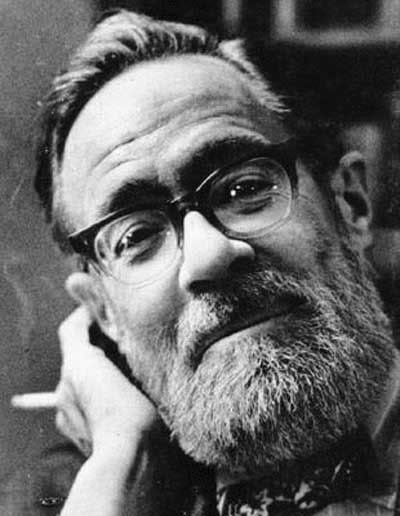 FRIDAY JANUARY 9TH
Street Sounds Swirlin' Through My Mind
@ VIP Room
701 1st Ave N.
Minneapolis
10pm / 18+/ $5 ($3 before Midnight)
Trouble is in the air tonight as our fave record slayers Mike the 2600 King, Winship, and Attitude City throw down the classic disco tracks from the 70's, 80's and early 90's. Join the best boys in the biz as they once again dish up only the best in old school vinyl.
Sponsored by l'étoile magazine!

CLICK THE IMAGE FOR THE FIRST AVE SITE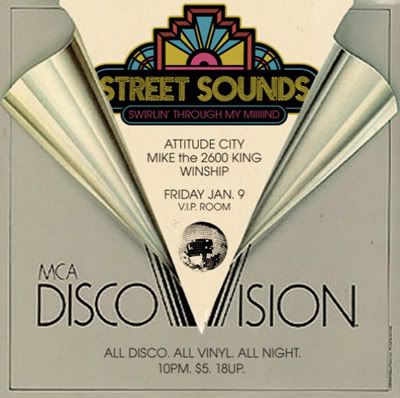 FRIDAY JANUARY 9TH
Seabound + De/Vision
@ Ground Zero
15 NE Fourth St
Minneapolis
9pm / 18+ / $20
German electronic masters Seabound and De/Vision join forces for a spectacular double bill making a special stop in Minneapolis that you would be foolish to miss. Seabound's unique mixture of modern Electro Pop is reminiscent of danceable 80's Indietronic rhythms, while De/Vision's lush synth beats and warm vocals have made them an international sensation.
BONUS: Head on down to the Nomad for the official afterparty starring the Invincible Kids, Stellar Vector, Amdeide, and the Dregs. Your ticket stub will grant you free admission.
CLICK THE IMAGE FOR THE SEABOUND MYSPACE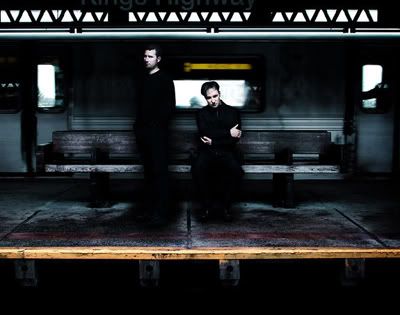 COOL LINK: HERE'S LOOKING LIKE YOU, KID
Remember Audrey Hepburn in simple turtlenecks and black capris or Molly Ringwald in lace and denim. For decades, we ladies have looked to the screen for a bit of fashion insight. Here's Looking Like You, Kid is a kudos to the women of vintage Hollywood, the styles they wore and the attitude they used to rock them. With stockpile images of Hollywood's famous and under-the-radar fashion icons and Youtube clips of the films, this pop culture/fashion blog illuminates the classic "Golden Age" of Hollywood fashion while brushing you up on 60's, 50's and even 30's cinema. In these rough economic times, raiding the thrift stores and vintage shops has never been more necessary and fun! Whether your taste is mod fashion, sexy femme fatale or classic glamour, this site inspires you to achieve iconic looks with a seductive and retro feel.
CLICK THE IMAGE FOR THE HLLYK SITE


SATURDAY JANUARY 1OTH
Get Lucky 2009: Lucky Seven and the Seven Deadly Sins
@ Soo Visual Arts Center
2640 Lyndale Ave. S
Minneapolis
7pm – 11pm / $25
Gluttony, greed, sloth, wrath, envy and pride. Should we accept these most venal and capital of sins in 2009 or resolve to reform our ways? Thankfully, tonight's party is a celebration of the former. So, embrace your inner sinner and join the SooVAC as they present a gala benefit celebrating seven years of showing and supporting artists, SooVAC style. This event features over 20 of the TC's most promising artists, including our own Kate Iverson, as well as other l'étoile faves such as Jennifer Davis, Sean Smuda, Rob McBroom and many more! Expect cabaret performances, live music by Martin Dosh and Jon Davis, a silent auction with items from Common Root Cafe and the Guthrie, as well as food and a cash bar.
CLICK FOR THIS ART EVENT AND MORE AT MPLSART.COM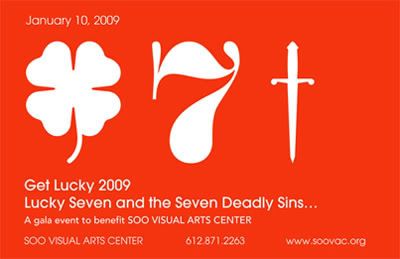 SATURDAY JANUARY 10TH
F+C X 2
@ Form + Content Gallery
210 N. 2nd Street
Minneapolis
7pm-9pm / Free
We love a group show. Especially when the work is good across the board, as is the case with Form + Content's latest exhibit. In celebration of their two year anniversary, this warehouse district gallery will be showing off the work of 13 member artists who keep the innovative art space running. These artist have, in turn, invited an additional 13 guest artists to show alongside them. Talk about sharing the wealth, or in this case, the wall space!
CLICK FOR THIS ART EVENT AND MORE AT MPLSART.COM
Art by Clarence Morgan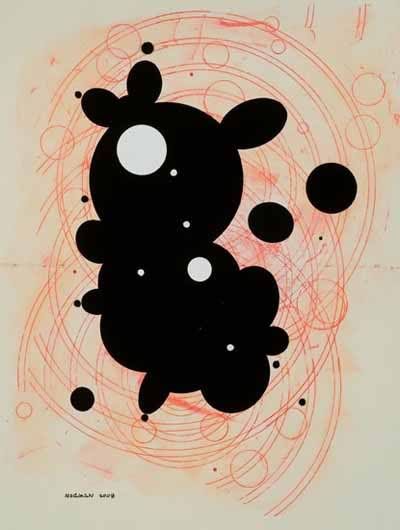 SATURDAY JANUARY 10TH
Rift Magazine Benefit featuring Thosquanta
@ 400 Bar
400 Cedar Ave S
Minneapolis
8pm / 18+ / $5
Come to the 400 Bar and enjoy a night of electronic escapades! 301STUDIOS, a local electronic and hip-hop record label, has set up this show to celebrate the release of the new album by Thosquanta, In Vitro Mutilation. All proceeds from the evening will benefit local music and art rag Rift Magazine, so not only will you be supporting one of the last remaining local zines in print, but you will also receive a copy of Thosquanta's new album!
CLICK THE IMAGE FOR THE RIFT SITE


SATURDAY JANUARY 10TH
Marcel Dettmann
@ Black
First Ave. VIP Room
701 1st Ave N.
Minneapolis
10pm-2am / $5 / 18+
Dettman's been dropping beats from Berlin all the way to Minneapolis. Grab two drinks for the price of one until midnight, and feel VIP to the sounds of house, techno and drum n bass. Opening set courtesy of Jesse Jakob (Particle People Minneapolis). Check out our listing for the official after party at the Slam Factory!
CLICK THE IMAGE FOR THE BLACK MYSPACE


SATURDAY JANUARY 10TH
Army of Darkness
@ Uptown Theater
2906 Hennepin Ave
Minneapolis
Midnight / $9
We all know how rough it is to be time-warped to the 1300s, have to look for the Necronomicon, and be mistaken for a savior. So it's easy to identify with the hero of this Evil Dead 2 sequel. Somehow, cars, guns and chainsaws work in the Medieval ages, and kick any evil-doing skeleton's ass.
CLICK THE IMAGE FOR THE UPTOWN SITE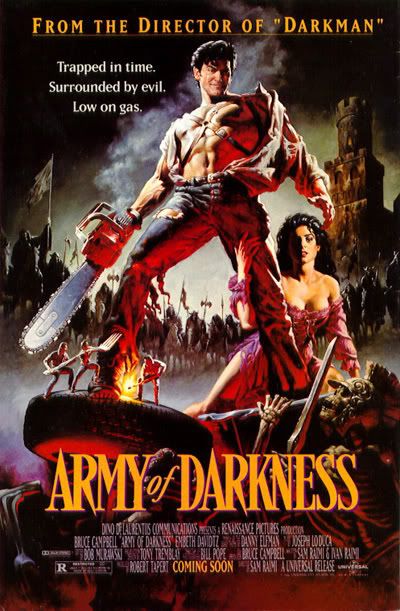 SATURDAY JANUARY 10TH
Slam Factory Enemy Night
@ Secret Location
email jp@secrettechno.com
2am / 18+
After dancing the night away to Marcel Dettmann at Black in the VIP room, make your way down to the official afterparty in the warehouse space formerly known as the Lock Inn for yet another all-night techno extravaganza featuring the bomb-ass beats of Silent Servant and Dustin Zahn. For directions to this super secret locale, email JP@secrettechno.com.
CLICK THE IMAGE FOR THE SECRET TECHNO SITE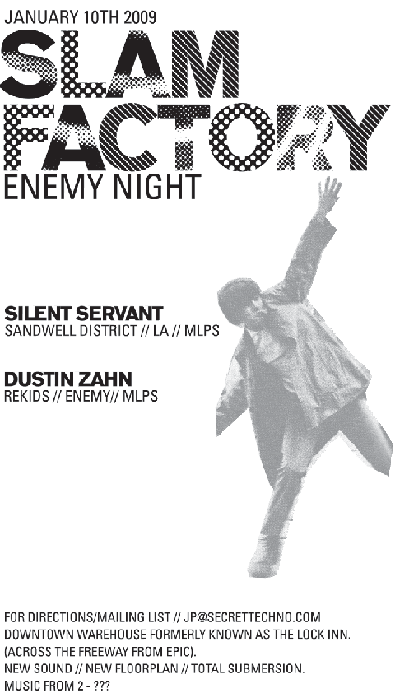 SUNDAY MUSIC PICK: ANIMAL COLLECTIVE
Experimental Baltimore 4-piece, Animal Collective, finally released their vinyl-only, ridiculously anticipated new album, Merriweather Post Pavillion on Tuesday to a storm of critical acclaim. Meandering through digital experimentation, afro-brazillian percussion, swirls of psychedelia, and melodic electro-pop burners make Merriweather Post Pavillion the first great album of 2009. This insanely joyous and fiercely original pop gem will surely not disappoint.
CLICK THE IMAGE FOR THE ANIMAL COLLECTIVE MYSPACE


SUNDAY JANUARY 11TH
Denial III
@ Kitty Cat Klub
315 14th Ave. SE
Minneapolis
9pm – 1am / 21+/ Free
Start your weekday denial a day early with tonight's third installment of Kitty Cat Klub hosted dance party, Denial. Lounge on comfy couches sipping cocktails or shake your stuff on the dance floor as DJs Winship and Sovietpanda man-handle the decks. And don't forget about the pool tables located in the back, a little game wager just might buy you your next drink.
CLICK THE IMAGE FOR THE KITTY CAT KLUB SITE