We've resolved to stop our incessant complaining about the weather and the fact we can't afford to fly first class to Miami to wait out the winter. Let's face it, we are Minnesotans, tried and true. Make this weekend a fiery one with a countless number of smokin' hot events that are designed to have you peeling off those layers in no time. Check out the Minnesota Opera's production of Faust; raise your art index at the Rogue Buddha; or simply sweat it out on the dance floor at one of the many DJ nights scheduled. For the brave souls who prefer an icy chill, the St. Paul Winter Carnival is in full effect, though we think we'll take a rain check — we're not quite that Minnesotan!
xo-l'étoile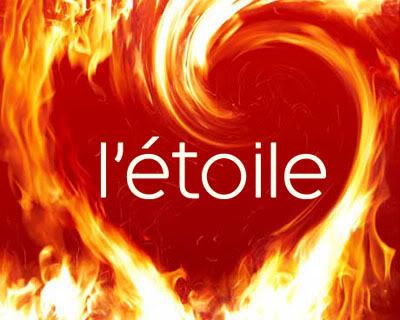 THURSDAY JANUARY 22ND
Ye Olde English Dunny Release
@ ROBOTlove
2648 Lyndale Avenue
Minneapolis
6pm-8pm / Free
Be first to lay eyes on the latest Kidrobot Dunny series tonight! This Brit-inspired collection will disappear faster than Amy Winehouse's sobriety, so blacken a tooth or two and take the tube (aka the bus or your car) to Uptown tonight. Enjoy frenzied dunny trading, refreshments (perhaps tea, krumpets, and spotted dick?) and take 10% off your purchase just for showing up. ROBOTlove will also appeal to your ears, as tonight's trading fest also doubles as a listening party for Matt & Kim's new album Grand. Special giveaways include a signed copy of the album (on vinyl) and other cool prizes. Bone up on your cockney and head to ROBOTlove tonight!
BONUS: Stop by ROBOTlove on Friday between 2:30 p.m. and 4 p.m. for an exclusive in-store signing event with toy designer, rock star, and comic artist Claudio Sanchez, the man behind the Kill Audio comic series and limited edition figure. Dress warmly, there will be a line!
CLICK THE IMAGE FOR THE ROBOTLOVE SITE


THURSDAY JANUARY 22ND
The Keeper Awards
@ Red Stag
509 1st Ave NE
Minneapolis
8pm / $10 Advance, $15 At the Door
As much as the Twin Cities art scene continues to thrive year after year, we still have a tendency to lose our creative forces to the enticement of larger cities across the country, especially during these frigid Winter months when we all may be questioning why we haven't flown South yet. Instead of wasting time taking it personally, Metro Magazine devised a plan involving open bribes of cake and pretty awards to ensure our most talented feel comfortably loved and appreciated. Tonight, eight artists, from designers to dancers, will be recognized with an award and a pristine party to show we consider them an integral part of the TC, in other words a "keeper." Meet buzzworthies Eddie Oroyan, Celeste Jones, Ra'mon-Lawrence Coleman, Travis Stearns, Justin Staggs, Laura Flynn, Andréa Stanislav and Aditi Brennan Kapil while you enjoy tunes by The Moon Goons, along with complimentary drinks and appetizers. If this mild display of sucking up doesn't work on these talented folks, we're going straight to Plan B, locking them down with an old-fashioned ball and chain.
CLICK THE IMAGE FOR THE METRO MAG SITE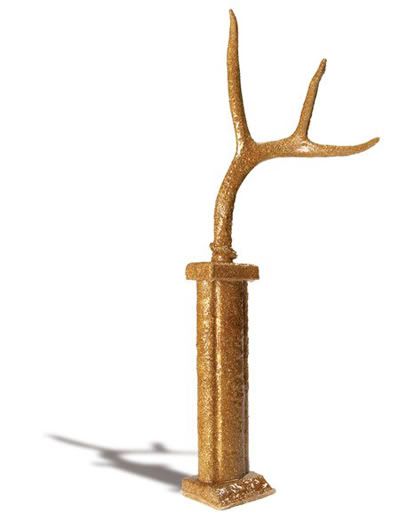 THURSDAY JANUARY 22ND
Expanded Drawing
@ Minneapolis Institute of Arts
MAEP Gallery
2400 3rd Ave S
Minneapolis
7pm-9pm / free
Drawing is all the rage, and doesn't the Minnesota Artists Exhibition Program know it! Four drawers (and that word has different definitions) descend on the MIA this month to show off their kinetic sculptures, cutouts, layered drawings and photos. Through March 16th.
CLICK FOR THIS ART EVENT AND MORE AT MPLSART.COM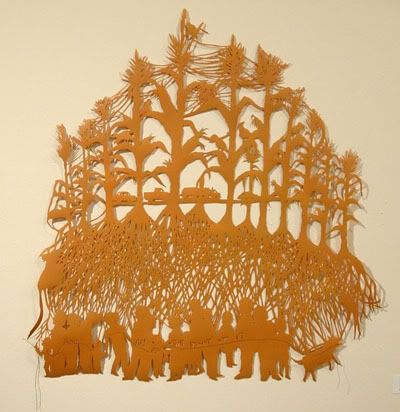 THURSDAY JANUARY 22ND
Making a Traditional Artist Book
@ Walker Art Center
Star Tribune Foundation Art Lab
1750 Hennepin Avenue
Minneapolis
6pm / free
In conjunction with the highly celebrated Text/Messages: Books by Artists, Minnesota Center for Book Arts instructor Aki Shibata will teach the curious how to make an accordion artist book. Learn a new art from an expert, then wander out into the galleries (it's Target free Thursdays). The best part is, you don't have to clean up all the glue you're sure to splatter!
CLICK THE IMAGE FOR THE WALKER SITE


FRIDAY ART PICK: ALEX GROSS
If C.S. Lewis impregnated Baron Münchhausen behind a carnival tent sometime during the last half of the 20th century, their love child might have been named Alex Gross. This prolific artist touches on fantasy, mystery and history in his intriguingly surreal paintings and mixed media work. A delight to examine and dissect, Gross' work is deliciously creepy in an old-timey and storybook-ish sort of way. We can't help but wonder what would happen if this artist put pen to paper in a more writerly approach, as his imagination seems to know no bounds.
CLICK THE IMAGE FOR THE ALEX GROSS SITE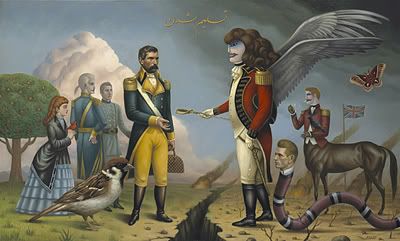 FRIDAY JANUARY 23RD
Eat Your Heart Out
@ Rogue Buddha
357 13th Ave NE
Minneapolis
7-11pm / Free
Kicking off his 10th year in business, gallery owner Nicholas Harper hosts the exhibit Eat Your Heart Out, showcasing the evocative artwork of Roxanne Jackson and Kurt Melancon. Through dualistic elements, Jackson's sculptures pair the shockingly grotesque with qualities of human dignity while Kurt Melancon's images are an allegory of past figures and events. Both artists touch upon the link between social and historical constructs and the effect they have on our individual transformations. Tonight's opening reception presents a first hand look at this unique exhibit that runs through February 28th.
CLICK FOR THIS ART EVENT AND MORE AT MPLSART.COM


FRIDAY JANUARY 23RD
New Landscapes
@ Groveland Gallery
25 Groveland Terrace
Minneapolis
5pm-8pm / free
Since snow is burying any visible trace of green, now is the perfect time to take in a landscape show. Live vicariously through these three Minnesota artist's work. Hamline University professor Andrew Wykes shows his softened palette; Minnesota State University professor Robert Dorlac's plein air paintings draw us in; and Minneapolis' own Gregory Euclide's dreamy sculpture-drawing steals the show. Through February 28th.
CLICK FOR THIS ART EVENT AND MORE AT MPLSART.COM
Art by Gregory Euclide


FRIDAY JANUARY 23RD
Private Dancer
@ Triple Rock
629 Cedar Ave S
Minneapolis
9pm / 21+ / $5
Expect a swift onslaught of energy and an all around rockin' good time this Friday night, as Private Dancer playfully churns out Surf and garage with thrashier, wilder noise that grabs elements of The Stooges, Pavement, and early Pixies — making for a most excellent evening. With Dynamiters, Strut & Shock, and Les Deux Maggots.
CLICK THE IMAGE FOR THE PRIVATE DANCER MYSPACE


FRIDAY JANUARY 23RD
Hip Hop against Homophobia
@ Nomad
501 Cedar Av. S.
Minneapolis
9pm / 21+ / $5
Haters take note – some of the most prolific hip hop and spoken word artists in the Twin Cites are joining together to take a stand against intolerant messages in hip hop with a massive line up! Featuring Maria Isa, Toki Wright, Alicia Leafgreen, El Guante , DJ Blowtorch, Kredentials and much more. Proceeds from the show will go to the anti-Proposition 8 coalition: Join the Impact, who has been responsible for putting together blow-outs all over the country.
CLICK THE IMAGE FOR THE NOMAD SITE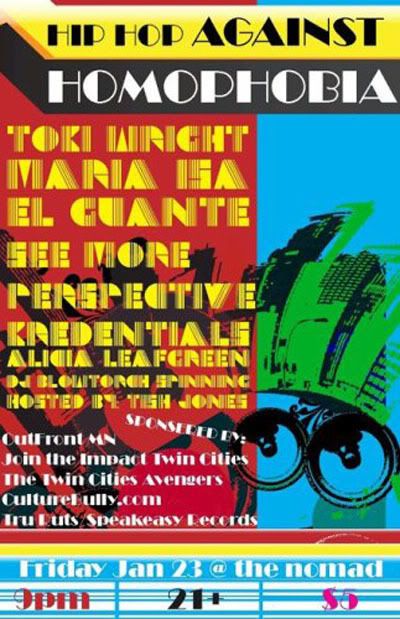 FRIDAY JANUARY 23RD
1996: The Party
@ First Ave VIP Room
701 1st Ave. N
Minneapolis
10pm / 18+/ $3 ($1 with College ID)
Forget partying like it's 1999 — around here we party like it's 1996! First at a Honeymoon night, now hosted by The Original Truth Squad, '90s themed parties are popping up around every corner. And because it feeds our cheesy side, we can't really complain. If you missed out on rockin' hard during the mid-90's, now's your chance to revel in over-sized sweaters, ripped jeans and classic club hits. Tonight's scrumptious lineup features sets by I AM BREAK, HE IS THE BEAT, Rob Rob and Saund Waav. We guarantee it will be way more fun than the Scream film.
CLICK THE IMAGE FOR THE FIRST AVE SITE


COOL LINK: GUNPOWDER MAGAZINE
Those of us feeling the heat of the economy know that there are certain little sacrifices we make in order to get by. It may even come down to ditching a copy of your favorite indulgent fashion zine. Luckily, the online magazine Gunpowder understands going virtual doesn't mean losing quality or edginess. Comprised of some of the best stylists, writers and photographers in the biz, Gunpowder Magazine might even qualify as more current than its printed competitors with interactive links that are constantly updating articles — and no waiting between issues. From glamour to gastronomy, Gunpowder's motto is "In Gorgeousness We Trust. So Shall You." And the best part of it all? It doesn't cost you a cent.
CLICK THE IMAGE FOR THE GUNPOWDER MAG SITE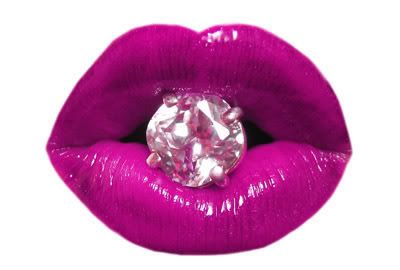 SATURDAY JANUARY 24TH
Winter Carnival / King Boreas Parade
East 4th St. @ Broadway
St. Paul
2pm / free
You know what parades are about. None are quite like the Winter Carnival's though. We're the only place that celebrates winter with floats, weird Vulcan men and a much-sought-after medallion. Be proud that while others are cowering indoors, Minnesotans are out in the slush, pioneering innovative and fun techniques. Bring a flask of peppermint schnapps, a blanket, and a cutie to cuddle up to, and watch the festivities.
CLICK THE IMAGE FOR THE WINTER CARNIVAL SITE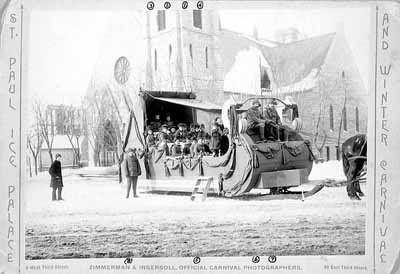 SATURDAY JANUARY 24TH (THROUGH FEB 1ST)
Faust
@ Ordway Center
345 Washington St.
St. Paul
7:30pm / $40-120
Back on the stage for the first time in over a decade, the Minnesota Opera presents Faust, a classic tale of the lengths one may journey for desire and self-fulfillment. In this Goethe story, a weathered Dr. Faust bargains with devil to restore his body to the days of his prime, in hopes of winning the heart of the youthful Marguerite. But if Meryl Streep taught us anything in Death Becomes Her, it was that eternal youth comes at a heavy price, and Faust's naïve attempt at romantic harmony leads to an epic struggle between good and evil. Paired with the stunning music of Charles Gounod, this production is a must see. Visit the Minnesota Opera website below for dates and performance times. And while you're there, check out Tempo, the Opera's young professionals membership level that will garner you invites to fancy soirees and operatic exclusives!
CLICK THE IMAGE FOR THE MN OPERA SITE


SATURDAY JANUARY 24TH
Wondersplash
@ Umber Studios
3109 East 42nd St.
Minneapolis
8pm / Free
In the heart of our coldest months, there's nothing like the warm, luminosity of color to remind us that Summer will indeed come and things will flourish once again. In the spirit of this hope, Umber Studios presents an exhibit by multi-media artist, Laura Hallen. As a seasoned gardner, Hallen understands the complexity of vegetation and organic compounds, and it's apparent in her vivid work. Using the mediums of beeswax, plexiglass and acrylic paint, Hallen creates a texture and imagery similar to what a botanist would study under a microscopic lens. Exploring her exhibit helps us remember that subtle growth continues all around us. Runs through February 7th.
CLICK FOR THIS ART EVENT AND MORE AT MPLSART.COM


SATURDAY JANUARY 24TH
Go Negativ Zine Release
@ Turf Club
1601 University Ave
St. Paul
9pm / $5
Fact: Zines are the coolest. Go Negativ is a new literary/arts zine with a dark and cynical slant. We always need more of those around. Help them celebrate their first issue by grabbing a copy, drinking a double Jack Daniels, and appreciating the noise of Chickadee Mountain Martyrs, The Vignettes, The Dad in Common and Slapping Purses.
CLICK THE IMAGE FOR THE TURF CLUB SITE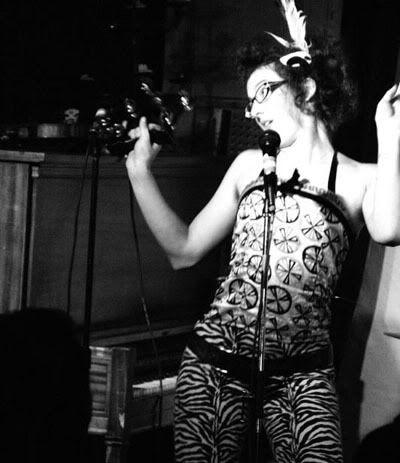 SATURDAY JANUARY 24TH
Grand Hat Party
@ Clubhouse Jager
923 Washington Avenue N.
North Loop
10pm / Free
Tonight is your chance to rock that outrageous hat you've been coveting without the risk being called pretentious and/or getting smacked. We're not sure if the clip-on hair extension we braided into a Danny Wood-esque duck tail counts as a hat, but we'll just slap on some sort of fancy beanie and call it a set. Head down to the Clubhouse tonight and prance to the feisty sounds of Tendercakes and Dirty McKenzie, playing disco, house, electro, hip hop and new wave. It's a proven fact that people in hats get more play, so wear that robot helmet you put Garfield stickers all over and rock this party, foo!
Sponsored by l'étoile magazine, of course!
CLICK THE IMAGE FOR THE FACEBOOK EVENT


SUNDAY MUSIC PICK: VIVIAN GIRLS
This Brooklyn trio is reminiscent of the Raincoats with their harmonies and the feeling that they record in a basement. Part '60s girl group and part riot grrrl monsters of sound, these ladies drive us wild! Yes to punk rock, yes to being addicted to an album, yes to the Vivian Girls!
CLICK THE IMAGE FOR THE VIVIAN GIRLS MYSPACE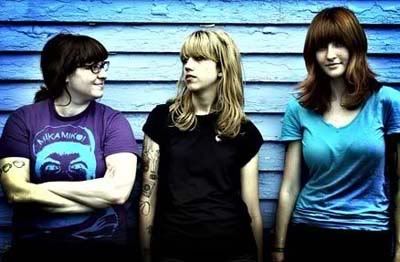 SUNDAY JANUARY 25TH
Gerald Prokop, Me You Like I, and Brad Senne
@ Acadia Cafe
329 Cedar Ave S
Minneapolis
8pm / free
Thank the lord the Acadia is back in effect. Catch one of the hardest working musicians in the Twin Cities, Gerald Prokop tonight, and good luck getting his songs out of your head! Sip on one of their many tap beers, think about life in the Midwest, and find your new favorite bands tonight. With the ever-charming Brad Senne and Me You Like I.
CLICK THE IMAGE FOR THE GERALD PROKOP SITE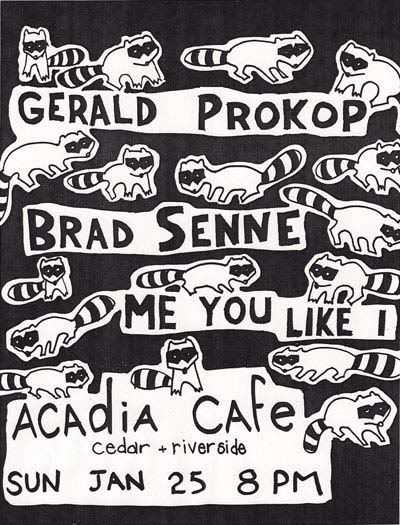 SUNDAY JANUARY 25TH
Square Dance
@ Bedlam Theatre
1501 S 6th St.
Minneapolis
8pm / suggested donation
Grab your partner and do-si-do, radical style. Put on your special shoes, your twirly skirts, your button-up cowboy shirts and listen to that dance caller. You probably haven't brushed up on your square dancing skills since junior high gym class, but now's the time to shine. You don't have to be jealous of the old people on public access tv anymore — you too can get out on the floor and look amazing!
CLICK THE IMAGE FOR THE BEDLAM SITE