It seems the Twin Cities are trying to jam in as much excitement as humanly possible before the hard freeze, and they're doing a pretty good job of it! This weekend enjoy a nice balance of incredibly hip art shows, smokin' live music, dance parties, and all night secret location soirees of the most extravagant variety. Bundle up and make the most of it—the snow is here to stay!
xo-l'étoile

THURSDAY DECEMBER 11TH
Gallery Grooves/Secrets of the City Late Night Party
@ Frank Stone Gallery
1224 2nd Street NE
Northeast Minneapolis
@ Red Stag Supper Club
509 1st Avenue NE
Northeast Minneapolis
Gallery Grooves 7-9pm / Late Night Party 9-11pm / Free
Join our pals over from Secrets of the City at this double whammy night of fun! First hit Frank Stone Gallery for a sneak peek at their holiday show while enjoying wine from MVP Wines, food from Chowgirl's Catering, and live Jazz courtesy of Jazz88fm. After you're all art-ed out, head to The Red Stag, where an after party will be in full swing with the likes of Lil' Black Blondie on the tunes at 10pm, as well as drink specials and more free appetizers. And your night is complete!
CLICK THE IMAGE FOR THE SECRETS OF THE CITY SITE
Art by Gary Wolfe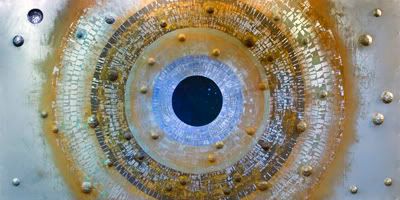 THURSDAY DECEMBER 11TH
Bla Bla Blacksheep, Nancy Drew Crew, Kitten Forever, This Again
@ Eclipse Records
1922 University Ave W
St. Paul
7pm / $5 / all ages
Consider this show a sampler of Twin Cities music. Bla Bla Blacksheep promises cute kid's music for adults, Nancy Drew Crew throws down radical rap, while Kitten Forever's screams bring you back to the days of riot grrrl, and This Again rounds the evening out with beats, loops, and samples. When they say 7pm, they're serious-they don't run on punk time here. In between sets browse the local record section, and challenge your friends to a game of pinball in the arcade.
CLICK THE IMAGE FOR THE ECLIPSE SITE


THURSDAY DECEMBER 11TH
Queer Candy Cabaret
@ Rumors & Innuendo
213 E 4th St.
St. Paul
9pm / $5
Pi is no more, but Innuendo and Rumors are hoppin'! Burlesque and drag meet in the middle to tease you into a frenzy. After 11 DJ Blowtorch starts spinning, while all night ladies drink 2 for 1 cocktails. You've already made it to Thursday, so reward yourself with scantily dressed hot people of all persuasion at St. Paul's newest gay dance club.
CLICK THE IMAGE FOR THE RUMORS SITE


THURSDAY DECEMBER 11TH
The Turducken
@ Bedlam Theatre
1501 S. 6th St.
Minneapolis
6pm / $15-50
A turducken is a festive holiday meal of a chicken stuffed in a duck stuffed in a turkey. Yum. Every other possible crevice is stuffed with…stuffing. While we have no idea why this continues to exist, we know why the Bedlam is putting on a play called The Turducken: just like this meaty entrée, it is a play within a play within a play. Expect Christmas wizards, ham salesmen, Santa standup, and Chekhov's The Seagull, complete with singing and dancing. Especially for this show, the kitchen has cooked up a four-course meal in true Bedlam dinner theater style. Through December 21st.
CLICK THE IMAGE FOR THE BEDLAM SITE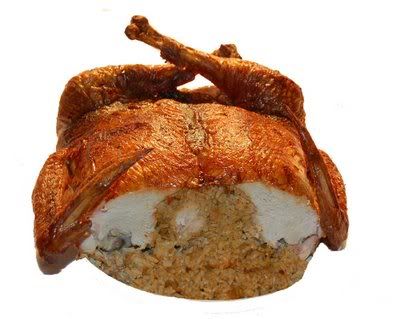 FRIDAY ART PICK: JENNY SCHMID
If you're unfamiliar with local printmaker and l'etoile fave, Jenny Schmid, now is the perfect time to school yourself. Schmid's book, The Vistas of Gender Utopia, released through her self-owned print studio Bikini Press International, is a comprehensive look at her prints inspired by iconoclastic images and pop satire. With over-sized bodies, luminous colors, mismatched objected around every corner and often a sailor girl vibe, Schmid's style is an exploration of reality meets daydreams. Her work combines digital elements with computer animation and historical images to create the look of a comic book and the feel of a print. As an assistant professor at the U of M's department of Art, Schmid has been teaching her printmaking skills to the next generation and acts as an inspiration to countless art students through her devotion to gender politics and feminist ideals.
Bonus: The Vistas of Gender Utopia would make a great holiday gift for anyone interested in the ever evolving art of local printmaking.
CLICK THE IMAGE FOR THE BIKINI PRESS SITE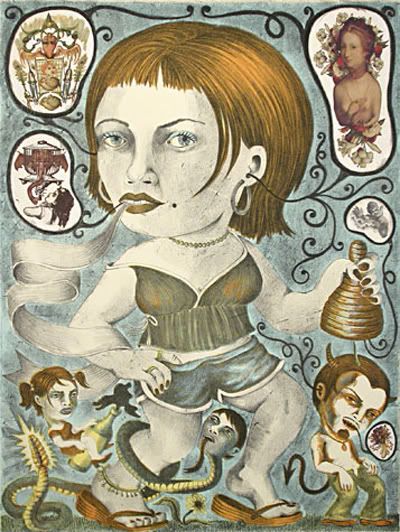 FRIDAY DECEMBER 12TH
Jammers, Blockers, & Pivots
@ Rogue Buddha
357 13th Ave NE
Minneapolis
7pm-11pm / Free
Roller derby girls are good at slamming into each other and doing it with style. The action and adventure of a North Stars' roller derby bout is embodied in the work from this open-call exhibition. Jon Langford made the cut, as well as designers, printmakers, and illustrators, all inspired by that skater-owned team we all love. Sales benefit the North Star Roller Girls, so get down there and buy something – what would the city be like with out these feisty ladies? Through December 30th.
CLICK FOR THIS ART EVENT AND MORE AT MPLSART.COM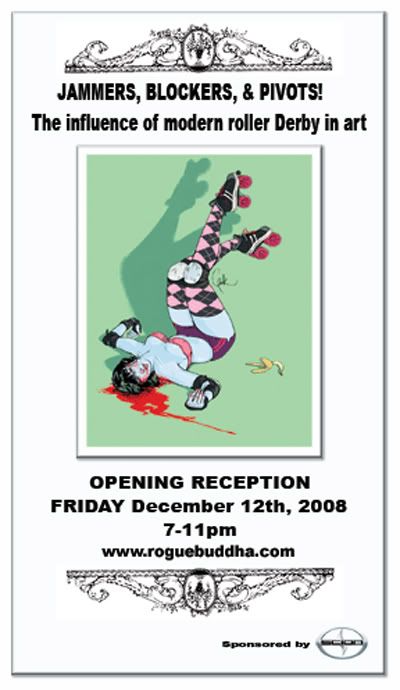 FRIDAY DECEMBER 12TH
Ultimate Landscape III: Art as Metaphor
@ Gallery 13
811 LaSalle Ave
Minneapolis
5pm-9pm / Free
Just when you had given up hope that there would be another gallery like Gallery 13, there is! It's just in a new place! Over 40 artists participate in the third annual holiday show, this time of landscapes. Check out their new digs and congratulate Sugardaddy on staying afloat in these tumultuous times.
CLICK FOR THIS ART EVENT AND MORE AT MPLSART.COM


FRIDAY DECEMBER 12TH
Chokecherry, Carpscale Orchester, Clawthroat
@ 331 Club
331 NE 13th Ave
Minneapolis
9:30pm / Free
How can it be? The city's beloved country/punk band, Chokecherry, is taking a hiatus. Dance off your sorrows about it tonight at the 331, enjoy the stylings of some of Black Blondie's members in Carpscale Orchester, and buy a round for the band as a farewell!
CLICK THE IMAGE FOR THE CHOKECHERRY SITE


FRIDAY DECEMBER 12TH (THROUGH SUNDAY)
Triple Rock 10 Year Anniversary
@ Triple Rock
629 Cedar Avenue S.
West Bank
Friday 5pm / All Ages / $10
Friday 9pm / 21+ / $10
Saturday 9pm / 21+ / $12
Sunday 9pm / 21+ / $12
Can you believe it's been 10 long years since the T-Rock threw open its doors? A punk rock institution and a West Bank staple, the Triple Rock Social Club not only slings a stiff drink, but hosts some of the most rockin' shows in the city. This weekend, celebrate this milestone anniversary with some signature T-Rock mayhem! Triple Rock founders, Dillinger 4, headline two shows on Friday (5pm all ages, 9pm, 21+), while L.A.'s Big Business takes over Saturday and The Hanson Brothers handle Sunday. And what better way to thank this Minneapolis landmark than by drinking liberally?
CLICK THE IMAGE FOR THE TRIPLE ROCK SITE


FRIDAY DECEMBER 12TH
Street Sounds Swirlin' Through My Mind
@ The Entry
701 1st Ave. N
Minneapolis
10pm / 18+/ $5 ($3 before Midnight)
Yes, the Street Sounds flyers keep getting racier and racier with their vintage porn feel, and we love it! For this week's l'étoile sponsored dance installment, the Attitude City DJs challenged their musical guests to forgo the usual digital mixing systems for something a little more old school – live sets where only sleek, sexy vinyl records are allowed on the decks, a style AC has always held down at their monthly dance nights. MPLS DJs Winship and Mike the 2600 King have stepped up to the challenge providing a night of music sure to make you feel as though you've been transported to a roller rink discotheque. Feel free to steal any and all dance moves flashing on the screen in rare, classically compiled montages by Burlesque and Attitude City. Disco's not dead; it's alive and grooving at the Entry.
Co-Sponsored by l'etoile magazine!
Bonus: Visit Attitude's City's blog to download a brand new mix from the boys and don't miss this blast from the past disco Street Sounds promo video:

FRIDAY DECEMBER 12TH
Dolemite
@ Riverview Theater
3800 42nd Ave S
Minneapolis
11:30pm / $5
Rudy Ray Moore, aka Dolemite, swore his way into his 80s. The self-proclaimed Godfather of Rap (see the film and you'll know why) died last month, and theaters and VHS recorders across the country are playing the movie in tribute. A 1975 pimping kung fu blaxploitation film with an all-girl army (hope you're not sick of those), Dolemite kicked asses into cult-classic status. Please, see this movie on the big screen. It will change your life.

COOL LINK: T-POST
Think of it as a magazine subscription in the form of fashion. The Stockholm, Sweden-based company T-post is just what it sounds like – a t-shirt subscription. Here's the deal: Every six weeks it enlists a graphic designer or artist to design a t-shirt based on a current, obscure news items, which is printed on the inside of the shirt (they only use American Apparel tees, natch). For the cost of 26 EUR (about $33 US) per t-shirt including shipping, subscribers get a new "issue" every six weeks. All shirts are limited-edition and not available by back-order. This month's design is by Esra Roise, a Norwegian illustrator.
CLICK THE IMAGE FOR THE T-POST SITE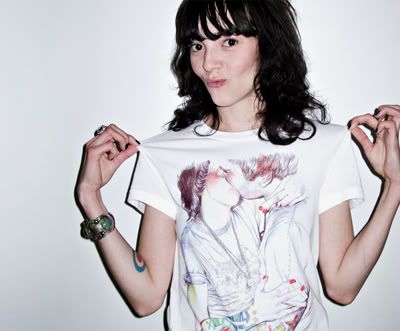 SATURDAY DECEMBER 13TH
Rox Jewelry Boutique + Workspace Grand Opening
@ Rox Boutique
California Building
Studio 403
Northeast Minneapolis
11am-7pm / Free
Join our favorite jewelry-makin' babe, Robyne Robinson, as she officially opens the doors to her brand new studio space in the Northeast Art District! Peruse her collection of dazzling handmade adornments, sip some wine and chat up RR herself who will be on hand to answer your questions of course! While you're there, be sure to explore the building, which will have open studios all day long as part of the California Building's "Second Saturdays" art crawl.
CLICK THE IMAGE FOR THE ROX SITE


SATURDAY DECEMBER 13TH (THROUGH SUNDAY)
Finch's Holiday Time Boutique #3
@ 3615 25th Ave. S.
Minneapolis
Saturday 11am-5pm & Sunday Noon-5pm
This 3rd Annual craft sale pops off this weekend with a bang. Stock up on tons of cool, handmade items such as jewelry, cards, clothes, bags, artwork, decor, soaps, ornaments, homemade treats and much, much more. Hosted by Elisa Brynteson, this festival of local artisans is a must-stop on your holiday shopping quest.
CLICK THE IMAGE FOR MORE INFO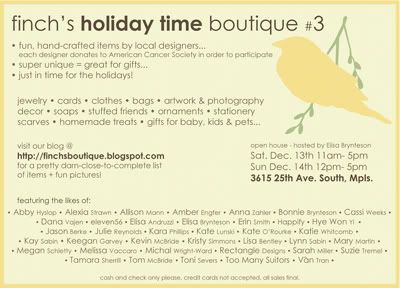 SATURDAY DECEMBER 13TH
Who Made Who First B-Day Bonanza
@ Who Made Who
158 13th Avenue NE
Minneapolis
12pm-8pm / Free
Design and music collide as Minneapolis poster collective Who Made Who celebrate the first anniversary of their Nordeast storefront. In just twelve short months, the creative trio of Amy Jo, Tooth, and Lonny Unitus have produced countless posters, art prints, cards, and CD packages, along with a smattering of other hand silk screened treasures. Talk about a dream job for rabid music fans. Stop by your friendly neighborhood poster emporium as they bask in a year's worth of ink and help you choose awesome handmade presents to stuff your stockings with this holiday season.
CLICK THE IMAGE FOR THE WHO MADE WHO SITE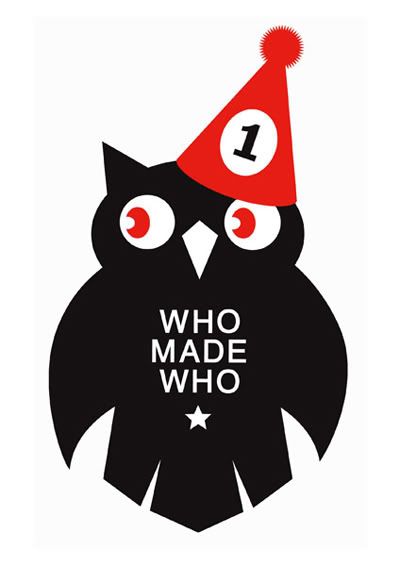 SATURDAY DECEMBER 13TH
Family Farm Nirvana
@ Umber Studios
3109 E 42nd S.
Minneapolis
8pm-11pm / Free
This might be the first meeting of traditional Hindu/Tibetan thangka paintings and rural Minnesota. Using snapshots, alchemist formulas, and 1970s farm family portraits, Allen Brewer works ink and watercolor pieces to interpret prayer flags, shrines and drawings. Think deities in long underwear, and you're on the right track. What more would you expect from the delightfully fresh Umber Studios? Through January 1st.
CLICK FOR THIS ART EVENT AND MORE AT MPLSART.COM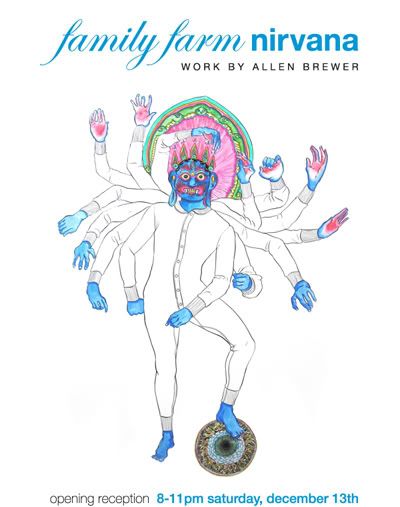 SATURDAY DECEMBER 13TH
Home for the Holidays
@ Nicademus Art
225 N Snelling Ave
St. Paul
7pm / Free
Our daily commute has gotten a million furry animals better. John Grider (Broken Crow) has a new mural on the side of Nicademus Art. Celebrate this addition to Snelling Ave. along with a collection of new works as Grider and fellow mural legend Mike Fitzsimmons' (Paint Goggles) return home from painting up London, Paris, Brooklyn and Duluth. Their first local show in almost a year, in fact! If you've been contemplating a mural commission, tonight's the night to chat up the pros! Through February 7th.
CLICK THE IMAGE FOR THE NICADEMUS ART SITE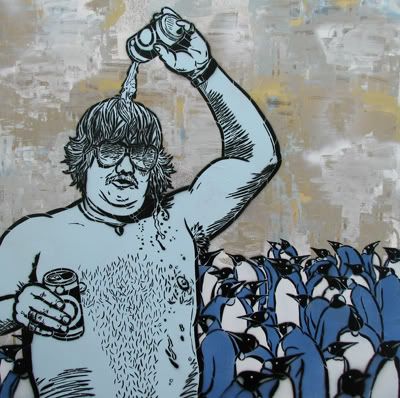 SATURDAY DECEMBER 13TH
A Klingon Christmas Carol
@ Paul and Sheila Wellstone Center
179 E Robie St.
Saint Paul
7:30pm / $20
You don't need to travel to a galaxy far away to experience a holiday of Klingon proportions. Tonight, Commedia Beauregard and IKV RakeHell of Klingon Assault Group have teamed up to present those lovable, infamous bumpy-headed aliens in an adaption that no sci-fi enthusiast or Trekkie wants to miss. Because of its popularity last year, A Klingon Christmas Carol is back for another season with an out of this world version of the Dicken's holiday classic. Completely translated to tlhIngan Hol (the official Klingon language) with English subtitles, and revamped to reflect the Warrior Code of Honor, attending this production is the holiday topper for any geek.
CLICK THE IMAGE FOR THE COMMEDIA BEAUREGARD SITE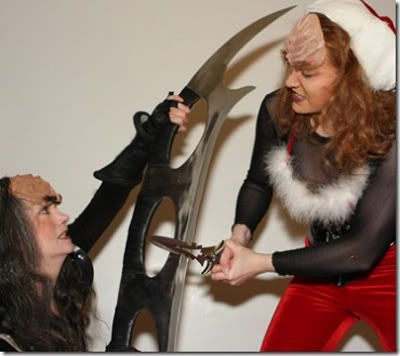 SATURDAY DECEMBER 13TH
Heiruspecs CD Release
@ 1st Ave
701 1st Ave N.
Minneapolis
6pm / All Ages / $10
For the past 10 years, five-piece live band hip-hop crew Heiruspecs have been feeding heads with silky grooves, compelling beats, and spit-fire lyrics. Some of the finest live local performers you're likely to see on the Mainroom stage, the 'Specs are back, celebrating their first new album in four years, and it's about time their hometown honors the contribution they've made to the local scene over the years. You can catch the band live with Mayda and Big Quarters this Saturday at First Avenue.
CLICK THE IMAGE FOR THE FIRST AVENUE SITE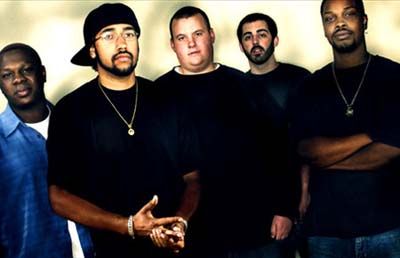 SATURDAY DECEMBER 13TH
The Society One Year Anniversary
@ Secret Location
Minneapolis
RSVP at rsvp@thesocietyevents.net
If you haven't been to a party hosted by The Society, you're definitely missing out. The last one we attended was jam-packed with stylish peeps, and the music was so bangin' it left our ears ringing for days. These professional party starters know how to throw down the right way, and this one-year anniversary bash will surely be one for the history books. RSVP and see!
BONUS: Bookmark their blog, it's one you should be checking out on a regular basis for tips on cool gear, events, art, music and tons more.
CLICK THE IMAGE FOR THE SOCIETY SITE


SATURDAY DECEMBER 13TH
The Arctic Pulse XL
@ Secret Location
Saint Paul
Doors 7pm, Music 8pm / $12 Advance, $18 at the Door
The Rapid Pulse one year anniversary party hits off tonight with multiple stages of music mayhem. From URB magazine recognized Californian hardcore techno DJ, Deadly Buda, who celebrates 15 years of DJ experience, to local favs Spree and Twilight, this is the place to be for techno fanatics. Tonight's techno extravaganza boasts stages where happy hardcore, psy trance, breatbeat, electro house, drum n' bass and more can be danced too, ogled over and just plain enjoyed. The location will be announced the day of the event and as always once you're in there's no going back, but with banging two hour and live sets and a plethora of genres to choose from why would you want to? Presale tickets are available at www.vitalculture.com but get them early because this techno fantasy package is sure to sell out quickly.
BONUS: We've hear it on good authority that the infamous Lock Inn will be throwin' down the same night over in the Warehouse District. E-mail jp@secrettechno.com for the deetz!
CLICK HERE FOR MORE INFO ON ARCTIC PULSE


SUNDAY MUSIC PICK: CAPTURED! BY ROBOTS
The robot security level has definitely topped red. Robots have captured a human and made him their musical slave. CBR has been around for a while, refining their talent, going out on themed tours and wowing audiences with their animatronic actions. Three headless people make up the horn section, Gtrbot666 shreds, Drmbot0110 keeps the beat, and friendly gorillas play the tambourine and cymbals. JBOT is the human behind the mayhem, helping the robots play slash metal.
CLICK THE IMAGE FOR THE CAPTURED! BY ROBOTS SITE


SUNDAY DECEMBER 14TH
Rock and Roll High School
@ Seward Café
2129 E Franklin Ave
Minneapolis
7pm / Free
We all love eating breakfast here, now we can eat popcorn while we cuddle up for Seward Café's weekly movie night! Winter is the perfect time to hang out after hours at your favorite collectively-run café, and feel the rebellion in the air of not having any bosses, or in the case of tonight's movie, any regard for principals. A prime example of what punk rock music like the Ramones will do to impressionable minds.
CLICK THE IMAGE FOR THE SEWARD SITE


SUNDAY DECEMBER 14TH
King Buzzo and Adam Jones Guest Bartending
@ Grumpy's Downtown
1111 Washington Ave S
Minneapolis
9pm-10:30/$ the cost of a drink + tips!
Show up Sunday night for a whiskey at Grumpy's Downtown and you'll be greeted by rockstars, pouring drinks the rockstar way. King Buzzo of the Melvins and Adam Jones of Tool are pouring tall ones tonight. It's not every day legendary rockers pour you a beer, or that you're able to express your gratitude for their shredding in tip form. And tip you should.
BONUS: Saturday night head to Grumpy's Roseville where the guys will be slingin' booze from 9pm-10:30 as well!
CLICK THE IMAGE FOR THE GRUMPYS SITE