23junAll Day09julSomalis + Minnesota: Exhibit
Event Details

June 23, 2018—June 9 2019

Experience artifacts, photos, and stories of Somali history from Baadiye to Mogadishu to life in Minnesota today.

See this new exhibit on Somali history and culture, developed in partnership with the Minnesota Historical Society and the Somali Museum of Minnesota, which houses a collection of more than 700 pieces and offers a wide range of educational programs about Somali traditional culture at the museum and throughout the region.

Told through immersive settings, artifacts, photos, and first-hand accounts, the exhibit tells the story of Somali immigrants, their arrival in their newly adopted home of Minnesota, and the successes and struggles they have faced.

See and celebrate the story of Somali culture, from traditional life in Africa, through the massive migration that began in the 1990s, to today's large, well-established Minnesota Somali community.
Visit an Aqal Soomaali, a reconstructed nomadic hut imported from Somalia.
Learn how to load a camel for travel across the desert.
Learn about Somalia's history through a rare collection of photographs and objects, brought to life through commentary by Somali historians now living in Minnesota.
Meet Somali Minnesotans from across the state through videos and interactive photo panels.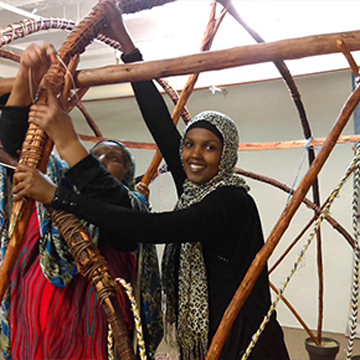 Courtesy Somali Museum of Minnesota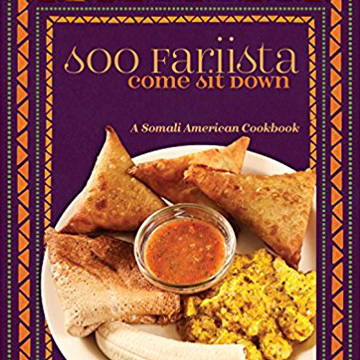 Somali cookbook
"Soo Fariista/Come Sit Down: A Somali American Cookbook" (MNHS Press, June 2018) features traditional Somali family recipes with a modern Minnesota twist. The cookbook was created by Somali high school students who collected recipes and stories, researched techniques and ingredients, and then tested the recipes at the Mill City Museum Baking Lab.
Share your history
You can be a part of this project. We are seeking objects and photos from the community to expand the MNHS permanent collection. Your contribution could also appear in this exhibit. If you have family photos, historical materials, or cultural artifacts to share, please fill out this form.
Support and awards
Somalis + Minnesota is made possible in part by the Arts and Cultural Heritage Fund through the vote of Minnesotans on Nov. 4, 2008. Additional support comes from Knight Foundation, 3M, and Blue Cross and Blue Shield of Minnesota.
Time

June 23 (Sunday) - July 9 (Tuesday)
Organizer
Minnesota History Center651-259-3015 boxoffice@mnhs.org